Our Crockpot Potato Soup recipe is so thick and creamy, loaded with cheddar and bacon, and easy to make in the slow cooker.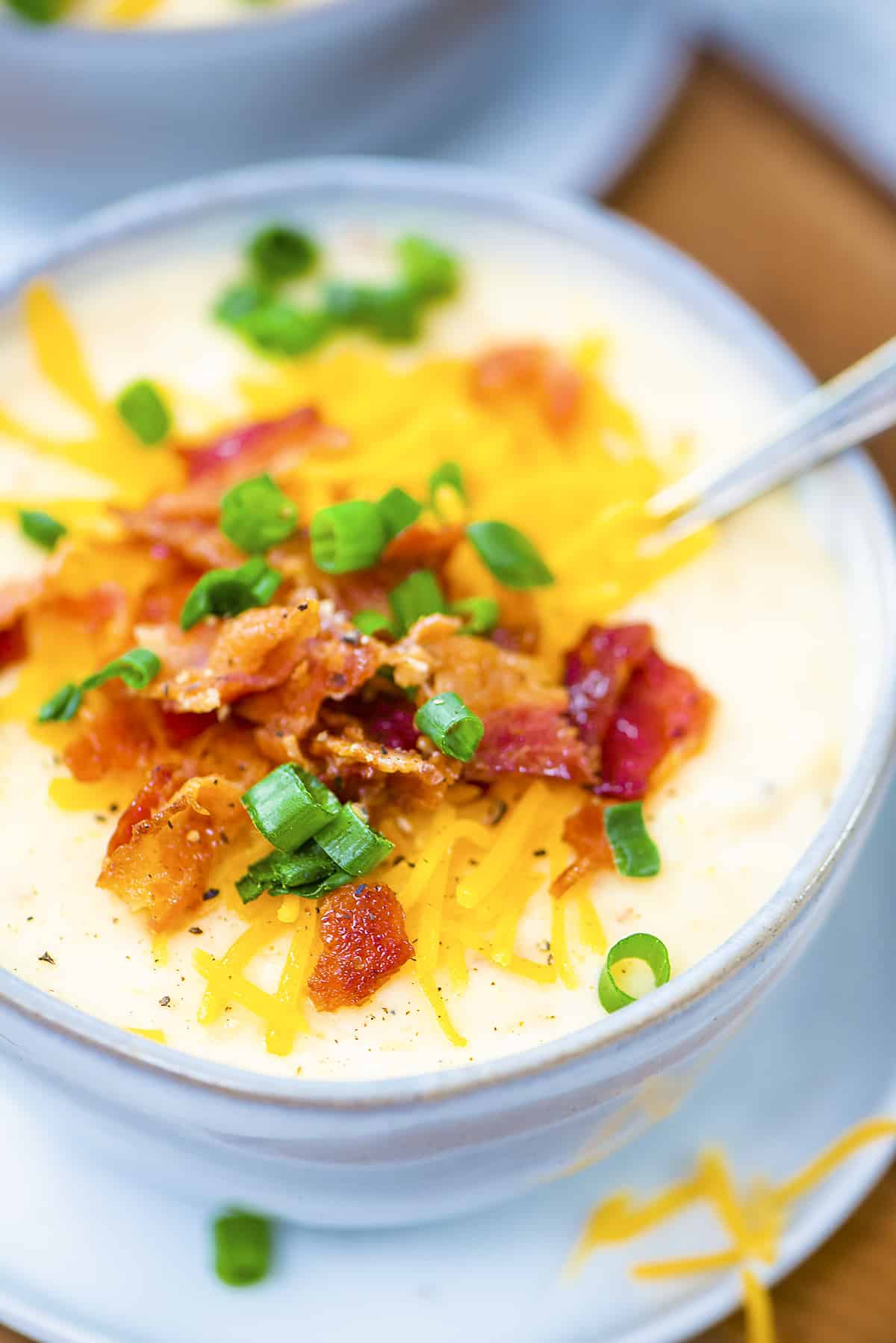 Would you believe that my husband gets a little huffy about soup being the main dish of a meal?
I'm sorry, husband, but ain't nobody got time to cook a 7 course meal on a busy school night.
You'll eat your soup and you'll like it.
(Okay, okay, he never actually complains, but I KNOW. He prefers a plate o' meat as his dinner.)
Luckily, we both like this crockpot potato soup recipe because it's super filling and hearty! Plus I add bacon and the man never complains when bacon is involved. 😉
We love this Crock Pot Potato Soup so much that we made an Instant Pot version for days when we don't have time to let our soup slow cook. Check out our Instant Pot Potato Soup if you're in a hurry – it's basically this same soup, just a different method!
Ingredient Notes:
This post contains affiliate links. As an Amazon associate and member of other qualifying programs, I earn from qualifying purchases.
Potatoes – We love russet potatoes. They're perfect for baking and they work really well for potato soup. You could use other varieties but I've only tried this with the russets.
Bacon – This adds a little smoky flavor and salty bite.
Chicken Broth – You'll need some broth to act as the base for the potato soup, and it'll add plenty of flavor that will get absorbed into the potatoes as they slow cook.
Cream – This is a creamy potato soup recipe! To get the perfect creamy flavor you'll make a flour and milk mixture to go in with the soup along with some heavy cream and evaporated milk. And then there is the cheese…
Cheddar – A whole two cups of grated cheese will go into this cheesy potato soup. If you can freshly grate some, all the better! If not, the shredded stuff from the store works too.
What We Love About This Recipe:
This crockpot potato soup is so perfectly creamy and cheesy and it's just what you need on a cold fall or winter day!
We love how you can load this soup up with lots of extra toppings like more cheese, green onion, and bacon!
How To Make Crockpot Cheesy Potato Soup:
Bacon: To start, you'll want to chop some bacon and fry it up. When it's nearly cooked through, add some onions and garlic to the skillet and let them soften up. They're a perfect addition to potato soup and will add lots of flavor.
Potatoes: Add the cooked bacon, onion, and garlic to your slow cooker along with the peeled and diced russet potatoes. Pour the chicken broth over the top.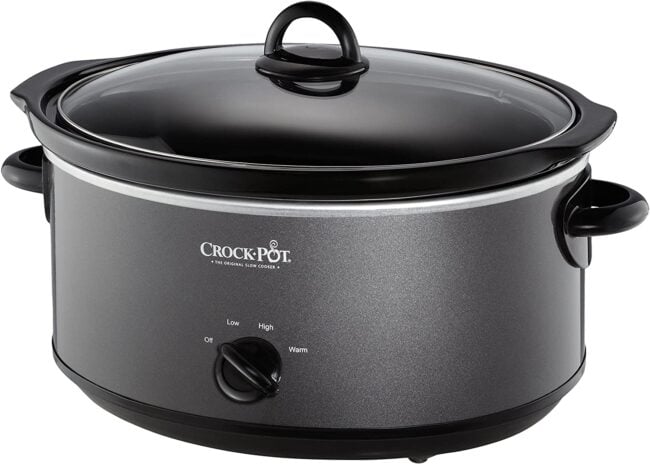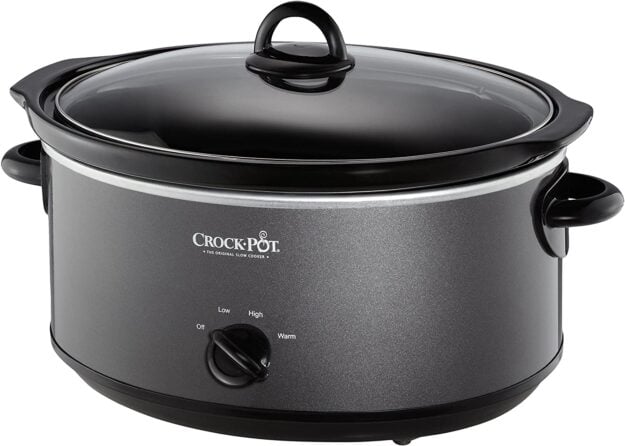 In the market for a new slow cooker? We love this 7 quart Crockpot. It's simple to use, cooks evenly, and is very budget friendly. Plus, it has a 4 1/2 star rating with over 5,000 reviews on Amazon!
Slow Cook: Cover your slow cooker and cook on high for 3-4 hours. It doesn't get much simpler than crockpot potato soup!
Cream: Once the potatoes are fork tender, you'll add flour and milk to a mason jar. Tightly close the lid and shake shake shake to combine.
Pour the flour mixture into the crockpot along with a can of evaporated milk, heavy cream, and grated cheddar. This slow cooker potato soup is going to be so creamy and cheesy!
Mash: Cover the crockpot and cook on high for another 30 minutes to thicken the creamy potato soup. Use a potato masher and mash some of the potatoes. It makes the soup extra thick and creamy. You can leave as many or as few chunks of potatoes as you like. Just mash until you reach your desired consistency.
Loaded Crock Pot Potato Soup:
I can never leave well enough alone when it comes to potato soup.
It should ALWAYS be loaded up with good stuff, if you ask me.
Just ladle your soup into your bowl and then top with grated cheddar, fried and crumbled bacon, and sliced green onions.
There you have it – loaded potato soup! Simple, right?
What To Serve with Crockpot Potato Soup:
Bread: Our quick dinner rolls are so light and fluffy – perfect for dipping in your soup! Of course, our beer bread and sweet cornbread recipe also go great with soup!
Crackers: Crackers and soup are BFFs and they add the perfect crunch to this potato soup recipe!
Green Salad: Nothing beats soup and salad! Try a nice salad topped with our Greek dressing, Honey Mustard dressing, Avocado Ranch dressing, or even our tzatziki sauce!
Sandwich: Our Hawaiian sliders are always a hit, and you can't beat an air fryer grilled cheese!
FAQs:
How to store potato soup?
This soup will keep well in the refrigerator for at least 3 to 4 days if well covered. And like most soups, it's often better the next day! You can reheat it on the stove or in the crockpot. Be sure to stir in some extra milk if you think it needs it. The soup does tend to get quite thick as it sets.
Can you freeze potato soup?
I haven't tried freezing it. From what I've read it sounds like you can but the potatoes may not hold up all that well and the soup could lose some taste or consistency.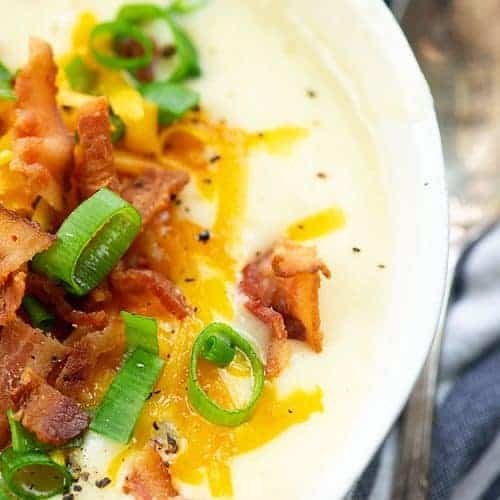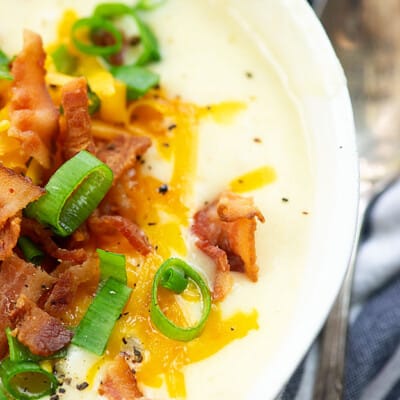 Crockpot Potato Soup
Creamy, cheesy, and super simple! We love this crockpot potato soup!
Prep10 minutes
Cook3 hours 30 minutes
Total3 hours 40 minutes
Ingredients
6 slices bacon chopped
½ sweet onion diced
1 clove garlic minced
3 ½ cups chicken broth
5 baking potatoes peeled and diced
1 teaspoon salt
1 teaspoon ground pepper
½ cup flour
1 cup milk
1 cup heavy cream
12 ounces evaporated milk
2 cups grated cheddar
bacon, green onions, cheddar, for topping the soup
Instructions
Add the bacon to a large skillet and fry until nearly crisp.

Add the onion and garlic to the skillet with the bacon and cook until onion has softened and garlic is fragrant.

Add the bacon, onion, and garlic to a 6 quart slow cooker with the chicken broth and potatoes. Season with salt and pepper.

Cover and cook on high for 3 hours or until potatoes are fork tender.

Add the flour and milk to a mason jar and close tightly. Shake well to combine. Alternately, whisk the flour and milk together in a small bowl.

Pour flour mixture into the soup and stir to combine. Add the cream, evaporated milk, and grated cheddar to the soup and stir.

Cover and cook on high for 30 more minutes.

Use a potato masher to mash the potatoes to reach the desired thickness for the soup. Taste and add additional salt and pepper, if needed.

Ladle hot soup into bowls and garnish with cheddar, bacon, and green onion, if desired.
Tips & Notes:
This soup is so thick and creamy! If you'd like your soup thinner, add more milk or chicken broth to thin it out a bit. You'll likely need to add a bit of liquid when reheating as well.
Nutrition Information:
Calories: 406kcal (20%)| Carbohydrates: 31g (10%)| Protein: 14g (28%)| Fat: 25g (38%)| Saturated Fat: 14g (88%)| Cholesterol: 77mg (26%)| Sodium: 823mg (36%)| Potassium: 737mg (21%)| Fiber: 1g (4%)| Sugar: 6g (7%)| Vitamin A: 695IU (14%)| Vitamin C: 13.5mg (16%)| Calcium: 317mg (32%)| Iron: 1.7mg (9%)
This post was originally published in August 2018. It was updated January 2023. Original photos below.