These hot and melty HAWAIIAN HAM AND CHEESE SLIDERS are topped with a buttery mixture of seasonings and baked until warm and toasty. Easy, fast, and a family favorite!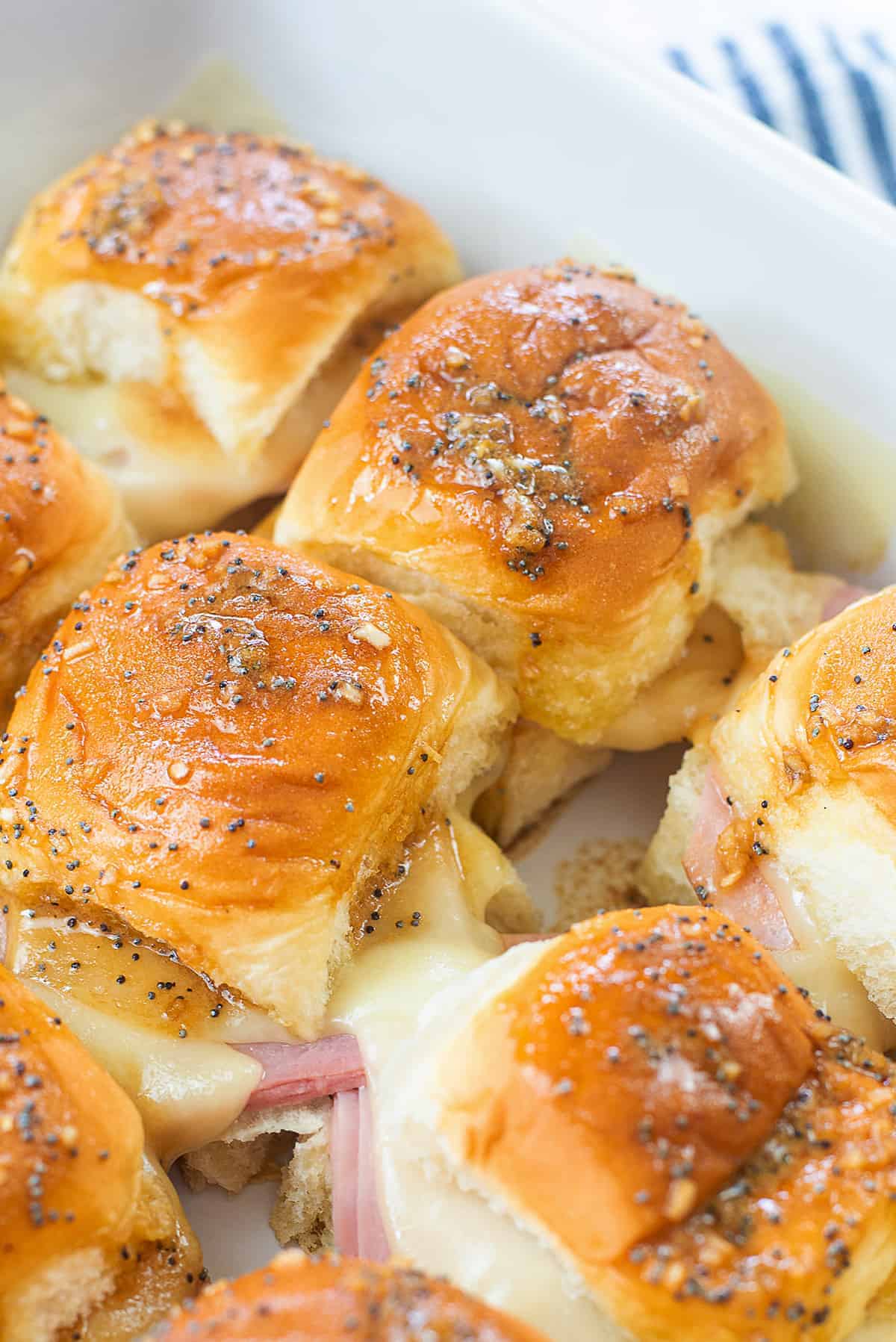 I'm fairly certain that everyone has had a ham and cheese slider on a Hawaiian roll at some point in their life and if not, well, I'm terribly sorry to hear it.
These are the BEST little Hawaiian sliders, loaded with deli sliced ham, melty Swiss cheese, and the perfect butter topping that's loaded with flavor from ground mustard, Worcestershire sauce, and minced onion.
We make these ham and cheese sliders often. They're a favorite of my husband's so he asks for them for dinner quite a bit, but they're also perfect for a get together – just be sure to make a double batch! They're popular and they go quick!
Ingredient Notes: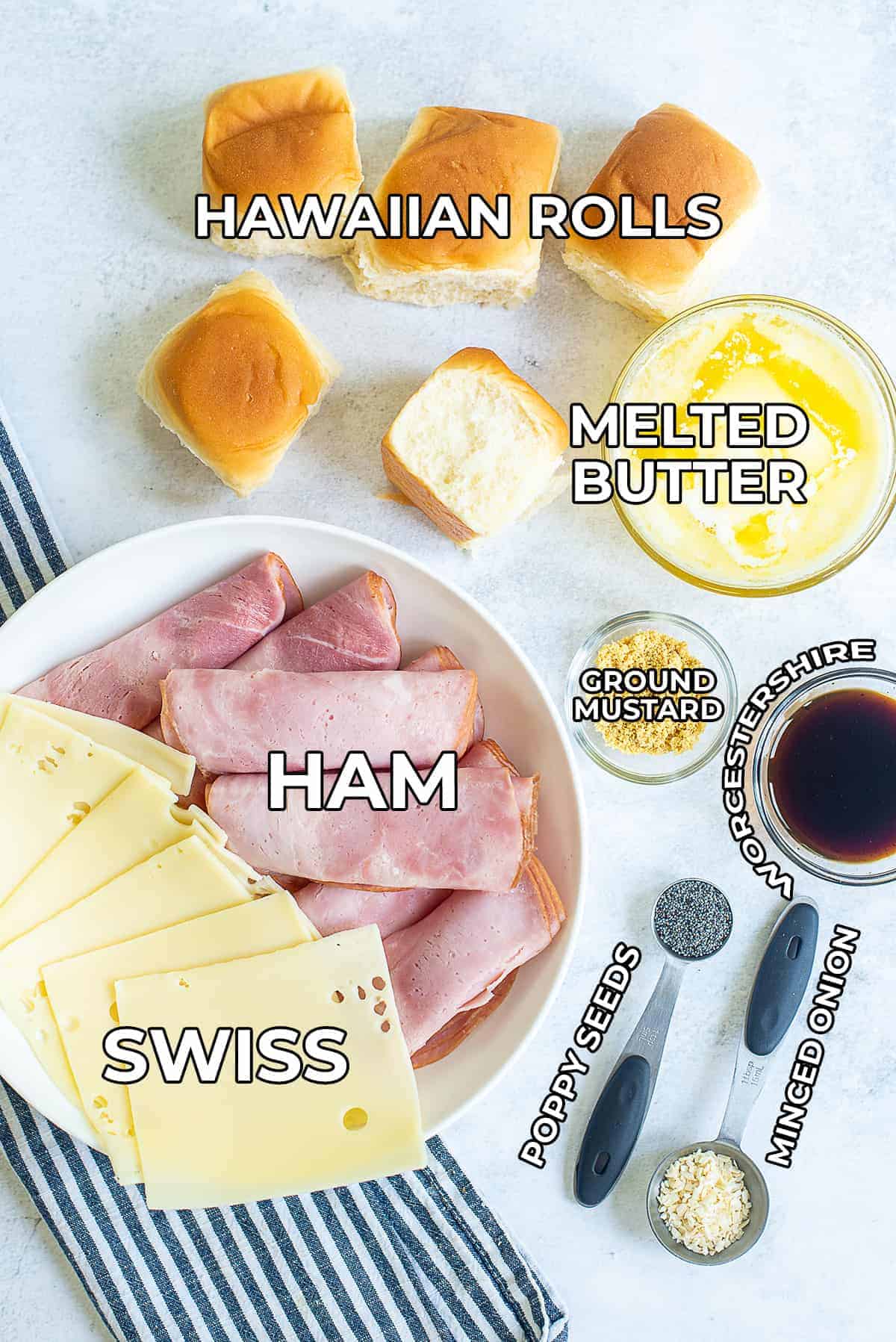 Ham – We prefer thin sliced deli ham in this recipe.
Swiss – You'll fold each piece into fourths to fit the slider. It makes for a nice, melty center in each slider!
Kings Hawaiian Rolls – The perfect rolls for making hot ham and cheese sliders! The touch of sweetness and that soft interior is perfect here.
Topping – Made with melty butter, Worcestershire sauce, ground mustard, poppy seeds, and minced onion…this is packed with flavor and soaks into the Hawaiian roll beautifully.
What Readers are Saying!
"Made these a week ago and LOVED them! Was looking for this recipe and came across this version. I did cut the butter in half and it was still so good. Thanks!" – Michelle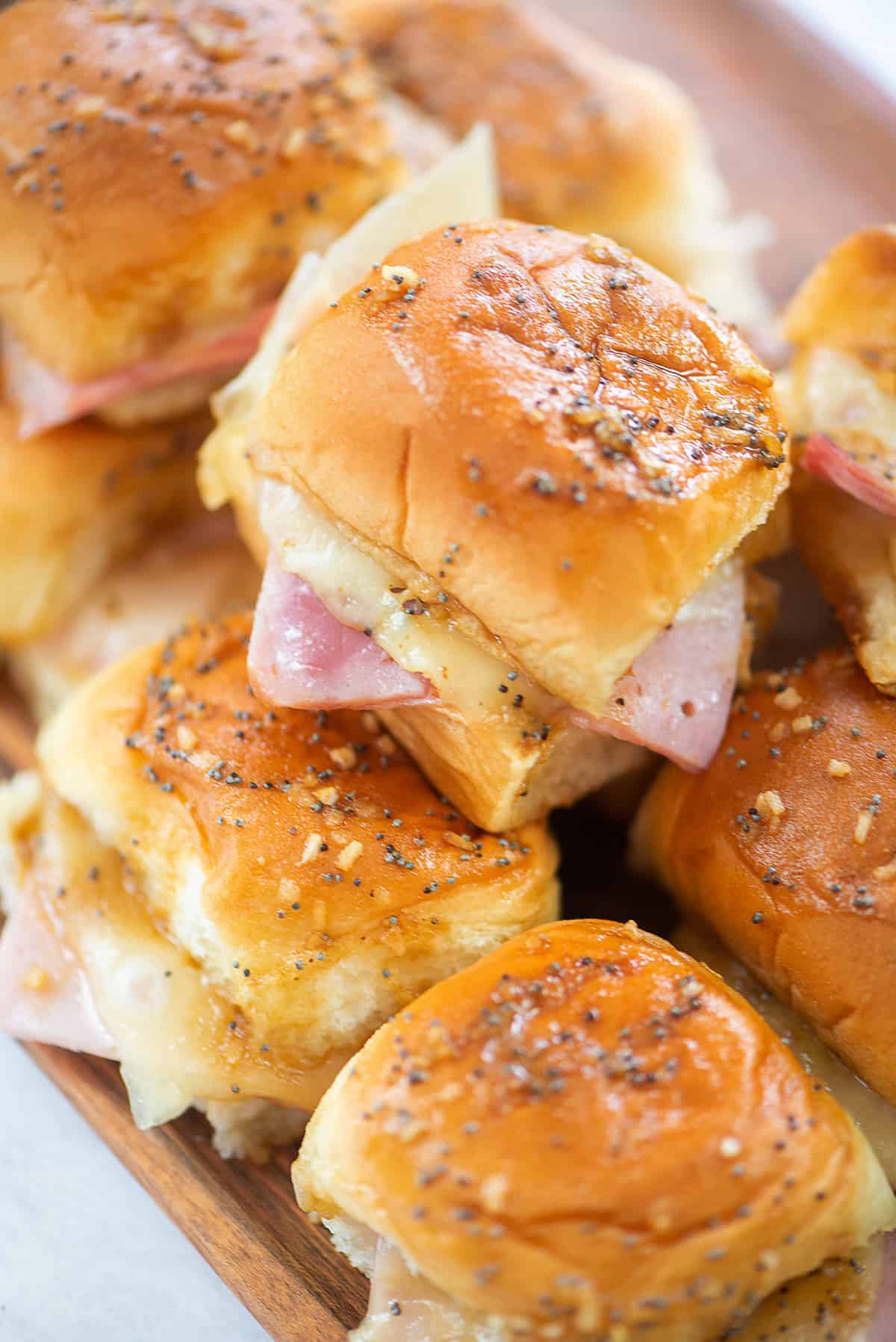 How to Make:
Prepare: You can really feed a crowd with these and it only takes minutes to prepare them. You just slice a package of King's Hawaiian Rolls in half, layer the bottoms with ham and cheese, place the top pieces of bread on, and then move on to the next step to make the all important butter topping!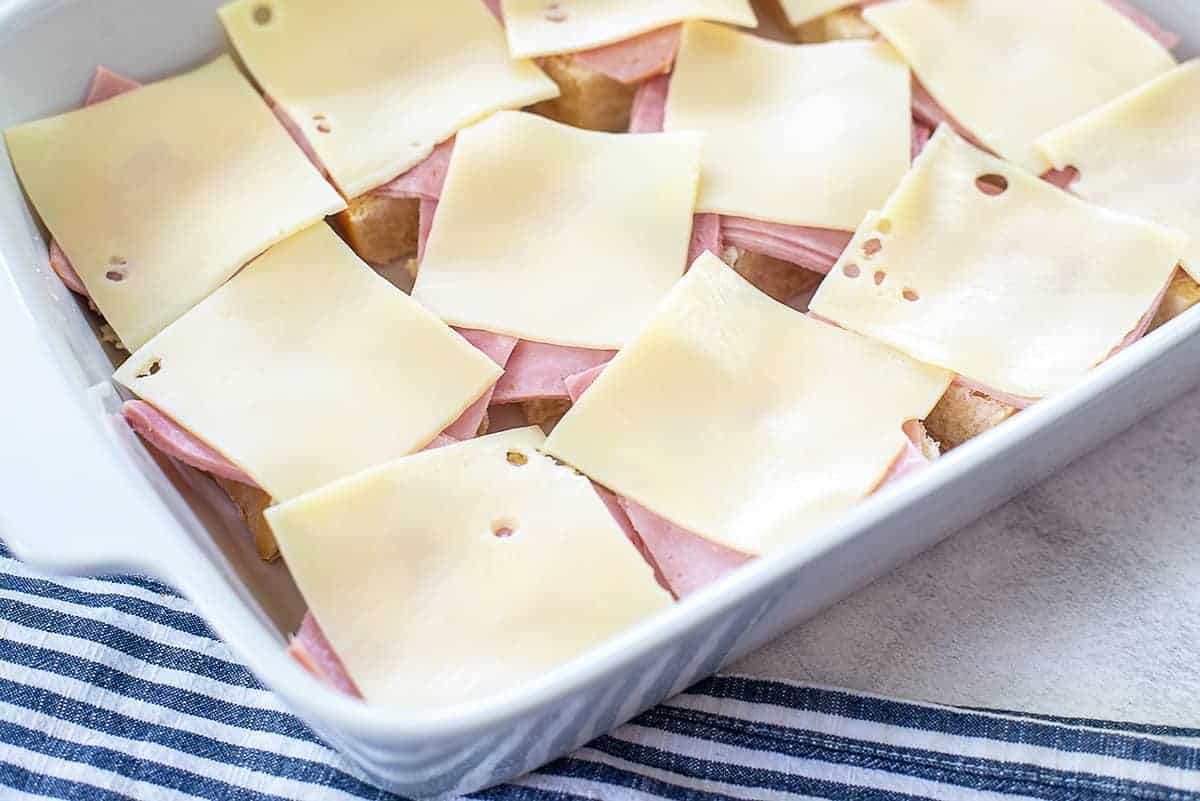 Topping: This topping is a mixture of melted butter, Worcestershire sauce, ground mustard, poppy seeds, and dried onion flakes.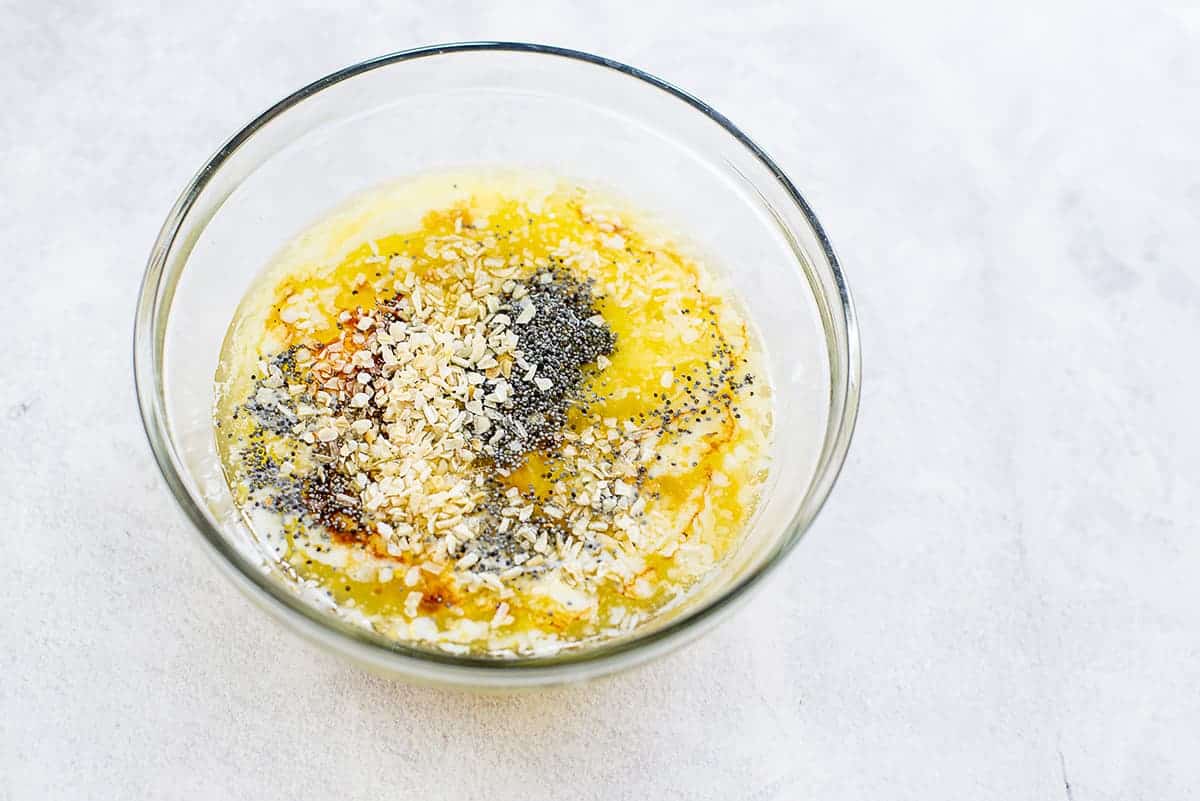 If you work quick, you'll just pour this melted butter mixture right over the sandwiches. Let it soak in to the bread and drip down the edges. It's divine.
If you're kid comes and starts arguing you with about whether or not you can drive them to the mall (or, you know, some other totally made up scenario) your butter will start to thicken back up and you'll be able to spread the mixture over the rolls. Either way works perfect and the end result is a buttery, flavorful sandwich.
Refrigerate: Ideally you'll refrigerate these overnight and let that butter really soak in and flavor the rolls. However, just an hour chill time will still make for a tasty and delicious ham and cheese slider.
Bake: All that's left now is to turn these into hot ham and cheese sliders! Place the covered baking dish with the sliders into your pre-heated oven and let them get all hot and melty! Once they've finished you'll want to serve them while they are still good and hot so you get that glorious melted cheese.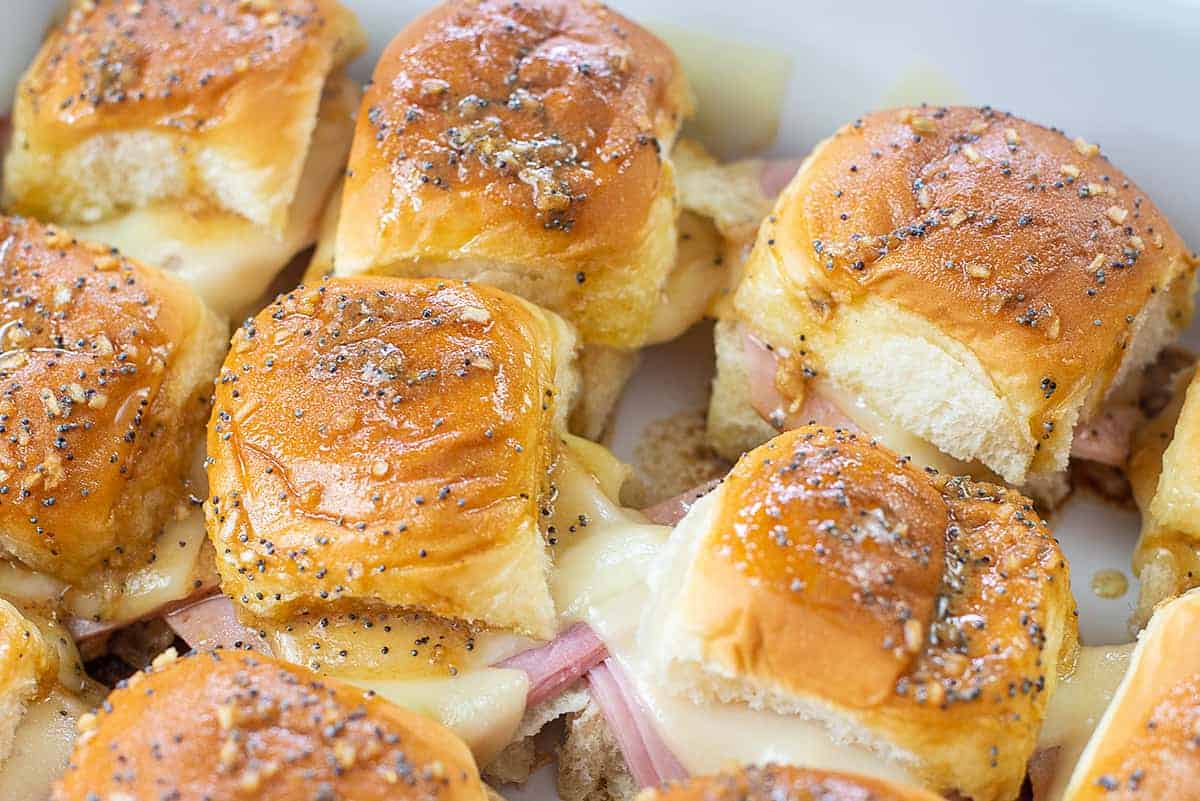 They're delicious!
What We Love About This Recipe:
These are rich and buttery with flavor from the tops of the rolls to the bottom.
The Hawaiian rolls stay so soft and nearly melt in your mouth, but the bottom roll gets a slightly crisp crust that is just the perfect contrast to the soft, buttery goodness.
Everyone loves a classic ham and cheese sandwich and these just take it up a notch. Classics with a twist are my favorite!
This recipe is easy to double or triple depending on how many you're feeding.
FAQs:
How many calories are in a ham and cheese sandwich?
There are 252 calories per slider. To make these lighter, just use half of a slice of cheese per sandwich.
Do I have to use King's Hawaiian Rolls?
Nope, that's just our favorite kind and generally the most popular. You could really use just about any roll or bun that is made for sliders.
What is a slider?
It's just a mini sandwich! The name was popularized by the onion-steamed buns from White Castle, but it has since grown to include just about anything on mini buns or rolls.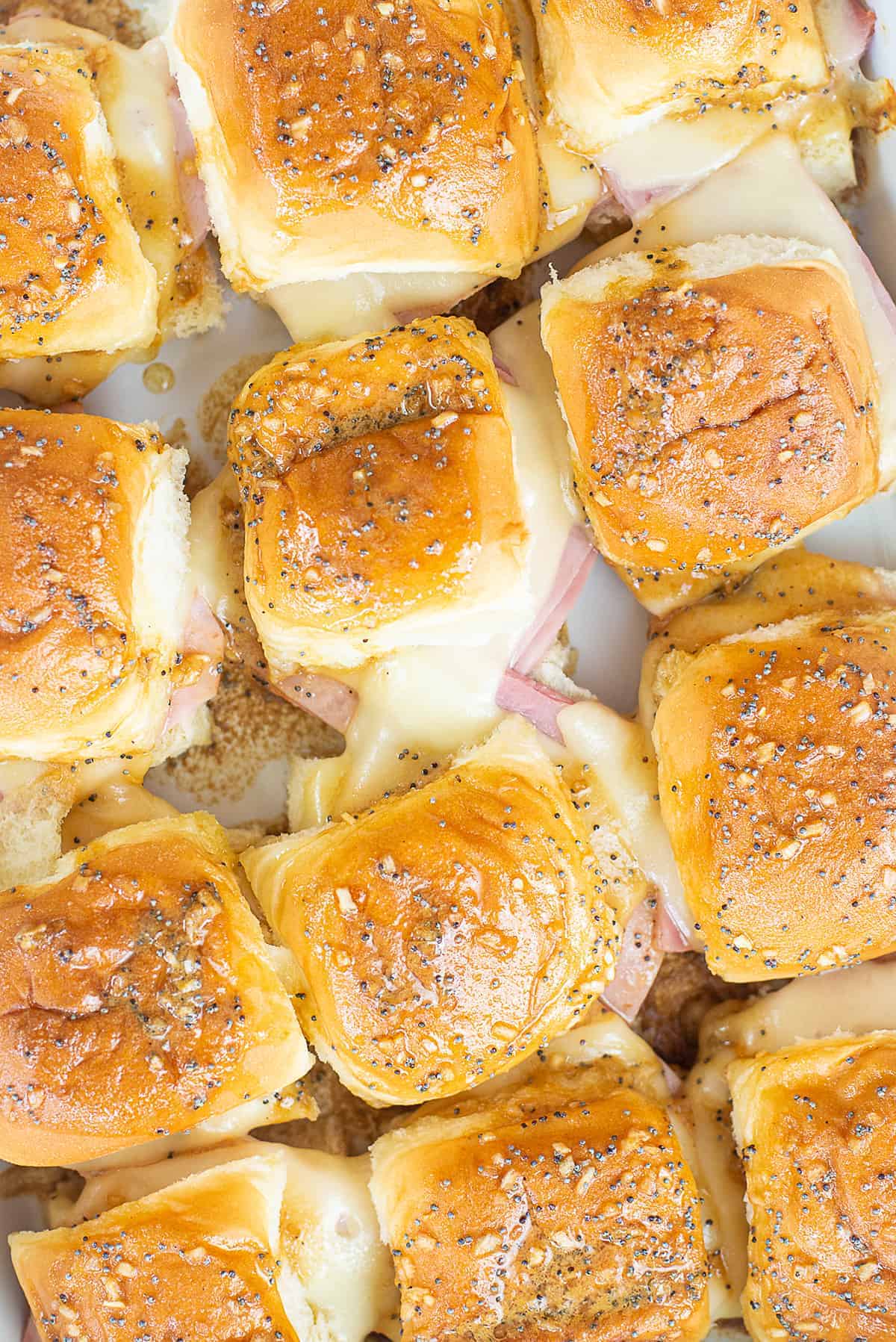 MORE SLIDER RECIPES!
MORE HAM AND CHEESE RECIPES!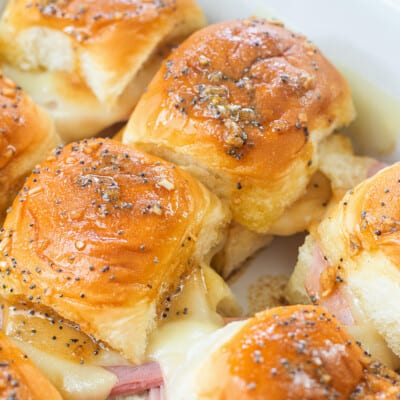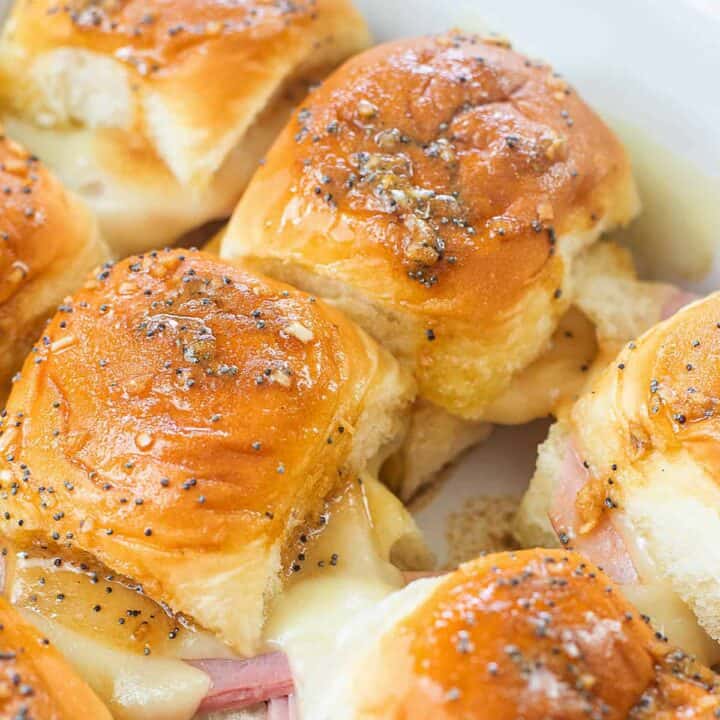 Hawaiian Sliders
Rich and buttery, these Hawaiian sliders are filled with thinly sliced ham and melty Swiss cheese, all sandwiches between a sweet Hawaiian roll and topped with a seasoned butter mixture. These are perfect for a quick dinner, but we most often serve them at parties and get togethers. It never hurts to double the recipe because these go quick!
Prep15 minutes
Cook25 minutes
Chill Time1 hour
Total1 hour 30 minutes
Ingredients
12 count package Kings Hawaiian Rolls
12 slices swiss cheese
12 ounces thin sliced deli ham
1/2 cup butter melted
2 tablespoons Worcestershire sauce
2 teaspoons dried minced onion
1 teaspoon ground mustard
1 teaspoon poppy seeds
Instructions
Slice all of the rolls in half and place the bottom halves in a 9×13 baking dish.

Place ham and cheese on the bottom of the sliced rolls. Cover with the top half of roll.

Mix together the remaining five ingredients in a small bowl and spoon over the tops of the sandwiches.

Cover tightly with foil and refrigerate anywhere from 1 to 24 hours.

Bake, covered, in a pre-heated oven at 350 for 25 minutes.

Serve warm.
Tips & Notes:
The nutrition information is based on 1 sandwich, but we find that most people eat 2 to 3 of these sliders. If you have onion haters, we've found that swapping the minced onion for 1 teaspoon of onion powder is a good compromise.
Nutrition Information:
Serving: 1sandwich| Calories: 252kcal (13%)| Carbohydrates: 3g (1%)| Protein: 13g (26%)| Fat: 20g (31%)| Saturated Fat: 11g (69%)| Cholesterol: 64mg (21%)| Sodium: 488mg (21%)| Potassium: 138mg (4%)| Sugar: 1g (1%)| Vitamin A: 470IU (9%)| Vitamin C: 1mg (1%)| Calcium: 234mg (23%)| Iron: 0.5mg (3%)