These SPAGHETTI SANDWICH SLIDERS are fun to make, but even more fun to eat! Spaghetti that you can pick up and eat with your hands!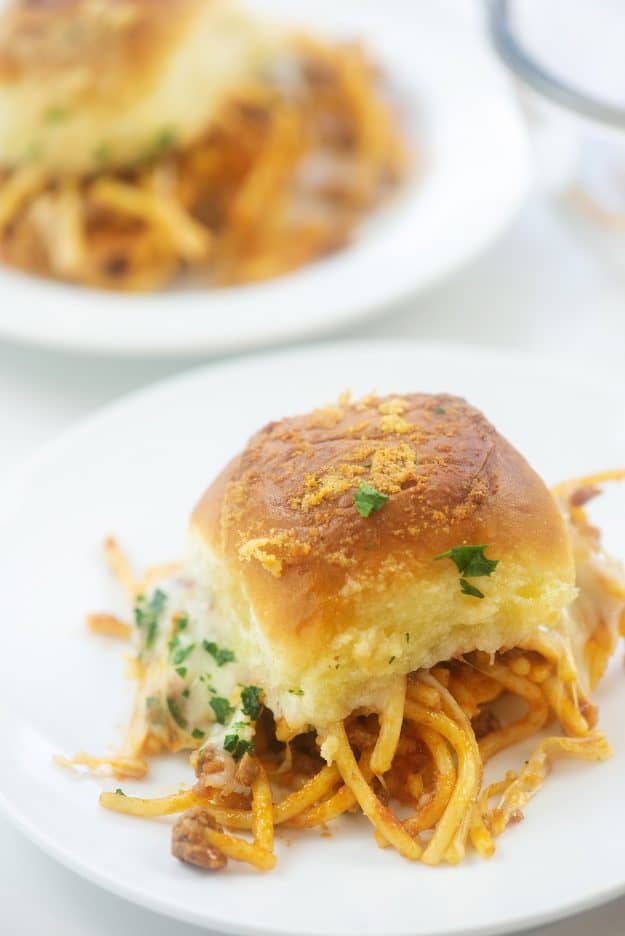 Hey, hey. Coming at ya today with a recipe that…well…no one asked for.
This is one of the weirdo creations from my head that I couldn't stop thinking about until I made it happen.
As soon as I made these and saw the look on my family's faces (a mix of awe and confusion, if we're being honest), I knew I had to share the recipe with you.
These. Are. Good.
Totally ridiculous, carb overload, probably not something you should eat everyday, outrageously crazy in the best way possible.
I mean, let's be real – we've all used our garlic bread to scoop up the last bit of spaghetti from our plate. I just took that to the next level and made a spaghetti sandwich. And oh man, am I glad I did.
We do sliders for the Super Bowl every year and I can't wait to include these.
Other favorites include our buffalo chicken sliders, meatball sliders, and (my personal favorite) Cuban sliders.
How to Make Mini Spaghetti Sandwiches:
Step 1: Make the Spaghetti
Boil water in a large pot and add the spaghetti, cooking until al dente.
While the spaghetti is cooking, add the beef and onion to a large skillet and cook over medium heat until the beef is browned, making sure to crumble it up as it cooks. Season the beef and stir in your spaghetti sauce.
Combine the meat sauce and drained spaghetti noodles. We like use a spatula to break up the spaghetti noodles. It makes the sandwiches easier to eat with shorter strands of noodles.
Helpful Tip!
Feeling ambitious?
Skip the jar of spaghetti sauce and make it from scratch!
Boil the pasta as directed and then coat the cooked spaghetti in our homemade spaghetti sauce!
Step 2: Assemble the Sliders
While your oven is preheating slice the Hawaiian rolls in half and place the bottom layer into a 9×13 baking dish.
Spoon the spaghetti over the rolls. Don't skimp, feel free to load them up!
Sprinkle a layer of parmesan cheese over the spaghetti and top it all off with slices of mozzarella.
Place the top half of the rolls over the cheese.
Step 3: Make the Topping
In a small mixing bowl, stir together the melted butter, garlic, salt, onion powder, and garlic powder to make a simple garlic butter. Brush as much of the mixture as you like over the top of the rolls.
When you've finished brushing the rolls cover the baking dish with foil and place in the oven for about 15 minutes. Remove the foil and and bake for an additional 10 minutes.
Remove from oven and sprinkle parsley over the top before allowing to cool for a minute before serving.
SUBSTITIONS:
If you prefer your spaghetti with Italian sausage, you can either replace the ground beef with that or use both!
Not everyone likes Hawaiian Rolls (Why?!), so you can use other rolls or buns if they are slider sized. Garlic bread also makes a great spaghetti sandwich!
Use any variety of marinara sauce you prefer. When we're in a rush, Rao's is our favorite brand. Of course, our homemade spaghetti sauce is best!
Leftover Hack!
Leftover spaghetti in the fridge? Put it to use in these sliders!
This recipe is easily halved, so go ahead and create something new with your leftover pasta.
More italian favorites!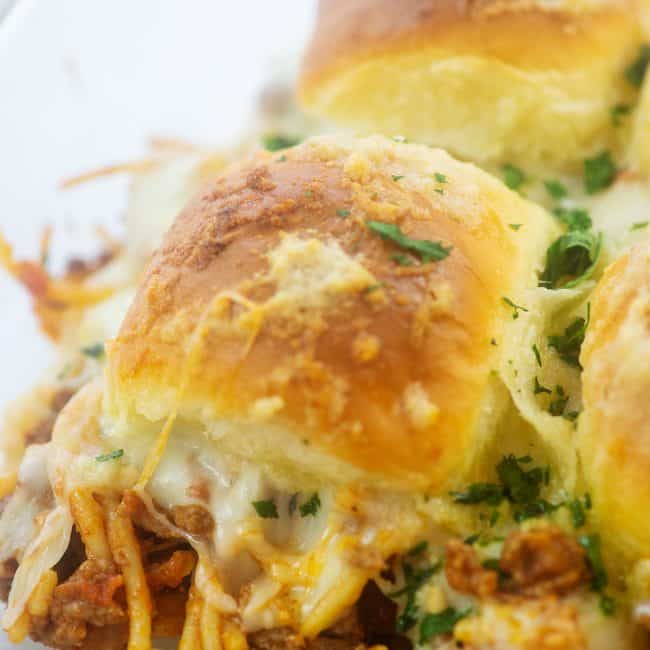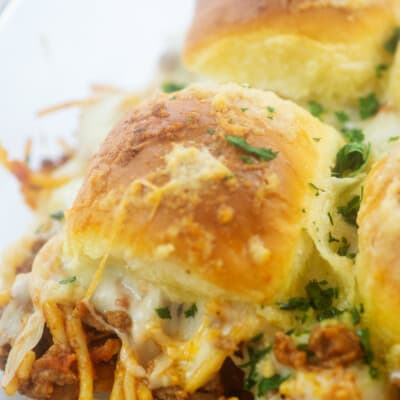 Mini Spaghetti Sandwiches
These spaghetti sliders are a fun take on spaghetti night! The kids love these messy sandwiches that they can eat with their hands. The sweet Hawaiian rolls and garlic butter topping are perfect with the pasta.
Prep15 minutes
35 minutes
Total50 minutes
Ingredients
For the spaghetti:
8 ounces spaghetti
1/2 pound ground beef
½ medium onion chopped
2 cloves garlic minced
½ teaspoon red pepper flakes
1 3/4 cups spaghetti sauce plus more for dipping
For assembly:
12 Hawaiian rolls
½ cup shredded Parmesan
6 slices mozzarella cheese
For the topping:
½ cup butter melted
2 cloves garlic minced
1 teaspoon garlic powder
1 teaspoon onion powder
½ teaspoon salt
Parsley for garnish
Instructions
For the spaghetti:
Bring a large pot of water to a boil. Add the spaghetti and cook for one minute less than the package directions state. Drain well.

While the pasta is cooking, heat a large skillet over medium heat. Add the beef and onion to the skillet and cook until browned, crumbling the meat as it cooks.

Add the garlic and red pepper flakes and cook for 30 seconds.

Add the spaghetti sauce and stir to coat. Stir the drained pasta into the spaghetti sauce and use a sharp spatula or meat chopper to break the noodles into bite-sized pieces.
To assemble:
Preheat oven to 350 degrees.

Slice the rolls in half and arrange in a 9×13 baking dish.

Spoon the spaghetti over the bottom of each slider. Sprinkle with the Parmesan and arrange the cheese slices so that they are fully covering all of the sandwiches.

Place top half of the roll on each sandwich.
For the topping:
Stir together the butter, garlic, garlic powder, onion powder, and salt until well combined.

Brush over the tops of the rolls.
To bake:
Cover the dish with foil and bake for 15 minutes.

Remove the foil and bake for 10 minutes more.

Sprinkle with parsley before serving.
Tips & Notes:
You may use leftover spaghetti to make these spaghetti sandwiches rather than making spaghetti from scratch. Serve with warmed marinara on the side for dipping, if desired.
Nutrition Information:
Serving: 1slider| Calories: 347kcal (17%)| Carbohydrates: 32g (11%)| Protein: 14g (28%)| Fat: 18g (28%)| Saturated Fat: 10g (63%)| Trans Fat: 1g| Cholesterol: 58mg (19%)| Sodium: 607mg (26%)| Potassium: 245mg (7%)| Fiber: 1g (4%)| Sugar: 6g (7%)| Vitamin A: 544IU (11%)| Vitamin C: 3mg (4%)| Calcium: 139mg (14%)| Iron: 1mg (6%)