This simple copycat PASTA FAGIOLI SOUP is hearty, filling, and packed with beans, pasta, and veggies. This is my take on the Olive Garden version and we think it's even better than what you get at the restaurant. Plus, it's super easy!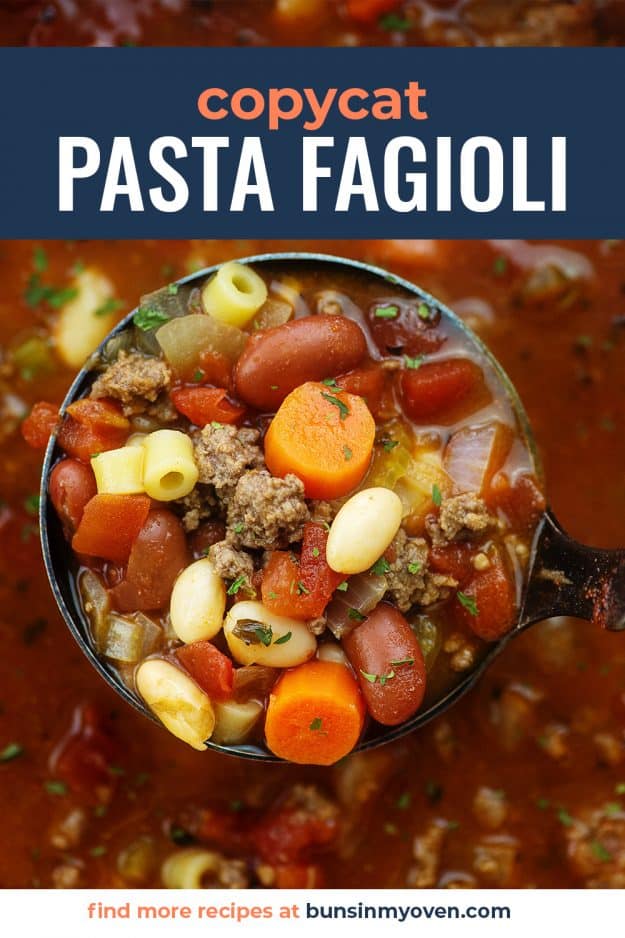 One of the things my family has been missing since the start of, well, 2020 and all that came along with it, was Olive Garden.
Yeah, yeah, I know it's not cool to admit to loving Olive Garden and I'm not saying it's the best Italian out there (by any stretch, haha), but it's consistently good and quick and my whole family loves it.
My homemade Alfredo sauce is super easy and even better than OG's. Try it alongside this soup sometime!
We've also made a keto Zuppa Toscana and the chicken gnocchi soup!
No need to leave your house for your OG fix. 😉
Anyway, this pasta fagioli is a rich, hearty soup made with a mix of beans, veggies, and ditalini pasta.
It can be a whole meal on it's own, or serve it up as a starter before some pasta and go for the whole restaurant experience.
How to Make:
Brown beef in a stock pot and then add in carrots, celery, onion, and garlic and let those cook until they've softened a bit.
Pour in some chicken broth, tomato sauce, diced tomatoes, canned beans, and spices.
Let the soup simmer for 15 minutes and then add the pasta and cook until tender, about 10 more minutes.
So simple, so quick, and so hearty! This soup is perfect!
Leftover Hack!
Most soups with pasta don't freeze and reheat great as the pasta turns to mush.
If you'd like to freeze leftovers, I recommend cooking the pasta separate and adding it to individual portions.
Freeze leftovers separately (soup in one freezer bag and pasta in another) and then add them together when heating up the soup before serving.
More italian favorites: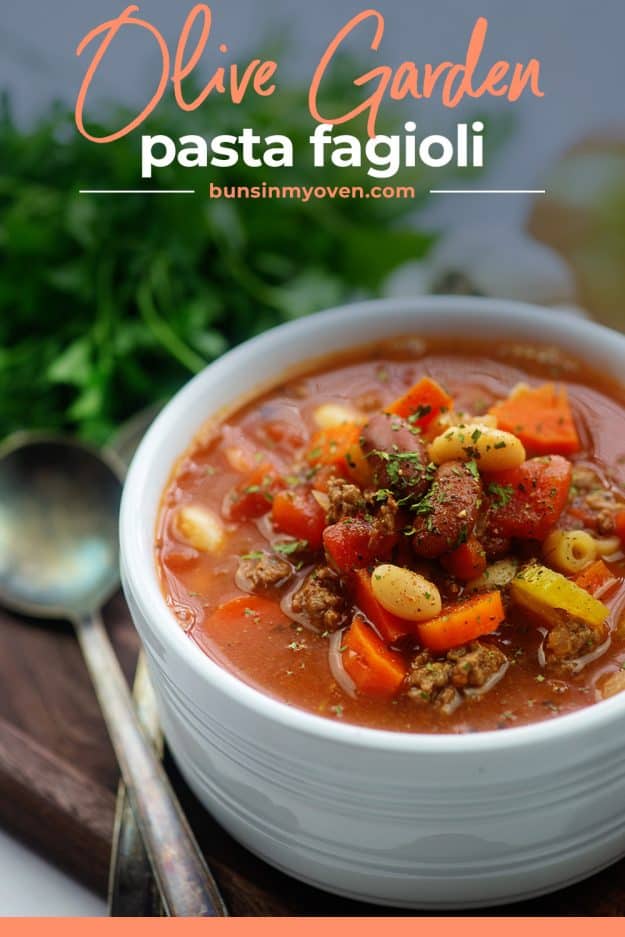 Pasta Fagioli
This hearty soup is a copycat version of what you'd get before your meal at Olive Garden. It starts off with ground beef and veggies and then we add in a mix of beans and ditalini pasta. It's a simple soup that's ready quickly.
Prep5 minutes
Cook35 minutes
Total40 minutes
Ingredients
1 pound lean ground beef
3 medium carrots diced
2 ribs celery diced
1 medium onion diced
3 cloves garlic minced
4 cups chicken stock
15 ounces canned tomato sauce
15 ounces canned diced tomatoes
15 ounces canned Great Northern beans drained
15 ounces canned red kidney beans drained
1 teaspoon dried basil
1 teaspoon dried oregano
½ teaspoon dried thyme
½ teaspoon dried rosemary
1 teaspoon salt
1 teaspoon cracked pepper
1 cup ditalini pasta
Instructions
Add the ground beef to a large pot or duct oven over medium heat and crumble.

Add the carrots, celery, onion, and garlic and continue cooking, stirring often, until the meat is cooked through.

Add the chicken stock, tomato sauce, diced tomatoes, beans, and spices.

Bring to a boil and reduce the heat to a simmer. Simmer for 15 minutes.

Add the pasta to the pot and continue cooking for 10 minutes.

Serve immediately.
Nutrition Information:
Calories: 344kcal (17%)| Carbohydrates: 49g (16%)| Protein: 26g (52%)| Fat: 5g (8%)| Saturated Fat: 2g (13%)| Cholesterol: 39mg (13%)| Sodium: 1018mg (44%)| Potassium: 1093mg (31%)| Fiber: 9g (38%)| Sugar: 9g (10%)| Vitamin A: 4159IU (83%)| Vitamin C: 13mg (16%)| Calcium: 104mg (10%)| Iron: 5mg (28%)