This cheesy stuffed manicotti recipe is a family favorite in my house! I add spinach to make this dish a bit healthier and my kids don't even realize it's in there!
I love pasta. It's one of those meals that will please just about anyone and it's usually easy to throw together!
One of my absolute favorites is manicotti. Manicotti are just big empty pasta tubes that you fill up with good stuff. Imagine the possibilities! I can think of a hundred delicious things to stuff inside of pasta!
Today we're doing a four cheese manicotti and adding in some sauteed spinach. It adds a gorgeous color to the filling and tastes amazing here.
Manicotti Recipe Ingredients:
Manicotti
Cheese – Ricotta, Mozzarella, Parmesan, and cream cheese!
Italian Seasoning
Herbs – Dried basil, fresh parsley, chopped basil, and chopped oregano!
Olive Oil
Fresh Baby Spinach
Minced Onion
Minced Garlic
Marinara Sauce
Red Pepper Flakes
Crushed Tomatoes
Tomato Paste
Salt
Sugar
What We Love About Spinach Manicotti!
This spinach pasta recipe uses some of my favorite cheeses, and the manicotti is perfect for a rich, cheesy filling. The spinach doesn't even get noticed by picky children among all that pasta and cheese!
How To Make Cheese Manicotti Recipe:
Pasta: You'll start by boiling your manicotti in some salted water. Once cooked, drain the pasta water and let the manicotti cool a bit. You'll be handling them and you don't want to burn yourself!
While the manicotti cools a bit, prepare the filling.
Why salt the pasta? – People will tell you there are all sorts of reasons to salt the pasta water, but mainly it just adds flavor to the pasta. Use sea salt or kosher salt for the best flavor.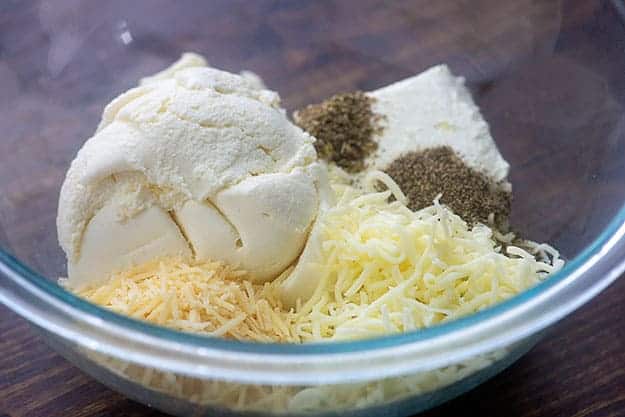 Cheese Filling: The best part of this four cheese pasta recipe is loading it up with all that cheese! Mix together the four cheeses, the dried basil, and the Italian seasoning.
Place the cheese filling aside for now and move on to making the spinach!
Spinach: Sauté the spinach in a little oil with some garlic and onion until the spinach is wilted. This shouldn't take long, maybe five minutes.
Stir the spinach into the cheese filling you made in the last step and start stuffing your pasta full of it!
Tip: You can use a spoon to scoop it into the tubes, but I find it easiest to add the filling to a plastic bag, snip off the end and squirt it in!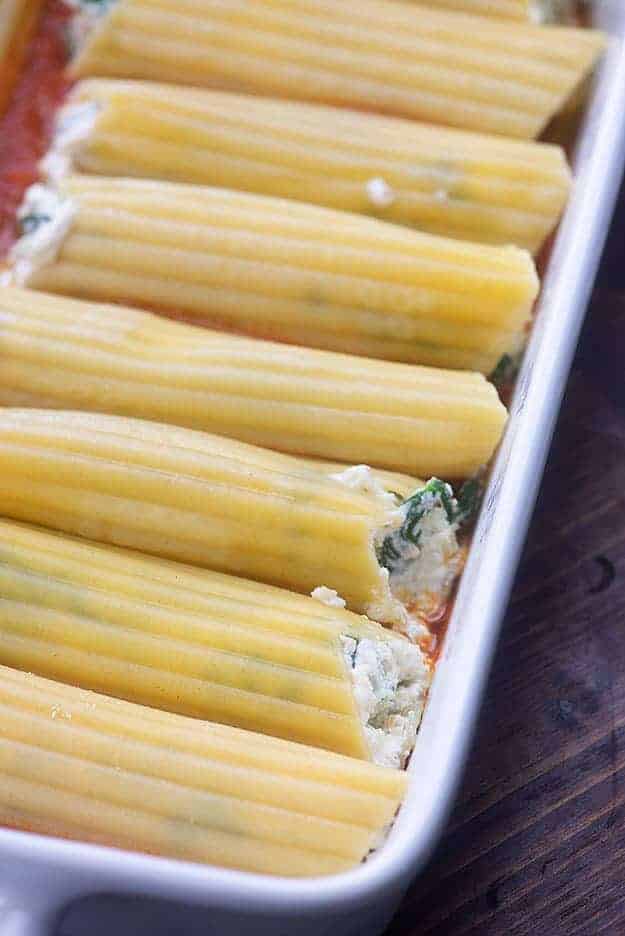 Sauce: Layer the filled manicotti over some marinara sauce in a baking dish. You can use my recipe below for homemade marinara or you can purchase a jar.
If using store bought, I always recommend Rao's brand. It's my favorite marinara.
You'll top the stuffed manicotti with more marinara and extra cheese! And finally…
Bake: When you've finished layering the cheese and spinach stuffed manicotti with the marinara (and more cheese!) you can go ahead and bake until the cheese has melted and it begins to brown on the top.
Sprinkle some parsley on the top and you're all set!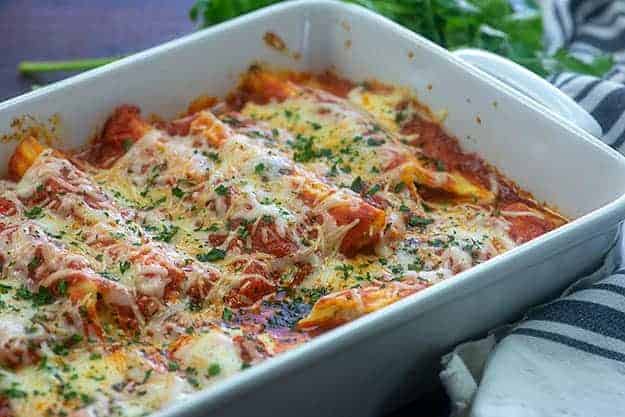 This makes a great vegetarian meal, but if you want to bulk it up with some meat, use my homemade spaghetti sauce instead of the marinara.
This whole recipe is really quite easy to throw together and it has such a pretty presentation.
Who doesn't love carbs stuffed with cheese?!
MORE PASTA RECIPES!
Chicken Spaghetti Recipe: This one is a favorite with my kids!
Shrimp Alfredo: Tastes like a fancy dish you'd get from your favorite Italian restaurant!
Baked Ziti Recipe: The creamy white sauce takes this dish over the top!
Hamburger Helper: Skip the box – my homemade version is better!
Garlic Butter Noodles: Simple comfort food!
MORE SPINACH RECIPES!
Creamed Spinach Casserole – This casserole is rich, creamy and perfect for holidays!
Spinach Artichoke Dip Pasta – Works great without the pasta as a chip dip too!
Spinach Stuffed Pork Chops – A low carb recipe, but it doesn't taste like it!
Spinach Stuffed Chicken – Another super tasty low carb recipe.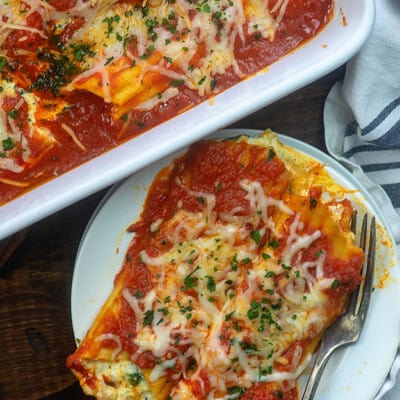 Four Cheese Spinach Manicotti
Extra cheesy pasta is always a win in our house!
Prep20 minutes
Cook50 minutes
Total1 hour 10 minutes
Ingredients
For the manicotti:
12 ounces manicotti
16 ounces Ricotta cheese
6 ounces Mozzarella cheese shredded
6 ounces Parmesan shredded
4 ounces cream cheese
1/2 teaspoon Italian seasoning
1/2 teaspoon dried basil
1 tablespoon olive oil
1 cup finely chopped fresh baby Spinach
2 tablespoons minced onion
1 clove garlic minced
2 cups marinara sauce
1 tablespoon fresh parsley minced
Basic Marinara Sauce:
1 tablespoon olive oil
1/2 medium onion minced
3 cloves garlic minced
1 teaspoon Red pepper flakes
45 ounces crushed tomatoes
2 tablespoons tomato paste
2 tablespoons chopped basil
2 tablespoons chopped oregano
1 teaspoon salt
1/4 teaspoon sugar
Instructions
For the manicotti:
Bring a large pot of salted water to a boil. Add in the manicotti and cook for 7 minutes. Drain.

Set aside the pasta to cool and begin making the filling.

In a large bowl, mix together the Ricotta cheese, 3 ounces of Mozzarella, 3 ounces of Parmesan, cream cheese, Italian seasoning, and basil.

Heat the olive oil in a small skillet over medium heat. Add the spinach, onion, and garlic and cook until the onion is translucent and the spinach has wilted, about 5 minutes.

Add the spinach to the cheese mixture and stir well to combine.

When the pasta is cool enough to handle, use a small spoon to scoop the filling into the pasta. Alternately, place the filling in a plastic bag and snip off the end. Squirt the filling into the manicotti.

Cover the bottom of a 9×13 baking dish with a thin layer of marinara sauce. Arrange your pasta in the baking dish. Cover with the remaining marinara sauce and top with the remaining cheese.

Bake in a preheated 350 degree oven for about 20 minutes or until the cheese is melted and starting to browned on top. Sprinkle with parsley before serving.
For the sauce:
Heat the oil in a large sauce pan over medium heat. Add the onion and garlic and saute until soft and fragrant, about 5 minutes.

Add the remaining ingredients, stir to combine, and simmer for 30 minutes over low heat, stirring occasionally.


Store sauce tightly covered in the refrigerator for up to 5 days.
Tips & Notes:
Use store bought marinara, if preferred.
Nutrition Information:
Serving: 1| Calories: 659kcal (33%)| Carbohydrates: 55g (18%)| Protein: 36g (72%)| Fat: 32g (49%)| Saturated Fat: 18g (113%)| Cholesterol: 97mg (32%)| Sodium: 1085mg (47%)| Potassium: 591mg (17%)| Fiber: 3g (13%)| Sugar: 6g (7%)| Vitamin A: 1705IU (34%)| Vitamin C: 7.8mg (9%)| Calcium: 726mg (73%)| Iron: 2.7mg (15%)
This post was originally published in 2011. It's been updated with new photos and text in 2019. Original photo below.