This CREAMED SPINACH CASSEROLE is the perfect holiday dish. Decadent, creamy, cheesy, and loaded with fresh spinach.
Would you guys believe that my husband, the guy who hates most veggies, absolutely loves spinach?
When we make salads for dinner, I always want crunchy iceberg lettuce…you know, the kind with zero nutritional value that we all grew up with. 😉
He always reaches for the fresh spinach. Not for health reasons, but because he LIKES it.
Sometimes the man shocks me.
I'm pretty good at sneaking spinach into things. After all, it doesn't really have a ton of flavor on it's own and it wilts down into almost nothing.
It's great in smoothies and soups. This creamy Tuscan chicken is a favorite and it's got spinach throughout.
And, of course, we have the best spinach artichoke dip that no one can get enough of!
This creamed spinach casserole is a favorite of my husband's and mine! It's a bit decadent, thanks to the creamy goodness of the cream cheese, sour cream, half and half, and Parmesan. But, that just makes it perfect for a holiday dish!
We also added in chopped artichokes, because we just love the spinach dip vibes that gives the whole dish. Spinach and artichokes just go so well together!
How to Make:
Prepare the Spinach: A lot of similar recipes call for frozen spinach, but we'll be using tasty fresh baby spinach in this casserole dish. It's a little more work, but worth the results!
Heat the onion, garlic, and butter in a skillet before adding half the fresh spinach and cooking until it begins to wilt. Add the remaining half and cook until all the spinach has wilted.
Drain the excess liquid from the pot.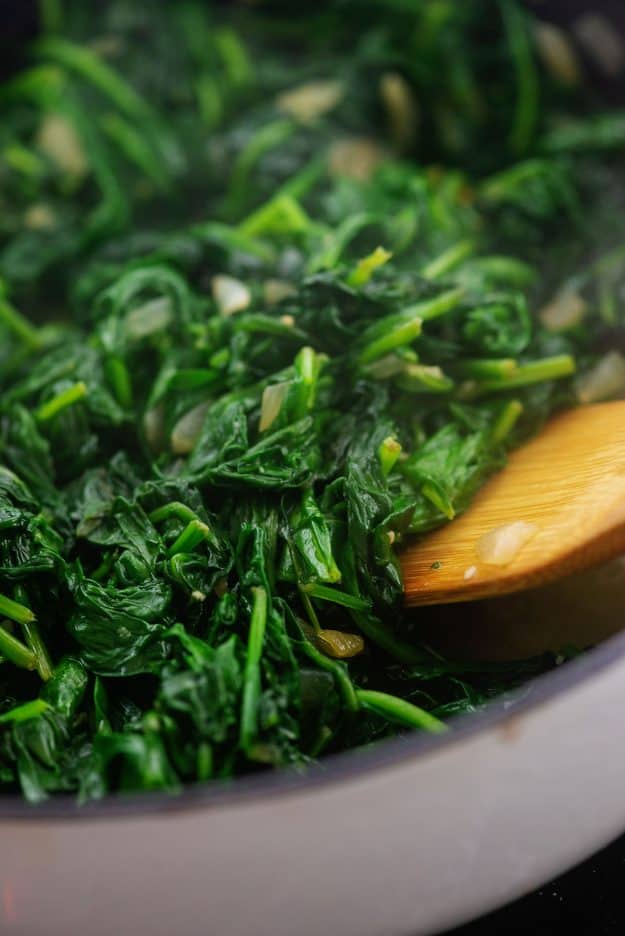 Artichokes & Cheese: Add the canned artichoke hearts, cheeses, sour cream, and half and half to the skillet with the spinach and stir well. This spinach artichoke casserole has tons of rich, creamy flavor!
Preheat your oven to 350 degrees while preparing the spinach and artichoke mixture.
What is half and half?
In the United States, half and half is sold in the dairy section with the milk and heavy cream. It's quite literally half heavy cream and half milk.
I often make my own, since we usually have heavy cream and milk on hand.
Bake: When the cheesy spinach and artichoke mixture has been prepared, transfer it to a greased two quart baking dish and top with the crumbled butter crackers to finish preparing your easy casserole. Add it to the oven for 25 minutes or until it appears lightly golden and bubbling!
Substitions/Additions:
Cheddar or other cheeses are a good substitute for the Parmesan.
Sprinkle in red pepper flakes for a bit of heat.
If you like spice a 1/2 teaspoon of nutmeg is a good choice.
Trying to cut carbs? Leave the crackers off the top and you have a low carb spinach casserole!
Leftover Hack!
Toss leftovers into a crockpot with extra cream cheese and a handful of monterey jack cheese. Stir occasionally until it's all hot and melty and serve with chips.
Make It a Meal!
For the perfect holiday meal, pair this with…
Creamed Spinach Casserole
Decadent, creamy, and easy to make! This creamed spinach casserole is a holiday favorite. It's made with fresh spinach for the best taste and flavor, but you could sub in frozen spinach, if preferred.
Prep15 minutes
Cook20 minutes
Total35 minutes
Ingredients
1 small onion
2 cloves garlic
2 tablespoons butter
30 ounces fresh baby spinach
14 ounces canned chopped artichokes
8 ounces cream cheese cubed
1 cup sour cream
½ cup half and half
1/3 cup shredded Parmesan cheese
1 teaspoon salt
10 butter crackers
Instructions
Preheat oven to 350 degrees. Spray a 2 quart baking dish with non-stick spray.

Chop the onion and mince the garlic.

Heat the butter in a large, deep skillet over medium heat until melted.

Add the onion to the skillet and cook until softened, about 5 minutes. Add the garlic and cook for 30 seconds more.

Add half of the spinach to the skillet and cook until beginning to wilt. Add in the remaining spinach as it will fit in the pan, carefully stirring, until all of the spinach is in the pan and has wilted.

Drain any liquid from the skillet.

Add the artichoke hearts, cream cheese, sour cream, half and half, Parmesan cheese, and salt. Stir well.

Transfer the mixture to the prepared baking dish and crumble the crackers over the top. Sprinkle with additional Parmesan cheese, if desired.

Bake for 20 minutes or until the edges are bubbling and lightly golden.

Serve hot.
Tips & Notes:
You may replace the fresh spinach with an equal amount of frozen spinach, if desired. Thaw and drain well and add to the pot with the cooked onions and garlic. Heat through before resuming with step 6. As written, this recipe has 9 net carbs per serving. Leave off the cracker topping to make this even more low carb friendly.
Nutrition Information:
Calories: 316kcal (16%)| Carbohydrates: 13g (4%)| Protein: 8g (16%)| Fat: 27g (42%)| Saturated Fat: 13g (81%)| Cholesterol: 62mg (21%)| Sodium: 809mg (35%)| Potassium: 710mg (20%)| Fiber: 4g (17%)| Sugar: 3g (3%)| Vitamin A: 11198IU (224%)| Vitamin C: 42mg (51%)| Calcium: 249mg (25%)| Iron: 4mg (22%)