This pineapple casserole is sweet and salty and makes the perfect side dish to any dinner!
I have a confession to make.
I'm not super big on tropical fruit.
I mean, I'll eat the heck out of some berries or apples or watermelon. But, mangoes and pineapples and coconuts? Nah. Pass. Let's not even get into what I think about bananas. (Unless they're baked in something delicious, like my banana chocolate chip muffins.)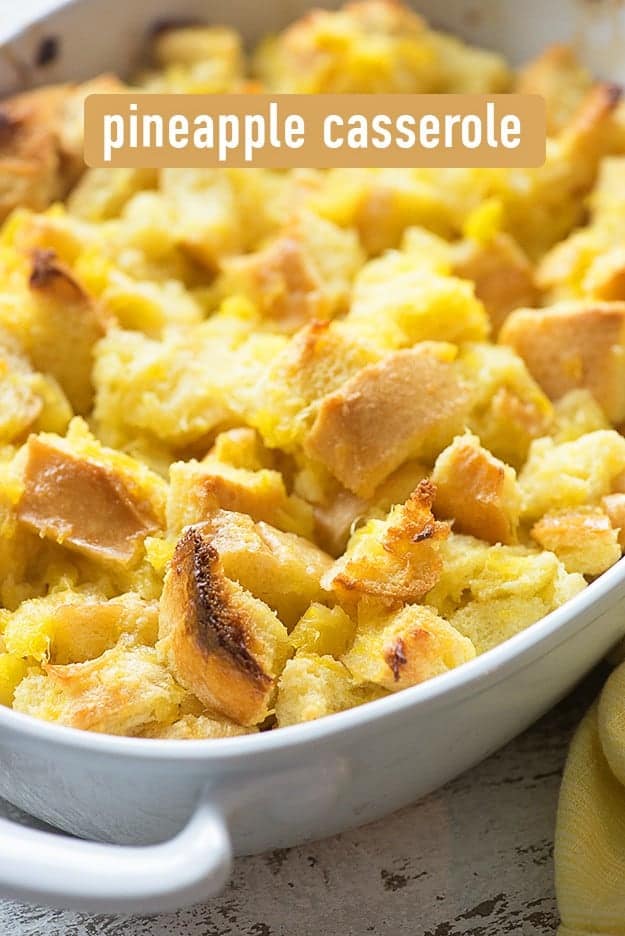 Or, at least, I used to pass on the pineapple. Then I went to a Brazilian grill and tried the grilled pineapple that's coated in cinnamon and now? Well. Let's just say that I can't get enough pineapple in my life.

This pineapple casserole is a little weird, if we're being honest. I mean. It's fruit. With bread. I don't know. Seems odd to me, but I was on my newfound pineapple kick and I saw this in a Taste of Home magazine and I thought, yep. Trying that one.
I'm so glad I did. It's oddly delicious.
A little sweet, a little salty, all the way amazing.
I feel like this is going to be one of those dishes that always makes an appearance at our holiday dinners. It's a serious crowd pleaser and people get kind of shocked by it. Pineapple casserole, they think, is probably not so great. Then they try it and they go back for seconds.
Please just trust me on this one. Try it. I really think it's going to be a hit.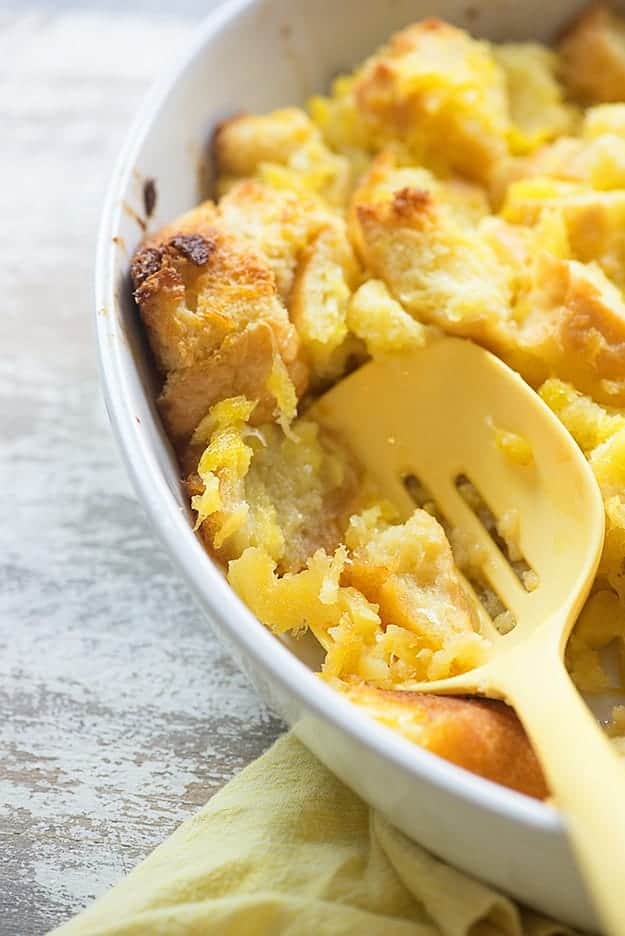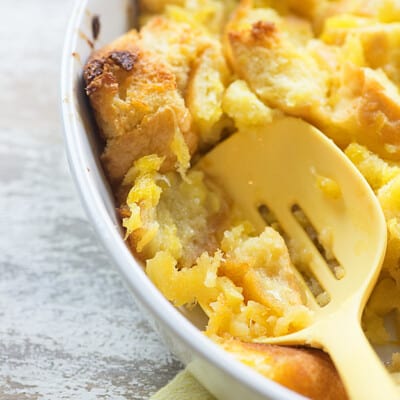 Pineapple Casserole
This pineapple casserole is sweet and salty and makes the perfect side dish to any dinner!

Prep5 minutes
Cook45 minutes
Total50 minutes
Ingredients
3/4 cup butter room temperature
1 1/4 cups sugar
3 large eggs
20 ounces canned crushed pineapple drained well
2 teaspoons lemon juice
4 cups French bread cubes
Instructions
Preheat oven to 350 degrees. Spray a 2 quart baking dish with non-stick spray.

Beat together the butter and sugar until light and fluffy.

Beat in the eggs one at a time.

Stir in the pineapple and lemon juice to combine.

Fold in the bread cubes.

Spread into prepared baking dish and bake for 45-50 minutes or until the top is golden brown.
Nutrition Information:
Calories: 507kcal (25%)| Carbohydrates: 65g (22%)| Protein: 5g (10%)| Fat: 26g (40%)| Saturated Fat: 15g (94%)| Cholesterol: 154mg (51%)| Sodium: 336mg (15%)| Potassium: 192mg (5%)| Fiber: 2g (8%)| Sugar: 56g (62%)| Vitamin A: 890IU (18%)| Vitamin C: 9.5mg (12%)| Calcium: 62mg (6%)| Iron: 1.4mg (8%)