These banana chocolate chip muffins are perfect for busy mornings!
I have been on a weird breakfast kick lately. I think it's because I've been trying to eat healthier. By which I mean that I am eating so many fruits and vegetables, my body is wondering what in the world is going on. Has McDonald's disappeared from the planet? Are tacos no longer a thing? Was the grocery store out of everything except green stuff?
My body is sad. But also happy. But a whiny sort of happy. You know?
Anyway, I was talking about breakfast. I've been eating it lately and making it a serious priority in my day. In the past, I'd generally just wake up, shower, and then work until I was so hungry that I'd eat anything in sight around 11am. "Anything in sight" was usually potato chips or cookies. I am disgusting.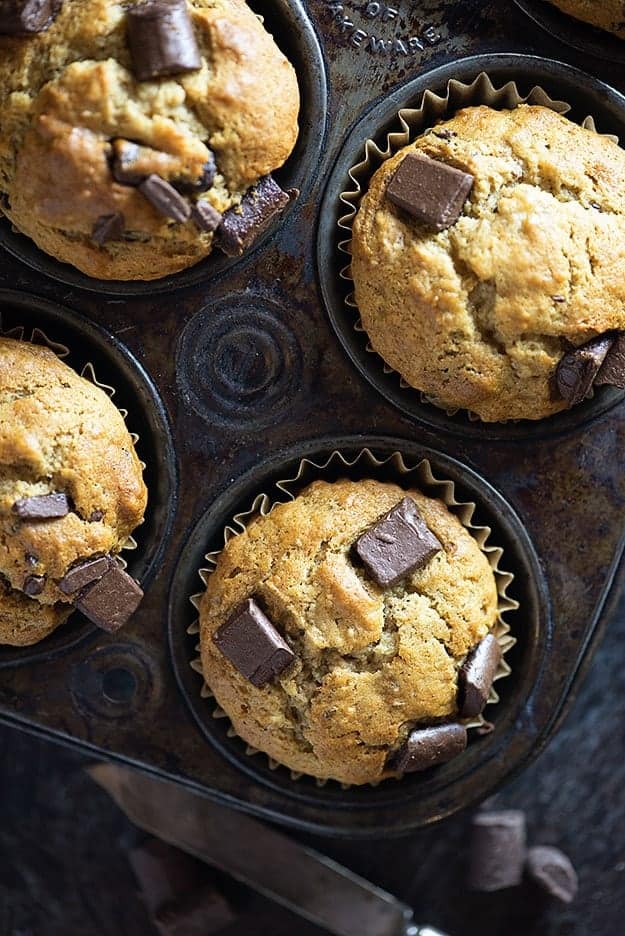 Lately, though, I've been eating first thing and being sure to fill myself up with protein and fruit. Cottage cheese is an everyday breakfast thing for me, along with either an apple or a banana muffin. I can't do straight bananas, because barf. That's nasty, y'all.
These chocolate chip banana muffins are a little more decadent than my blueberry almond banana muffins. They have little bits of chocolate chunks hiding throughout. Chocolate and banana go together like peas and carrots, but so so so much better. No more peas and carrots. Please no.
Oh, and be sure to check out my chocolate banana bread recipe. It's out of this world amazing. Or, if you're tired of sweets for breakfast, my breakfast casserole is always a hit!
Anyway, I hope you and your kiddos like these banana chocolate chip muffins as much as we do!
Serve 'em up alongside some fresh strawberries or scrambled eggs or a bag of potato chips. Whatever. You do you.
Chocolate Chunk Banana Muffins
These banana muffins are full of chocolate chunks, making them a fun treat for busy mornings!
Prep10 minutes
Cook18 minutes
Total28 minutes
Ingredients
3 bananas mashed
1/2 cup brown sugar
1/4 cup sugar
1 egg
1/3 cup butter melted
2 teaspoons vanilla
1 1/2 cups flour
1 teaspoon baking powder
1 teaspoon baking soda
1/2 teaspoon cinnamon
1/2 teaspoon salt
1 cup chocolate chunks
Instructions
Preheat oven to 375 degrees. Spray or line a muffin tin.

Add the bananas, brown sugar, and sugar to a mixing bowl and beat on medium speed until well combined.

Beat in the egg, butter, and vanilla until just combined.

Add the flour, baking powder, baking soda, cinnamon, and salt to a small bowl and stir to combine.

Add the flour mixture to the wet mixture, stirring until just combine.

Stir in the chocolate chips.

Spoon the mixture into the muffin tin 2/3 of the way full.

Bake for 18 minutes or until a tester comes out clean.
Nutrition Information:
Serving: 1muffin| Calories: 269kcal (13%)| Carbohydrates: 40g (13%)| Protein: 3g (6%)| Fat: 11g (17%)| Saturated Fat: 7g (44%)| Cholesterol: 28mg (9%)| Sodium: 243mg (11%)| Potassium: 254mg (7%)| Fiber: 2g (8%)| Sugar: 22g (24%)| Vitamin A: 205IU (4%)| Vitamin C: 2.6mg (3%)| Calcium: 38mg (4%)| Iron: 1.9mg (11%)