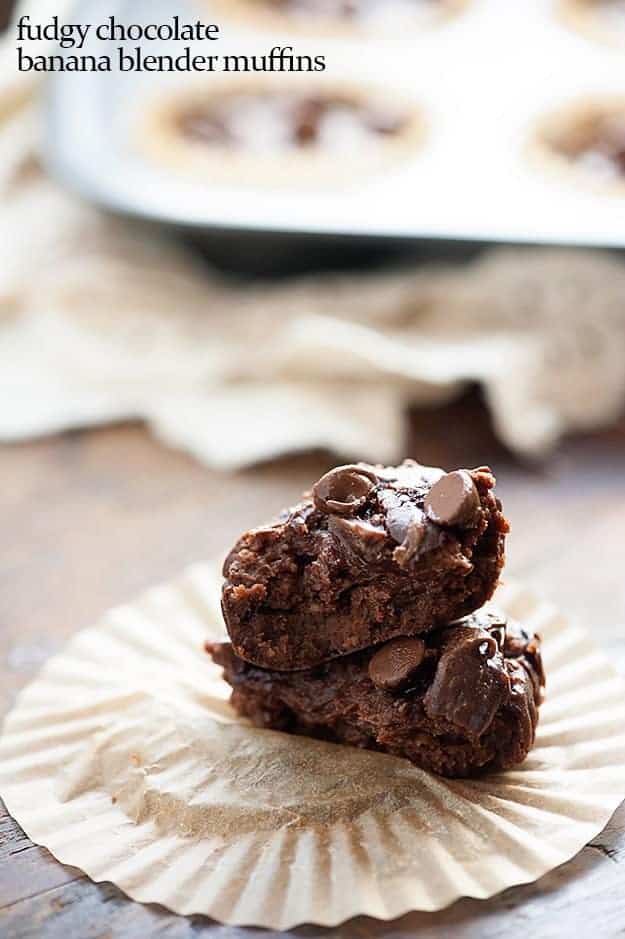 Happy Monday, my friends.
Hey. Fake it til we make it, right? It can be Monday and be happy if we believe in ourselves and try real hard.
Or, fine. Maybe not. Maybe we'll all just be miserable because seriously. Monday. Again?
Of course, I'm coming at you on this gloomy morning with some chocolate. That has to help things right? Especially since this is HEALHTY chocolate. Chocolate that is good for you. Chocolate that comes without the guilt. Yesssssss. Happy Monday, indeed.

You guys might remember my Blueberry Banana Blender Muffins from a few weeks ago. Well, I've switched up the flavors a bit and I'm back with a chocolate version.
These little muffins are packed with protein from peanut butter, they contain no flour (and no gluten, if you use gluten free oats!), they are sweetened with a banana and some honey, and they are basically a health food. Cocoa powder has antioxidants and stuff. <—- Or so I hear. I really am not a health food type of blogger and I'm just regurgitating things I've heard from smart people at this point. 😉
Anyway, we love these muffins in my house. I make them for breakfast and my kids get super excited.
They eat them as afternoon snacks as well. They're pretty filling from all of the fiber and protein, but they totally taste like a treat, so my kids are happy about that!
For awhile I was getting away with serving these as dessert, but my kids eventually caught on that if I feed it to them for breakfast, it's not a dessert. They now demand my homemade brownies in place of these fudgy muffins after dinner, but we had a good run.
These are quick to prepare. I use my high-powered blender for these, but any blender should work just fine. You could also use a food processor. I love that there is one one dish to clean up when you're done too!
My chocolate banana bread recipe makes a nice breakfast, if you're in the mood for something a bit less healthy. 😉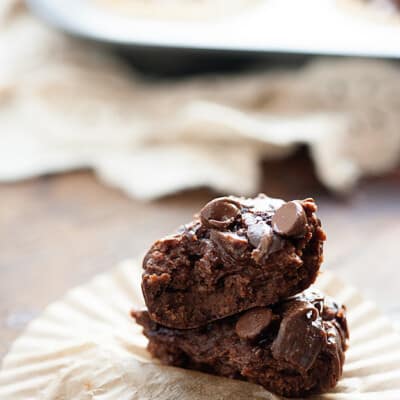 Chocolate Banana Blender Muffins
So, I really hesitated to call out the fact that these blender muffins are actually good for you, because they seriously DO NOT taste like they are! My kids, who are very well versed in the dessert department, will very often ask for these for dessert. They're like brownies. But with a hint of banana going on in the background.

Prep5 minutes
Cook14 minutes
Total19 minutes
Instructions
Preheat oven to 350 degrees. Line 6 muffin wells with paper liners.

Add the banana, egg, peanut butter, oats, honey, cocoa powder, and vanilla to a blender and blend until smooth and creamy.

Spoon batter into prepared muffin tin and sprinkle the tops with chocolate chips.

Bake for 12-14 minutes or until a tester comes out clean.

Cool on a wire rack before serving.
Nutrition Information:
Calories: 221kcal (11%)| Carbohydrates: 24g (8%)| Protein: 7g (14%)| Fat: 12g (18%)| Saturated Fat: 2g (13%)| Cholesterol: 31mg (10%)| Sodium: 112mg (5%)| Potassium: 295mg (8%)| Fiber: 3g (13%)| Sugar: 16g (18%)| Vitamin A: 60IU (1%)| Vitamin C: 1.7mg (2%)| Calcium: 20mg (2%)| Iron: 1.3mg (7%)