Our Homemade Brownies are thick, rich, fudgy, and they taste just like they came from a bakery! No more box mixes, because these are seriously the best brownies from scratch you'll ever try.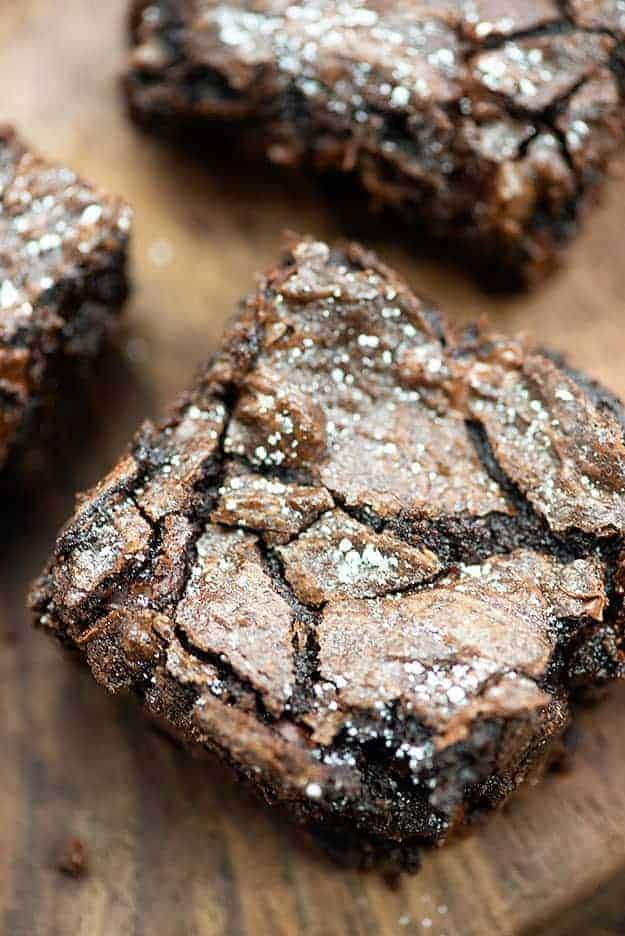 In the past I've shared things like the fact that I'd never in my life eaten oatmeal (the horror!), I've blogged about how one time I drank salad dressing from a ziploc bag because…I don't know why.
I have shared some deep and disturbing things with you and here I am with another…
I generally prefer brownies that are made from a box mix. The shame! The horror!
No worries, I've totally changed my ways!
I'm about to share with you the perfect homemade brownies recipe and I can almost guarantee you'll never go back to the box mix again.
These. Are. Good.
These brownies are perfectly thick and fudgy. Basically a chocolate bomb going off in your mouth. If you like fudgy brownies, you're going to love these.
Ingredient Notes:
This post contains affiliate links. As an Amazon associate and member of other qualifying programs, I earn from qualifying purchases.
Brownie Mix – This homemade brownie mix contains most of the usual brownie batter ingredients like cocoa powder, flour, sugar, eggs, baking powder, and vanilla extract.
Espresso Powder – Optional but highly recommended! It really adds a lot of depth to the chocolate flavor. This will NOT make your homemade brownies taste like coffee. It'll just add lots of extra fudgy flavor to this brownie recipe!
Chocolate Chips – I like to add lots of semi-sweet chocolate chips to the brownie batter! They will met perfectly to add even more chocolatey flavor to these fudgy brownies.
What Readers are Saying!
"Oh my gosh these brownies are so gooey, fudgy and rich! I've been trying to make fudgy brownies for a while but I always manage to cook them too long and they end up cake-like. But not with these bad boys! Thanks for the recipe!" – Kayla
How to Make Brownies From Scratch:
Melt the butter on the stove and then whisk in the sugar. We don't want to caramelize the sugar – just melt it into the butter.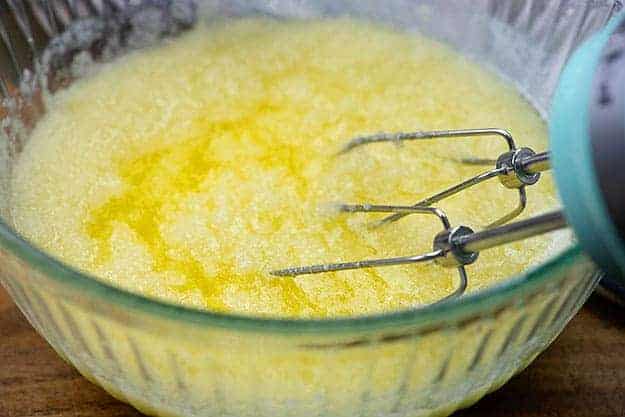 Add the hot butter mixture to a mixing bowl and let it cool for just a few minutes before adding the eggs.
Beat in the eggs and cocoa powder with a little vanilla. This mixture is going to look divine, so go ahead and take a little lick if you must. Just be careful – once you start, it's hard to stop!
Next, add in your flour, baking powder, a little salt, and the secret weapon: espresso powder.
Helpful Tip!
Baking With Chocolate
If you don't have espresso powder, you can skip it. However, I highly recommend keeping some on hand for baking with chocolate. It doesn't make your treats taste like coffee, it just enhances the rich chocolate flavor. Highly recommend. This is the brand I use.
Mix that all together by hand and then stir in some chocolate chips. I like to use dark or semi-sweet, but my family prefers milk. Use whichever variety you like best. The brownie batter will be thick.
Spread the brownie batter into a greased or parchment-lined 9×13 baking dish and bake for about 30 minutes. You want the edges to be firmly set and the center to still be a bit soft. I like to use a tester 1 inch from the edge – when the edges are fully cooked through, your center should be nicely fudgy and delicious.
Let the homemade brownies cool for as long as you can stand it before cutting.
I use my dusting wand to lightly sprinkle on some powdered sugar. It's not necessary but it makes the brownies oh so pretty!
FAQs:
How to store brownies?
You can store these homemade brownies in an airtight container at room temperature for 3 to 5 days!
What type of cocoa powder to use?
We normally use Hershey's Special Dark, which is a mixture of Dutch and natural. It makes extra fudgy brownies! If you're choosing just one, use Dutch processed.
How do I know when my brownies are done?
We like to test these homemade brownies about 1-2 inches from the edge of the pan and pull them when the tester comes out clean. If you test them directly in the center of the pan, the edges will be overdone by the time the tester comes out clean. Testing near the edges ensures you end up with nice edge pieces and fudgy centers.
MORE BROWNIE RECIPES!
Nutella Brownies: If you like extra fudgy brownies, try these!
Marshmallow Brownies: Wait til you see the layers on these brownies!
Reese's Brownies: Brownie bottom + peanut butter frosting + chocolate fudge frosting + Reese's!
Mississippi Mud Brownies: I love the marshmallows on here!
M&M Brownies: These brownies are packed full of M&M candies!

Recipe for easy homemade brownies:
Homemade Brownies
This homemade brownie recipe will change your life! No more box mixes, because these are seriously the best homemade brownies you'll ever try. My whole family begs for them!

Prep10 minutes
Cook30 minutes
Total40 minutes
Ingredients
1 cup butter
2 1/4 cups sugar
4 large eggs
1 1/4 cups cocoa powder
1 teaspoon salt
1 teaspoon baking powder
1 teaspoon espresso powder optional
1 tablespoon vanilla extract
1 1/2 cups all-purpose flour
2 cups semi-sweet chocolate chips
Instructions
Pre-heat the oven to 350 degrees. Butter a 9×13 baking dish.

In small saucepan over low heat, melt butter completely. Stir in sugar and continue cooking for 1-2 minutes, stirring constantly. Do not allow sugar mixture to boil.

Pour butter mixture into a large bowl or stand mixer, and cool for 2 minutes. Beat in cocoa powder, eggs, salt, baking powder, espresso powder, and vanilla extract. Mix until well combined.

Stir in the flour and chocolate chips until well combined.

Spread into prepared pan (batter will be very thick and sticky) and bake for about 30 minutes, until a tester comes out mostly clean. The edges should be set and the center should still look slightly moist, but not uncooked. Cool on a wire rack.
Tips & Notes:
Espresso powder is optional, but deepens the flavor of any chocolate dessert and I highly recommend keeping a jar on hand for baking. Dust lightly with powdered sugar before serving, if desired. Recipe from King Arthur Flour
Nutrition Information:
Serving: 1brownie| Calories: 419kcal (21%)| Carbohydrates: 53g (18%)| Protein: 5g (10%)| Fat: 22g (34%)| Saturated Fat: 13g (81%)| Cholesterol: 78mg (26%)| Sodium: 268mg (12%)| Potassium: 290mg (8%)| Fiber: 4g (17%)| Sugar: 36g (40%)| Vitamin A: 435IU (9%)| Calcium: 46mg (5%)| Iron: 3.2mg (18%)
This post was originally published in October of 2009. It was updated with new tips in October of 2020. Original photo below: