Our M&M BROWNIES are thick, fudgy, and absolutely loaded with M&M candies! The kids love these colorful treats and they are so much better than brownies from a box!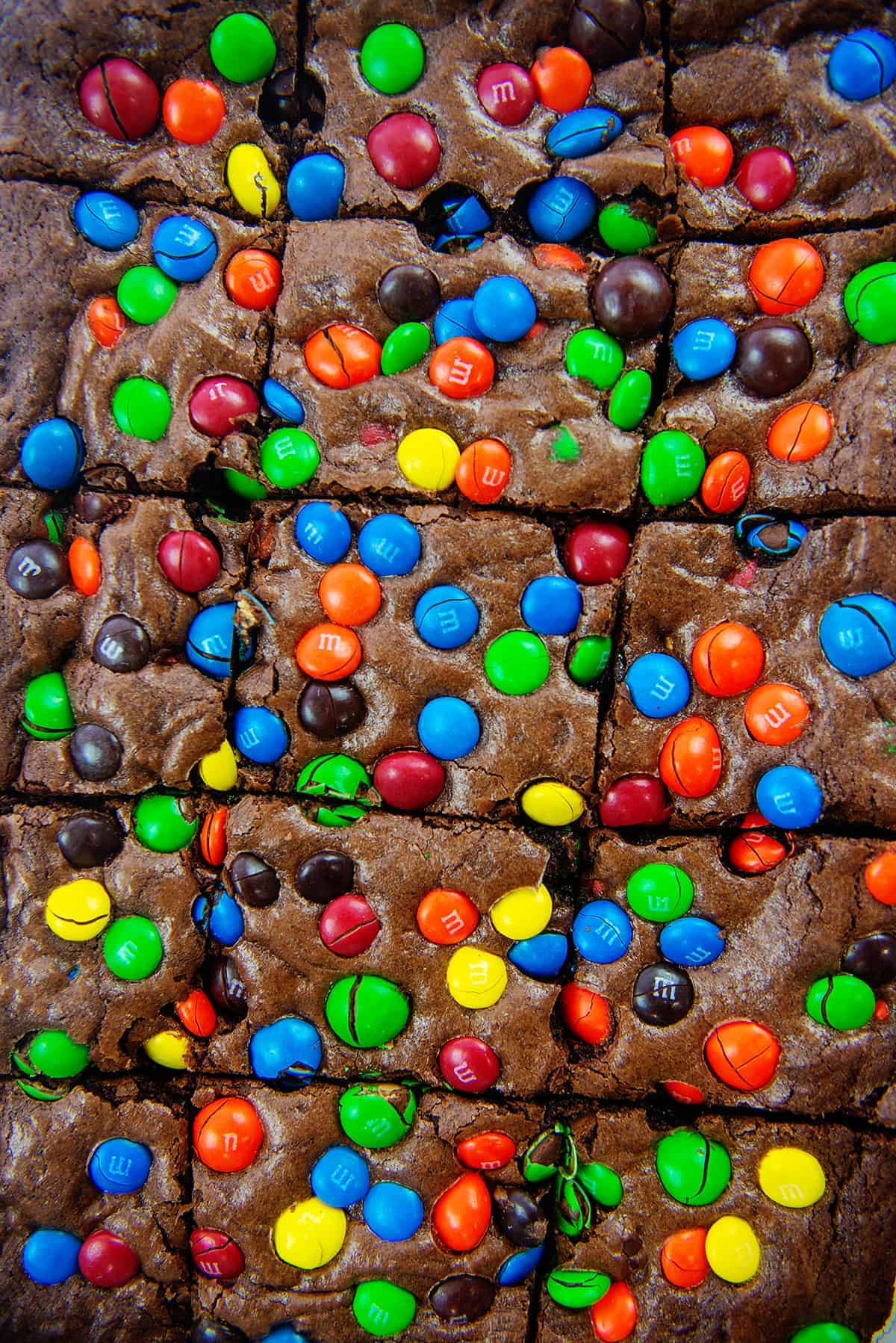 I needed a bit of color in my life yesterday. Things were boring and I wanted to spice them up.
I did what any sane person would do and dumped a large bag of peanut butter m&ms in my brownies. It was kind of a brilliant idea, if I do say so myself.
And I didn't just grab a box of brownie mix – oh no. I went the full nine yards and made my Homemade Brownies. I don't want to brag, but these turn out absolutely perfect every time. So thick and rich and fudgy, they're insanely good!
Ingredient Notes:
This post contains affiliate links. As a member of Amazon and other affiliate programs I earn from qualifying purchases.
Cocoa Powder – This recipe uses Dutch processed cocoa powder. Using natural cocoa powder will work, but may result in a denser brownie with a bit of an acidic flavor.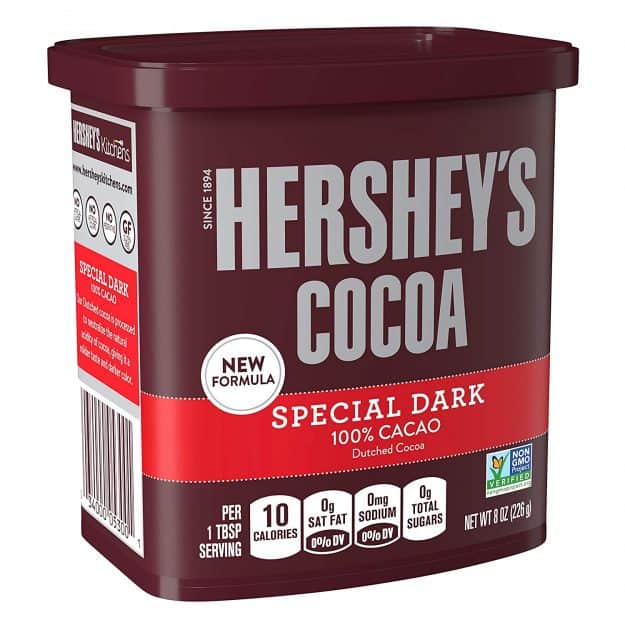 This cocoa powder is Dutch-processed, giving it a rich, deep flavor and color. Hershey's brand is inexpensive and easy to find. It may be cheaper in your local store.
Espresso Powder – Optional but highly recommended! It really adds a lot of depth to the chocolate flavor. This will NOT make your brownies taste like coffee.
M&Ms – The star of the show! Use whatever variety you like – we did a mix of peanut butter and plain this time around.
Vanilla Extract – Essential in any baking recipe.
What Readers are Saying!
"These were absolutely delicious. My son requested PB M&M Brownies for his birthday. I wasn't really digging the recipe on the bag, so I went searching and the recipe this page looked great. SO good. Parents and kids all loved them. I want to try the recipe again without the candy, I think this will be my go to from now on. Thanks!" –Lia
How To Make Brownies From Scratch:
Heat: To get started you're going to want to melt the butter completely in a small sauce pan. Once it has melted you can start stirring in the sugar. You don't want it to boil so keep stirring it constantly for a few minutes on low heat to get things all combined together.
Mix: Pour the butter/sugar mix into a mixing bowl and get ready to add the good stuff!
Beat in the cocoa and espresso powders, eggs, vanilla, and salt until well combined. Next you can stir in the flour and the peanut butter M&Ms. Combine everything until you've got a nice thick chocolatey brownie batter!
Helpful Tip!
You can add espresso powder to just about any brownie recipe, including a box mix, and it will really help enhance the chocolate flavor. It will NOT make our brownies taste like coffee! You won't even realize it's there.
Bake: All that's left to do now is spread that rich brownie batter into your prepared baking dish and let it bake for about thirty minutes. The best tasting brownies have nice crisp edges and a soft, gooey center, so don't overbake!
Let them cool for a few minutes and finally you can enjoy these rich peanut butter m&m brownies!
FAQs:
Can I store these brownies?
Absolutely! Store them in an airtight container at room temperature and they'll last for 3-5 days.
What is the secret to the best brownies?
Espresso powder! It really helps make these brownies rich and flavorful.
What type of cocoa powder should I use?
This brownie recipe calls for Dutch process cocoa. If you use natural cocoa powder, your brownies might be a bit denser.
How do I know when my brownies are done?
We like to test brownies about 1-2 inches from the edge of the pan and pull them when the tester comes out clean. If you test them directly in the center of the pan, the edges will be overdone by the time the tester comes out clean. Testing near the edges ensures you end up with nice edge pieces and fudgy centers.
MORE BROWNIE RECIPES!
Brownies are probably our favorite type of dessert, and we've got a lot of good brownie recipes to share with you. Check some of these out!
And many more! You can find all of our brownie recipes.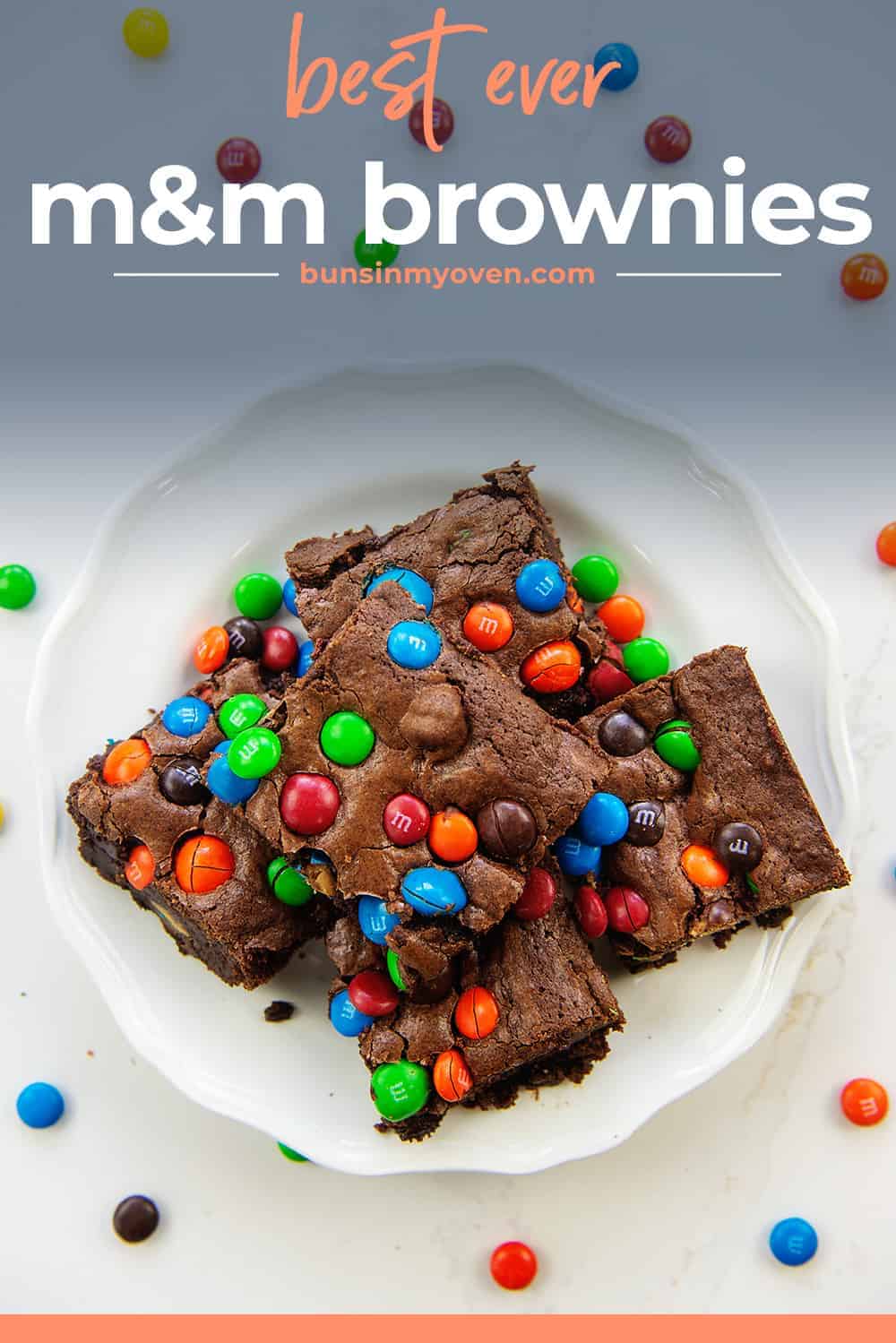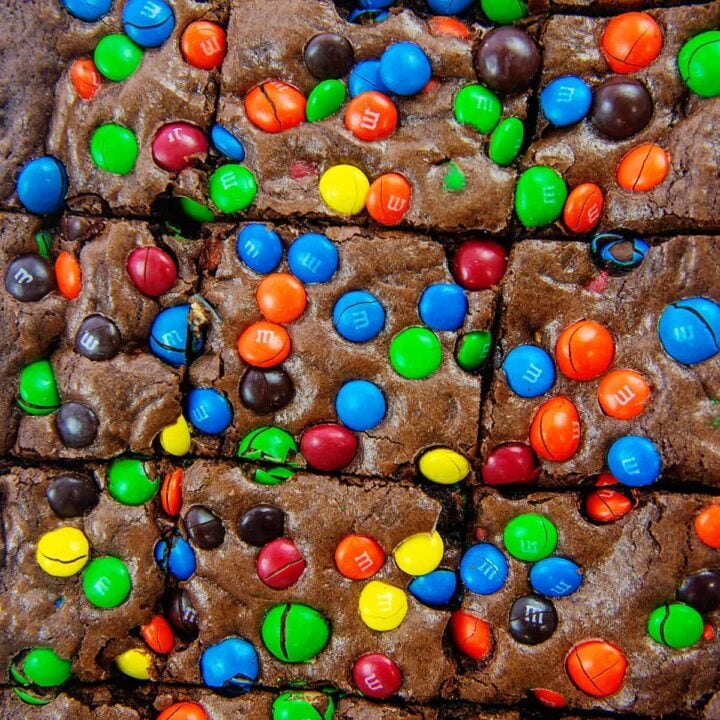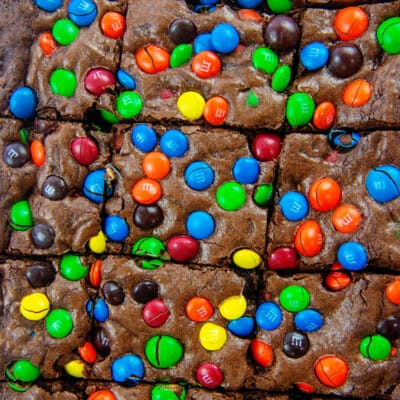 M&M Brownies
We took our favorite brownie recipe (they're so thick and fudgy!) and stirred in loads of m&m's. These are so fun and colorful. They're basically irresistible.
Prep15 minutes
Cook30 minutes
Total45 minutes
Ingredients
1 cup butter
2 1/4 cups sugar
4 large eggs
1 1/4 cups Dutch-process cocoa powder
1 teaspoon salt
1 teaspoon baking powder
1 teaspoon espresso powder optional
1 tablespoon vanilla extract
1 1/2 cups all-purpose flour
3 cups M&M candies any variety
Instructions
Pre-heat the oven to 350 degrees. Butter a 9×13 baking dish.

In small saucepan over low heat, melt butter completely. Stir in sugar and continue cooking for 1-2 minutes, stirring constantly. Do not allow sugar mixture to boil.

Pour butter mixture into a large bowl or stand mixer. Beat in cocoa powder, eggs, salt, baking powder, espresso powder, and vanilla extract. Mix until well combined.

Stir in the flour and M&Ms until well combined. Batter will be thick.

Spread into prepared pan and bake for about 30 minutes, until a tester comes out mostly clean about 1-2 inches from the edge of the pan. The edges should be set and the center should still look slightly moist, but not uncooked. Cool on a wire rack.
Tips & Notes:
The espresso powder is optional, but it does deepen the flavor of the chocolate and make for a more rich, intensely chocolate flavored brownie. It will not cause your brownies to taste like coffee. Dutch-process cocoa powder is called for in this recipe. If you swap in natural cocoa powder, your brownies will be a bit more dense and may have a slight acidic flavor. We like to use peanut butter m&m's in the recipe, but any variety will work. Use a plastic knife to cut perfect brownies. The brownies won't stick to the plastic knife and you'll get nice, smooth edges.
Nutrition Information:
Serving: 1brownie| Calories: 482kcal (24%)| Carbohydrates: 67g (22%)| Protein: 5g (10%)| Fat: 22g (34%)| Saturated Fat: 13g (81%)| Cholesterol: 77mg (26%)| Sodium: 291mg (13%)| Potassium: 160mg (5%)| Fiber: 3g (13%)| Sugar: 52g (58%)| Vitamin A: 500IU (10%)| Vitamin C: 0.2mg| Calcium: 76mg (8%)| Iron: 2.2mg (12%)