These Nutella Brownies almost didn't happen. But aren't you glad they did?
They were a last minute, oh hey, chocolate sounds kinda good, let's do our favorite brownie recipe. Then, as I was grabbing the flour from my cabinet, I bumped into the jar of Nutella and, well, I just went with it. Divine intervention, y'all. It's a thing.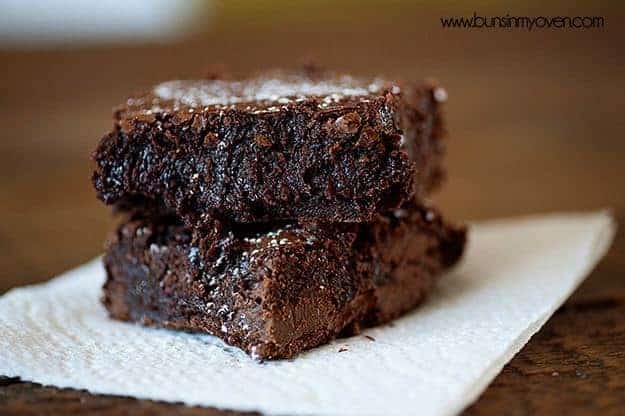 Can you handle the rich fudginess of these Nutella Brownies?
After seeing how decadent and fudgy they were, I busted out my macro lens. I usually shoot with a 50mm 1.4, but these were begging for my dusty ol' macro that I never use and yet can't seem to part with. I think it's safe to say that the macro will be getting plenty of use after these photos. You can almost reach through the screen and stick your finger into the gooey chocolate, amirite?
Now, seriously, I'll get around to a healthy recipe one of these days. Maybe even soon! It's just that there are so many more treats and desserts that I feel like sharing first. You're not complaining, are you?
This Nutella brownie recipe makes super thick and fudgy brownies!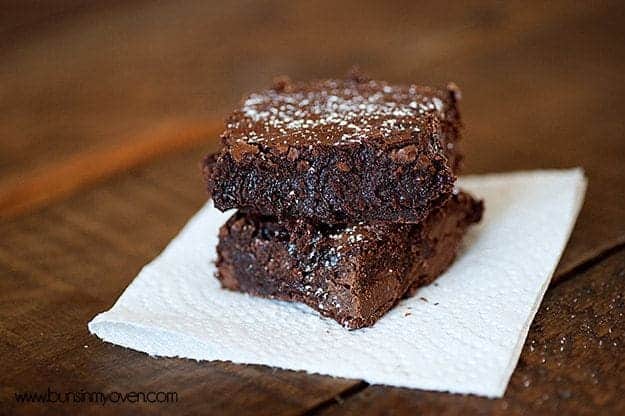 Update: After receiving a couple of comments from those of you who have tried these, I wanted to clarify that the predominant flavor here is chocolate, not Nutella. The Nutella just gives these a burst of chocolate fudginess, but the hazelnut flavor is not super noticeable in these brownies. Plenty of you have commented something along the lines of "best brownies ever" so please do try these! I just don't want to set you up for disappointment if you're expecting a full on Nutella assault. 🙂
Update 2: A few of you have mentioned reducing the sugar. I haven't tried that myself as these are the perfect sweetness for me. I don't find them too sweet or too dark tasting and think they're pretty perfect myself. However, if you'd like to try reducing the sugar, it sounds like people are getting away with 1 3/4 of a cup with no problem. Feel free to play around and see what you think, but do know the texture may not be quite the same.
Updated 3: The chocolate chips/baking melts in this recipe as are totally optional. They will add a bit of texture to your brownies. If you like nuts in your brownies, you will likely be a fan of the chocolate chips. If not, skip them entirely. 🙂
Give this Nutella brownies recipe a try and let me know what you think!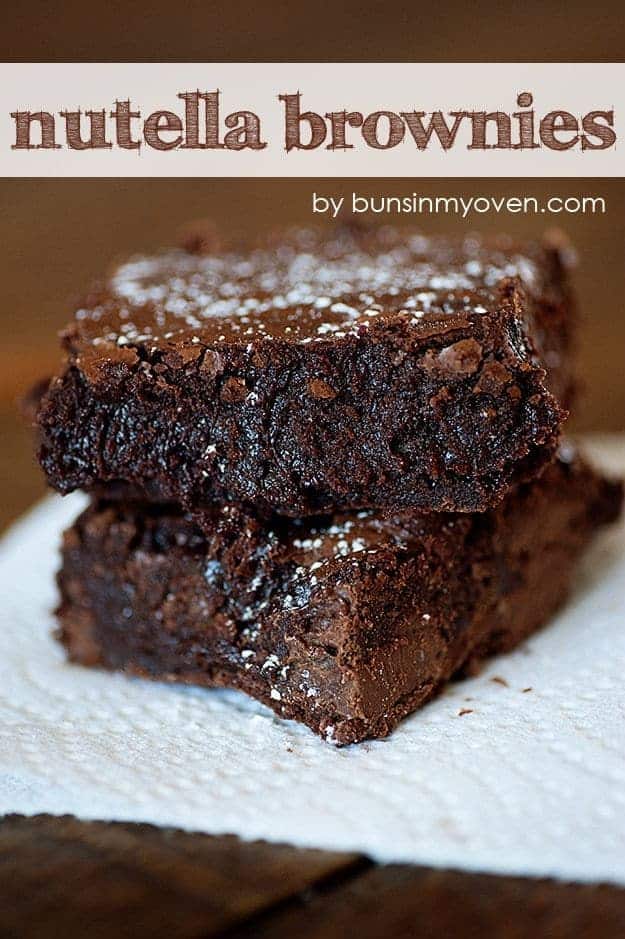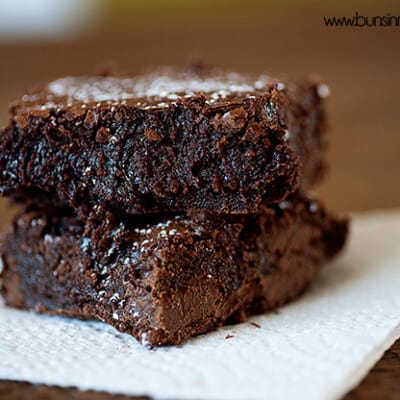 Nutella Brownies
These decadent brownies are full of Nutella, cocoa, and milk chocolate for a super fudgy treat! These are, dare I say, even better than the box mix brownies we all love!
Prep10 minutes
Cook30 minutes
Total40 minutes
Ingredients
1 cup butter 2 sticks
2 1/4 cups sugar
1/2 cup Nutella
4 large eggs
1 1/4 cups cocoa powder
1 teaspoon salt
1 teaspoon baking powder
1 teaspoon espresso powder, optional
1 tablespoon vanilla extract
1 1/2 cups all-purpose flour
10 ounces chocolate chips, optional
Instructions
Pre-heat the oven to 350 degrees. Butter a 9x13 baking dish.

In small saucepan over low heat, melt butter completely. Stir in sugar and continue cooking for 1-2 minutes, stirring constantly. Do not allow sugar mixture to boil.

Remove from the heat and stir in the Nutella until well combined.

Pour butter mixture into a large bowl or stand mixer, beat in cocoa powder, eggs, salt, baking powder, espresso powder, and vanilla extract. Mix until well combined.

Stir in the flour and chocolate chips until just combined.

Spread into prepared pan (batter will be very thick and sticky) and bake for about 30-35 minutes, until a tester comes out mostly clean. The edges should be set and the center should still look slightly moist, but not uncooked.

Cool on a wire rack before slicing and serving. Store tightly covered for 3-5 days.
Tips & Notes:
The espresso powder does not give these a 'coffee' flavor. It just adds to the richness and deepness of the chocolate.
Nutrition Information:
Serving: 1brownie| Calories: 428kcal (21%)| Carbohydrates: 59g (20%)| Protein: 5g (10%)| Fat: 20g (31%)| Saturated Fat: 13g (81%)| Cholesterol: 79mg (26%)| Sodium: 282mg (12%)| Potassium: 201mg (6%)| Fiber: 3g (13%)| Sugar: 44g (49%)| Vitamin A: 460IU (9%)| Vitamin C: 0.1mg| Calcium: 62mg (6%)| Iron: 2.4mg (13%)
Love Nutella? Check out my other recipes featuring Nutella!
Liege Waffles with Nutella and Strawberries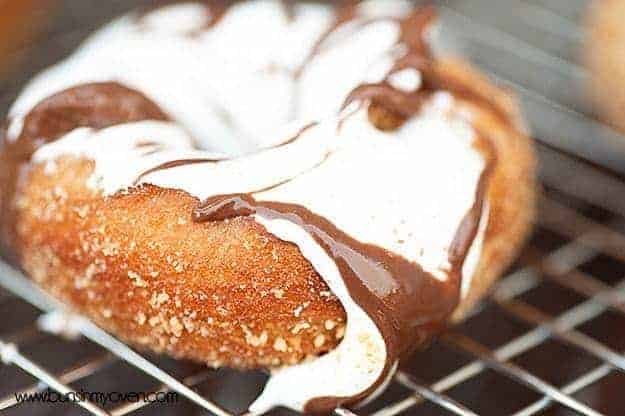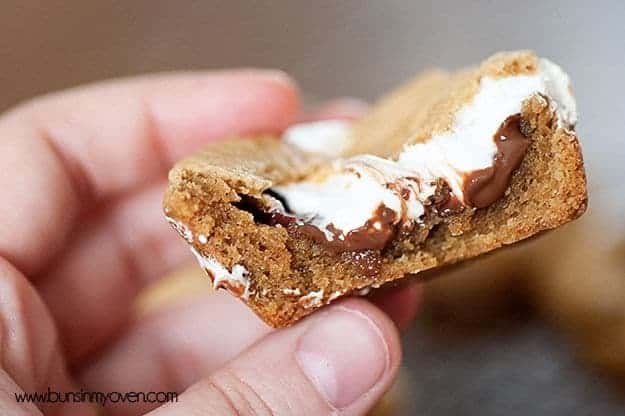 Peanut Butter S'mores Cookie Cups
Follow Buns In My Oven's board Food I Must Eat Immediately on Pinterest.


This post contains affiliate links.