Pin It

Things have been pretty unpleasant around my house the last week or so. My daughter came down with pink eye and, let me just say this, EWWWWWW. Not cool, daughter. Not cool at all.
Then my son decided to get a cold and, well, you know how wimpy men/boys can be. I've gone through umpteen boxes of kleenex, each garbage can in my house has a mountain of used tissues flowing from it, and there is crusty stuff all over a pitiful looking little boy.
Then, for fun, both of the kids decided to get a cough. A long, lingering, deep, wet sounding cough that makes me want to die a little.
I don't do well with gross kids. I know I'm supposed to be all loving and mother-y and extra super sympathetic, but y'all, these kids are disgusting right now. I'm trying my best to mother them from far across the room and I may or may not have requested they bathe in antibacterial soap before hugging me good night last night. When they're sick-sick, like pukey-sick or fever-sick I could win awards at the mothering thing. But when they are just covered in green goo and hacking up a lung while their eyeballs leak germs at me, I'd just rather keep my distance.
So I baked them banana bread and swirled in some Nutella to make up for my meanness.
Apparently, I'm forgiven. At least, I think that's why they were kind enough to share there germs with me. Maybe it was payback? Who can say, really?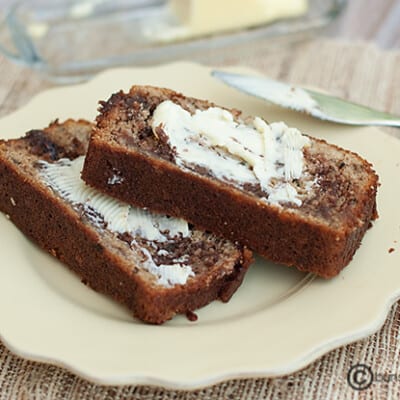 Nutella Banana Bread
We swirled Nutella into our classic banana bread to give it swirls of delicious chocolate and hazelnut. This banana bread recipe is a favorite in our house and it will be in yours too!
Prep10 minutes
Cook1 hour
Total1 hour 10 minutes
Ingredients
2 cups flour
1 teaspoon cinnamon
1 teaspoon baking powder
1/2 teaspoon baking soda
1/2 teaspoon salt
1/2 cup butter
3/4 cup brown sugar
1/4 cup white sugar
2 large eggs
2 teaspoon vanilla extract
3 medium over-ripe bananas mashed
3/4 cup Nutella
Instructions
Preheat the oven to 350 degrees.

Lightly grease a 9×5 loaf pan.

In a medium bowl, combine the flour, cinnamon, baking powder, baking soda, and salt. Set aside.

In a large bowl, cream together the butter and sugars with an electric mixer until light and fluffy. Beat in the eggs and vanilla until combined. Mix in the bananas.

Slowly add the dry ingredients to the wet and stir until just combined.

Add the Nutella to a medium bowl and microwave for 20 seconds to soften it. Stir 1 cup of the banana bread batter into the Nutella until well combined.

Drop large spoonfuls of the batters, alternating between each one, into the prepared pan. Use a butter knife to swirl the batters together lightly.

Bake for 1 hour or until a toothpick inserted in the center comes out clean.

Cool in the pan for 10 minutes and then move to a wire rack to finish cooling.
Tips & Notes:
Bananas should be very ripe for the best banana bread. You can mix in up to a cup of chopped walnuts or chocolate chips, if desired. Store banana bread, tightly covered, on the counter for 3-4 days.
Nutrition Information:
Serving: 1slice| Calories: 303kcal (15%)| Carbohydrates: 49g (16%)| Protein: 4g (8%)| Fat: 11g (17%)| Saturated Fat: 6g (38%)| Cholesterol: 62mg (21%)| Sodium: 272mg (12%)| Potassium: 230mg (7%)| Fiber: 2g (8%)| Sugar: 26g (29%)| Vitamin A: 360IU (7%)| Vitamin C: 3mg (4%)| Calcium: 47mg (5%)| Iron: 2mg (11%)