7 Layer Bars bake up like magic and they're full of all of my favorites – chocolate, peanut butter, Oreo cookies, and Reese's! Impossible to resist!
Alright, friends.
Are you ready for this?
I have a recipe for you today that is going to rock your little chocolate peanut butter loving world.
And if you're not a chocolate peanut butter fan, then you can quietly and shamefully click the red "x" up in the corner, because you are totally not welcome here today. (Kidding! You're always welcome. You smell lovely and your hair is so shiny. Let's be friends!)
Anyway, let's talk about 7 layer bars.
Have you ever tried these thangs? I'm somewhat new to them, because I don't like coconut and the original seven layer bars have coconut and *barf.* Right?
So, I went ahead and changed things around to be outrageoulsy gooey, chocolatey, and peanut butter-y. You guys are going to lose your minds over this 7 layer bar recipe. Like, LOSE YOUR MIND.
How To Make Reese's 7 Layer Bars:
First up, we have a layer of chocolate Oreo cookies, because obviously.
That goodness is followed by a layer of pretzels, a layer of chocolate chips, a layer of peanut butter chips, a layer of mini Reese's cups, and then a layer of sweetened condensed nectar of the gods…I mean milk…and all of that gets topped off with some Reese's Pieces.
Whew. I'm out of breath just typing all of that.
Can you even imagine what your mouth is going to say when you shove 18 of these bars in there? It's going to cry happy tears.
In some parts of this universe, 7 layer bars are also known as magic bars.
I'm not sure if this is because they're magically delicious or if it's because they're SO EASY and it literally feels like magic when you dump a bunch of stuff in a 9×13 pan and then bake it up into bars o' heaven.
Either way, 7 layer magic bars are one of my favorite treats these days and my kids aren't complaining about them either, if you know what I'm saying.
Go forth, buy some Reese's, buy some condensed milk, dump it all together, bake it up, devour it, cry tears of joy. You deserve it.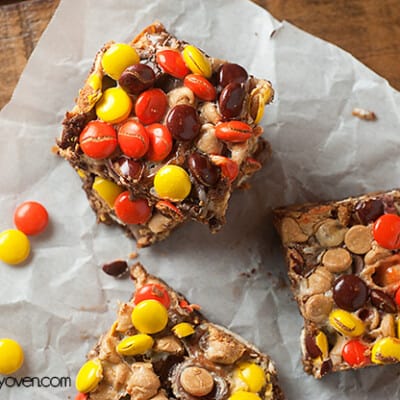 Reese's 7 Layer Bars
These 7 layer bars start with a layer of Oreo cookies and are finished off with Reese's Pieces - seven layers of goodness!

Prep5 minutes
Cook25 minutes
Total2 hours 30 minutes
Ingredients
2 cups Oreo cookie crumbs
1/2 cup butter melted
8 ounce bag Reese's Minis
1 heaping cup pretzel twists
2/3 cup milk chocolate chips
2/3 cup Reese's peanut butter chips
14 ounces sweetened condensed milk
1 cup Reese's Pieces
Instructions
Preheat oven to 350 degrees. Line a 9x13 baking dish with parchment paper or foil and spray with non-stick cooking spray.

In a small bowl, combine the Oreo crumbs and melted butter to combine. Press the mixture into the prepared baking dish.

Top with the Reese's Minis, pretzels, chocolate chips, and peanut butter chips, in that order. Pour the sweetened condensed milk over the top. Sprinkle on the Reese's Pieces evenly.

Bake for 25 minutes or until golden brown and bubbly. Let cool for at least 2 hours before cutting and serving.
Nutrition Information:
Serving: 1bar| Calories: 453kcal (23%)| Carbohydrates: 60g (20%)| Protein: 8g (16%)| Fat: 22g (34%)| Saturated Fat: 11g (69%)| Cholesterol: 27mg (9%)| Sodium: 358mg (16%)| Fiber: 2g (8%)| Sugar: 33g (37%)
This recipe was originally published March 2014. Updated June 2018.