The other night I got this really weird urge to mix peanut butter with sweetened condensed milk. Like, I could not live another moment without that strange concoction in my life.
So, I did. Because it's my job.
Yes, I am lucky enough to call succumbing to my strange cravings at 10:30pm my job. It's a pretty good gig, if you ask me.
So, what I did was whip up some basic chocolate chip cookie dough (grabbed the recipe right off the back of my Hershey's bag of chips), minus the chocolate chips. Then I mixed together some goopy condensed milk and peanut butter and then I drank it with a straw.
Actually, no, I did not. I ate it with a spoon. It was way too thick for a straw.
I topped the cookie dough with the peanut butter glop and then I baked it all up into this ridiculous union of peanut butter and cookie dough.
We all know that you can't have peanut butter and cookie dough without a bit of chocolate, though, so I took the sad little bag of chocolate chips that had gotten left out of the dough and I sprinkled them on top of the baked dough, waited for about 5 minutes, and then smeared them in with an offset spatula. <—Longest sentence ever.
Chocolate. Peanut Butter. Cookie. Bars.
Yes. Put these in your next holiday cookie exchange and watch people fall in love with you. Or just eat them all yourself and call it a day. 'Tis the season!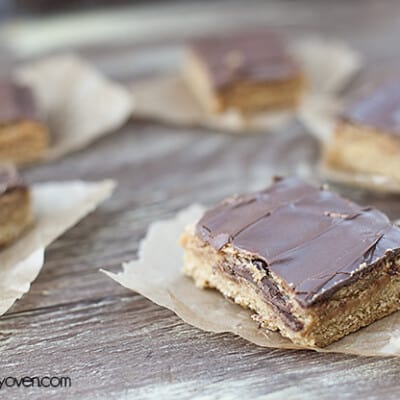 Chocolate Peanut Butter Cookie Bars
Classic combination, and it couldn't be easier to put together!
Prep10 minutes
Cook30 minutes
Total40 minutes
Ingredients
1 cup butter, softened 2 sticks
3/4 cup granulated sugar
3/4 cup packed light brown sugar
1 teaspoon vanilla extract
2 large eggs
2 1/4 cups all-purpose flour
1 teaspoon baking soda
1/2 teaspoon salt
1/2 cup peanut butter
7 ounces sweetened condensed milk half can
2 cups 11.5-oz. pkg. HERSHEY'S Milk Chocolate Chips
Instructions
Heat oven to 350 degrees. Great a 13x9 baking dish with cooking spray or line with parchment.

Cream together the butter and sugars until light and fluffy. Beat in the eggs, one at a time. Add the vanilla and mix to combine.

In a small bowl, combine the flour, baking soda, and salt. Slowly add the flour mixture to the creamed butter and mix until well combined.

Spread the cookie dough into the prepared pan.

In a small saucepan over low heat whisk together the condensed milk and peanut butter until melted and combined. Pour the mixture evenly over the cookie dough and use a butter knife to swirl the mixture throughout the cookie dough.

Bake for 25-30 minutes or until the dough is lightly browned and cooked through. Remove from the oven and pour the chocolate chips in an even layer over the cookie bars. Let sit for five minutes before smoothing out the chips with an off-set spatula.

Nutrition Information:
Calories: 451kcal (23%)| Carbohydrates: 56g (19%)| Protein: 6g (12%)| Fat: 22g (34%)| Saturated Fat: 12g (75%)| Cholesterol: 61mg (20%)| Sodium: 322mg (14%)| Potassium: 142mg (4%)| Fiber: 1g (4%)| Sugar: 41g (46%)| Vitamin A: 470IU (9%)| Vitamin C: 0.5mg (1%)| Calcium: 83mg (8%)| Iron: 1.5mg (8%)
This recipe was created as part of an on-going partnership with Hershey's. More recipes, a giveaway, and a video of me sharing cookie tips will all be coming up in the next month, so stay tuned!