September 13, 2018
BLT Pasta Salad
This BLT Pasta Salad is such a fun twist on a classic recipe. It's bursting with tomatoes, green onions, and plenty of crisp bacon.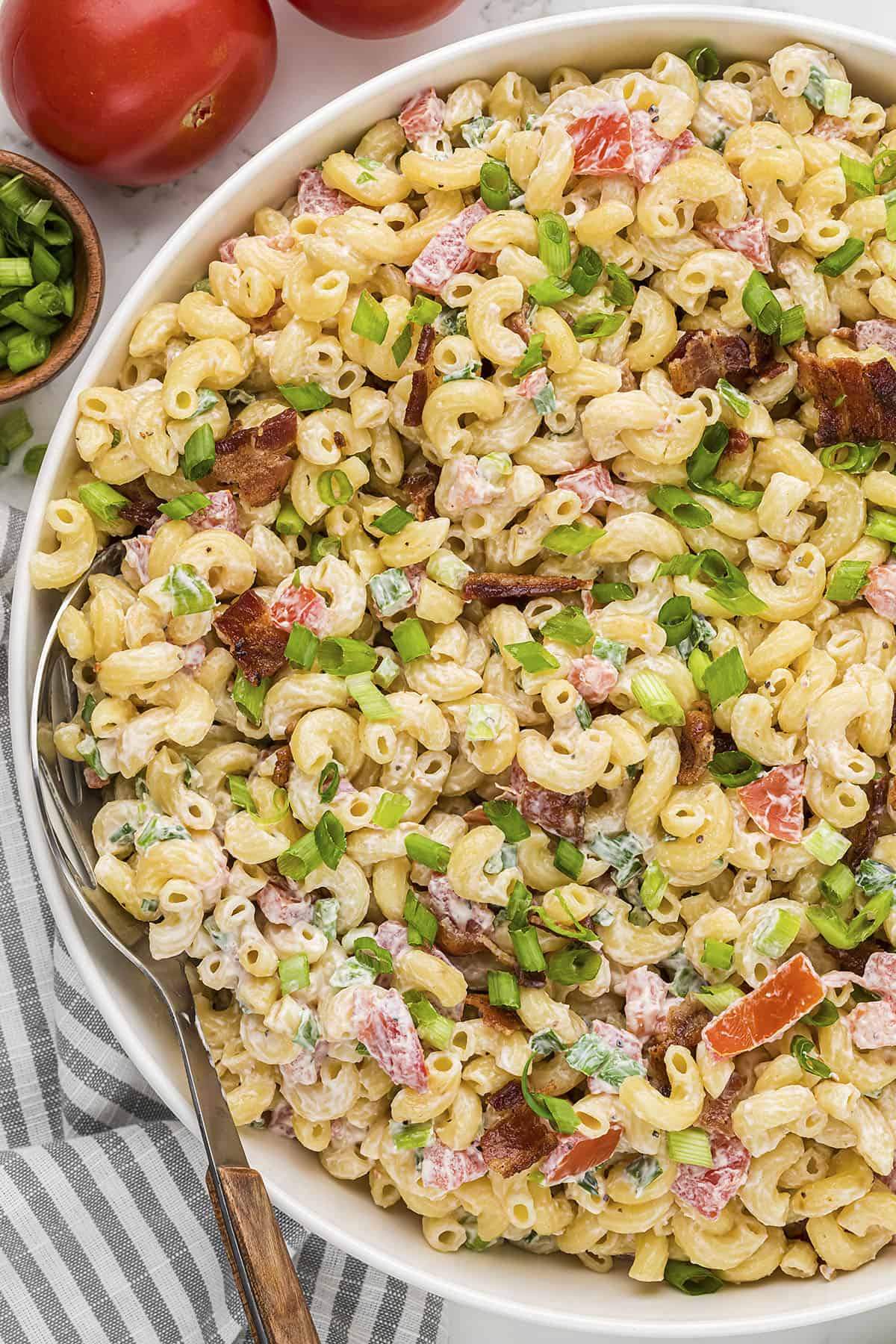 I'm sorry, okay? I just can't help myself. I like bacon. It's who I am. It's what I do. It's an integral part of me and I won't deny it.
My mama once stuck bacon flavored lip balm in my stocking, alongside some bacon flavored toothpicks.
Clearly I have a reputation.
Even with all of that love for bacon flowing through my veins, the first time I tried this BLT macaroni salad, I really didn't have high hopes.
Macaroni salad should have mayonnaise, eggs, and green olives and that's about it! That's the way my mama made it and my mama couldn't be wrong. Try my mama's macaroni salad recipe next!
Who decided it was okay to add bacon? And tomatoes! In a macaroni salad? Who the heck authorized that?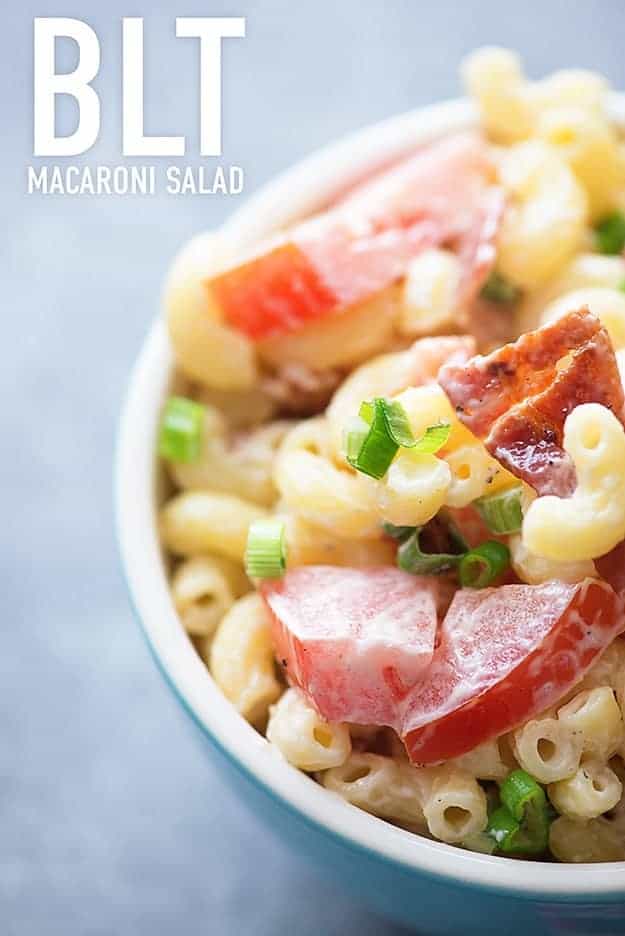 I am happy to report that bacon and tomatoes in a macaroni salad is actually completely legal and very yummy.
Who knew that pasta salad with mayo, bacon, and tomatoes would be so outrageously good anyway?
You have to try this pasta salad with mayo, bacon, and tomatoes!
This would be a perfect side dish for just about any kind of grilled meat. Macaroni salad just screams summer. Of course, it's also good with my turkey meatloaf.
I hate to admit that any time I make this for my little family, I end up eating the leftovers for breakfast every day until it's finally gone. I mean, it has BACON. It's kinda breakfast food, right?
Quit judging me.
Oh, and if anyone asks what the "L" stands for in the "BLT" portion of this dish, just stick your tongue out at them and then eat their share. That'll teach 'em.
Or, if you're a stickler for proper abbreviations, I've heard that some chopped romaine works really well in this dish too. I haven't tried myself, but if I did, I'd stir it in just before serving. Nobody wants wilty lettuce, my friends.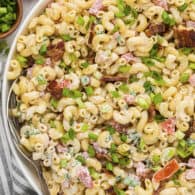 BLT Pasta Salad
Servings: 10 servings
Course: Side Dish
Cuisine: American
Keyword: classic recipes, easy side dish recipes, pasta salad
Calories: 397 kcal
This BLT Pasta Salad is such a fun twist on a classic recipe. It's bursting with tomatoes, green onions, and plenty of crisp bacon.

Ingredients
1 pound macaroni
8 slices bacon
2 medium tomatoes
2-3 bunches green onions plus extra for garnish
1 cup mayonnaise
1/4 cup white vinegar
Salt and pepper to taste
Instructions
Bring a large pot of water to a boil and add macaroni. Cook until al dente, about 8 minutes. Drain and pour into large mixing bowl.

Fry 8 slices of bacon and, when cool enough to handle, crumble into bite sized pieces. Set aside.

Chop tomatoes and green onions, add to small mixing bowl. Mix in mayonnaise and vinegar. Add salt and pepper, to taste.

Pour mayonnaise mixture over macaroni and stir together well. Chill for 2 hours.

Stir in the bacon just before serving. Top with extra green onions, as desired.
Nutrition Facts
BLT Pasta Salad
Amount Per Serving
Calories 397 Calories from Fat 216
% Daily Value*
Fat 24g37%
Saturated Fat 5g31%
Cholesterol 21mg7%
Sodium 262mg11%
Potassium 168mg5%
Carbohydrates 34g11%
Fiber 1g4%
Sugar 1g1%
Protein 8g16%
Vitamin A 120IU2%
Vitamin C 1.7mg2%
Calcium 15mg2%
Iron 0.8mg4%
* Percent Daily Values are based on a 2000 calorie diet.
Nutrition Disclaimer: All information presented on this site is intended for informational purposes only. I am not a certified nutritionist and any nutritional information shared on bunsinmyoven.com should only be used as a general guideline.
(These images were updated April 2017 – original image below!)