Amish Macaroni Salad is the perfect side for your next cookout! This macaroni salad is sweet, tangy, and creamy with just the perfect amount of crunch thanks to the celery and bell peppers.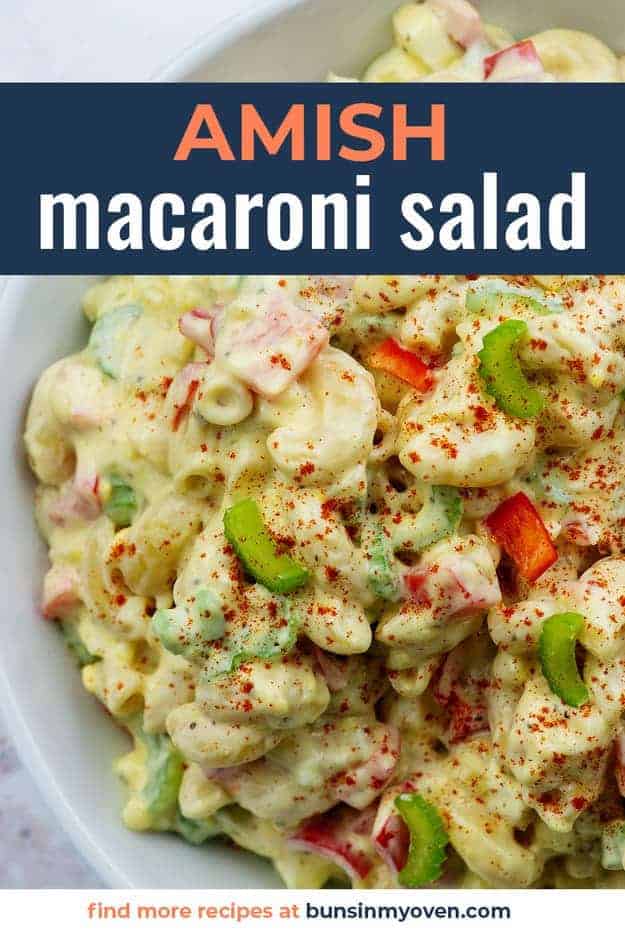 I was lucky enough to travel through Amish country a few years back. We stopped for lunch at a 'restaurant' that was actually a very nice barn in someone's backyard.
I'll admit that I didn't know what to expect, but it certainly wasn't the sweet peanut butter spread made with marshmallow creme (I'll share that recipe with you soon, promise!) or the peanut butter pie with Cool Whip!
I sort of thought everything would be made from scratch and it was really interesting to see that it wasn't!
Of course, that wasn't the only surprising thing.
The Amish macaroni salad was definitely not what I expected – it was SWEET!
I was honestly confused at the first bite, because I'd never had a sweet macaroni salad before. The classic macaroni salad I grew up eating has green olives in it, after all.
This Amish macaroni salad recipe uses Miracle Whip, something that I've honestly turned my nose up at for years.
But, you know what? It's actually perfect in this tangy sweet macaroni salad.
You really just have to give this a try to see what all the fuss is about! It's GOOD!
Ingredient Notes:
This post contains affiliate links. As an Amazon associate and member of other qualifying programs, I earn from qualifying purchases.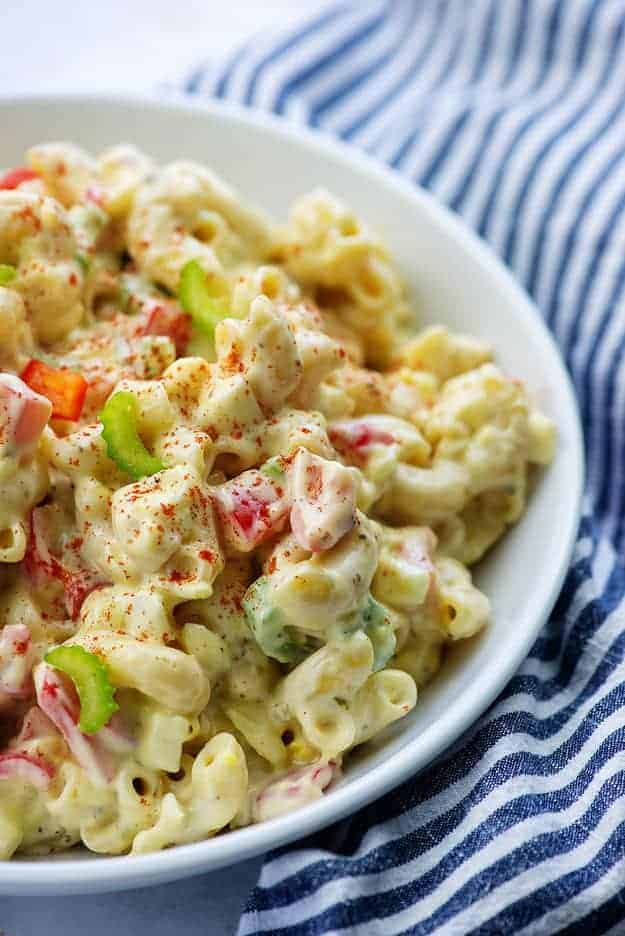 Macaroni – We'll start with a box of dry macaroni noodles. You could also use rotini, farfalle, or ziti, but…it IS macaroni salad. 😉
Dressing Ingredients – The key ingredient here is Miracle Whip. I know, it's not exactly real mayo but it works amazingly well in this Amish macaroni salad recipe! You'll also mix in some sugar, Dijon mustard, vinegar, and celery seed.
Eggs – You'll need three large, hard boiled eggs to chop up and mix in with the macaroni salad.
Veggies – Some chopped sweet onion, red pepper, and celery will add a bit of crunch and even more flavor to the creamy macaroni salad.
Dill Pickle Relish – A little bit of this will go a long way in adding flavor!
What Readers are Saying!
"I love this recipe. It tastes exactly like my mother's did…" – Kathleen W.
Helpful Tools:
Pasta Strainer – A good mesh strainer like this one is perfect for draining the water from pasta or for use in all sorts of other recipes!
Whisk – Simple but effective! A whisk is the perfect tool for whipping up dressing, sauce, and marinades.
How to Make Macaroni Salad:
Macaroni: This Amish macaroni salad starts with cooked macaroni noodles. Begin boiling some water in a large pot and cook the macaroni per the package instructions. Drain and rinse with cold water and then set aside for now.
Dressing: The dressing is made of Miracle Whip, sugar, mustard, vinegar, salt, and celery seed. Add all of that to a bowl and whisk it together until well combined.
Helpful Tip!
If you've never had Amish macaroni salad before, it's going to feel a little weird adding a scoop of sugar to a bowl of macaroni – especially knowing that Miracle Whip is already quite sweet. You just have to have a little faith in the Amish and give it a go!
You can also start with just 1-2 tablespoons of sugar and then taste and increase as needed, but please note that I've already reduced the sugar to less than what I normally see in Amish macaroni salad recipes.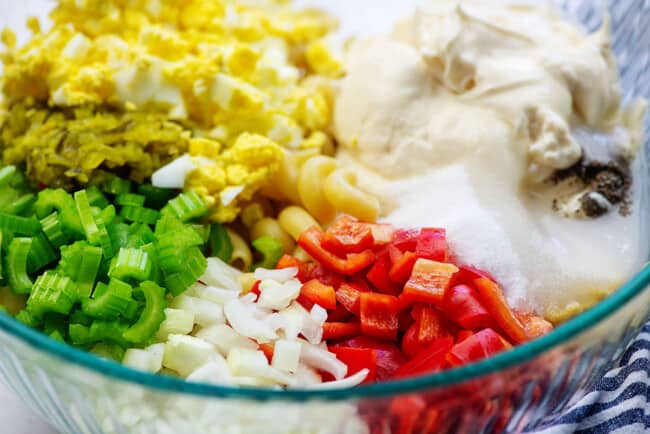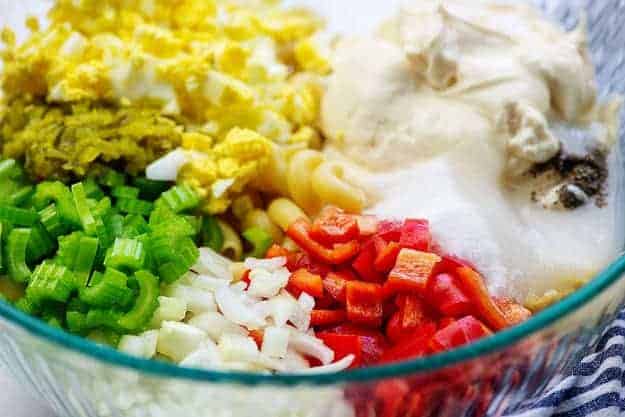 Combine: You can now chop the eggs, celery, onion, and bell pepper into small pieces and add them to the mixing bowl. Pour in the cooked macaroni noodles, and finally add the pickled relish and toss it all with the dressing to coat.
Serve: Like most creamy macaroni salads, this is best served cold. We like to mix it together and allow it a bit of time in the fridge before serving.
Sprinkle with a bit of paprika before serving.
Pro Tip: Try smoked paprika! It adds the perfect pop!
This cold salad goes great with anything off the grill, like my grilled bbq chicken or grilled teriyaki chicken. These grilled pork chops would be amazing too! And if the weather is no good for grilling, try it with this air fryer BBQ chicken!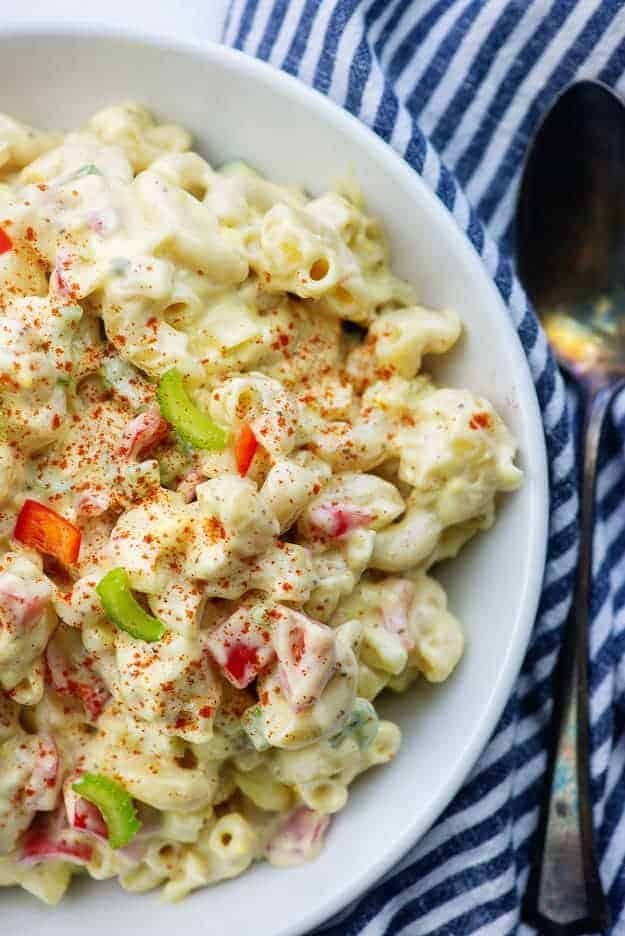 FAQs:
How to store macaroni salad?
You can keep this Amish macaroni salad stored in an airtight container or covered bowl for up to 3 to 4 days in the refrigerator.
Can you freeze macaroni salad?
Yes! But it's important to freeze it in smaller quantities, so you may want to separate it into portions. It's also best if you eat it within a couple of weeks. It'll last longer in the freezer than the fridge, but it'll quickly start to lose taste and texture after a few weeks in the freezer.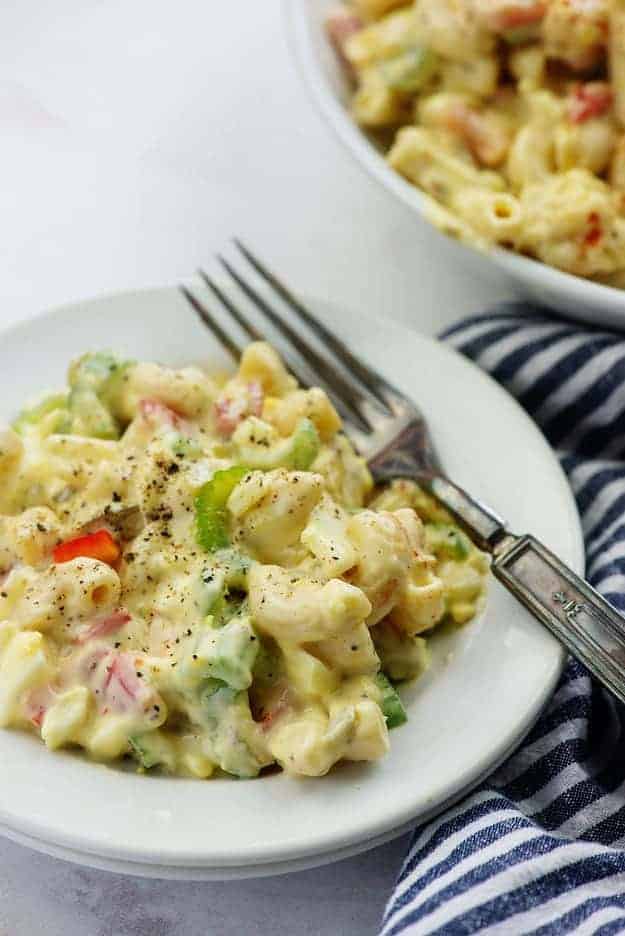 MORE COLD SALADS & SIDES: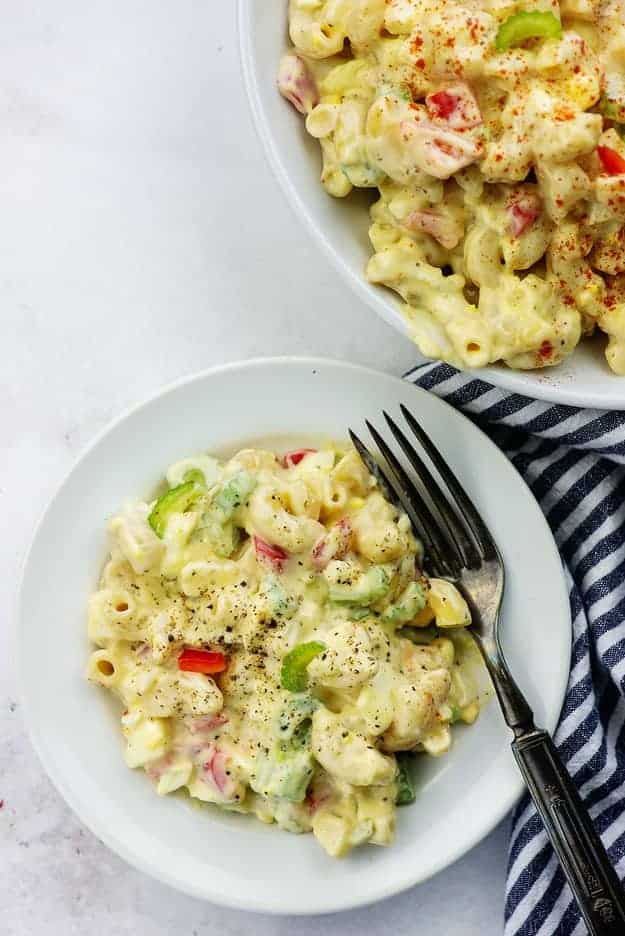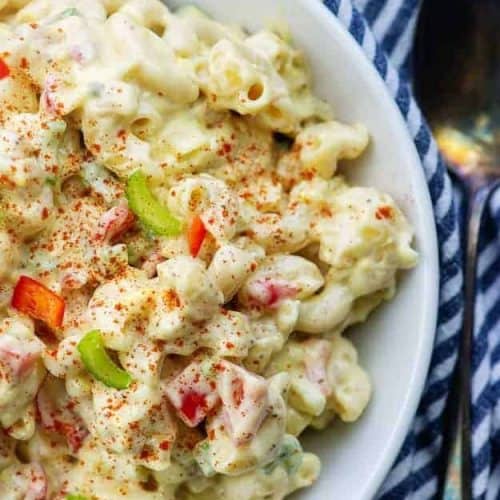 Amish Macaroni Salad
Creamy, crunchy, sweet, & tangy! This Amish macaroni salad is the perfect side dish at any cookout.
Prep15 minutes
Cook8 minutes
Chill Time1 hour
Total1 hour 23 minutes
Ingredients
2 cups dry macaroni
2 cups Miracle Whip
¼ cup sugar
3 tablespoons dijon mustard
1 tablespoon distilled white vinegar
1 teaspoon salt
¾ teaspoon celery seed
1/2 teaspoon cracked pepper
3 large hard boiled eggs
1 small sweet onion
3 stalks celery
1 small red bell pepper
¼ cup dill pickle relish
Paprika for garnish
Instructions
Bring a large pot of water to a boil over medium heat. Add the macaroni and cook according to package directions. Drain and place in a large bowl. Rinse with cold water.

Add the Miracle Whip, sugar, mustard, vinegar, salt, and celery seed to a small bowl and whisk to combine.

Chop the eggs, onion, celery, and pepper into small pieces. Add to the bowl of macaroni with the pickle relish.

Pour the dressing over the pasta and stir well to coat. Taste and add additional salt, if needed.

Cover and refrigerate for at least one hour. Sprinkle with paprika before serving.
Tips & Notes:
I nearly always just mix everything together in one large bowl rather than mix the dressing separately. It saves on dishes and everything gets stirred together anyway. Every time I recommend this, I get confused/outraged comments, so do as you like. 😉 You may increase or decrease sugar to suit your tastes. This recipe is a bit less sweet than traditional Amish macaroni salad, so I wouldn't decrease the sugar by more than half. You may swap regular yellow mustard for the dijon mustard, if that's what you have on hand. Recipe adapted from allrecipes
Nutrition Information:
Calories: 234kcal (12%)| Carbohydrates: 42g (14%)| Protein: 7g (14%)| Fat: 5g (8%)| Saturated Fat: 1g (6%)| Cholesterol: 76mg (25%)| Sodium: 981mg (43%)| Potassium: 235mg (7%)| Fiber: 3g (13%)| Sugar: 17g (19%)| Vitamin A: 511IU (10%)| Vitamin C: 14mg (17%)| Calcium: 40mg (4%)| Iron: 1mg (6%)