Creamy cucumber salad starts off with English cucumbers, red onion, mayonnaise, vinegar, and dill. It's a light side dish that is perfect for those hot summer nights and it is really easy to throw together any night of the week!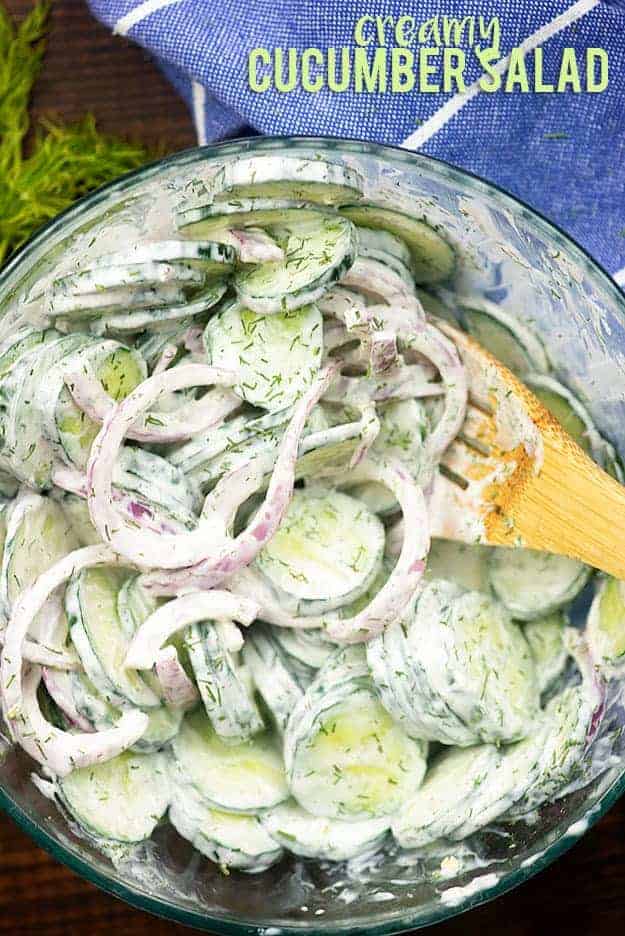 Did I tell you about the time that my husband burnt me with a hot grill basket? On. Purpose. (Except totally not.)
We had my family over to swim last summer and he was grilling shish kabobs. Except, they totally aren't actually kabobs, because I'm always to lazy to thread the meat and veggies onto skewers.
Instead, we just take all of the kabob components (for us, that's chicken, steak, hot dogs, and smoked sausage for the meat and squash, peppers, onions, and cherry tomatoes for the veg), dice them up, and toss them into grill baskets on the grill.
They taste the same as kabobs, but they're a lot easier to manage.
ANYWAY. I was trying to help him empty the hot grill basket onto a serving platter. He was holding the basket and I reached over it to scrape the goodies out.
He says that I bumped into the hot basket myself. I say that he purposefully pressed the hot basket up against my arm.
I still have a scar, you guys! A scar!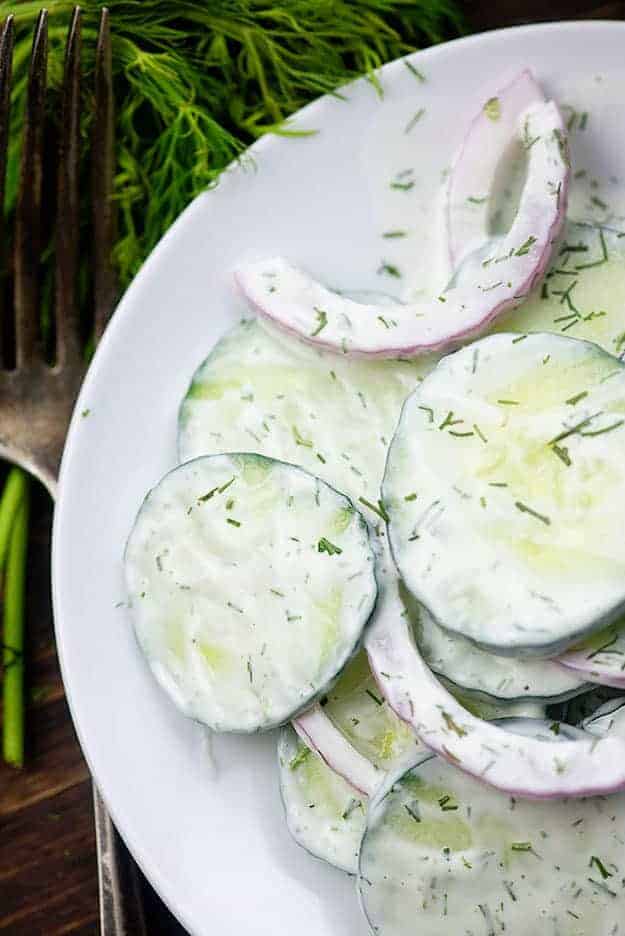 Clearly, this is all his fault and I often shove my arm in his face and point angrily at the scar, just to remind him that I've got my eye on him.
Anyway, that literally has nothing at all to do with this cucumber onion salad. It's just that when I sat down to write this blog post, I was thinking how well this creamy cucumber salad recipe would go with some kabobs and it reminded me of the time my husband maimed me.
Nobody tell him that this blog post exists, okay? If you do, you'll have to listen to him go on and on about how it was my fault and not his and you'll probably believe him, because, well…it might be the truth.
Moving on…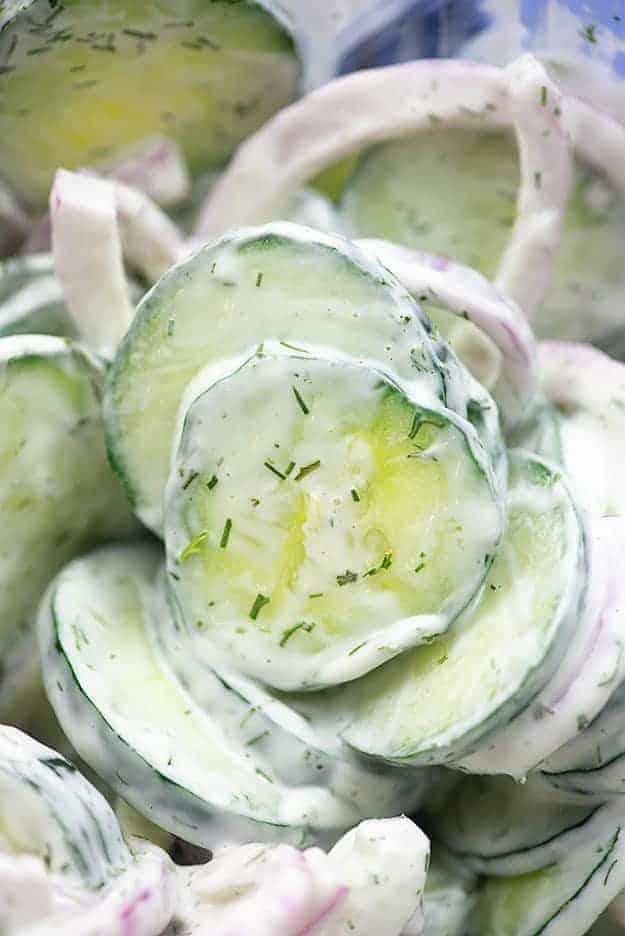 Cucumber Salad Ingredients:
English Cucumbers – Not as bitter and they tend to have less seeds than regular cucumbers.
Salt – We're salting the slices of cucumbers to help draw out the excess liquid.
Red Onion – Slice this nice and thin.
Garlic – Minced garlic will add another depth of flavor.
Mayonnaise – This will make it a creamy cucumber salad.
White Distilled Vinegar
Fresh Dill – Dill and cucumber were made for each other!
Sugar – A little sweet really balances out the flavors!
Ground Pepper
What We Love About This Recipe
This recipe is easy to put together and is so cool and creamy it is the perfect side dish or light meal for a hot summer night!
How to make Cucumber Salad with Mayo:
Prepare the Cucumbers: I like to start this cucumber salad recipe with English cucumbers. The skin is thinner and there are less seeds. The cucumbers also tend to be a bit less bitter, making them much more tasty, in my opinion.
Slice your cucumbers into thin rounds and then salt with kosher salt. Toss the cucumbers in the salt and let set for 30 minutes. This will help the cucumbers to release a lot of their liquid.
Drain away any liquid from the bowl of cucumbers and pat them dry.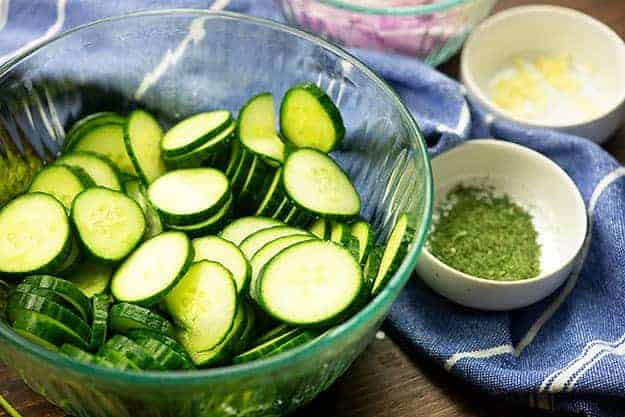 Stir: Next, dump in some mayonnaise, vinegar (I use white distilled vinegar, but apple cider would be fine too), sliced red onion, minced garlic, and fresh dill. Stir everything together to coat the cucumbers in the sauce.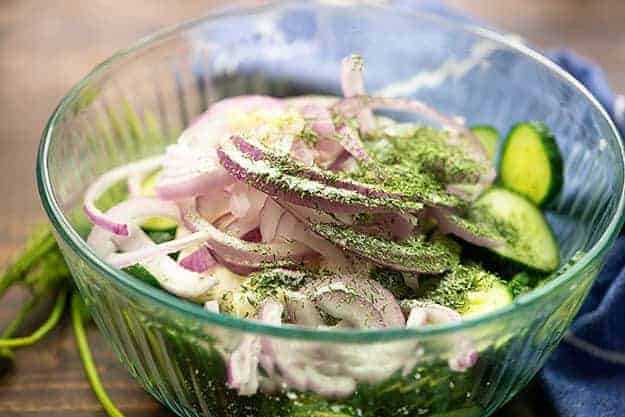 Serve: This creamy cucumber salad tastes best if you leave it to chill in the fridge for about 30 minutes before serving.
The cucumbers may release a bit more liquid during that time which will thin out the sauce a bit. You can either serve it as is, or you can drain off some of the liquid. Either way, this cucumber salad with mayo is delicious!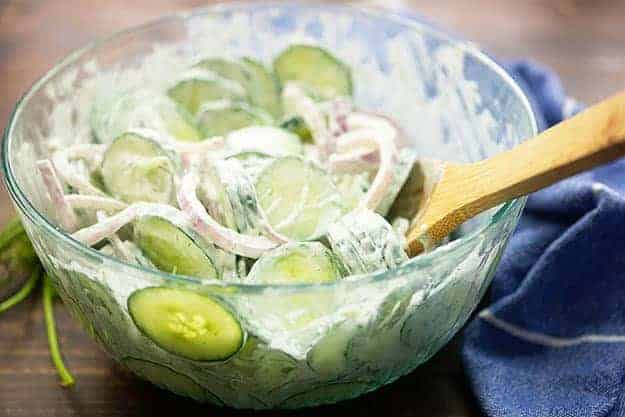 What Readers are Saying!
Yummy…I even pour this over regular salad
– Jennifer
Cucumber Onion Salad:
This cucumber onion salad is a totally easy, totally refreshing little side dish.
I love that it comes together with just a few minutes of prep work and minimal fuss.
I also love that this cucumber salad is nice and creamy. It's a nice change from the way I usually eat cucumbers, which is pickled. 😉
I love pickles and they're my main source of cucumber consumption. These refrigerator dill pickles are perfect!
This goes perfect alongside anything off the grill, like my buttermilk chicken recipe or my grilled chicken with Alabama white sauce.
How long will cucumber salad keep?
I keep this in the fridge until the cucumbers start to get a little wilty and soft…I like them crunchy so when they get too soft it's a sign for me to toss any leftovers.
This usually stays crisp for 3-4 days tightly covered in the fridge.
More summer side dishes you might like:
Tuna Pasta Salad: This one makes a great lunch or side dish! It's full of pasta, tuna, and avocado.
Cowboy Beans: You can't have a barbecue without baked beans! These beans are loaded with beef and bacon, too.
Macaroni Salad Recipe: This is my mama's recipe and it has a unique ingredient that adds a ton of flavor!
Give this creamy cucumber salad with mayo a try and let me know what you think! And be sure to follow me on Pinterest for more delicious recipes!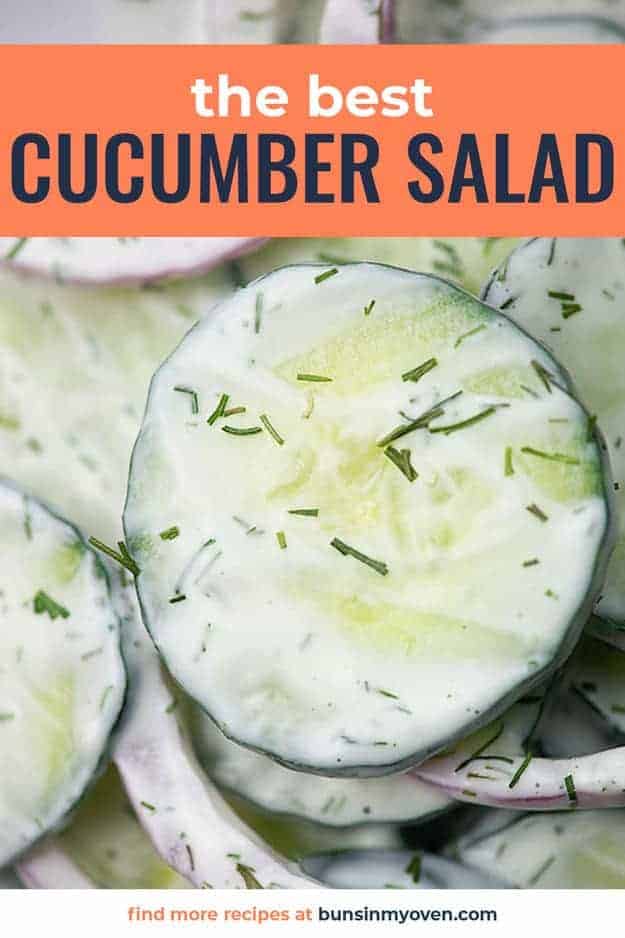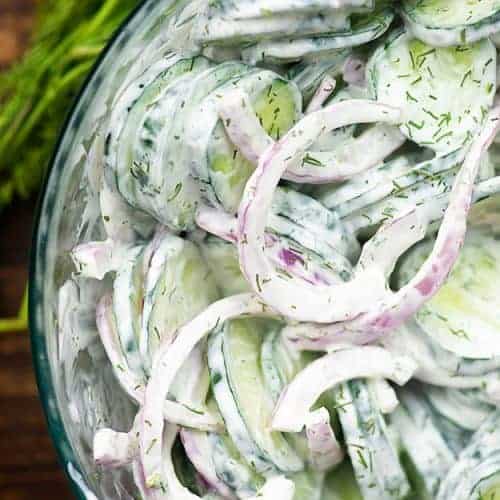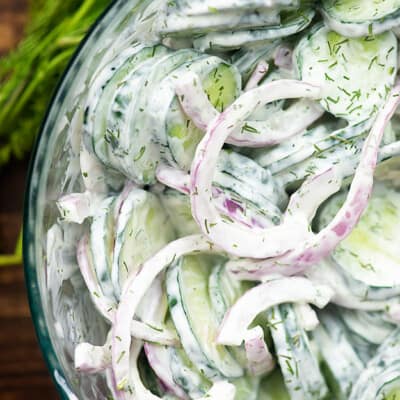 Creamy Cucumber Salad
Cold, creamy, and perfect for a hot summer night! This cucumber salad is quick to whip together.
Prep10 minutes
Rest Time1 hour
Total1 hour 10 minutes
Ingredients
2 English cucumbers
1 tablespoon salt
½ large red onion thinly sliced
1 clove garlic minced
1 cup mayonnaise
2 tablespoons white distilled vinegar
2 teaspoons fresh dill
1 teaspoon sugar
1 teaspoon ground pepper
Instructions
Thinly slice the cucumber and add to a large bowl. Sprinkle with salt, stir well, and let set for 30 minutes.

Stir cucumbers again and drain the liquid out of the bowl. Pat cucumbers dry with a paper towel.

Add the red onion, garlic, mayonnaise, vinegar, dill, sugar, and pepper to the bowl with the cucumbers and stir to combine.

Chill in the fridge for 30 minutes before serving. If desired, drain any excess liquid out of the bowl before serving.
Tips & Notes:
We also like this cucumber salad with sour cream in place of mayo. Use an equal amount or a mix of the two, if desired.
Nutrition Information:
Calories: 274kcal (14%)| Carbohydrates: 4g (1%)| Protein: 1g (2%)| Fat: 28g (43%)| Saturated Fat: 4g (25%)| Cholesterol: 15mg (5%)| Sodium: 1402mg (61%)| Potassium: 154mg (4%)| Sugar: 3g (3%)| Vitamin A: 130IU (3%)| Vitamin C: 3mg (4%)| Calcium: 19mg (2%)| Iron: 0.4mg (2%)