Ground turkey tacos are a little lighter on the fat content but packed with flavor! This turkey taco recipe is a family favorite in my house and I bet it will be in yours too.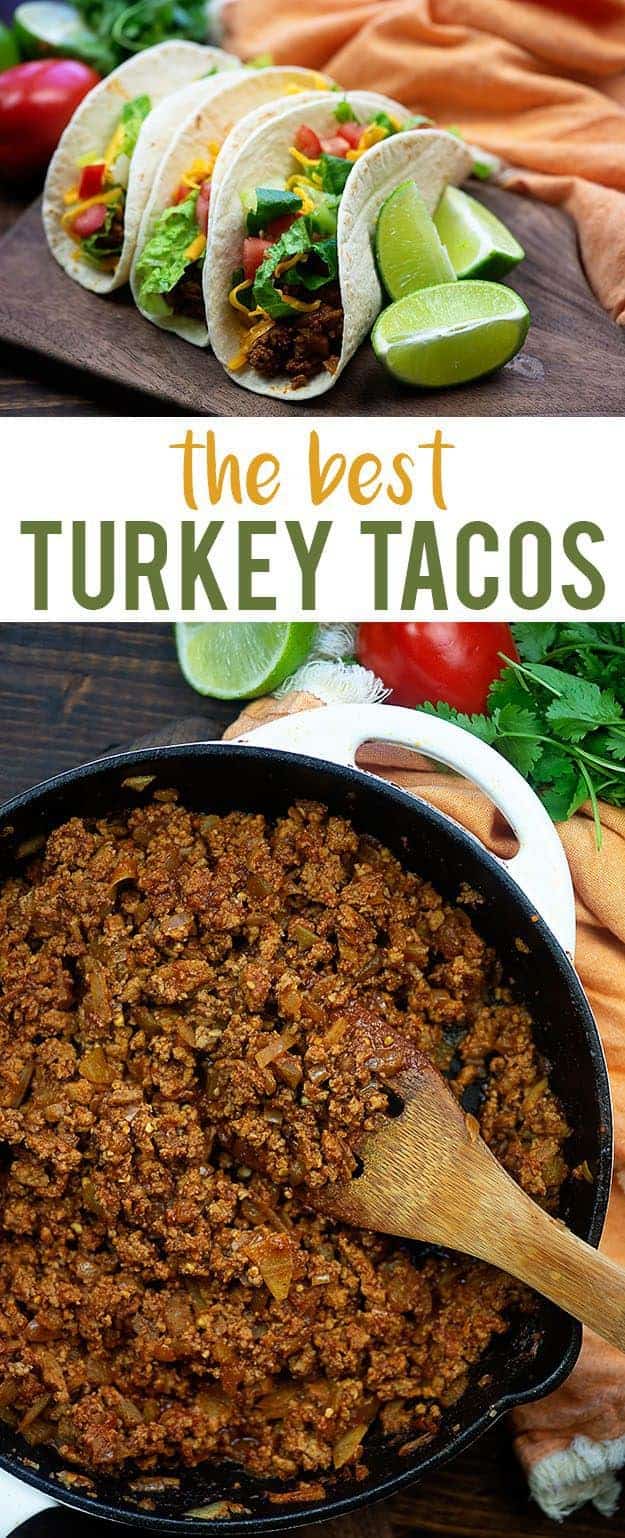 Y'all know that I am a Certified Taco Fanatic.
I will literally eat tacos every day of the week and I will never grow tired of them.
Usually, we just do the standard American taco that I grew up with – ground beef seasoned with a packet of taco seasoning + shredded lettuce + shredded cheddar + a soft tortilla. If I'm feeling fancy, I'll toss on some sour cream or diced tomatoes.
Lately, though, we've been trying to eat a little lighter and so I started making turkey tacos.
You guys. We are all converts. Turkey taco converts.
This ground turkey taco recipe is literally the best. I snagged the recipe from America's Test Kitchen, sooooo you know I'm right when I say THE BEST.
Are you ready to do this?
How to make turkey tacos:
First, we're going to cook the turkey, garlic, and diced onion in a little bit of oil. I'm really loving avocado oil lately, but you could also use olive oil.
Once the meat is cooked through, add in your seasonings.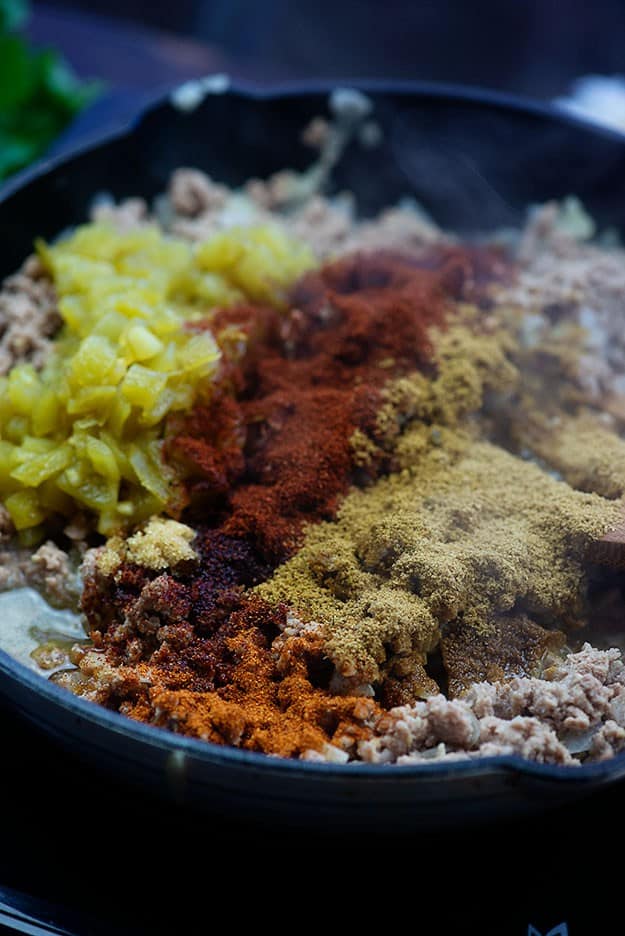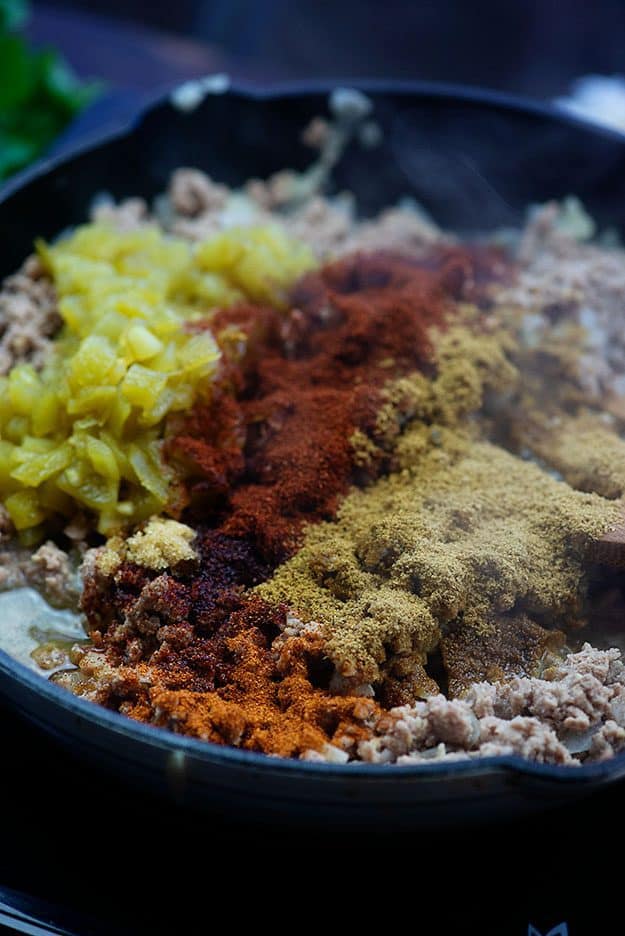 We're skipping the packet today and instead using a can of diced green chiles, plenty of chili powder, cumin, coriander, salt, and cayenne pepper. So much flavor!
Stir that around good to really coat the meat in the seasonings.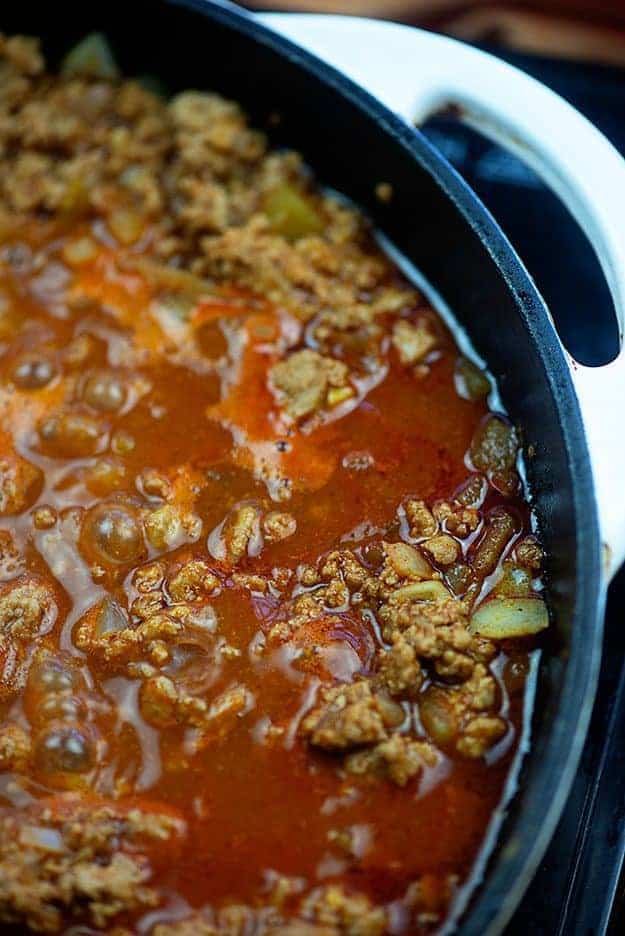 Add in some tomato sauce, chicken broth, and apple cider vinegar and bring that mixture to a boil. Reduce to a simmer and let the meat cook for about 10 minutes or until the mixture has thickened.
These ground turkey tacos seriously pack so much flavor! You won't miss the beef or the seasoning packet, promise.
We like these turkey tacos because there are no funky ingredients, you know exactly what is going into your meat, and the seasoning is spot on.
I am not above using a seasoning packet, but I find that for turkey tacos you just need something more to amp up the flavor.
This recipe does that thanks to the spices and tomato sauce!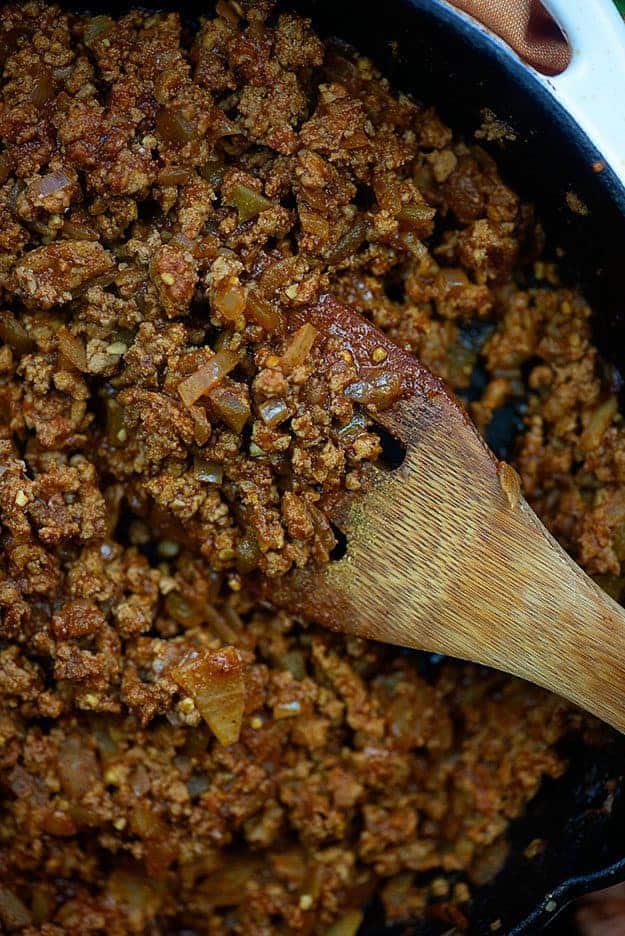 Turkey taco toppings:
You can top your ground turkey tacos with all the same toppings you'd use for traditional beef tacos!
Our favorites include shredded lettuce, shredded cheddar, my restaurant style salsa, and our favorite hot sauce: Cholula!
Slices of avocado, a squeeze of lime juice, and some fresh cilantro add bright, fresh flavors to these tacos.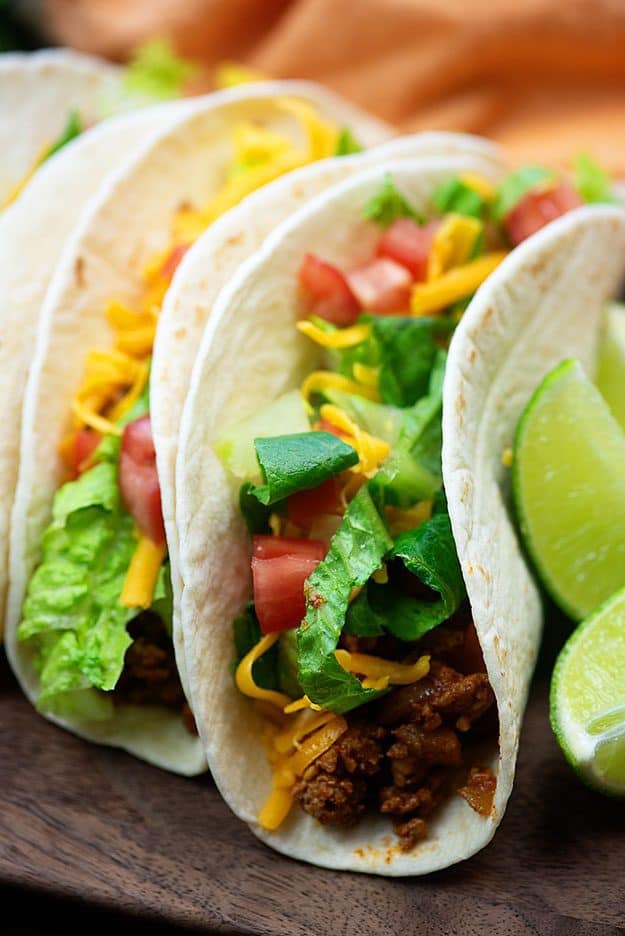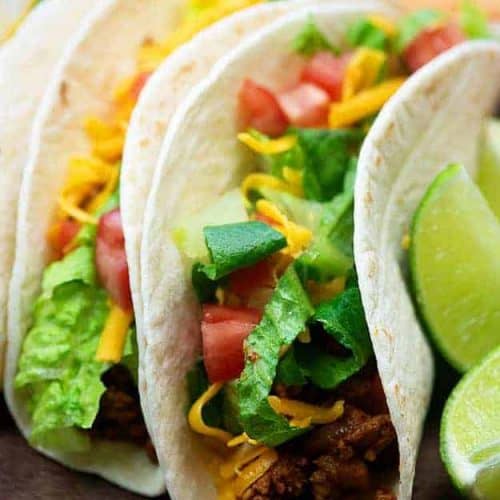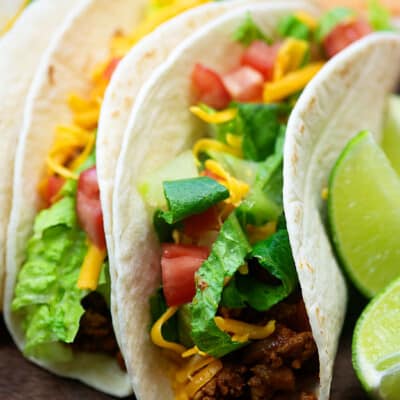 Turkey Tacos
Ground turkey tacos packed with so much flavor! No seasoning packet needed!
Prep5 minutes
Cook25 minutes
Total25 minutes
Ingredients
2 teaspoons avocado oil
1 pound lean ground turkey
1 small sweet onion diced
2 cloves garlic minced
4 ounces diced green chiles from a can
2 tablespoons chili powder
2 teaspoons cumin
2 teaspoons ground coriander
1 teaspoon salt
¼ teaspoon cayenne pepper
4 ounces tomato sauce
1/2 cup chicken broth
2 teaspoons apple cider vinegar
1 teaspoon brown sugar
Instructions
Heat the oil in a large non-stick skillet over medium heat.

Add the ground turkey, diced onion, and garlic to the skillet and brown the turkey, breaking it up as it cooks.

When turkey is cooked through, add the green chiles, chili powder, cumin, coriander, salt, and cayenne pepper. Stir well to coat the meat.

Add the tomato sauce, chicken broth, apple cider vinegar, and brown sugar to the pan and stir to combine.

Bring to a boil and then reduce heat to a simmer. Simmer for 10 minutes or until thickened.

Serve with tortillas or over a bed of lettuce with your favorite taco toppings.
Nutrition Information:
Serving: 2tacos| Calories: 104kcal (5%)| Carbohydrates: 6g (2%)| Protein: 14g (28%)| Fat: 2g (3%)| Cholesterol: 31mg (10%)| Sodium: 486mg (21%)| Potassium: 349mg (10%)| Fiber: 1g (4%)| Sugar: 3g (3%)| Vitamin A: 715IU (14%)| Vitamin C: 5.7mg (7%)| Calcium: 29mg (3%)| Iron: 1.5mg (8%)