This slow cooker chicken recipe for Chinese bourbon chicken is so saucy and perfect for serving over rice!
Alright, guys. I've been hearing your requests for more slow cooker recipes, so I knew I had to go big or go home.
You guys are going to just LOVE this Chinese bourbon chicken! It's outrageously good, packed with flavor – sweet, spicy, savory goodness in here! – and did I mention that it's super easy? You just toss a bunch of things in a slow cooker, stir it up, add some chicken, and boom. Dinnah time.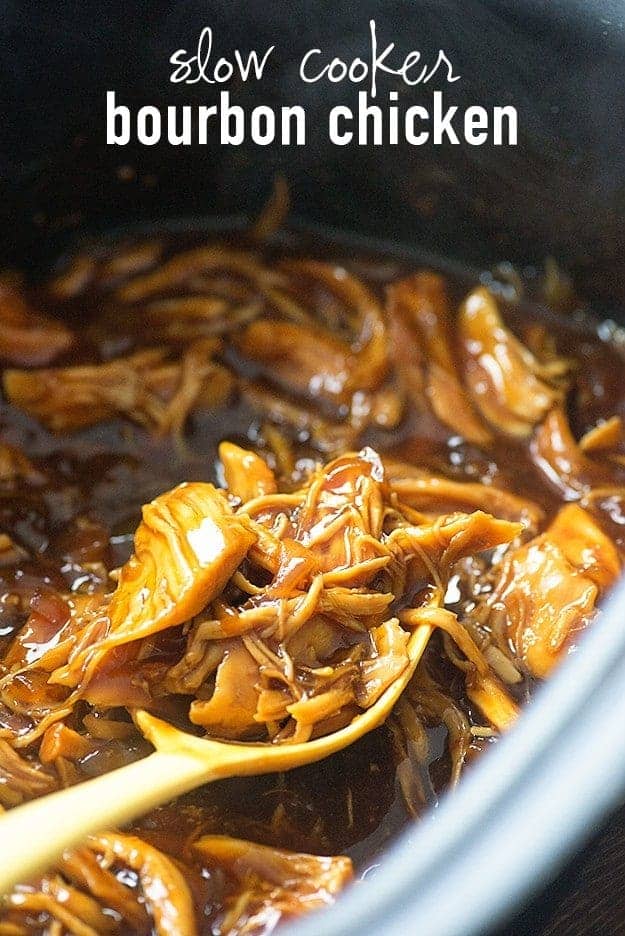 When I was a kid they had a version of Bourbon St. Chicken at this local buffet we liked to visit.
It was one of my favorite things to eat there, partially because it was so good and partially because it made my 11 year old self feel fancy for eating bourbon chicken. Totally thought I'd end up drunk. 😉
Turns out, there's actually no bourbon in bourbon chicken. I'll explain…
Bourbon chicken recipe without bourbon?? Read on to find out why…
I know this is called bourbon chicken, but that's because this dish (well, a similar dish anyway) originated on Bourbon Street in New Orleans!
If you want to add bourbon to this, you go right ahead.
I'd add in a quarter cup (in the beginning if you want it to mellow out or at the end with the corn starch if you want a stronger flavor and like to get drunk off your dinner) and increase the corn starch by a half teaspoon. Easy peasy.
To be clear, I haven't tested either, but I'm fairly certain both options would work wonderfully. 😉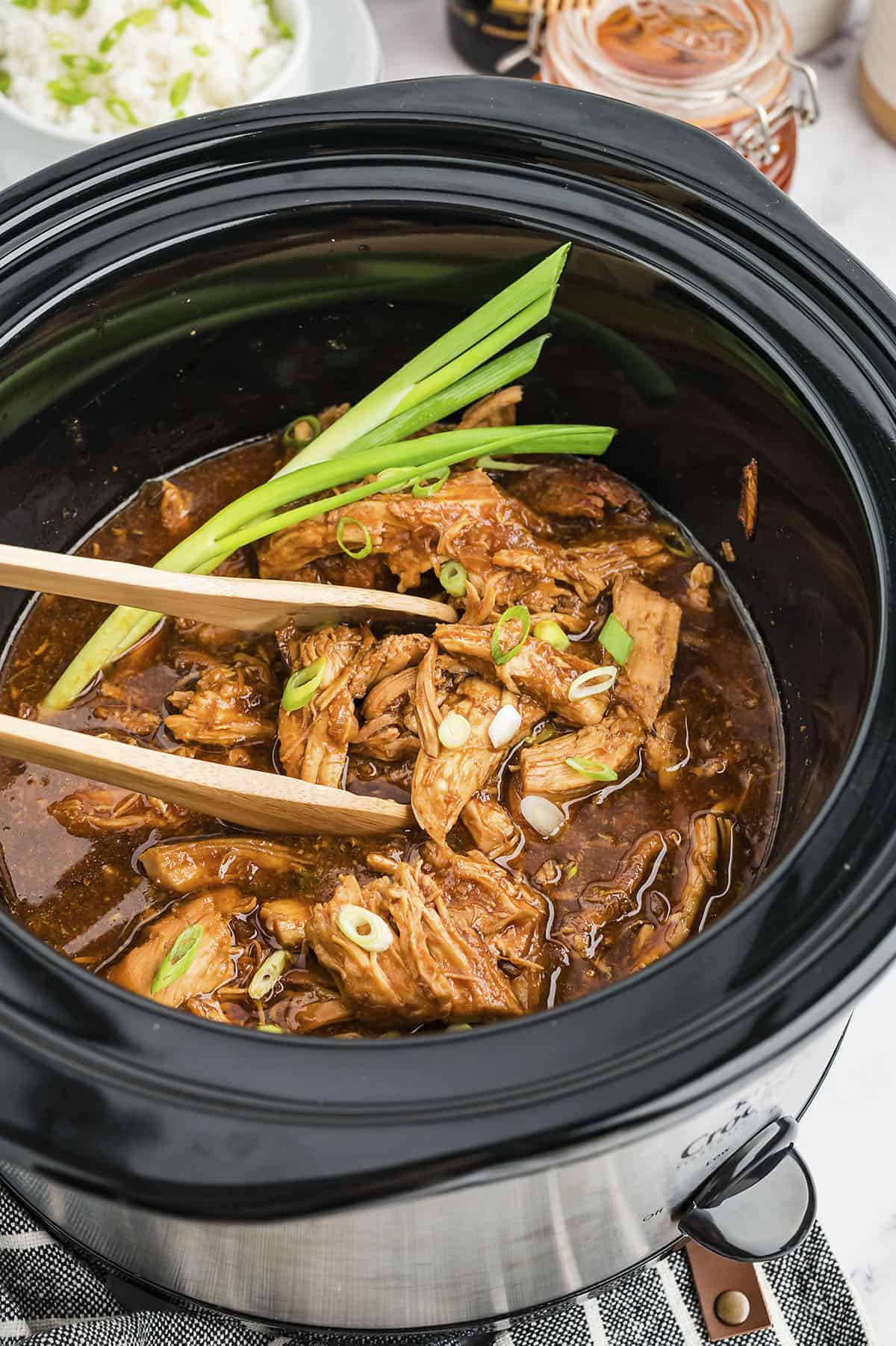 I'm calling this Chinese bourbon chicken, just so you get an idea of the flavor profile. It's a bit teriyaki-ish. It's not authentic Asian food by any means, but it has a similar vibe. For me, this totally satisfies that take-out urge.
You could even serve it over my bacon fried rice if you wanted.
I used about two teaspoons of sriracha in this recipe and it had a nice kick to it. You can decrease if your kiddos don't like spice and just squirt some on each individual serving. I wouldn't leave it out completely as it does add a nice balance to the flavors. Alternately, red pepper flakes or sambal oelek would make a great swap if you don't have sriracha on hand.
For more slow cooker goodness, check out my slow cooker chicken tacos and French dip! My mashed potatoes in the crockpot aren't too shabby either (they have cheese and bacon, so actually they're AMAZING.)
And, because I'm always asked about which slow cooker I use – it's the Ninja! I love it and highly recommend it. You can check it (and all the good reviews) out right here!
Let me know what you think of this crock pot bourbon chicken if you give it a try!
Bourbon Chicken
This bourbon chicken recipe is named after Bourbon Street in NOLA! There's actually no bourbon in the recipe at all!
Prep10 minutes
Cook4 hours
Total4 hours 10 minutes
Ingredients
1 sweet onion diced
2 cloves garlic minced
3/4 cup honey
1/2 cup low sodium soy sauce
1/4 cup ketchup
2 teaspoons sriracha
1/4 teaspoon salt
1 1/2 pounds boneless chicken breasts
2 tablespoons water
2 teaspoons corn starch
4 cups hot cooked rice for serving
green onions for serving
Instructions
Add the onion, garlic, honey, soy sauce, ketchup, sriracha, and salt to a slow cooker. Stir well to combine.

Add the chicken breasts to the sauce and stir to coat both sides.

Cover and cook on low for 4 hours or high for 2 1/2 hours.

Shred the chicken with two forks and stir well.

Dissolve the corn starch in the water and add to the slow cooker. Return slow cooker to high heat for 20 minutes or remove to a pan on the stove over medium heat and cook until sauce has thickened over medium heat, about 5 minutes.

Serve over rice with green onions.
Tips & Notes:
Using low sodium soy sauce helps keep this dish from being overly salty. It's easy to add additional salt in at the end, if you feel it needs it, but we find it perfectly seasoned using low sodium sauce.
Nutrition Information:
Calories: 552kcal (28%)| Carbohydrates: 65g (22%)| Protein: 39g (78%)| Fat: 15g (23%)| Saturated Fat: 4g (25%)| Cholesterol: 108mg (36%)| Sodium: 2071mg (90%)| Potassium: 614mg (18%)| Fiber: 1g (4%)| Sugar: 60g (67%)| Vitamin A: 220IU (4%)| Vitamin C: 6.8mg (8%)| Calcium: 48mg (5%)| Iron: 2.5mg (14%)
This post contains affiliate links.