This tamale casserole is one of those slow cooker favorites that you'll find yourself making again and again! It's beyond easy and I'm sharing a special tip for making cornbread (or any type of bread/cake) in your slow cooker without it getting soggy.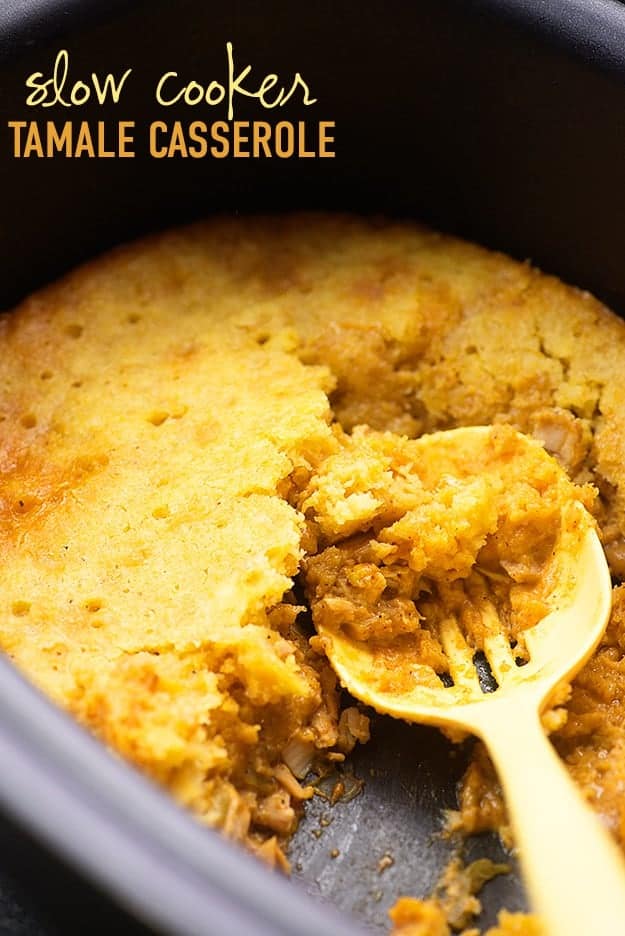 Okay, friends.
I'm back with a crockpot casserole and this is one that you're going to absolutely love.
I have a thing for tamale casserole, as you can see by checking out my chicken tamale recipe that I shared way back when. It's a winner. This is somewhat similar, but it's flipped upside down, uses shredded chicken instead of ground, has a few more flavors going on, and it's made in the slow cooker!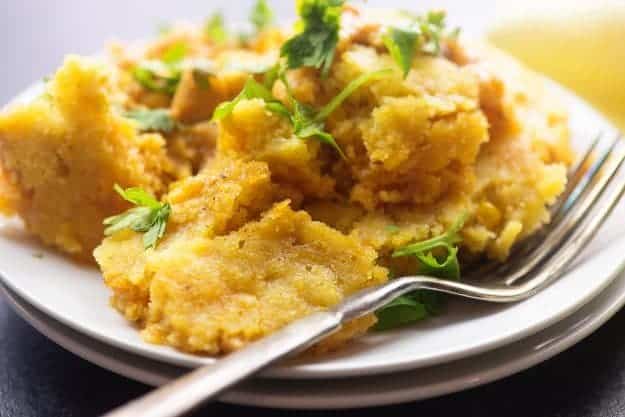 My kids gobbled this one up, which was nice and all, except for the fact that I didn't really feel like sharing.

What is it about cornbread that makes me want to horde it all for myself? This sloppy joe cornbread casserole and my Mexican cornbread both do the same thing to me. 😉
I have a feeling you're going to love this tamale pie casserole as much as I do!
I like this tamale casserole because it starts with already cooked shredded chicken. I always have shredded chicken on hand, whether in the freezer (see how I make my crockpot shredded chicken and store it in the freezer!) or from a rotisserie chicken I picked up earlier in the week.
The chicken gets mixed with some taco seasoning, green chiles, and cheese. So simple. So good.
The cornbread topping starts with a box of Jiffy, because that's what I grew up on and that's what I still love, and gets doctored up a bit with some creamed corn, an egg, and some butter. Easy stuff here!
Watch my tamale casserole video below to see how easy this is!
Oh, and if you're wondering about my secret weapon for keeping the cornbread from getting all soggy and weird from the condensation in the slow cooker? It's so simple. You just place a clean tea towel over the top of the slow cooker before putting on the lid. The tea towel prevents any condensation from dripping onto your bread and ruining it. Works great for cakes or other bread recipes in the slow cooker, too!
I'm often asked for slow cooker recommendations, and I always say the same thing. I looooooove my 3 in 1 Ninja slow cooker. I've had it for years, it works great and cooks evenly, and I love that it's rectangle instead of oval. It's a keeper. It has great reviews on Amazon too.
For more slow cooker comfort food, try my crock pot chicken and stuffing!
Slow cooker Mexican chicken to the rescue, friends! Get the recipe below.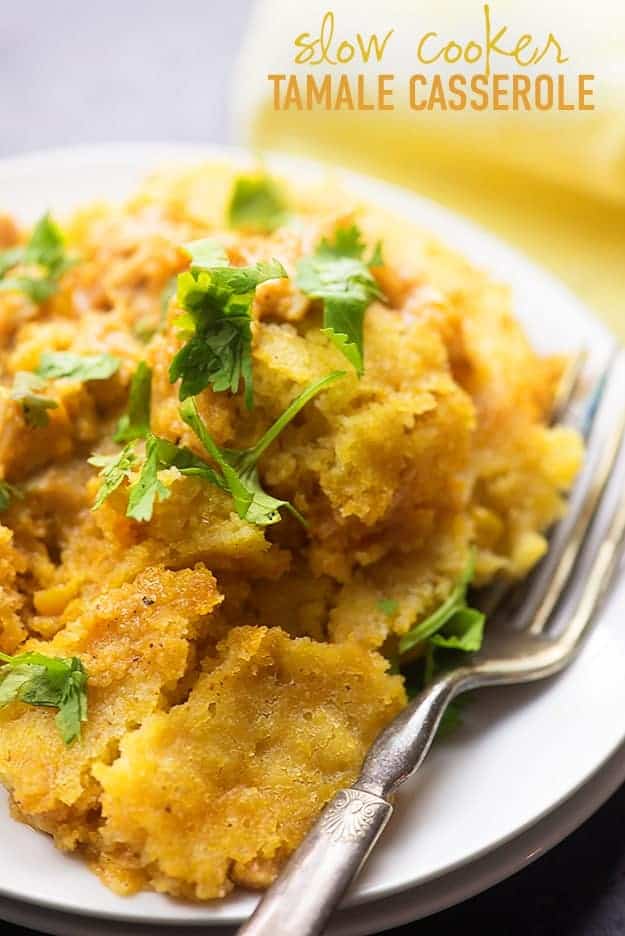 Slow Cooker Chicken Tamale Pie
This tamale casserole is pure comfort food! Feel free to top with avocado, sour cream, hot sauce, etc.
Prep10 minutes
Cook3 hours
Total3 hours 10 minutes
Ingredients
3 cups cooked shredded chicken
2 cups grated cheddar cheese
10 ounces cream of chicken soup or my substitute for cream of chicken soup
1 packet taco seasoning
4 ounces canned green chiles
1/4 cup milk
8.5 ounce box Jiffy cornbread mix
14.75 ounce can creamed corn
1 large egg
1/4 cup melted butter
Cilantro for topping
Instructions
Add the chicken, cheddar, soup, taco seasoning, green chiles, and milk to a mixing bowl and stir well to combine.

Spread mixture into a greased 5.5 to 6 quart slow cooker. Using a smaller slow cooker will result in longer cook times.

Add the cornbread mix, creamed corn, egg, and melted butter to a mixing bowl and stir well until combined.

Pour cornbread mixture over the chicken and spread evenly.

Place a clean tea towel over the top of the slow cooker and put the lid on top. The towel will prevent condensation from dripping onto your cornbread.

Cook on low for 2-3 hours or until the cornbread mixture is cooked through.

Scoop out and serve. Top with cilantro as desired.
Nutrition Information:
Calories: 617kcal (31%)| Carbohydrates: 49g (16%)| Protein: 31g (62%)| Fat: 33g (51%)| Saturated Fat: 16g (100%)| Cholesterol: 150mg (50%)| Sodium: 1917mg (83%)| Potassium: 408mg (12%)| Fiber: 4g (17%)| Sugar: 12g (13%)| Vitamin A: 1455IU (29%)| Vitamin C: 12.3mg (15%)| Calcium: 337mg (34%)| Iron: 3.1mg (17%)