Have ya ever had a craving for tacos? I sure have. Like, daily. Sometimes even twice a day. And that doesn't include all those times that I would buy Taco Bell tacos and stick 'em in the fridge for breakfast and eat them icy cold. Look, I was pregnant. I considered cold tacos a delicacy. It's the truth.
Anyway, I like tacos. My daughter likes cornbread. Sometimes she asks for cornbread for breakfast, lunch, and dinner. Sometimes she asks for a corndog just so she can eat all the corbread off the dog and then wave her hotdog around on the stick and shout about how it's naked. Sometimes she makes me giggle.
Every now and then I like to make us both happy and serve this cornbread skillet. I usually call it cornbread pie though, because then my kids love me more. Pie for dinner means I'm the best mom ever. True story.
This is simple to whip up, but it does take a bit of time to bake. Totally worth it though, as most foods that contain taco meat, cheese, and green chiles are.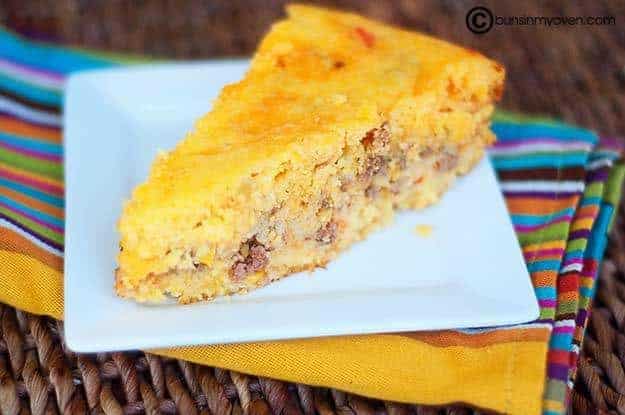 Taco Cornbread Skillet
This Taco Cornbread Skillet is made with a sweet homemade cornbread and filled with a spicy taco mixture.
Prep15 minutes
Cook45 minutes
Total1 hour
Ingredients
For the filling:
1 pound lean ground beef
1 small onion diced
1 small bell pepper diced
16 ounces canned pinto beans drained
10 ounces canned diced tomatoes with chiles drained
1 packet taco seasoning
1 1/2 cups shredded Mexican blend cheese
For the cornbread:
2 tablespoons butter
1 3/4 cup cornmeal
1 cup flour
1/2 cup sugar
1 teaspoon baking powder
1 teaspoon baking soda
1 teaspoon salt
2 1/3 cups buttermilk
2 large eggs
2/3 cup canned corn
4 ounces canned diced green chiles
Instructions
To make the filling:
Add the ground beef to a large skillet along with the onion and pepper and cook over medium heat, breaking up the meat as it cooks, until browned and cooked through.

Add the beans, tomatoes, taco seasoning, and cheese to the beef and stir to combine.

Set aside while you make the cornbread.
To make the cornbread:
Preheat oven to 400 degrees and butter a 12-inch cast iron skillet or 9×9 baking dish.

Add the cornmeal, flour, sugar, baking powder, baking soda, and salt to a mixing bowl and whisk together to combine.

Add the buttermilk and eggs to a small bowl and whisk well to combine.

Add the buttermilk mixture to the cornmeal mixture, along with the corn and chiles, and stir well to combine.

Let the mixture set for 10 minutes for the cornmeal to soften.

Spread half of the cornbread batter into the prepared baking dish and top with the beef mixture. Spoon the remaining cornbread batter over the top of the beef.

Bake for 35-40 minutes or until the cornbread is golden brown and cooked through.
Nutrition Information:
Calories: 551kcal (28%)| Carbohydrates: 69g (23%)| Protein: 29g (58%)| Fat: 18g (28%)| Saturated Fat: 9g (56%)| Polyunsaturated Fat: 2g| Monounsaturated Fat: 6g| Trans Fat: 0.3g| Cholesterol: 117mg (39%)| Sodium: 1291mg (56%)| Potassium: 725mg (21%)| Fiber: 8g (33%)| Sugar: 19g (21%)| Vitamin A: 1127IU (23%)| Vitamin C: 20mg (24%)| Calcium: 293mg (29%)| Iron: 5mg (28%)
Mexican Cornbread Skillet
For the filling:
1 lb ground beef
1 small onion, chopped (optional)
1 red bell pepper, chopped
2 small tomatoes, chopped (1/2 cup of salsa would be great if you prefer)
1/2 cup shredded cheddar cheese
1 cup monterey jack cheese
1 packet taco seasoning (or your own recipe for seasoning mix)
drizzle of olive oil
Drizzle some olive oil in a large skillet and heat it over medium heat. Saute the onions and bell peppers for a few minutes and then add the ground beef, breaking it up into small pieces just as you would for tacos. Cook until no longer pink and then drain. Stir in the tomatoes and taco seasoning. Remove from the heat and get to work on the cornbread.
For the cornbread:
1 3/4 cups cornmeal
1 cup all-purpose flour
2 eggs
2 1/3 cups milk (buttermilk, if you have it!)
1/2 cup sugar
1 tsp baking powder
1 tsp baking soda
1 tsp salt
2/3 cup corn (frozen or canned work, fresh is best!)
1 small can green chiles
butter, for greasing the skillet
Preheat the oven to 400 degrees and grease a cast iron skillet with butter. In a large bowl, combine the dry ingredients. In a separate bowl crack the eggs and stir in the milk. Pour wet ingredients into the dry ingredients and mix in the corn and green chiles. Mix well and let sit for 10 minutes to soften the cornmeal.
Pour half of the cornbread mixture into the bottom of your greased skillet. Spoon the meat mixture on top and cover with both cheeses. Spread on the remaining cornbread mixture. Bake for 30-40 minutes or until the cornbread is golden brown and cooked through.