I'm such a sucker for one pot pasta dishes and this one is no exception! This post is sponsored by Smithfield. Thank you for supporting the brands that support this blog!
Let's all sit for a minute. Take a breather. Relax. Slow down.
Whew. That was nice.
This time of year, man. It's intense, right? All the planning and shopping and decorating and just gearing up for family and friends and big dinners. Makes me exhausted just thinking about it!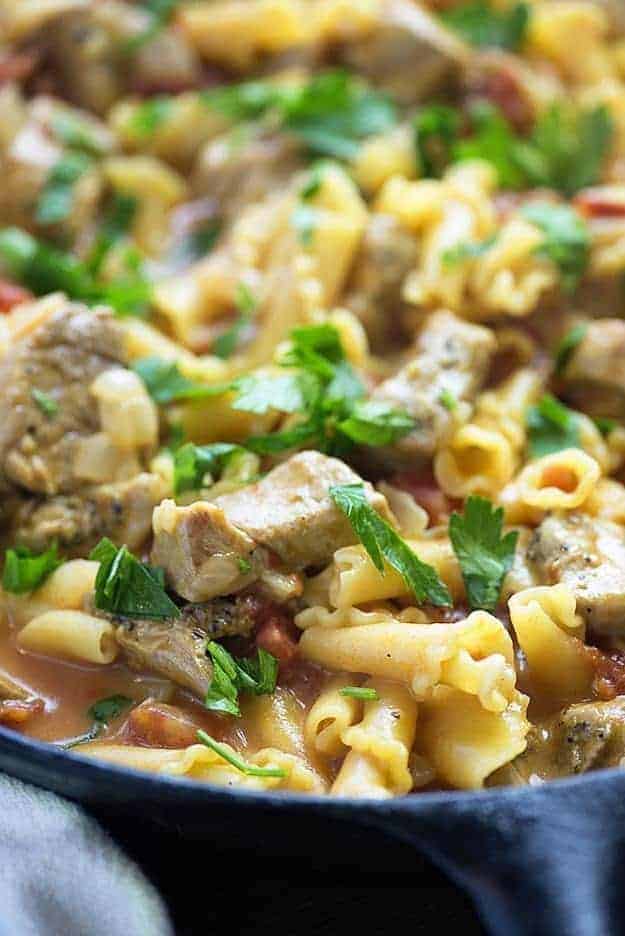 So, I'm alllllll about the quick 30 minute dinners – especially one pot pasta dishes like this. I mean, one skillet means minimal clean up and I am all about that life.
I started this recipe with a Smithfield Pork Tenderloin in the roasted garlic and cracked black pepper flavor. Love the peppery kick of flavor on this one! The meat is already seasoned so half the work is done for you, which makes this perfect for any night of the week.
I added in a bunch of diced onions, some canned tomatoes, and a half of a box of pasta. Any shape is fine, but I love the curly shapes since they're so pretty. Haha. I'm such a girl sometimes.
I also snuck in some red pepper flakes to give this a spicy kick. You can absolutely leave these out if you don't want a spicy dish. I just love the spice this time of year – I feel like it warms me up even more. I'm strange, I know.
Anyway, I hope you guys love this simple one dish dinner and experiment more with Smithfield's marinated fresh pork. Even though the big hunk of meat can look a little intimidating, they're perfect for busy week night dinners. Check out my pork stir fry and pork enchilada skillet as well!
For more delicious, seasonal recipes that are ready in a matter of minutes, check out this Peppery Country Pork Stew and Cheddary Pork and Corn Casserole!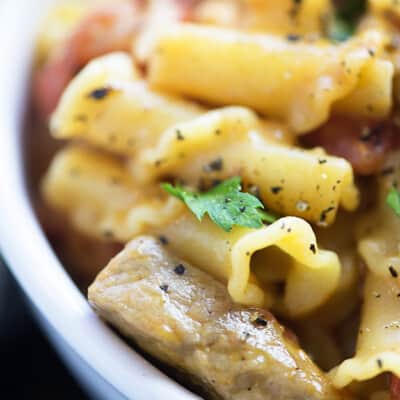 One Skillet Pork Pasta
This one dish pasta recipe is cheesy perfection. Those tender pieces of pork are so good!
Prep5 minutes
Cook25 minutes
Total30 minutes
Ingredients
1 tablespoon butter
1 Smithfield Roasted Garlic & Cracked Black Pepper Marinated Fresh Pork Tenderloin about 1 pound
1 sweet onion diced
2 cloves garlic minced
8 ounces campanelle pasta
14.5 ounces canned diced tomatoes
1 3/4 cup water
1/3 cup milk
1 teaspoon red chili flakes
1 cup grated cheddar
parsley for garnish
salt and pepper to taste
Instructions
Heat a large skillet over medium heat. Add butter to the skillet and let melt.

Dice the pork into bite sized pieces and add to the skillet. Cook, stirring occasionally, for 7 minutes.

Add the onion to the skillet and cook for 3 more minutes, stirring occasionally.

Add the garlic to the skillet and stir to combine.

Dump in the pasta, tomatoes, water, milk, and red pepper flakes. Stir to combine and bring to a boil.

Cover and cook for 8 minutes.

Remove lid and continue cooking for 5 more minutes.

Reduce heat to low and stir in the cheddar. Let cook 2 more minutes.

Remove from heat and garnish with parsley and season with salt and pepper as desired.
Nutrition Information:
Calories: 565kcal (28%)| Carbohydrates: 55g (18%)| Protein: 43g (86%)| Fat: 19g (29%)| Saturated Fat: 9g (56%)| Cholesterol: 121mg (40%)| Sodium: 1227mg (53%)| Fiber: 5g (21%)| Sugar: 9g (10%)