Pork stir fry is ready in less than 20 minutes and my whole family loves this low carb stir fry recipe!
Lately I have been all about the one-dish dinners like this easy pork stir fry recipe! I love a quick skillet meal. It makes life so easy and the clean up is minimal.
I'm also pretty in love with Asian flavors lately.
Now, I won't claim to be making anything super authentic here. I live in the middle of the United States, surrounded my corn fields.
That said, my version of stir fry is pretty darn good, if I do say so myself. But I don't have to say so! My family does it for me, by way of asking for this stir fry alllll the dang time. The stir fry sauce is killer, you guys. And so easy!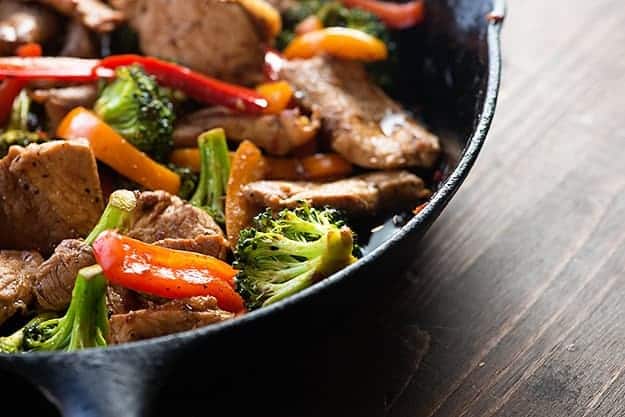 This pork stir fry recipe is ready in just 30 minutes!
Anyway, I started this meal out with a pork sirloin from Smithfield. I've been working with them for about a year now to bring you creative and easy recipes featuring their marinated fresh pork. Sometimes those packages of pork can be intimidating. They're a fairly large hunk of meat and that immediately makes people think they're for special occasions or for days when you have hours to spend in the kitchen. Well, I'm here to prove to you that this is not the case!
This pork stir fry starts with a Peppercorn & Garlic Pork Sirloin and is ready in less than 30 minutes! They key is slicing the meat thinly and then cooking it. I made you a video so you can see just how simple this recipe actually is!
The stir fry sauce is a little sweet and a little sour, from a combination of vinegar and honey with the soy sauce. I also added in plenty of fresh garlic!
Go forth and stir fry all the things! You won't regret it for a second. Serve this with my sausage egg rolls and some steamed rice! If you're looking for more quick pork recipes, check out my pork enchilada skillet or my pork Milanese with cream cheese noodles!
Easy stir fry recipe:
Easy Pork Stir Fry
This easy pork stir fry is ready in just 30 minutes. Skip the takeout tonight!
Prep10 minutes
Cook20 minutes
Total30 minutes
Ingredients
Smithfield Peppercorn & Garlic Pork Sirloin
2 tablespoons vegetable oil divided
2 cups chopped broccoli
2 cups chopped bell peppers
1 tablespoon minced ginger
2 teaspoons chili paste
1/4 cup soy sauce
1/4 cup vinegar
1/4 cup honey
1 tablespoon hoisin
1 teaspoon minced garlic
Instructions
Heat a large skillet or wok over medium high heat. Add one tablespoon of vegetable oil to the skillet to heat.

Slice the pork thin and add to the skillet. Cook, stirring often, about 6 minutes or until cooked through. Remove to a plate and set aside.

Add another tablespoon of oil to the skillet. Stir in the broccoli and peppers and let cook for 5 minutes or until tender-crisp, stirring often.

Add in ginger and chili paste and stir well. Cook for one minute.

Stir together soy sauce, vinegar, honey, hoisin, and garlic in a small bowl. Add to pan and stir to coat. Cook 3 minutes, stirring often.

Return pork to the pan and cook for 2 minutes will stirring.

Serve immediately.
Nutrition Information:
Calories: 189kcal (9%)| Carbohydrates: 28g (9%)| Protein: 3g (6%)| Fat: 7g (11%)| Saturated Fat: 5g (31%)| Sodium: 895mg (39%)| Potassium: 351mg (10%)| Fiber: 2g (8%)| Sugar: 22g (24%)| Vitamin A: 2615IU (52%)| Vitamin C: 136.4mg (165%)| Calcium: 30mg (3%)| Iron: 1.1mg (6%)