Our Easy Pork Stir Fry recipe is ready in about 20 minutes! This is such an easy recipe to get on the table, packed with bold flavors, and perfect for serving over rice or with noodles.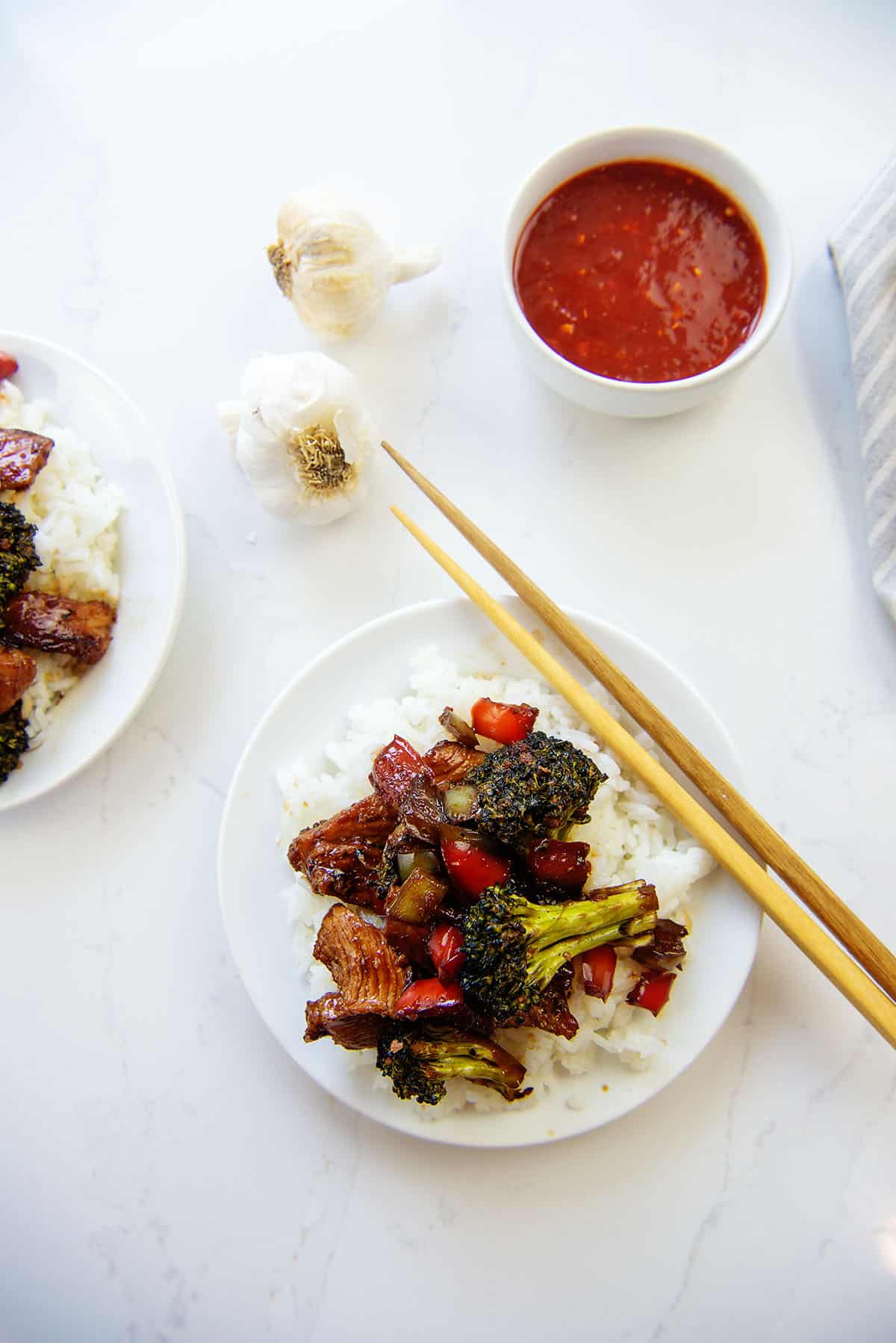 Lately I have been all about the one-dish dinners like this easy pork stir fry recipe! I love a quick skillet meal. It makes life so easy and the clean up is minimal. You can eat it just like this and keep the carb count low or you can serve it over a pile of rice…either way is tasty!
A few other favorite one dish dinners are my one pot spaghetti and chicken florentine pasta.
Now, before we get too far into this Pork Stir Fry, let me just preface it by saying I won't claim to be making anything super authentic here. I live in the middle of the United States, surrounded by corn fields.
That said, my version of stir fry is pretty darn good, if I do say so myself. But I don't have to say so! My family does it for me, by way of asking for this stir fry alllll the dang time. The stir fry sauce is killer, you guys. And so easy!
Pork Stir Fry Ingredients:
Pork Sirloin – You'll need about 1 pound. Can also use tenderloin, chopped center cut pork chops, or pork loin.
Vegetables – We used fresh broccoli and bell peppers, but carrots, cauliflower, green beans, sugar snap peas, and baby corn are all great options.
Sauce – Soy sauce, hoisin sauce, vinegar, honey, chili paste, ginger, (or sriracha), and garlic make for a simple but flavorful sauce.
What We Love About This Recipe:
Everything cooks in one skillet for easy clean up!
Ready in just 30 minutes!
That stir fry sauce is an easy way to get my kids to eat their veggies!
Bulk it up by serving over rice or noodles or keep it lower in carbs and enjoy your veggies.
The sauce is super simple – a little sweet, a little sour, and loaded with garlic.
We love this non-stick wok. It's easy (and fun!) to cook with, is dishwasher safe, and is a nice, large size so you can feed the whole family.
How to Make Easy Pork Stir Fry Recipe:
Pork: Slice your pork thin. Heat some oil in your wok or a large, deep skillet until very hot. Add the pork and cook for 2-3 minutes to brown on the outside.
Veggies: Add some more oil to the pan and toss in the veggies. . Cook while stirring often until the veggies have softened up and the pork is about cooked through.
Sauce: Stir fry wouldn't be complete without a sauce to go with it! Just mix together the soy, hoisin, vinegar, honey, garlic, ginger, and chili paste. Pour it into the wok and cook, stirring constantly, until the vegetables are done to your liking and the sauce is coating everything nicely.
Serving Suggestions:
Serve this with my sausage egg rolls (or make air fryer egg rolls) and some steamed rice! This is also tasty with our bacon fried rice!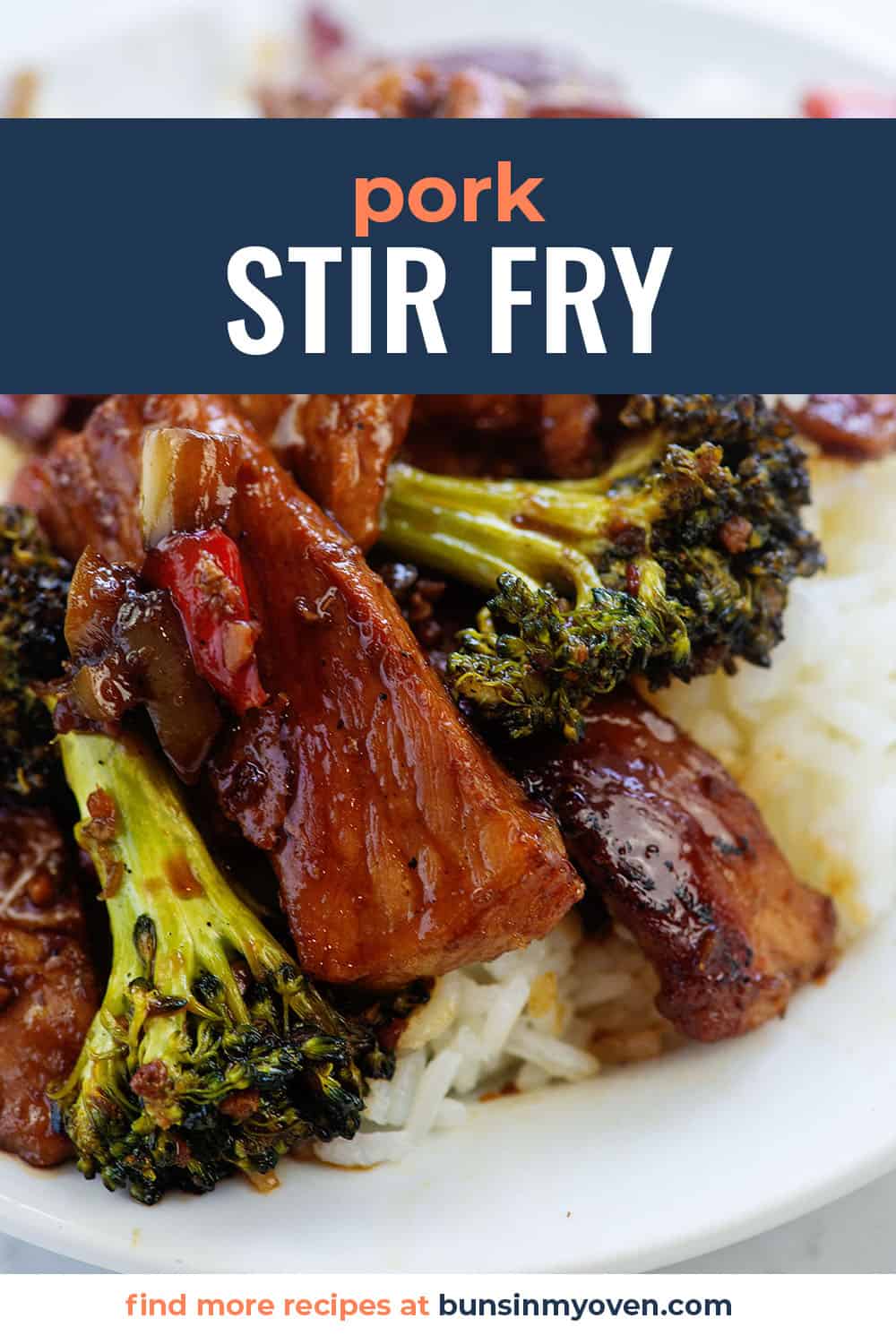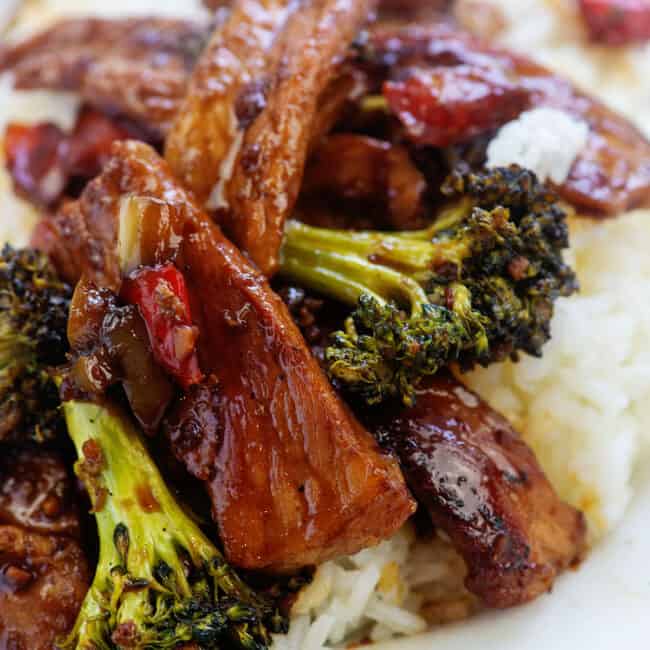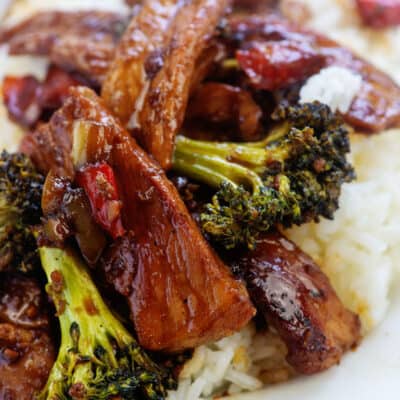 Easy Pork Stir Fry
This easy pork stir fry is ready in just 30 minutes. Skip the takeout tonight!
Prep10 minutes
Cook20 minutes
Total30 minutes
Ingredients
1 pound pork sirloin
2 tablespoons vegetable oil
2 cups chopped broccoli
2 cups chopped bell peppers
1/4 cup soy sauce
1/4 cup vinegar
1/4 cup honey
3 cloves garlic minced
1 tablespoon hoisin
1 tablespoon minced ginger
2 teaspoons chili paste
Instructions
Heat a large skillet or work over medium high heat with the vegetable oil.

Slice the pork thin and add to the skillet with the hot oil. Cook, stirring often, about 3-4 minutes or until browned.

Stir in the broccoli and peppers and let cook for 3-4 minutes.

Stir together soy sauce, vinegar, honey, garlic, hoisin, ginger, and chili paste in a small bowl. Add to pan and stir to coat the meat and vegetables in the sauce. Cook 5 minutes, stirring often, until vegetables are tender-crisp and pork is cooked through.

Serve immediately.
Tips & Notes:
We kept it simple with broccoli and peppers as those are two veggies that I know my family will eat. Feel free to mix in thinly sliced carrots, diced onion, sugar snap peas, cauliflower, or baby corn. Keep the vegetables to around 4 cups or increase the sauce accordingly. We prefer to serve this over rice, but it's also delicious on it's own, if you're trying to keep it more low carb.
Nutrition Information:
Calories: 260kcal (13%)| Carbohydrates: 30g (10%)| Protein: 29g (58%)| Fat: 2g (3%)| Saturated Fat: 1g (6%)| Polyunsaturated Fat: 1g| Monounsaturated Fat: 1g| Trans Fat: 1g| Cholesterol: 70mg (23%)| Sodium: 674mg (29%)| Potassium: 816mg (23%)| Fiber: 3g (13%)| Sugar: 23g (26%)| Vitamin A: 2621IU (52%)| Vitamin C: 137mg (166%)| Calcium: 43mg (4%)| Iron: 2mg (11%)