If you're wondering how to make egg rolls you'll love this egg roll recipe! It's perfect for beginners and the flavors are just amazing.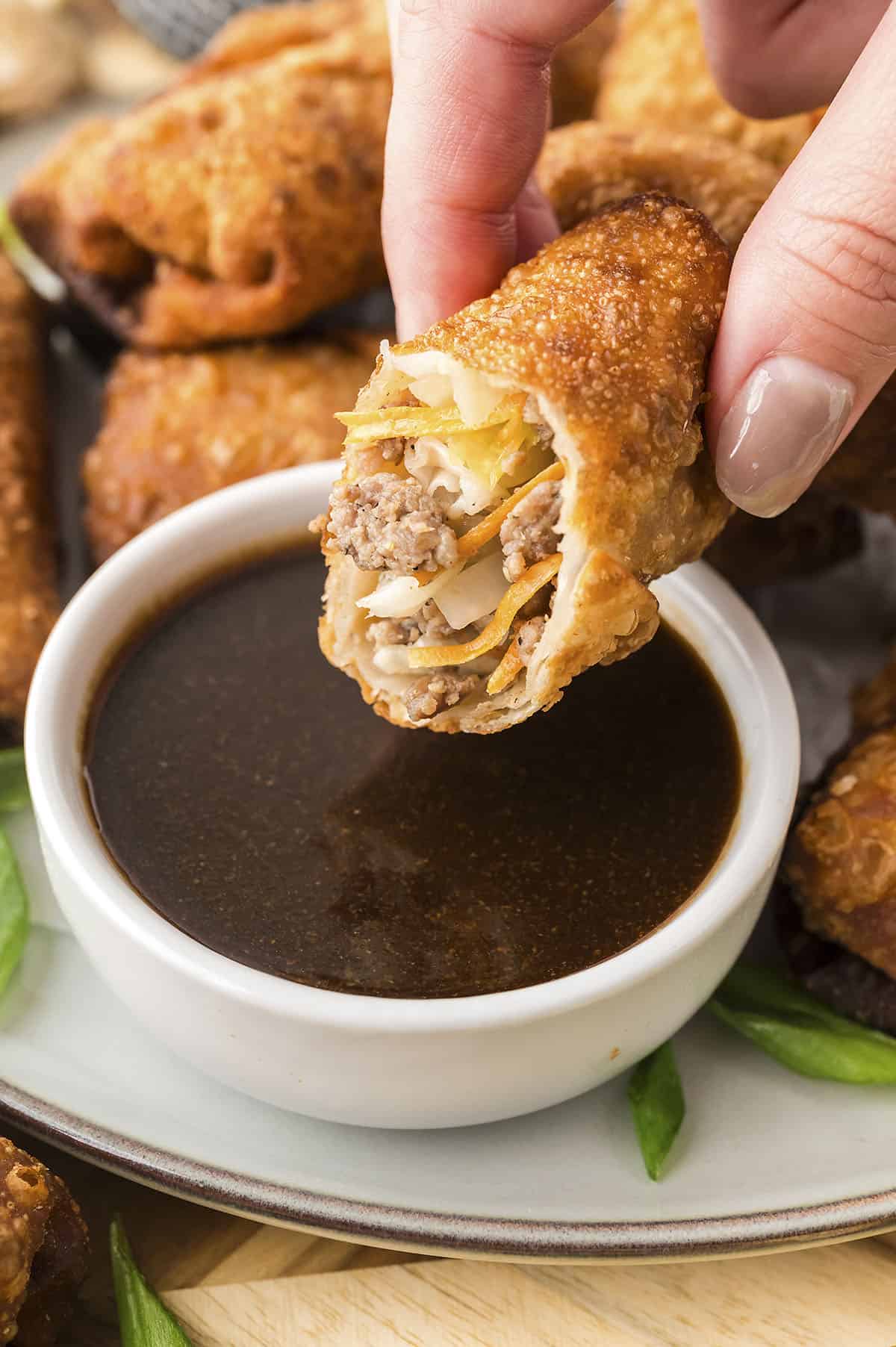 This recipe for sausage egg rolls has been what kept me married all these years.
Nope. Not making that up. I'm pretty sure that my husband thinks I'm okay and all, but his real reason for showering me with love and agreeing to be the garbage taker-outer for our family is because I can make a dang good egg roll. And, okay, these sausage egg rolls may not be super traditional, but my word. They are out of this world amazing!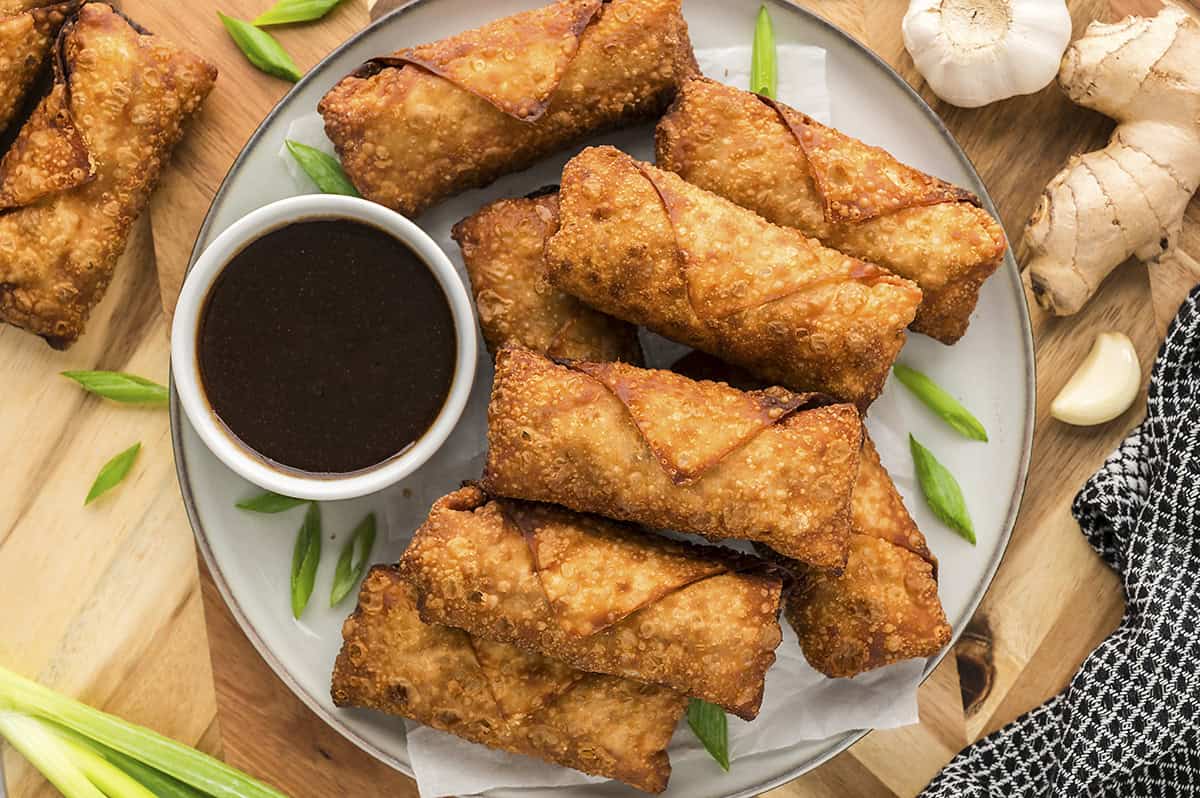 By the way, this egg roll dipping sauce is ridic. Sweet, salty, and the sesame oil brings such an amazing flavor! You're going to want to bathe in this sauce. (Update: I just made some Asian Turkey Lettuce Wraps and used this egg roll dipping sauce as my sauce for the wraps. It was delicious!)
Before you all ask me about baking egg rolls instead of frying them, let me just go ahead and tell you that I've tried baked egg rolls. Once. Then I went right back to frying them. I don't like using up a bottle of oil either. I hate having to figure out what to do with that oil when I'm done with it. I hate the smell and the clean up just as much as you do.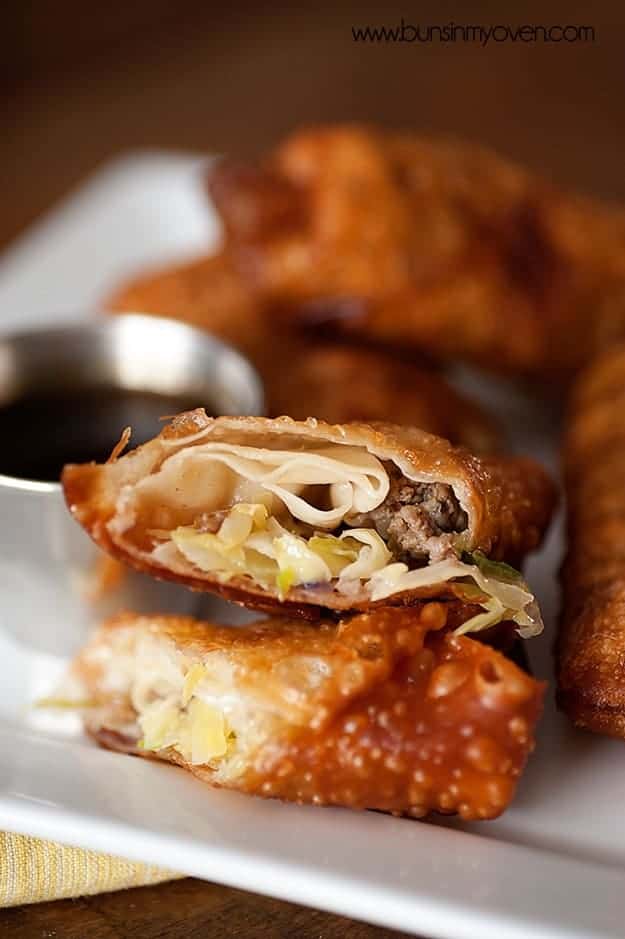 You know what? Fried egg rolls are still worth it. Especially these fried egg rolls! And, no, fried foods are not evil, so long as you keep the heat hot enough (if you don't, your food will soak up a lot of grease) and you drain these on a paper towel lined sheet after they fry.
So, the moral of the story is this: if you want boys (or girls) to fall in love and stay in love, you should probably fry them some of these sausage egg rolls. The filling consists of just a handful of ingredients and these are seriously easy to make!
Sausage Egg Rolls
These easy sausage egg rolls are a family favorite!
Prep15 minutes
Cook20 minutes
Total35 minutes
Ingredients
1 pound pork breakfast sausage I'll sometimes use a mix of regular and hot!
8 ounces coleslaw mix this is just the cabbage and carrots - no dressing
1 tablespoon finely chopped fresh ginger
1 tablespoon finely chopped garlic
1/2 teaspoon salt
1/2 teaspoon pepper
16 egg roll wrappers found in the produce section
Vegetable oil for frying
Instructions
In a skillet over medium heat, brown the sausage, breaking into into small pieces, and cook through. Drain the fat.

In a large bowl, add the sausage, coleslaw mix, ginger, garlic, salt, and pepper and stir to combine.

Add 2-3 inches of oil to a large, deep skillet. Heat to 375 degrees.

Spoon around 1/4 cup of the sausage mixture into an egg roll wrapper. Fold in each side and then roll up tightly. Before making the last roll, dip your finger in water and brush it on the top corner of the egg roll and finish rolling to seal the egg rolls closed. Repeat with the remaining egg rolls.

Fry egg rolls, a few at a time without crowding the pan, cooking around 2 minutes before flipping and cooking another 1-2 minutes or until golden brown.

Drain a paper towel lined cookie sheet.

Serve with this dipping sauce.
Nutrition Information:
Calories: 128kcal (6%)| Carbohydrates: 8g (3%)| Protein: 5g (10%)| Fat: 7g (11%)| Saturated Fat: 2g (13%)| Cholesterol: 21mg (7%)| Sodium: 330mg (14%)| Potassium: 105mg (3%)| Vitamin A: 35IU (1%)| Vitamin C: 5.5mg (7%)| Calcium: 15mg (2%)| Iron: 0.8mg (4%)