Skip the drive-thru and make our copycat Pumpkin Cream Cold Brew at home. The pumpkin cold foam is rich, creamy, and made with real pumpkin puree! And it only costs about $2 per serving, compared to $5+ at Starbucks!
It's once again that time of the year when everything has pumpkin in it.
Don't worry, I'm not complaining! I live for this time of year.
We've been so excited to get back to the socially acceptable time to eat pumpkin crunch cake and mini pumpkin muffins without having to hide it from friends and family in the 90 degree heat. 😉
We've been on a drink kick lately (and we're really getting excited for spiked eggnog season!), so we thought we'd bring the two together with this Pumpkin Cream Cold Brew!
If you've never had the pumpkin cream cold brew from Starbucks than you have been missing out! This recipe is inspired by that favorite, but ours uses real pumpkin to make the pumpkin cold foam and it's naturally sweetened with maple syrup or honey to keep things tasty.
We also use our homemade pumpkin pie spice blend so you know this cold foam is going to have all the pumpkin flavor. It's the perfect way to kickstart your day or get you through the afternoon!
Ingredient Notes:
This post contains affiliate links. As an Amazon associate and member of other qualifying programs, I earn from qualifying purchases.
Heavy Cream & Milk – The base for cold foam is heavy cream and milk. We're basically making half whipped whipped cream.
Pumpkin Puree – You'll want to use 100% pure pumpkin puree, and not canned pumpkin pie filling which contains spices and other liquids. That's right, there is real pumpkin in this recipe!
Pumpkin Pie Spice – Try my homemade pumpkin pie spice! I use it in all my pumpkin desserts. You can use the store bought kind too, but when you make your own you can adjust the spices to perfectly suit your tastes!
Maple Syrup / Honey – These both make excellent sweeteners for the pumpkin cream! Obviously they both offer slightly different flavors so choose whichever you like most or have on hand.
Cold Brew Coffee – I'll leave this part up to you! Either prepare your favorite cold brew coffee or buy some pre-made from the store. We use this cold press and make our own cold brew every couple of days. My favorite and so budget friendly!
Vanilla Extract – A must!
What We Love About This Recipe:
We love that you can use this pumpkin cold foam on a variety of drinks. Try it on an iced latte or a shaken espresso!
You can get creative and customize this a bit by adjusting the amounts of spices used, using a different sweetener, or even adding a flavored coffee syrup that you think might go well with the pumpkin.
Our version of a Pumpkin Cream Cold Brew costs less than half the price of Starbuck's version and we're using real pumpkin and natural sweeteners in ours.
Pumpkin Cold Foam:
Blend: You're going to need a food processor or a blender to prepare the pumpkin cold foam. Add the pumpkin puree, heavy cream, milk spices, and maple syrup or honey to the blender and blend until smooth.
The pumpkin puree should be dissolved and the mixture will be thick, though not quite as thick or fluffy as whipped cream. We're basically going for partially whipped whipped cream.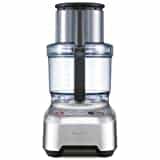 Food Processor
We use our Breville food processor in all kinds of recipes! It makes short work of chopping veggies and many other other tasks. This is our favorite food processor because it is so heavy duty and it will last!
Pumpkin Cream Cold Brew:
Prepare: When you've finished blending the pumpkin cream you can start preparing your drink by filling a glass with ice and the cold brew. Leave enough room at the top for the pumpkin cold foam!
Serve: To finish pour the pumpkin cream over the top of the cold brew, add a sprinkle of pumpkin pie spice or cinnamon and serve immediately!
These glasses are perfect for your iced coffee and so aesthetic! Plus, they come with lids and glass straws so you can take your coffee to go.
You can use this pumpkin cold foam in a variety of other drinks too like iced lattes, shaken espressos, and more. It's the perfect Fall flavor for coffee!
If you need something to go with your cold brew coffee I'd recommend some scones! And keep the Fall theme going with these pumpkin scones!
Variations:
Sweetener – Use your favorite sugar free vanilla syrup to make this low carb and keto friendly!
Latte – Brew three shots of espresso and pour it over ice. Add a couple pumps of vanilla syrup (to taste), fill the glass about 3/4 of the way full with milk, stir, and then top with your pumpkin cold foam.
Pumpkin Shaken Espresso – Brew three shots of espresso and add to a cocktail shaker with ice, 3 pumps of vanilla coffee syrup, your favorite milk (we like oatmilk) and a dash of pumpkin spice. Shake vigorously for 15 seconds and then strain into a glass full of ice. Top with pumpkin cold foam.
Vanilla Syrup – Starbucks adds vanilla syrup to their cold brew before topping with pumpkin cold foam. To make your own, follow my recipe for peppermint syrup, but swap the peppermint extract for vanilla extract. You may also use this in place of the honey or maple in the cold foam.
Caramel – Drizzle caramel sauce along the edges of your glass before filling with ice and cold brew for a caramel pumpkin cream cold brew! Lining the cup makes it totally Insta worthy.
FAQ's:
Can I make this ahead of time?
Our homemade Pumpkin Cold Foam will keep fresh in the fridge for up to 3 days in a covered dish.
Should I use maple syrup or honey?
Both work well here, so use whichever you have on hand. We like the touch of maple flavor that maple syrup adds, but honey is delicious as well. You could also use simple syrup or vanilla coffee syrup in place of the maple or honey, but you'll likely want a bit less.
MORE RECIPES WITH PUMPKIN!
Pumpkin Cream Cold Brew
We love the Starbucks Pumpkin Cream Cold Brew, but it's pricey! Our copycat version is made with real pumpkin and natural sweeteners and, best of all, it clocks in at a bit over $2 per serving!
Prep5 minutes
Total5 minutes
Ingredients
1 cup heavy cream
1/2 cup whole milk
¼ cup pumpkin puree
4 tablespoons maple syrup or honey
1 tablespoon pumpkin pie spice
2 teaspoons vanilla extract
48 ounces cold brew coffee
Instructions
In a food processor or blender combine everything except for the cold brew.

Blend until smooth and pumpkin puree is dissolved. Mixture should be thick, but not as thick or fluffy as whipped cream. If too thick, add additional milk and stir until it reaches the consistency you prefer.

Fill your glass with ice and cold brew, leaving room at the top for the pumpkin cold foam.

Pour cold foam over the top. Sprinkle with a light dusting of extra pumpkin pie spice, if desired.

Serve immediately.
Tips & Notes:
This pumpkin cold foam is delicious on a variety of coffee drinks, such as an iced latte, shaken espresso, or iced coffee. The texture of the cold foam should be a bit like melted whipped cream. It won't be as stiff or thick as traditional whipped cream, but it does start to thicken up some. Use sugar free vanilla coffee syrup in place of the honey or maple to make this recipe keto friendly.
Nutrition Information:
Serving: 1glass| Calories: 294kcal (15%)| Carbohydrates: 19g (6%)| Protein: 3g (6%)| Fat: 23g (35%)| Saturated Fat: 14g (88%)| Polyunsaturated Fat: 1g| Monounsaturated Fat: 6g| Cholesterol: 71mg (24%)| Sodium: 38mg (2%)| Potassium: 358mg (10%)| Fiber: 1g (4%)| Sugar: 16g (18%)| Vitamin A: 3311IU (66%)| Vitamin C: 1mg (1%)| Calcium: 120mg (12%)| Iron: 1mg (6%)