This Pumpkin Cream Pie starts with a simple homemade graham cracker crust and a layer of no bake, thick, creamy pumpkin filling! We fold in chocolate chips and top it all with extra whipped topping.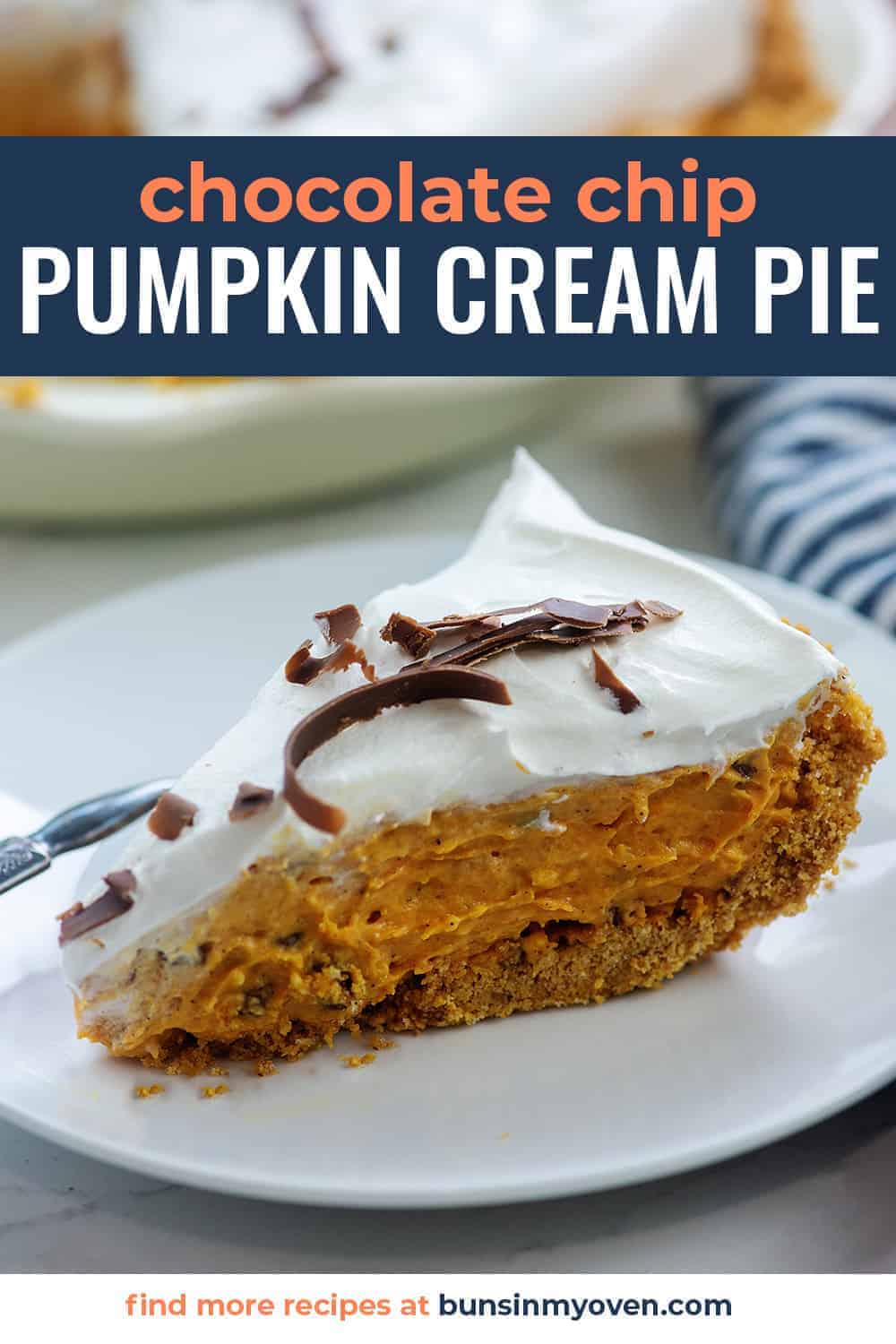 Pumpkin season is a favorite of mine, but let's be honest…
We're eating pumpkin all year. I don't care if its 10 degrees or 93 degrees. I want pumpkin.
I will take your pumpkin pie and I will slather it with whipped cream and I will eat it January through December with zero complaints.
But, hey, if you want to limit the goodness of this pumpkin cream cheese pie to the months when the leaves are bright and colorful and there is a chill in the air, then I guess that's on you. 😉
I found this recipe in an old Taste of Home magazine, doctored it up a tiny bit, and here it is. I know you're going to love it!
It is perfect alongside my pumpkin cream cold brew or after serving up a cozy helping of our chicken stew.
What is Pumpkin Cream Pie?
Pumpkin Cream Pie is made with a cream cheese pumpkin filling that's mixed up with Cool Whip, vanilla pudding mix, and mini chocolate chips!
It's made with real pumpkin puree and pumpkin pie spice so you know you're getting all that wonderful pumpkin pie flavor! And the simple graham cracker crust makes this recipe even easier than a traditional pumpkin pie.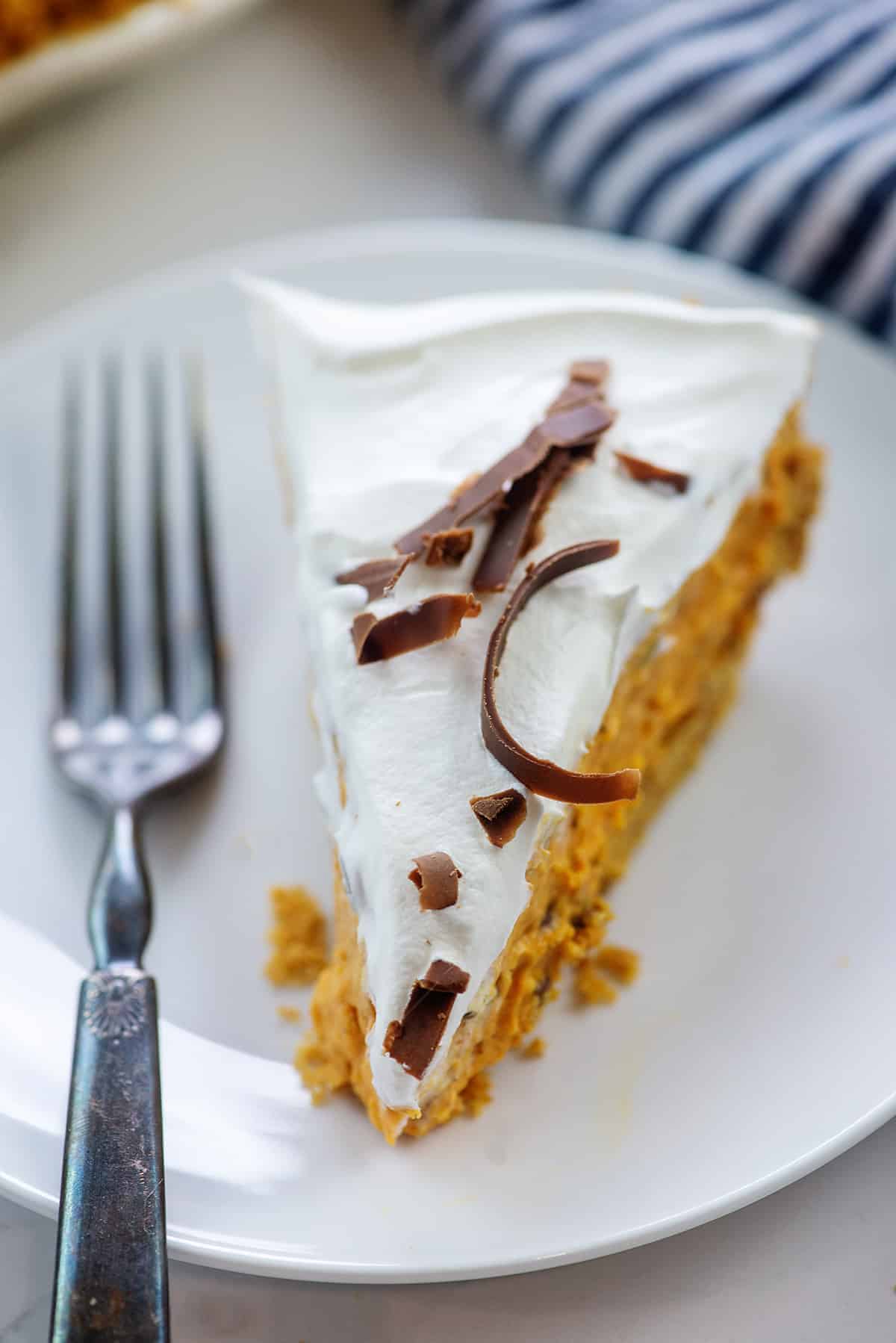 What We Love About PUMPKIN CREAM PIE:
Crust: This pumpkin cream pie starts with a graham cracker crust so you know it's going to be good!
Filling: The filling is no bake, super easy, and turns out rich and creamy. There are chocolate chips folded in, but you can skip them if you don't like chocolate with your pumpkin.
Whipped Topping: There's an extra layer of whipped topping over the whole thing, because can you ever have enough creamy goodness?
Flavor: This pumpkin cream pie takes about 20 minutes of hands on time, a few hours to chill, and 30 seconds to devour like your life depends on it. It's GOOD.
Pumpkin Cream Pie Ingredients:
This post contains affiliate links. As an Amazon associate and member of other qualifying programs, I earn from qualifying purchases.
For the crust:
Graham Cracker Crumbs – You'll need to crush graham crackers into crumbs or buy them pre-crushed. You can use plain, honey, or cinnamon graham crackers depending on your preference!
Melted Butter – For mixing with the graham cracker crumbs. It'll hold the crust together while it bakes and add lots of good flavor.
Cinnamon & Sugar – For mixing into the crust. You can use more or less of the cinnamon to suit your taste. If you are starting with cinnamon graham crackers you may not need to use as much.
It's so easy to whip up dessert with this cute hand mixer. It doesn't take up much space and is a must for any kitchen!
For the filling:
Pumpkin Puree – You'll need to use canned 100% pumpkin puree and not canned pumpkin pie filling which includes spices.
Cool Whip – Half of this will get mixed into the pumpkin cream pie filling and the other half will be used to top the pie!
Instant Vanilla Pudding – You'll need a single 5 ounce package of instant vanilla pudding mix that'll get added in with the other filling ingredients. It'll enhance the flavor and the creamy texture as well as help the filling set up nice and thick.
Cream Cheese – Start with room temperature cream cheese for easy mixing.
Mini Chocolate Chips – I love chocolate and pumpkin but if that's not your thing you can leave the mini chocolate chips out.
Pumpkin Pie Spice – Try my homemade pumpkin pie spice recipe! I use it in all my favorite pumpkin recipes. You can use any store bought brand too!
How to Make Graham Cracker Crust:
For the crust: Start by either making your own graham cracker crumbs or buying a box of crumbs. Mix them with melted butter, sugar, and cinnamon and press into a pie plate. Bake for 7 minutes and let cool.
And yes, you can use a store bought graham cracker crust, if you prefer!
How to Make Pumpkin Cream Cheese Pie Filling:
For the filling: Add pumpkin, whipped topping, instant pudding, evaporated milk, cream cheese, and pumpkin pie spice to a mixing bowl and beat with an electric mixer until smooth and creamy. Stir in the chocolate chips, if using.
How to Make Pumpkin Cream Cheese Pie:
To complete: Spoon the filling into the graham cracker crust and smooth it out. Refrigerate for a few hours.
Spread more more whipped topping over the top. Sprinkle with chocolate shavings before serving.
Helpful Tip!
Chocolate Shavings
Place a good quality chocolate bar in the fridge for 20 minutes.
Use a vegetable peeler to shave the edges of the chocolate bar in long strips.
Sprinkle the shavings over the pumpkin cream pie.
If you're not into the combo of pumpkin and chocolate, just skip the chocolate chips and chocolate shavings completely!
This cream cheese pumpkin pie is just as good with or without the chocolate.
Leftover Hack!
Okay, this isn't really a leftover hack, but if you're not eating leftover pumpkin pie for breakfast, you're not living your life right. Trust me. Pumpkin pie makes the best breakfast.
FAQ's:
How to store pumpkin cream pie?
Keep this pie well covered in the fridge and it should last for 3-4 days.
Can you freeze pumpkin cream pie?
The cream cheese pumpkin pie will freeze well for up to a month. Wrap it in plastic and foil before freezing. Let it thaw overnight when you are ready to serve.
Is canned pumpkin puree the same as pumpkin pie filling?
Nope! These are different. Canned pumpkin pie filling contains spices. You want to use 100% pure pumpkin puree which is just pumpkin.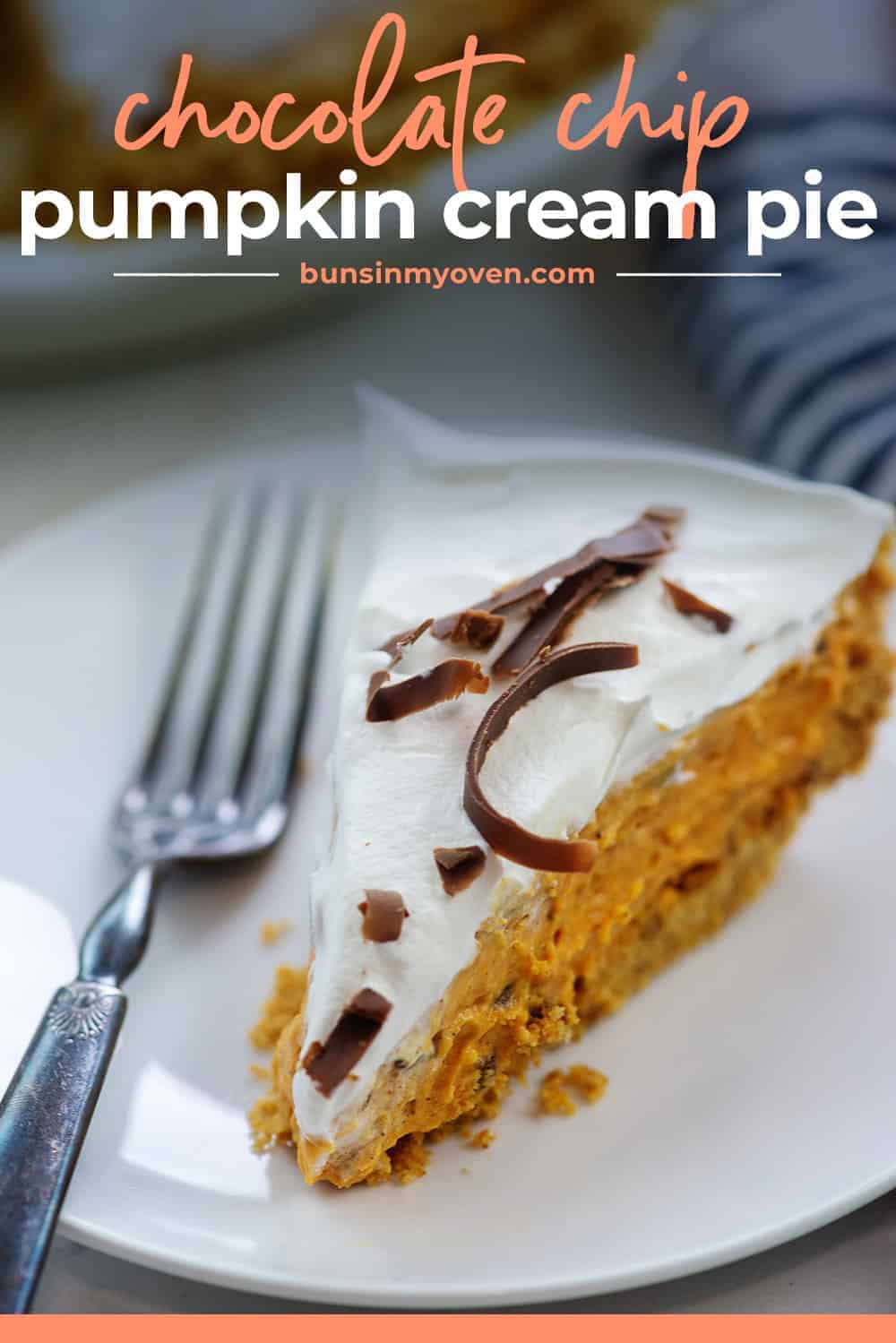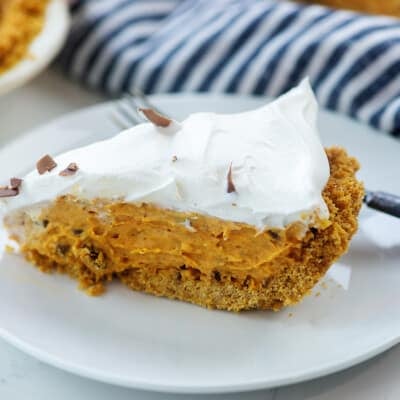 Pumpkin Cream Pie
This creamy pumpkin pie has a no bake filling loaded with chocolate chips. We top it off with extra Cool Whip and chocolate shavings.
Prep20 minutes
Cook7 minutes
Chill Time2 hours
Total2 hours 27 minutes
Ingredients
For the crust:
1 ½ cups graham cracker crumbs
¼ cup sugar
6 tablespoons melted butter
½ teaspoon cinnamon
For the filling:
15 ounces canned pumpkin
8 ounces Cool Whip divided
1 5 ounce package instant vanilla pudding
1 cup evaporated milk
4 ounces cream cheese room temperature
2/3 cup mini chocolate chips
1 tablespoon pumpkin pie spice
chocolate shavings see note
Instructions
Preheat oven to 375 degrees.

To make the crust, stir together the graham cracker crumbs, sugar, butter, and cinnamon until the cracker crumbs are moist.

Press mixture firmly into a 9 inch pie plate to form the crust.

Bake for 7 minutes. Cool completely.

Once the pie crust has cooled, make the filling by adding the pumpkin, 2 cups of Cool Whip, vanilla pudding, evaporated milk, cream cheese, chocolate chips, and pumpkin spice to a large mixing bowl.

Beat with an electric mixer until smooth and creamy.

Spoon the filling into the pie crust and refrigerate for 2 hours.

Spread the remaining Cool Whip over the top of the pie.

Sprinkle with extra chocolate chips or chocolate shavings, if desired.
Tips & Notes:
To make your own chocolate shavings, use a vegetable peeler along the edge of a cold chocolate bar to peel little strips of chocolate off. If you're not a fan of pumpkin and chocolate together, just leave out the chocolate chips and chocolate shavings.
Nutrition Information:
Serving: 1slice| Calories: 397kcal (20%)| Carbohydrates: 44g (15%)| Protein: 6g (12%)| Fat: 23g (35%)| Saturated Fat: 13g (81%)| Cholesterol: 54mg (18%)| Sodium: 293mg (13%)| Potassium: 289mg (8%)| Fiber: 3g (13%)| Sugar: 29g (32%)| Vitamin A: 8885IU (178%)| Vitamin C: 3mg (4%)| Calcium: 179mg (18%)| Iron: 2mg (11%)