This hearty Chicken Stew Recipe is the ultimate comfort food! Loaded with tender chicken and fresh veggies in a thick, rich, and creamy broth, just like Grandma used to make. Packed with flavor and perfect for a chilly night.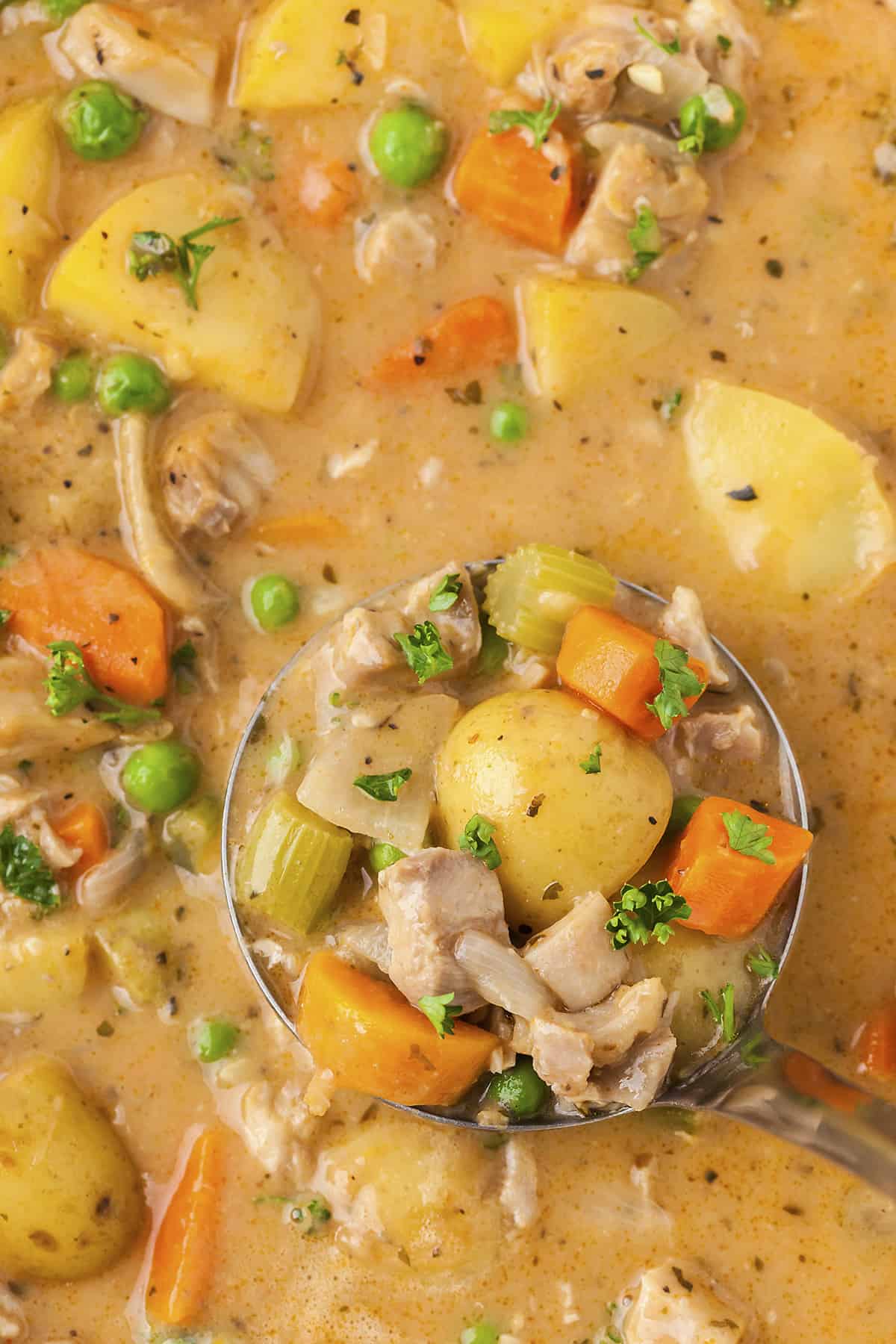 Hello and welcome to your favorite new way to cozy up on a cold night!
This hearty chicken stew recipe is, I hate to say this, like a warm hug in a bowl. I actually don't love hugs though, and I love this chicken stew, so that's a really weird comparison for me.
But, gosh, the rich, hearty broth, the chunks of tender chicken, the little perfect pops of potato, the fresh veggies that you've lovingly diced up into nutritious little flavor bombs that your family is going to gobble up…everything about this recipe just makes me feel happy and safe and loved. Even when I'm the one doing the cooking.
We're generally more soup people than stew people, making my cheeseburger soup and homemade tomato soup on the regular. But lately I've been on a stew kick and Grandma's chicken stew has been on repeat.
Basically it's just all the fall vibes in a big bowl. Can't beat this one.
Ingredient Notes:
This post contains affiliate links. As an Amazon associate and member of other qualifying programs, I earn from qualifying purchases.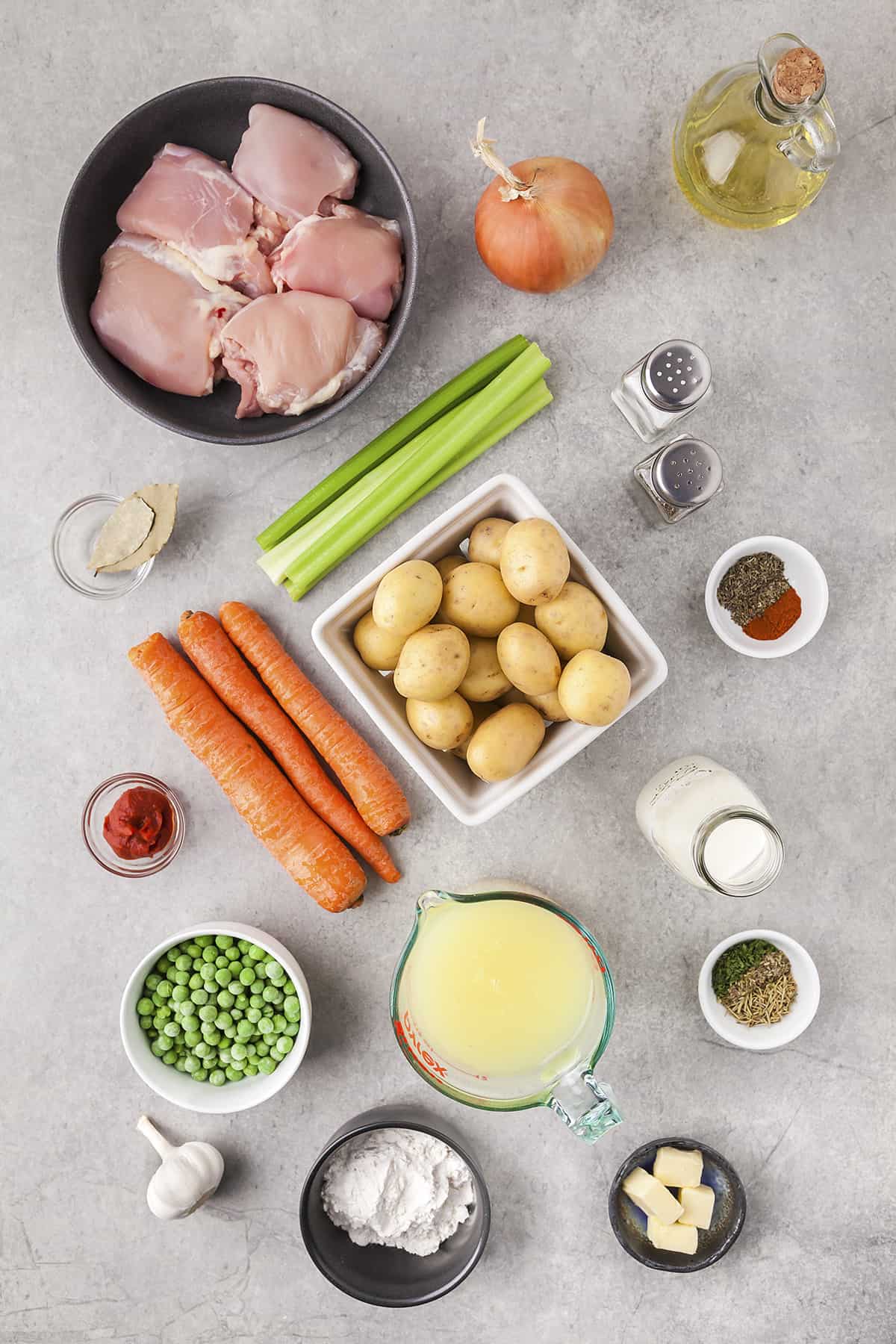 Chicken Thighs – I'm normally a white meat kind of person, but when it comes to soups and stews, I do love chicken thighs! Breasts will work just fine here if that's what you've got.
Veggies – I'm loading this hearty stew with fresh veggies including chopped carrots and celery, diced onion, garlic cloves, and waxy potatoes! We'll also toss in some frozen peas.
Stew Base – We'll use a combo of chicken broth and cream, with a bit of flour to make for a rich, hearty broth.
Herbs & Seasoning – Salt and pepper for seasoning the chicken, along with some dried oregano, thyme, and rosemary with paprika, basil, and bay leaves.
What We Love About This Recipe:
Soul-Soothing Comfort: Our Chicken Stew is the epitome of comfort food, like a warm hug on a chilly evening. Cozy up and enjoy!
Hearty & Wholesome: This hearty stew is loaded with succulent chunks of chicken, tender vegetables, and a broth that's brimming with flavor. It's a complete meal in a bowl.
Melt-in-Your-Mouth Chicken: The chicken in our stew is so tender, it practically melts in your mouth.
Vibrant Veggie Medley: Carrots, potatoes, celery, and more come together in each nourishing bite.
One-Pot Wonder: Say goodbye to a kitchen full of dirty dishes. Our Chicken Stew is a one-pot wonder, making cleanup a breeze.
Customizable: Make it your own by adding your favorite herbs, spices, or even a splash of wine for an extra layer of complexity.
Healthy Indulgence: Packed with lean protein and a medley of vegetables, our Chicken Stew is a wholesome indulgence that's as good for your body as it is for your taste buds.
Family Gathering Favorite: Whether it's a cozy family dinner or a gathering of friends, this stew is a crowd-pleaser that brings people together around the table.
Meal Prep Marvel: Whip up a big batch and enjoy leftovers that taste even better the next day. It's a meal prep hero that keeps on giving.
Tips & Tricks: for our Chicken Stew Recipe:
Chicken Thighs: Brown the chicken thighs in the dutch oven to really get the flavor going. Caramelizing the outside of the chicken adds a layer of flavor to both the chicken and the broth. When you add in the broth you'll scrape up the browned bits from the bottom of the pot (called fond) and it makes for a richer, heartier flavor.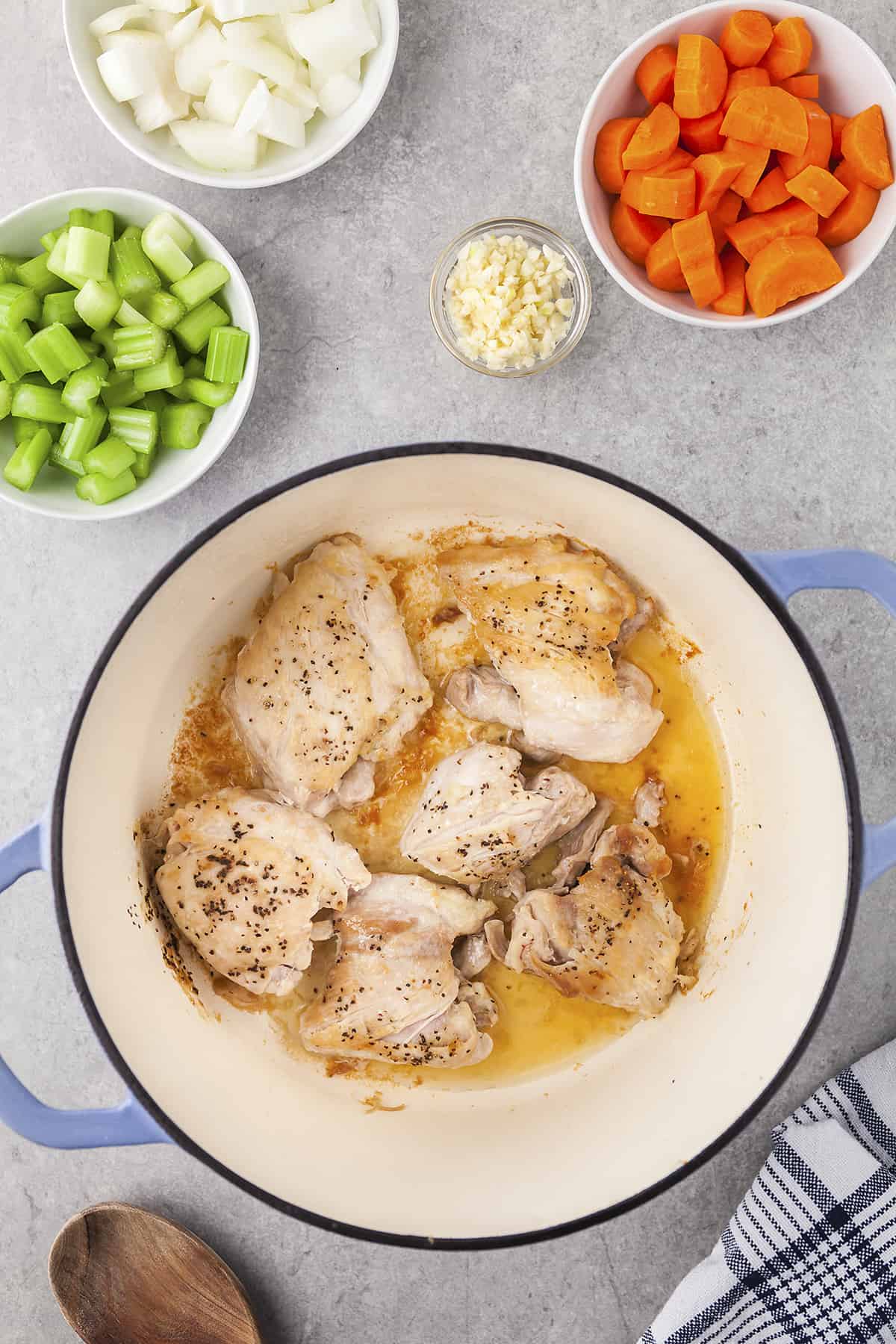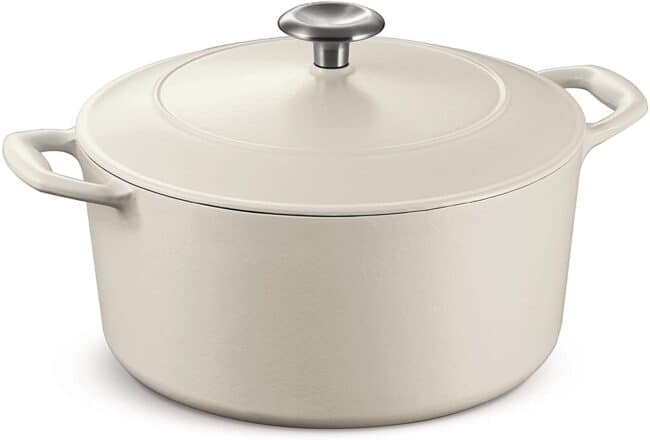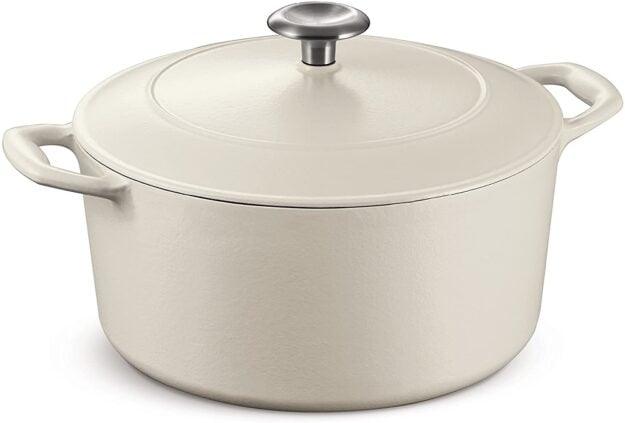 This gorgeous Dutch oven is perfect for making soup, pot roast, and more. It goes from stove to oven as needed and looks pretty enough to leave out on your stovetop as decoration.
Veggies: Chop these all into similar sizes for the best soup eating experience. We'll saute them for a bit, sprinkle on flour, and then cook a bit more. This will help thicken up the stew.
Helpful Tip!
Don't burn the flour…
When adding the flour to the veggies be careful not to burn the flour. It will brown up the bottom of the pan, which is fine, just don't let it burn! You can add a splash of water or broth if you need to.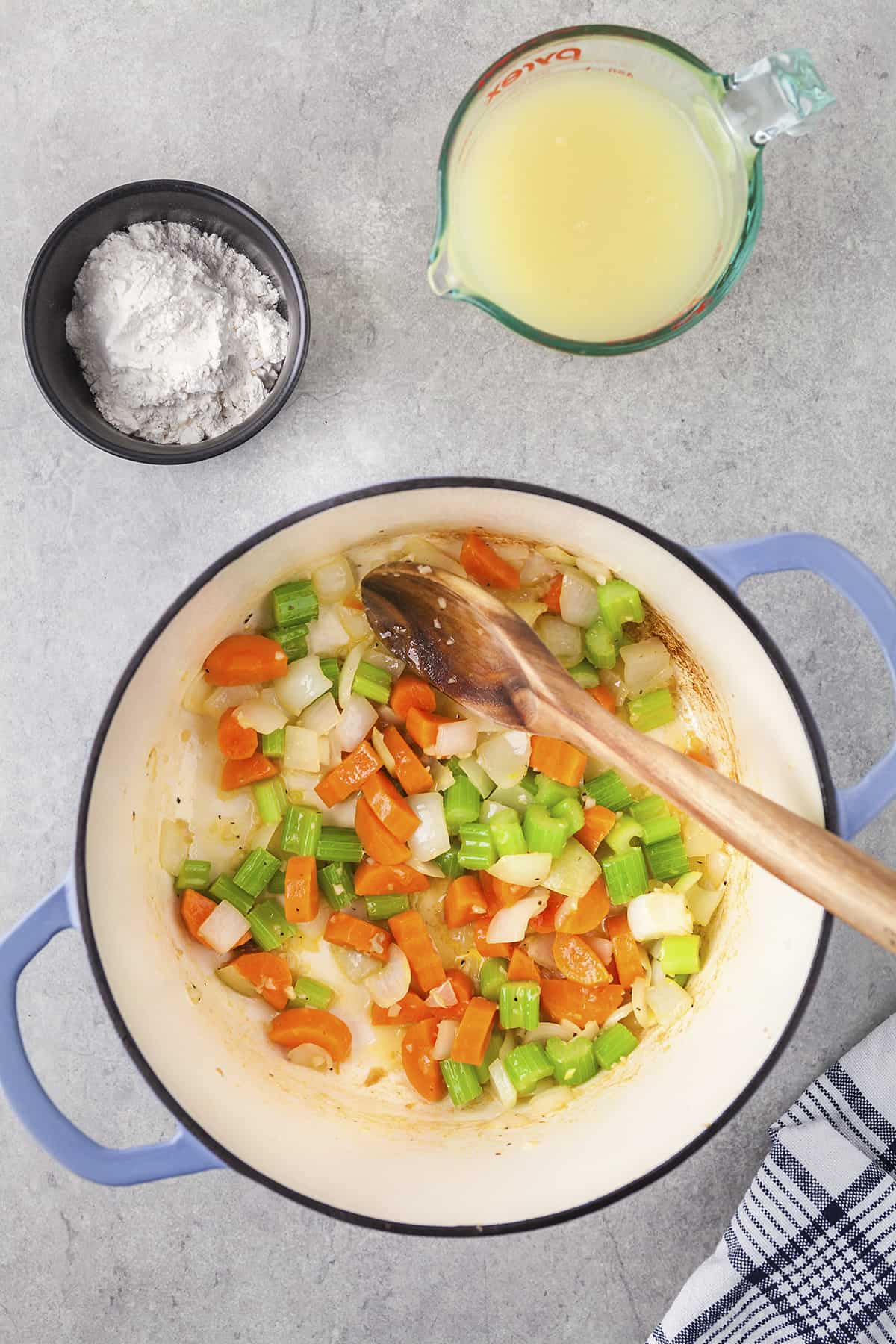 Simmer: Once you've added the broth and seasonings, you'll simmer this with the lid on the pot just slightly askew. This will let the steam vent out a bit and help the veggies cook fairly quickly. Just 15 minutes or so!
Finish: Add in the cup of frozen peas along with the heavy cream last. Let it heat through and then season with more salt and pepper to taste. Serve this chicken stew while it's good and hot!
Serving Suggestions:
This stew is best served with some fresh crusty bread, like my jalapeno cheddar bread or our tasty beer bread. My air fryer garlic bread or quick dinner rolls would also pair well with this hearty chicken stew!
Our sweet cornbread is always a hit, or go the lighter route and serve this with our ramen noodle salad or a green salad topped with our honey mustard dressing.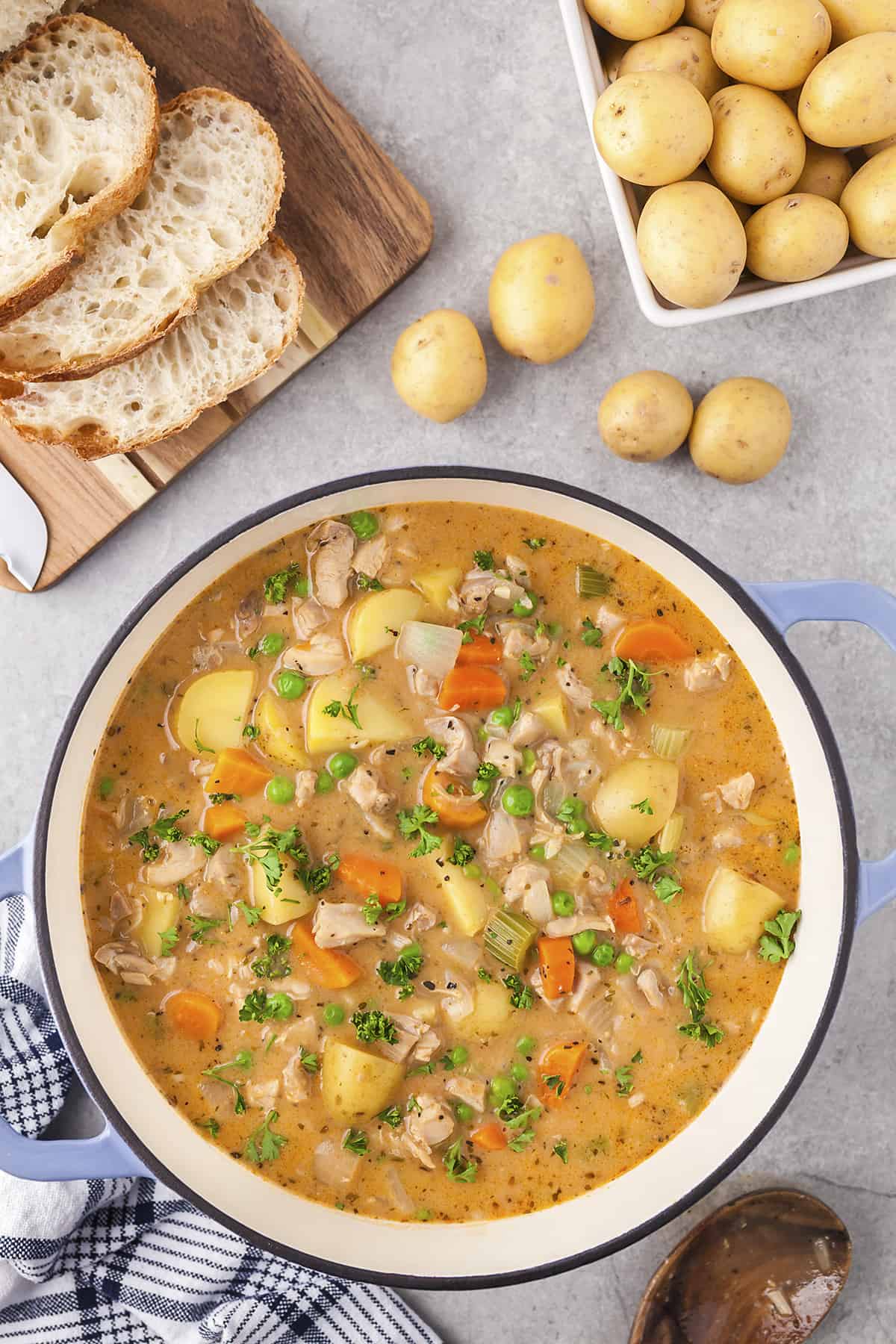 FAQ's:
How long will this chicken stew last?
If stored in an airtight container in the fridge this chicken stew should last for 4-5 days. Divide into meal prep containers and reheat in the microwave for an easy lunch.
Can you freeze stew?
Yes, you can freeze this chicken stew. Transfer it to a freezer safe container or ziplock bag after it has cooled. It can be frozen for up to 3 months. Thaw overnight in the fridge and reheat it on the stove or in the microwave.
Can I use other veggies in this chicken stew?
Yep! Feel free to add whatever veggies you want to this stew. Frozen corn is an easy addition. Green beans, cauliflower, and bell peppers are also good choices!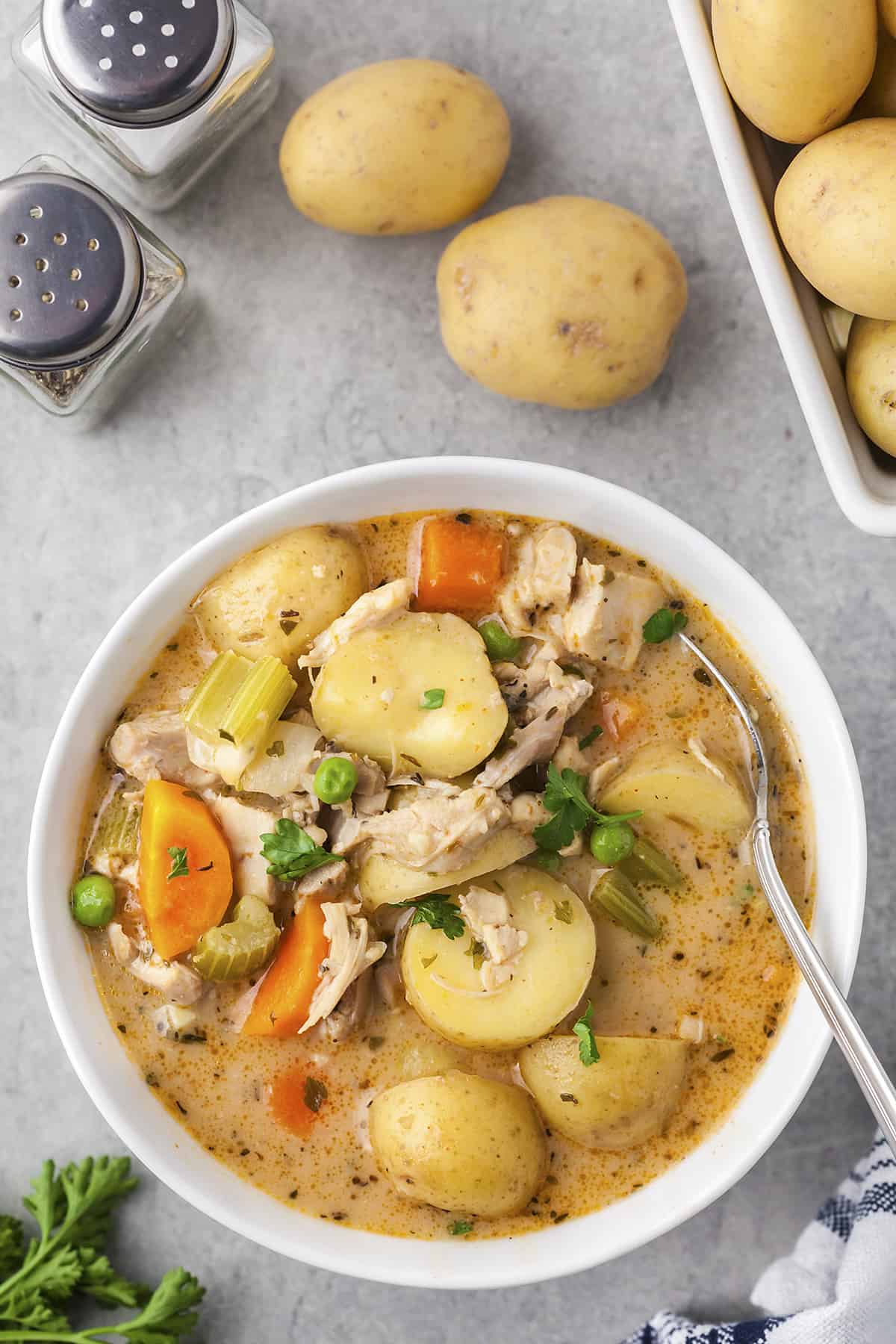 MORE SOUP AND STEW RECIPES!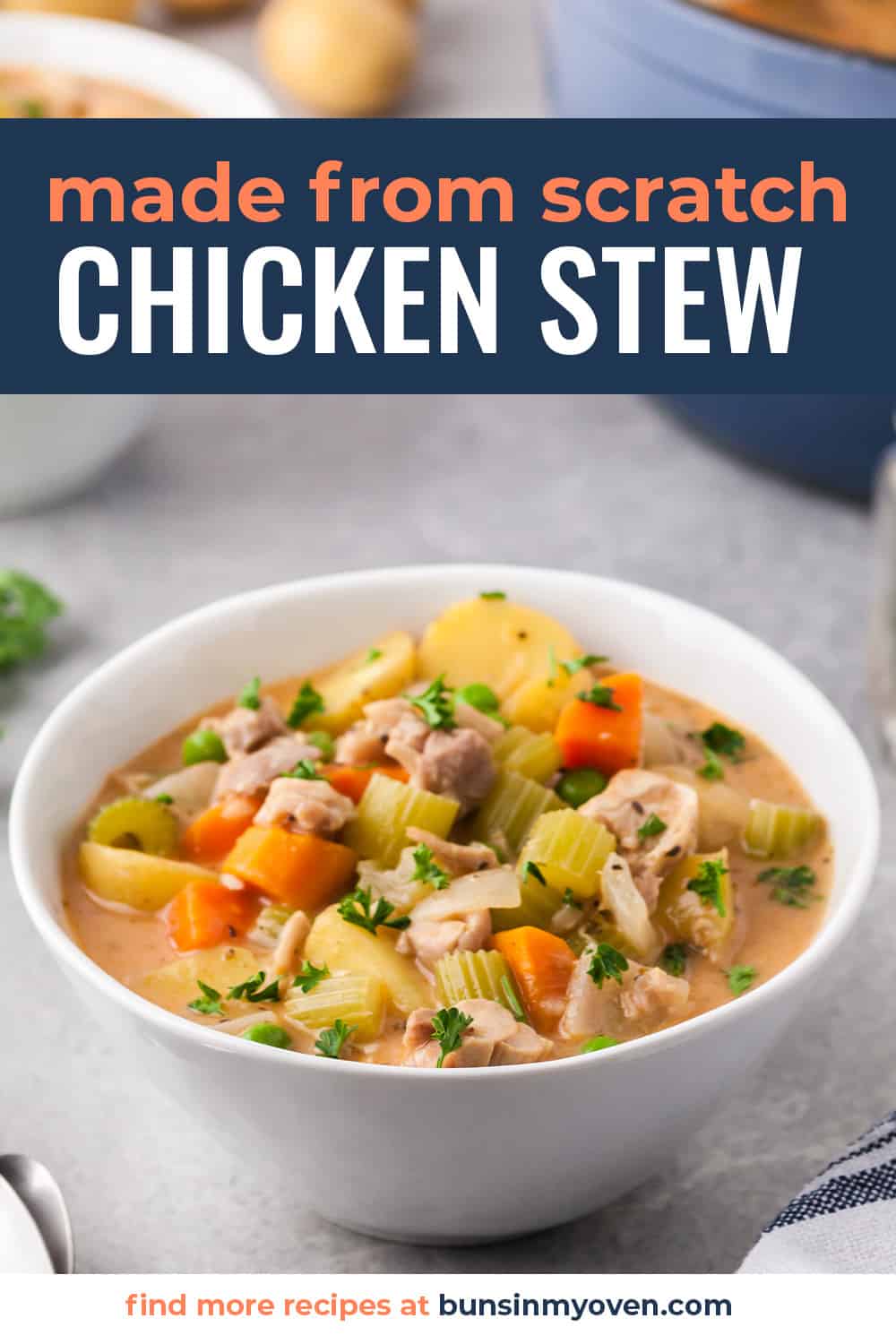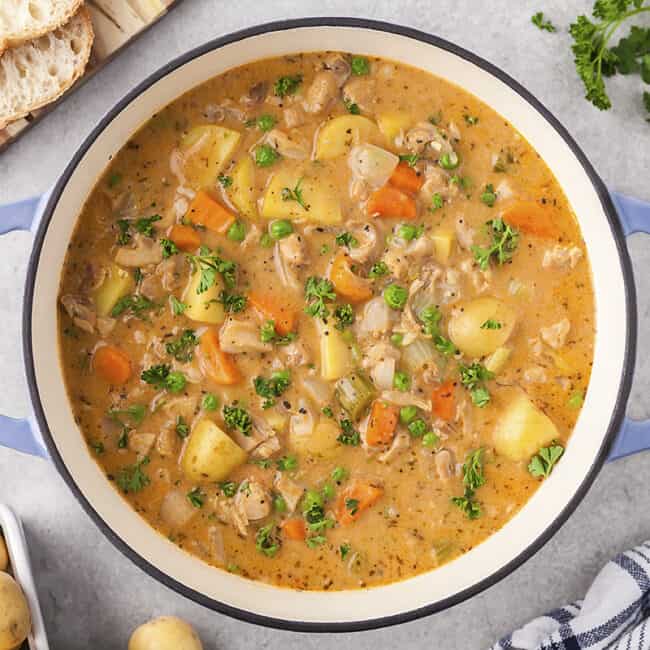 Chicken Stew
We love to serve this cozy, comforting stew on chilly nights alongside some fresh bread. It makes a great meal and is like a warm hug in a bowl. So good!
Prep15 minutes
Cook40 minutes
Total55 minutes
Ingredients
2 tablespoons olive oil
1 ½ pounds boneless, skinless chicken thighs
1 teaspoon salt
½ teaspoon cracked pepper
2 tablespoons butter
1 cup chopped carrots
1 cup chopped celery
1 medium onion diced
5 cloves garlic minced
5 tablespoons flour
6 cups chicken broth
1 pound waxy potatoes chopped into bite-sized pieces
1 tablespoon tomato paste
1 teaspoon oregano
1 teaspoon thyme
½ teaspoon basil
½ teaspoon paprika
¼ teaspoon dried rosemary
2 bay leaves
1 cup frozen peas
1/2 cup heavy cream
Instructions
Heat 2 tablespoons of olive oil in a dutch oven or large saucepan over medium high heat.

While the oil heats, season the chicken with the salt and pepper. Add seasoned chicken thighs to the dutch oven and brown on each side for about 3 minutes each. Remove chicken to a cutting board and roughly chop into bite sized pieces.

Melt the butter in the dutch oven and add the carrots, celery, and onion. Sauté until soft, about 5 minutes, while scraping up any browned bits off the bottom of the pot. If necessary, you can add a splash of water to help with scraping up the flavorful brown bits.

Add the garlic and cook for 1 minute more.

Add the flour to the vegetables and continue to cook, stirring often, for two minutes. The flour will coat all the ingredients and it will be very thick.

Add in the chicken broth, potatoes, tomato paste, oregano, thyme, basil, paprika, rosemary, and bay leaves. Return the chopped chicken to the pot along with any juices on the cutting board.

Cover the pot with a lid and bring to a boil. Once boiling, reduce heat to a simmer and keep the lid askew. Simmer for 15 minutes or until the potatoes are soft.

Add in the peas and cream. Heat through and then taste and adjust with more salt and pepper, if needed.

Remove bay leaves and serve.
Tips & Notes:
Chicken thighs are very flavorful and work great in this recipe, but chicken breasts can be used as well. The brown bits left behind from the chicken searing is called fond, and it is very flavorful. Moisture added to the pan via butter and water released from the vegetables allows you to scrape off the fond. When the flour is added and cooked in the pot, it can also brown on the bottom of the pan, which is ok, but you do not want it to burn. If necessary, you can add a splash of water to prevent burning. Again, when the chicken broth is added in the next step it will allow you to scrape up these brown bits. Make sure you use a waxy type of potato that can retain its shape during cooking such as new potatoes, fingerlings, Yukon gold etc. Starchy potatoes like Russets, will fall apart during the cooking process.
Nutrition Information:
Serving: 1bowl| Calories: 413kcal (21%)| Carbohydrates: 28g (9%)| Protein: 28g (56%)| Fat: 21g (32%)| Saturated Fat: 9g (56%)| Polyunsaturated Fat: 2g| Monounsaturated Fat: 8g| Trans Fat: 0.2g| Cholesterol: 145mg (48%)| Sodium: 1461mg (64%)| Potassium: 938mg (27%)| Fiber: 4g (17%)| Sugar: 6g (7%)| Vitamin A: 4418IU (88%)| Vitamin C: 21mg (25%)| Calcium: 80mg (8%)| Iron: 3mg (17%)