Whether you are searching for a substitute for cream of chicken soup because you think the cans are kind of gross, or you want a cream of chicken substitute because you forgot to snag a can at the store, this recipe is exactly what you need! It's easy and nearly as fast as cracking open a can of glop.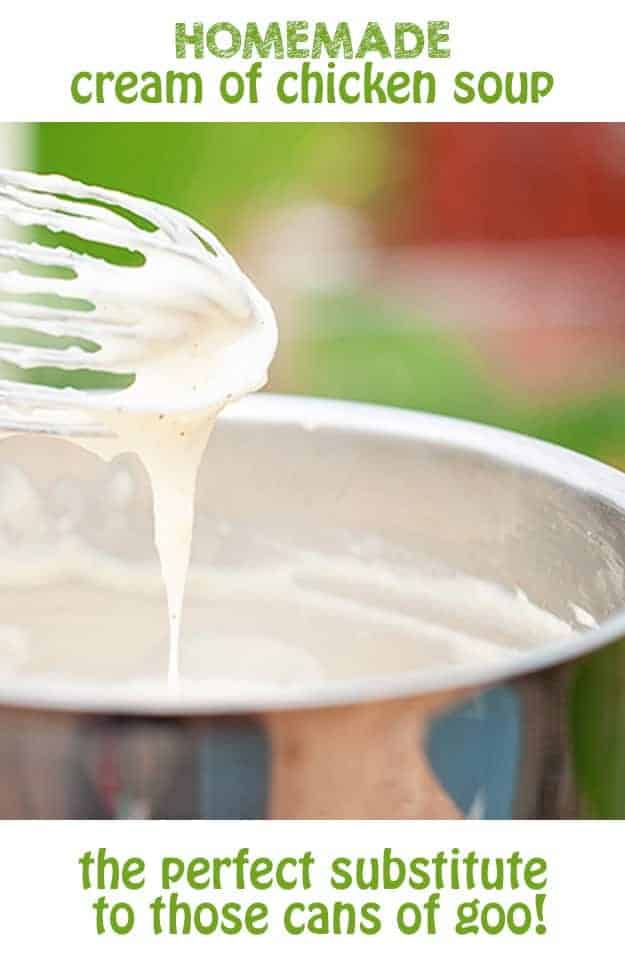 Alright, I admit it. I sometimes make casseroles or other dishes using that weird, gloppy cream of whatever soup from a can. It's quick, it's easy, and it's cheap.
For the most part, though, I try to make my own cream soups for use in those recipes. Not only is this healthier than the salty canned goo, it's also super (souper!) simple.
If you're trying to make your dinner healthier, you'll love this cream of chicken soup substitute!
Not to mention, sometimes I just don't have cream of anything in my pantry and I'm too lazy to get to the store. I pretty much always have the ingredients to make this on hand. Although, I will admit, there have been times when I didn't have chicken stock and (I can't believe I'm admitting this) I just used salty water. It's true. I substituted salty water for chicken broth. Don't kick me out of the food bloggers' club, okay?
Check out this Cheesy Hashbrown Casserole using this cream of chicken soup substitute and you can put it to the test yourself.
This substitute for cream of chicken soup recipe is equal to one can of soup.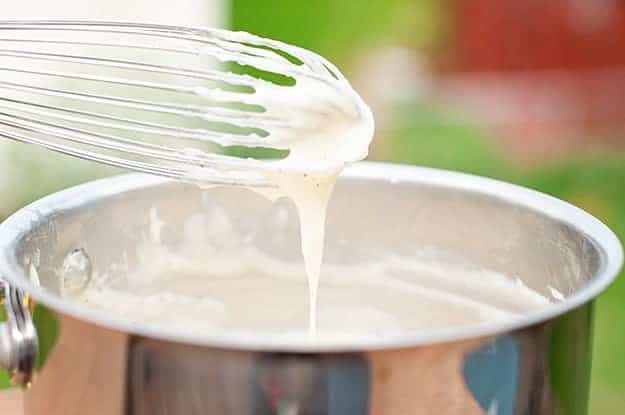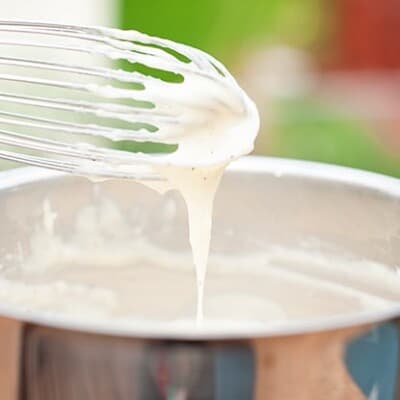 Cream of Chicken Soup Substitute
Skip the cans and give this homemade version a shot! Makes 1 can's worth of soup.
Prep5 minutes
Cook10 minutes
Total15 minutes
Ingredients
1 tablespoon flour
3 tablespoons butter
1/2 cup chicken broth
1/2 cup milk
salt and pepper to taste
Instructions
Melt the butter in a small sauce pan over medium-low heat. When melted, whisk in the flour and continue whisking until smooth and bubbly.

Slowly whisk in the chicken broth and milk. Bring to a gentle boil, whisking constantly, until the soup thickens. Add salt and pepper to taste.

Tips & Notes:
This is the equivalent of one 10 ounce can of soup when using it in recipes that call for canned soup.
Nutrition Information:
Calories: 408kcal (20%)| Carbohydrates: 12g (4%)| Protein: 5g (10%)| Fat: 38g (58%)| Saturated Fat: 23g (144%)| Cholesterol: 102mg (34%)| Sodium: 782mg (34%)| Potassium: 255mg (7%)| Sugar: 6g (7%)| Vitamin A: 1245IU (25%)| Vitamin C: 8.3mg (10%)| Calcium: 148mg (15%)| Iron: 0.6mg (3%)