Our cheesy Chicken and Potato Casserole is loaded with hearty flavor. Made with tender chicken, creamy potatoes, savory veggies, and plenty of cheese, this makes the perfect comfort food casserole to feed your family.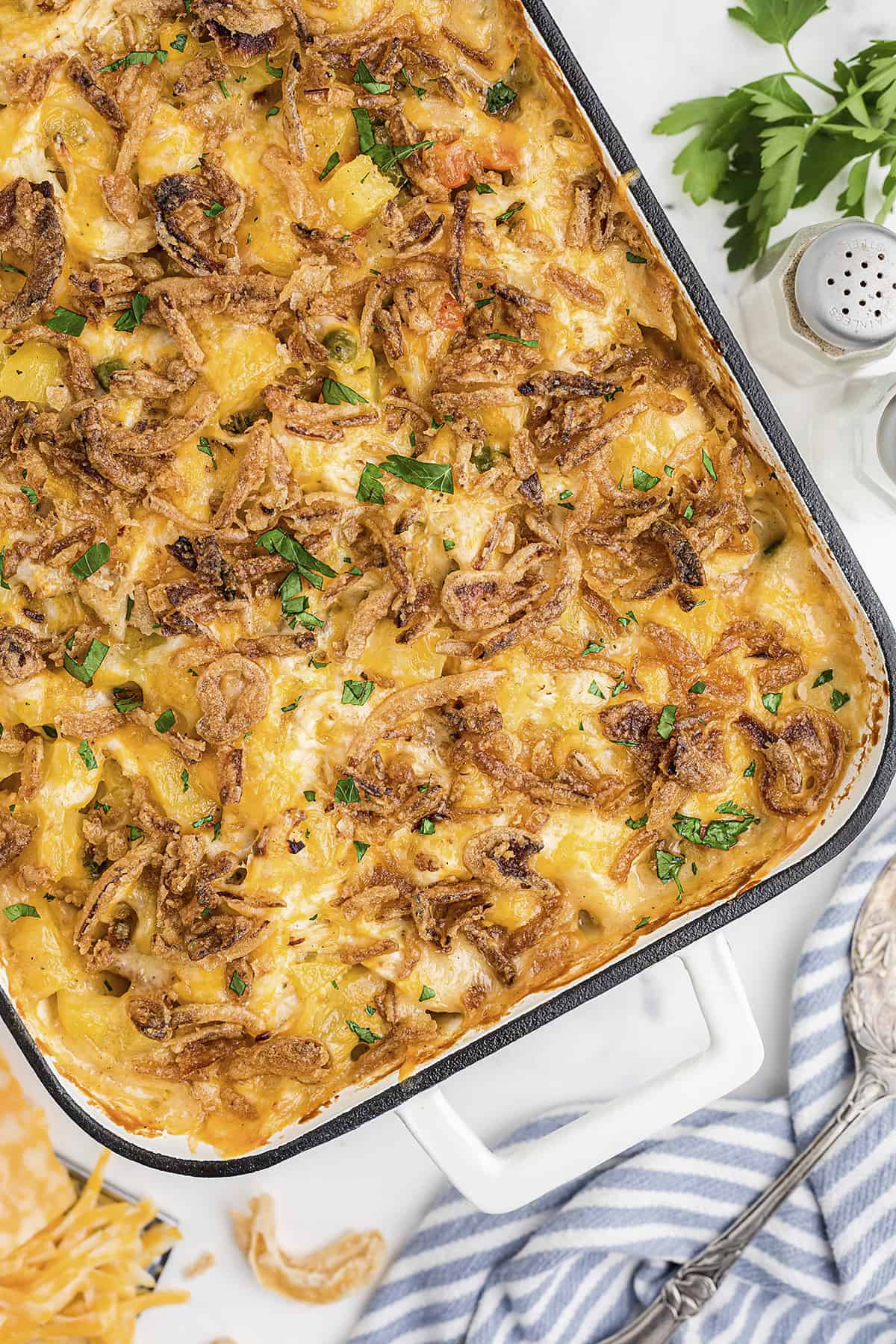 When I'm in the mood for comfort food it's hard to beat a cheesy, hearty casserole! It's the perfect choice when you need something simple and filling for dinner. Just toss a bunch of stuff together and bake it.
That entire paragraph above was sponsored by my Midwestern upbringing, if you couldn't tell. 😉
Our Chicken and Potato Casserole is pure comfort food, made with plenty of tender, shredded chicken, lots of hearty potatoes, and every Midwesterners' secret ingredient: cream of chicken soup.
Not to worry, you can use our cream of chicken soup substitute if you'd like to use it instead of the canned stuff. It makes those casseroles a little more homemade and healthy…but the canned stuff makes life easier. It's all about balance, so do what works best for you!
Ingredient Notes:
This post contains affiliate links. As an Amazon associate and member of other qualifying programs, I earn from qualifying purchases.
Chicken – This hearty chicken and potato casserole starts with chicken breast. We poach the chicken and then shred it, but this is also a great time to just shred up a rotisserie chicken.
Poultry Seasoning – Use your favorite blend of poultry seasoning from the store or create your own to season the chicken well before cooking. You'll also need some salt and pepper!
Chicken Broth – You'll boil the seasoned chicken breast in chicken broth instead of water so that it as juicy and flavorful as possible!
Potatoes – I prefer to use Yukon Gold potatoes for this but other varieties like red skinned will work too. You'll peel and cut them into cubes.
Canned Soup – This recipe calls for canned cream of chicken soup and cream of potato soup, but my substitute cream of chicken soup is even better! I've also got a cream of mushroom soup recipe that'd work in this too.
Frozen Mixed Vegetables – They're just so easy! These are usually a mix of corn, carrots, and green beans or something like that. Use whatever variety you prefer. No need to thaw first either!
Sour Cream – It's going to help the casserole retain moisture so it won't dry out when it bakes plus it'll add flavor!
Colby Jack Cheese – We love a good cheesy casserole so I'm mixing a whole cup of shredded Colby Jack cheese into this, plus more for topping! You can use any type of cheese you like or a mix of different varieties.
French's Fried Onions – I can't get enough of these crispy fried onions! They're good for more than just topping salads and snacking. They pack lots of flavor and they make a quick and easy addition to this casserole!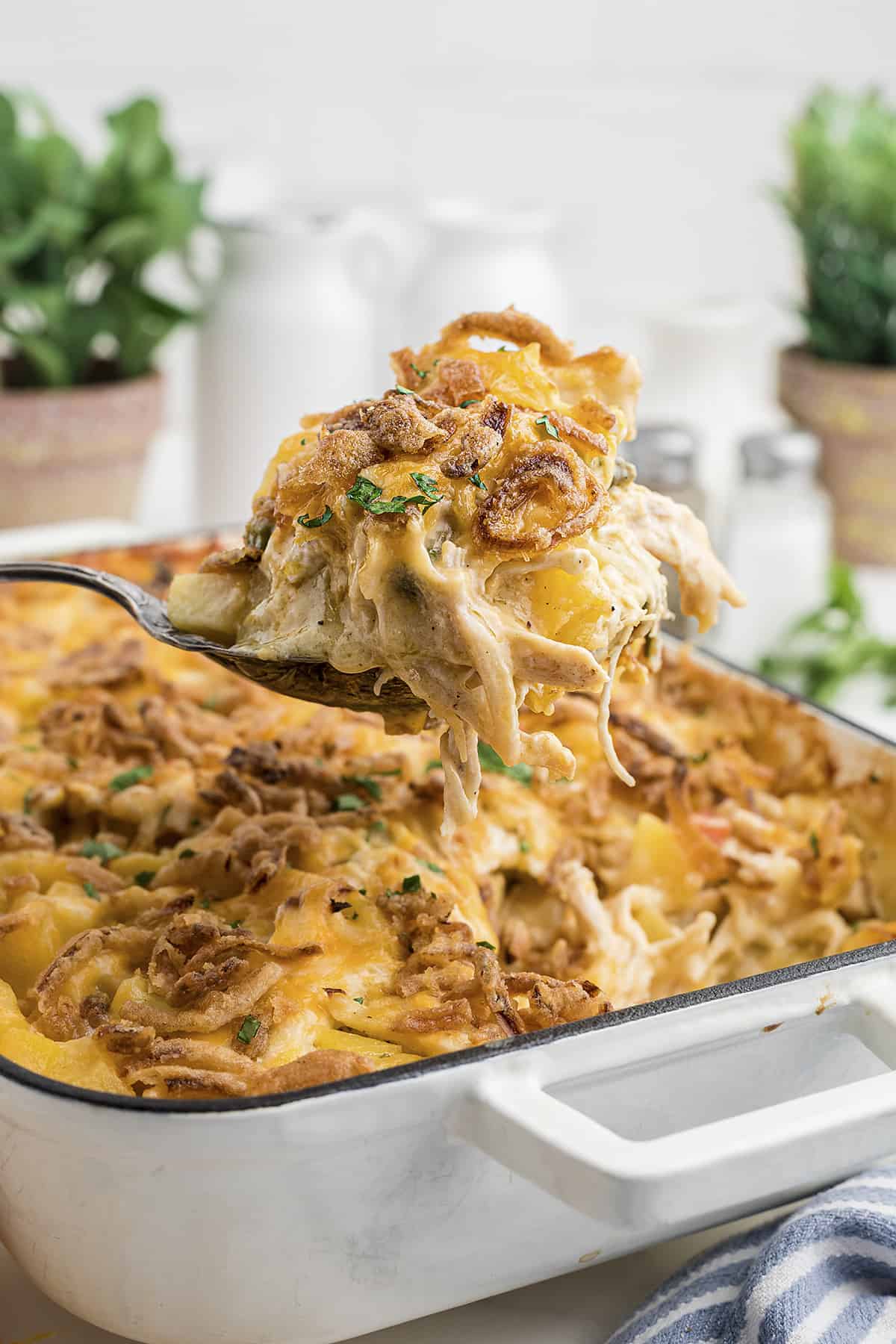 What We Love About This Recipe:
Hearty Comfort Food: Cozy comfort food packed with succulent chicken meets wholesome potatoes in a harmonious union. This casserole is a warm hug on a plate, guaranteed to make the family happy.
Savory Goodness: Indulge in the rich, savory flavors that meld together, creating a mouthwatering sensation that's both satisfying and deeply gratifying.
Creamy Dreaminess: Delve into layers of velvety creaminess that envelop tender chicken and perfectly cooked potatoes. It's like a dream come true for your taste buds.
Crave-Worthy Crunch: The golden-brown, crispy onion topping adds a tantalizing crunch that contrasts with the creamy interior, making each spoonful better than the last.
Feeding a Crowd with Ease: Hosting a dinner party or a family gathering? Look no further – this casserole is your secret weapon to impressing your guests with minimal effort and maximum flavor.
Heartwarming Satisfaction: The hearty combination of protein-packed chicken and wholesome potatoes is always a hit with family and friends.
How To Make Chicken Potato Casserole:
Cook the Chicken: Bring some chicken broth to a boil, add the chicken, and simmer until cooked through, about 20 minutes. Shred the chicken with a coupe of forks.
Potatoes: Peel the potatoes and chop into bite-sized pieces. You'll want fairly small cubes of potatoes so that they cook through in the oven.
Combine: Add everything to a mixing bowl and give it a stir to combine.
Bake: Pour the mixture into a 9×13 baking dish, top with foil, and bake. This chicken and potato casserole will take about 45 minutes.
Finish & Serve: When it has almost cooked through remove the foil and sprinkle on the rest of the cheese then finally top it with the crispy fried onions! Let it bake uncovered for 5 to 10 minutes until golden brown!
Serve this chicken and potato casserole while it's good and hot. This meal goes great with our quick dinner rolls!
Leftover Hack!
Place your leftovers in individual ramekins. Before serving, top with the dough from our homemade biscuits and bake for 15 minutes or until the biscuits are cooked through. Boom – pot pie!
FAQ's:
How do I store this chicken and potato casserole?
Let the casserole cool completely before covering it with foil and refrigerating. This recipe will last in the fridge for 4-5 days and can be reheated in the microwave or oven.
How do I freeze this casserole?
This chicken and potato casserole will freeze well for up to 3 months in a freezer safe container! Reheat it in the oven after thawing.
Can I use different vegetables?
Sure! You can use different varieties of potatoes as well as other vegetables. Broccoli, cauliflower, peas, and carrots would all be good!
MORE EASY CASSEROLE RECIPES!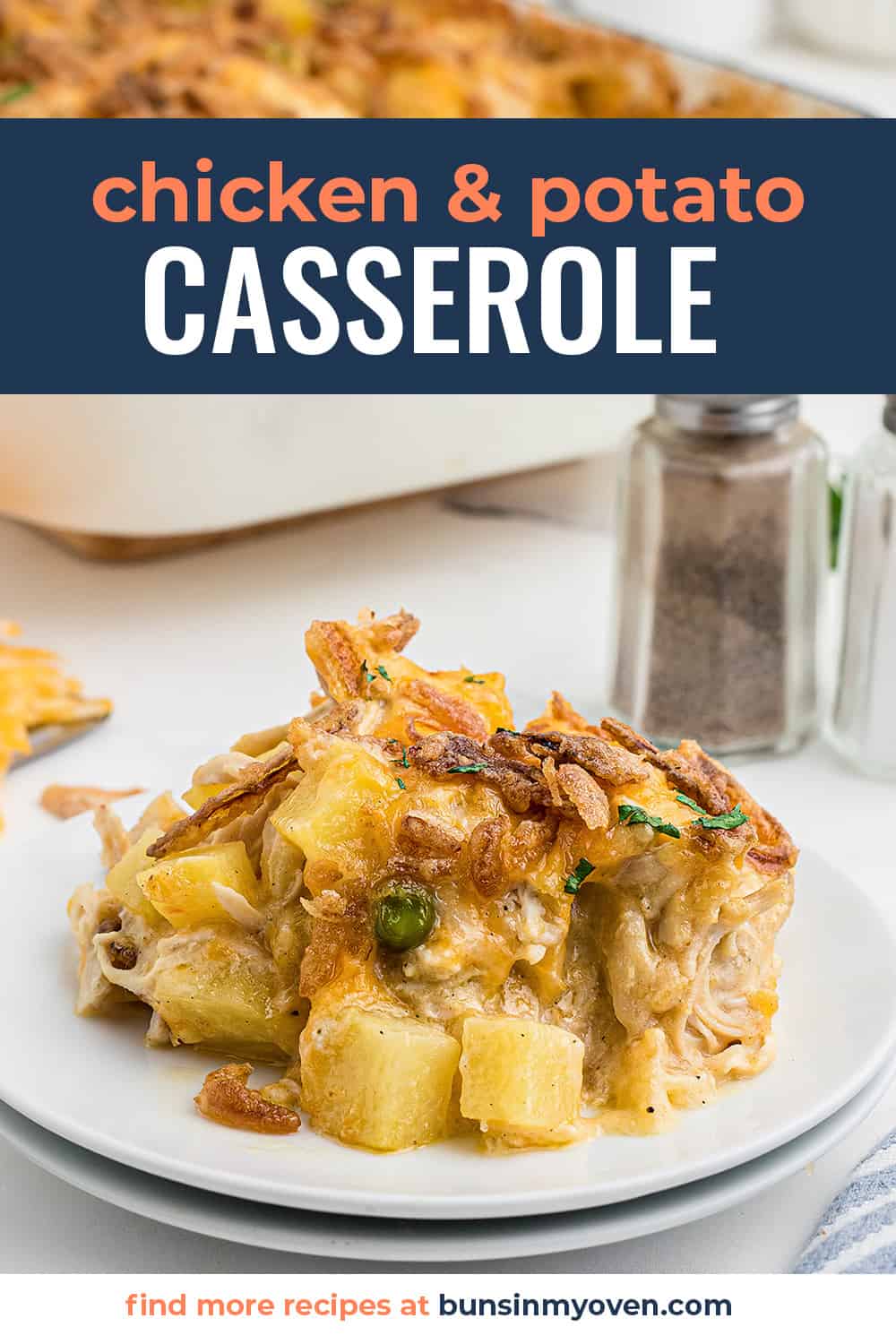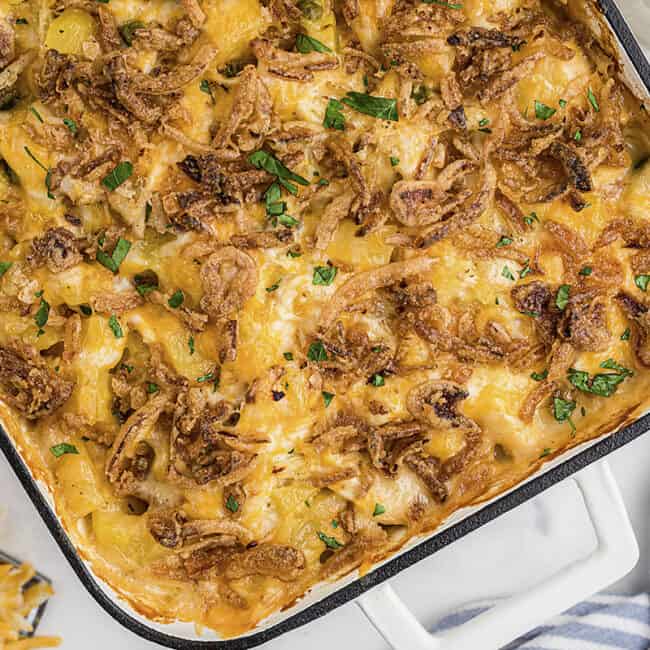 Chicken and Potato Casserole
This Chicken and Potato Casserole is ultimate comfort food! Packed with lots of diced potatoes, shredded chicken, mixed veggies, and savory soups. All that cheese doesn't hurt either. You can feed the whole family with this weeknight dinner recipe!
Prep25 minutes
Cook55 minutes
Total1 hour 20 minutes
Ingredients
3 small boneless, skinless chicken breasts
1 teaspoon poultry seasoning
1 teaspoon salt
½ teaspoon cracked pepper
3 cups chicken broth
2 pounds Yukon Gold potatoes
1 10 oz. can cream of chicken soup
1 10 oz. can cream of potato soup
1 cup frozen mixed vegetables
1 cup sour cream
1 ½ cups shredded Colby Jack cheese divided
1 cup French's fried onions
Instructions
Season the chicken breasts with poultry seasoning, salt, and pepper.

Add the chicken broth to a large pot over medium-high heat and add the chicken breasts. Bring to a low boil and cook for 20 minutes.

While chicken is cooking, preheat the oven to 400 degrees and grease a 9×13 baking dish.

Remove the chicken breasts from the broth and shred with 2 forks.

Peel and dice the potatoes into small cubes about ½ inch in size.

In a large bowl, mix together the soups, frozen veggies, sour cream and 1 cup of cheese.

Fold in the chicken and potatoes.

Spread the chicken and potato mixture into the prepared baking dish and cover with foil.

Bake in the oven for 45 minutes.

Remove foil and sprinkle with the remaining cheese and top with the fried onions.

Bake for another 5-10 minutes, until golden brown and bubbling on all sides.
Tips & Notes:
You may swap the chicken breasts for chicken thighs, or just shred up a rotisserie chicken instead of poaching fresh chicken. Be sure to dice the potatoes into 1/2 inch chunks. If they're too large, they won't cook through. You may use any variety of cheese that you like. We like the mild flavor and meltability of colby jack.
Nutrition Information:
Calories: 462kcal (23%)| Carbohydrates: 35g (12%)| Protein: 30g (60%)| Fat: 23g (35%)| Saturated Fat: 11g (69%)| Polyunsaturated Fat: 1g| Monounsaturated Fat: 5g| Trans Fat: 0.01g| Cholesterol: 102mg (34%)| Sodium: 1558mg (68%)| Potassium: 991mg (28%)| Fiber: 4g (17%)| Sugar: 3g (3%)| Vitamin A: 1713IU (34%)| Vitamin C: 26mg (32%)| Calcium: 241mg (24%)| Iron: 2mg (11%)