My White Bean and Ham Soup Recipe is made with Great Northern beans, plenty of diced ham, and lots of veggies to make for a hearty soup! This is perfect for leftover ham!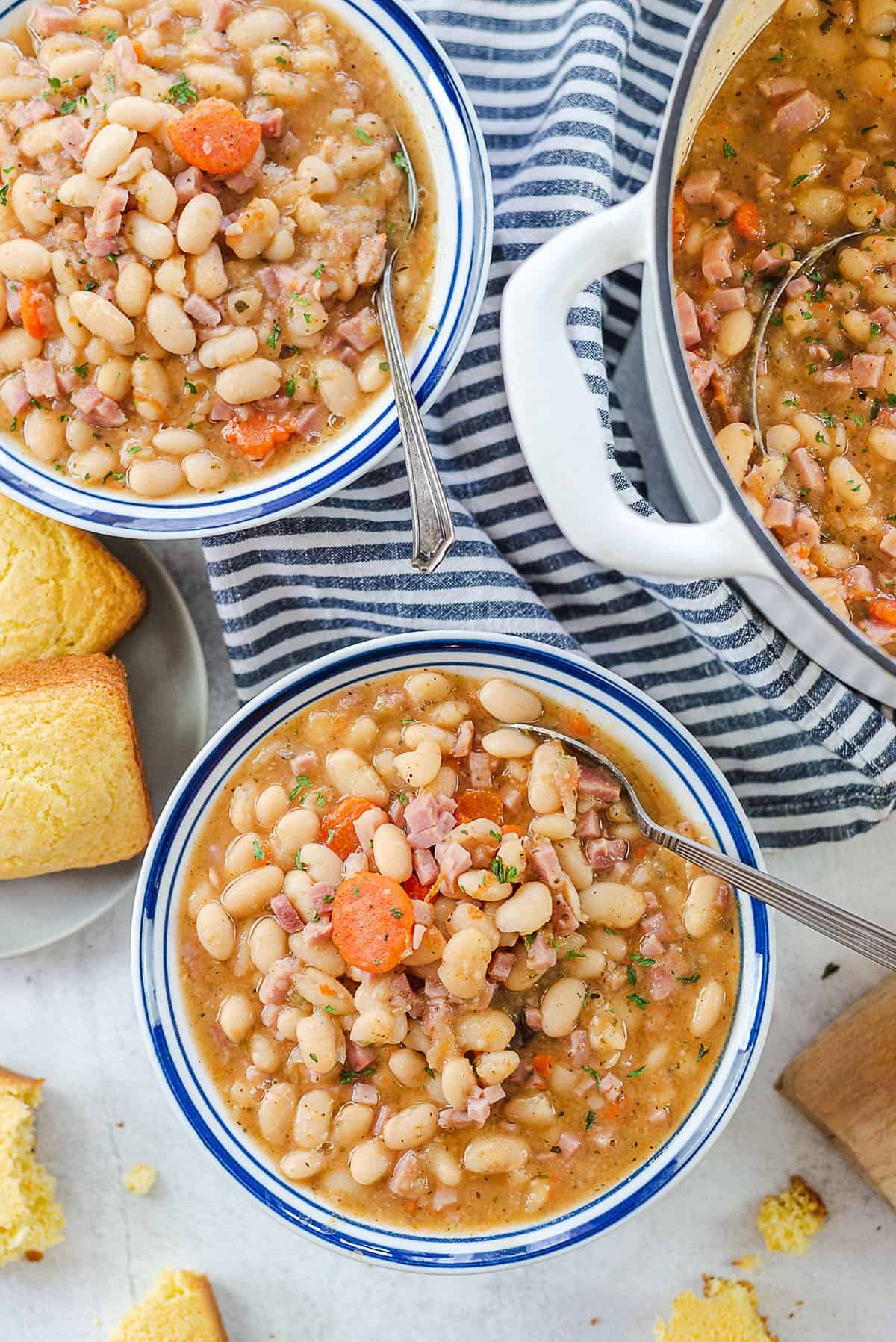 I'm allllll about Easter dinner, you guys.
So much good stuff happening.
Not only is there a giant ham to be devoured, you've also got a table full of sides like my cheesy scalloped potatoes or crockpot hashbrown casserole. My Jiffy corn casserole is always on the Easter table. For dessert, we never skip my blackberry cobbler.
Of course, we also enjoy the Easter egg hunt with the kids.
My kids are practically grown at this point, so they're both pretty much over the egg hunt, but last year we skipped the candy and stuffed the eggs with money. They hunted with gusto. 😉
Anyway, Easter is fabulous and we love it for many reasons, but ESPECIALLY for that leftover ham!
Leftover ham is a dream for making soup! And I'm pretty sure this white bean soup with ham is just the best.
Easy enough to make, and so economical using leftover ham and dried beans…of course, you can also buy a package of diced ham and use that too!
Be sure to serve this up with our sweet cornbread recipe. The two go together perfectly!
Ham & Bean Soup Ingredients:
This post contains affiliate links. As a member of Amazon and other affiliate programs I earn from qualifying purchases.
Great Northern Beans – These large white beans are perfect for this ham & bean soup recipe!
Ham – You'll need some cooked, diced ham for the soup. We love to use leftovers from a holiday gathering for this recipe, but if you don't have it and want to make this really simple you can get the pre-diced ham from the store!
Vegetables – We'll add some onion, carrot, celery, and garlic to the soup which will add even more flavor when slow cooked with the ham and beans!
Seasoning – Some salt, some pepper, and some Italian seasoning! You can add more or less to suit your taste.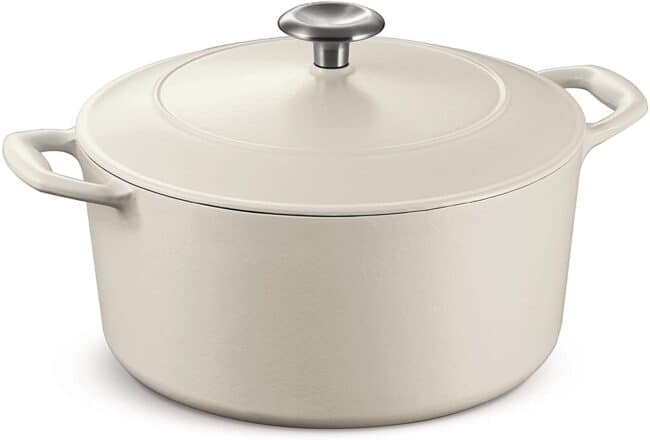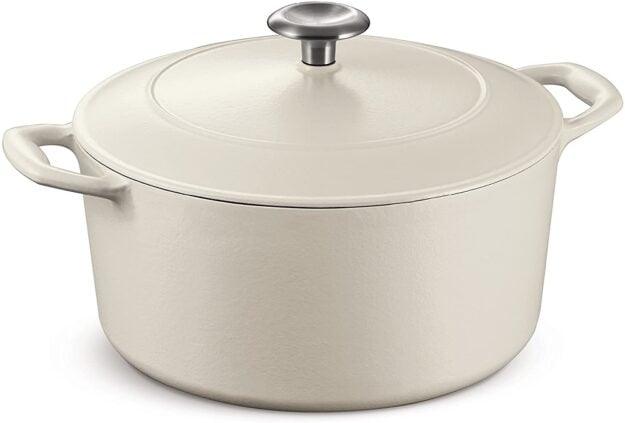 This gorgeous Dutch oven is perfect for making soup, pot roast, and more. It goes from stove to oven as needed and looks pretty enough to leave out on your stovetop as decoration.
What We Love About This Recipe!
This is an easy recipe to put on the stove and forget about for a few hours! And using leftover ham in a recipe is about as easy as it gets. This white bean and ham soup is so hearty and filling I'm sure you will enjoy it!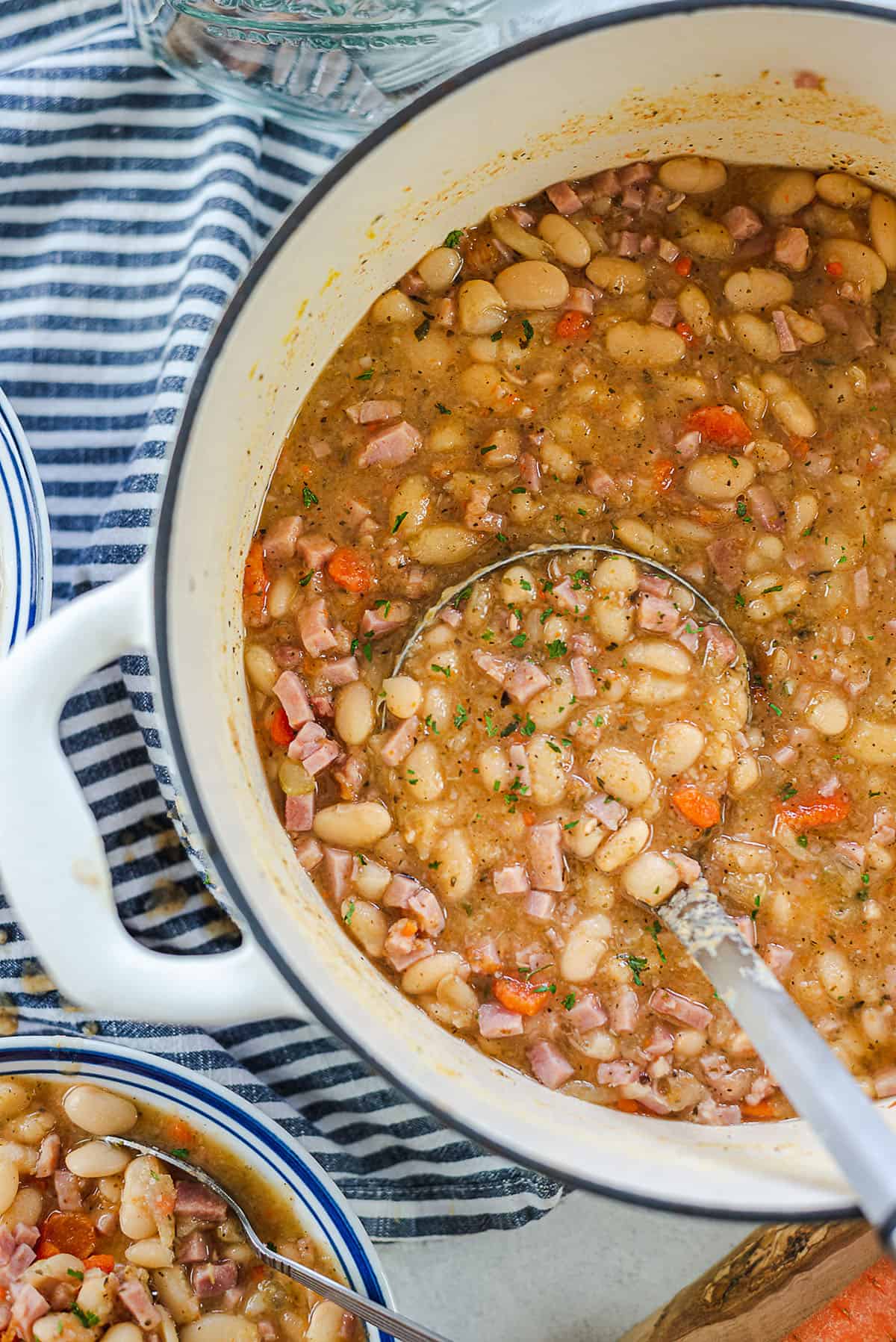 How to Make Ham & Bean Soup:
Prep Work: Rinse the dried beans and sort out any potential rocks or debris. This is a no soak recipe.
Dice up the onion, carrots, and celery, mince the garlic, and set those aside while you start heating up a large stock pot on the stove with some olive oil.
Sauté: Once the oil is hot, saute the veggies until soft and fragrant.
Simmer: Add the beans, Italian seasoning, and water to the pot and bring to a boil. Reduce to a simmer, cover, and cook until the beans are tender – about 2 hours.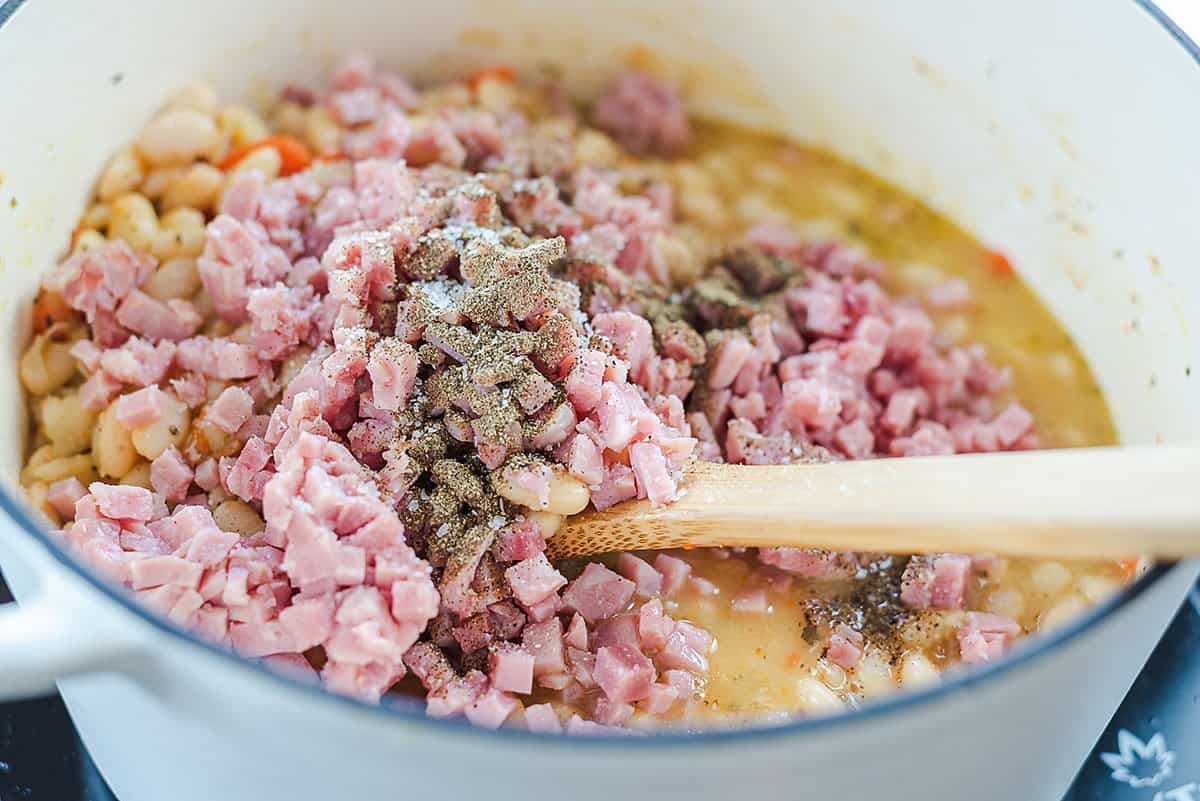 Add the Ham: Add the ham, salt, and pepper, and cook for another 30 minutes to an hour. The beans should be tender and creamy, the soup hot, and you should definitely have a batch of my sweet cornbread recipe ready to serve with this white bean and ham soup!
Helpful Tip!
If the soup is too thick for your liking you can always add more water or even some chicken broth to help thin it out. And if you're looking for a thicker consistency, just add a little cornstarch!
This ham and white bean soup is a staple in my house. If we don't have leftover ham in the fridge, we'll just grab some already diced ham at the grocery story. Such an easy meal and so comforting and tasty!
No time for cornbread? Try our air fryer frozen breadsticks on the side! Soup and breadsticks are a perfect combination.
FAQs:
How do you cook dried beans?
Cooking dried beans might seem a little intimidating the first time you try it, but it's really quite easy. First, you'll empty your package of beans into a colander and sort through them for any rocks or debris. Rinse them well.

A lot of people prefer to soak their beans overnight, but it's usually not necessary. This white bean soup features no-soak beans that come out nice and tender, so give my method a try!
Do I have to use Great Northern beans?
Nope, but those are my favorite! Cannellini beans and Navy beans are also great choices for a ham and white bean soup.
MORE FAVORITE SOUP RECIPES!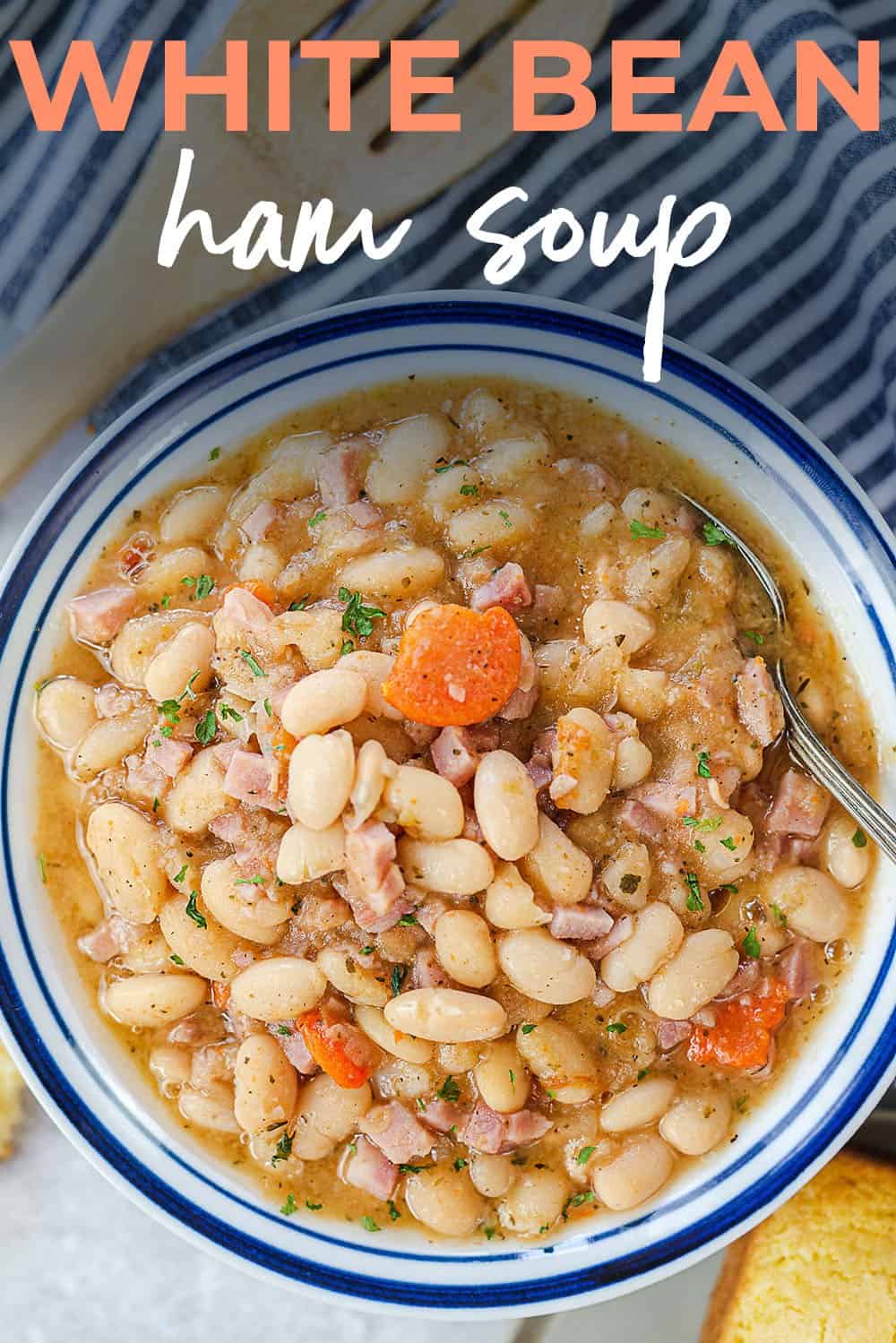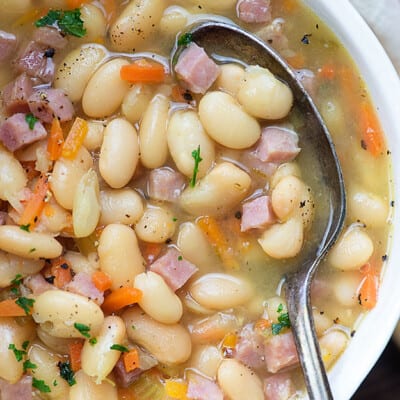 White Bean and Ham Soup
This is the best ham and bean soup! It's made in just a few hours on the stove top with minimal work and is always a hearty and satisfying dinner. Serve with homemade cornbread.
Prep20 minutes
Cook3 hours
Total3 hours 10 minutes
Ingredients
20 ounces dried Great Northern Beans
1 tablespoon olive oil
1 medium sweet onion
3 stalks celery
2 carrots
2 cloves garlic
8 cups water
2 teaspoons Italian seasoning
2 cups cooked diced ham
1 tablespoon salt
2 teaspoons ground pepper
Instructions
Rinse and sort through the beans, discarding any rocks or debris. Set aside.

Dice the onion, celery, and carrots. Mince the garlic.

Add the oil to a large stock pot over medium heat. When hot, stir in the onion, celery, and carrot.

Cook vegetables until softened, about 5 minutes. Stir in the garlic and cook 30 more seconds.

Add the water and Italian seasoning to the pot along with the dried beans.

Bring to a boil over medium heat, reduce to a simmer, and cover with a lid. Cook, stirring every 30 minutes, for 2 hours or until beans are mostly tender.

Add the ham, salt, and pepper to the soup. Continue simmering for 30 minutes to an hour more, or until beans are fully cooked.

Add additional water or chicken stock to the pot to thin the soup to your desired consistency just before serving. Taste and season with additional salt and pepper, if needed.
Tips & Notes:
If your soup is thicker than you'd like, add additional water or broth as needed to reach your desired consistency. We like to use leftover ham in this recipe, but the refrigerated diced ham from the grocery store works well too. We originally called for Hurst's Beans in this recipe, which comes with a little packet of seasoning. Many readers were having trouble finding that specific brand, so we've changed the recipe a bit. To add more seasoning to the soup, add 2 teaspoons each of garlic powder, onion powder, and smoked paprika along with the Italian seasoning and salt to taste once cooked.
Nutrition Information:
Calories: 321kcal (16%)| Carbohydrates: 51g (17%)| Protein: 22g (44%)| Fat: 4g (6%)| Cholesterol: 15mg (5%)| Sodium: 1558mg (68%)| Potassium: 1308mg (37%)| Fiber: 15g (63%)| Sugar: 5g (6%)| Vitamin A: 2615IU (52%)| Vitamin C: 23.8mg (29%)| Calcium: 159mg (16%)| Iron: 4.7mg (26%)
This recipe was originally published in March 2018. It was updated with new photos and a video in April 2022.