Our Homemade Scalloped Potatoes recipe turns out so creamy and comforting, made with white cheddar cheese for delicious flavor, and perfect for a decadent holiday side dish.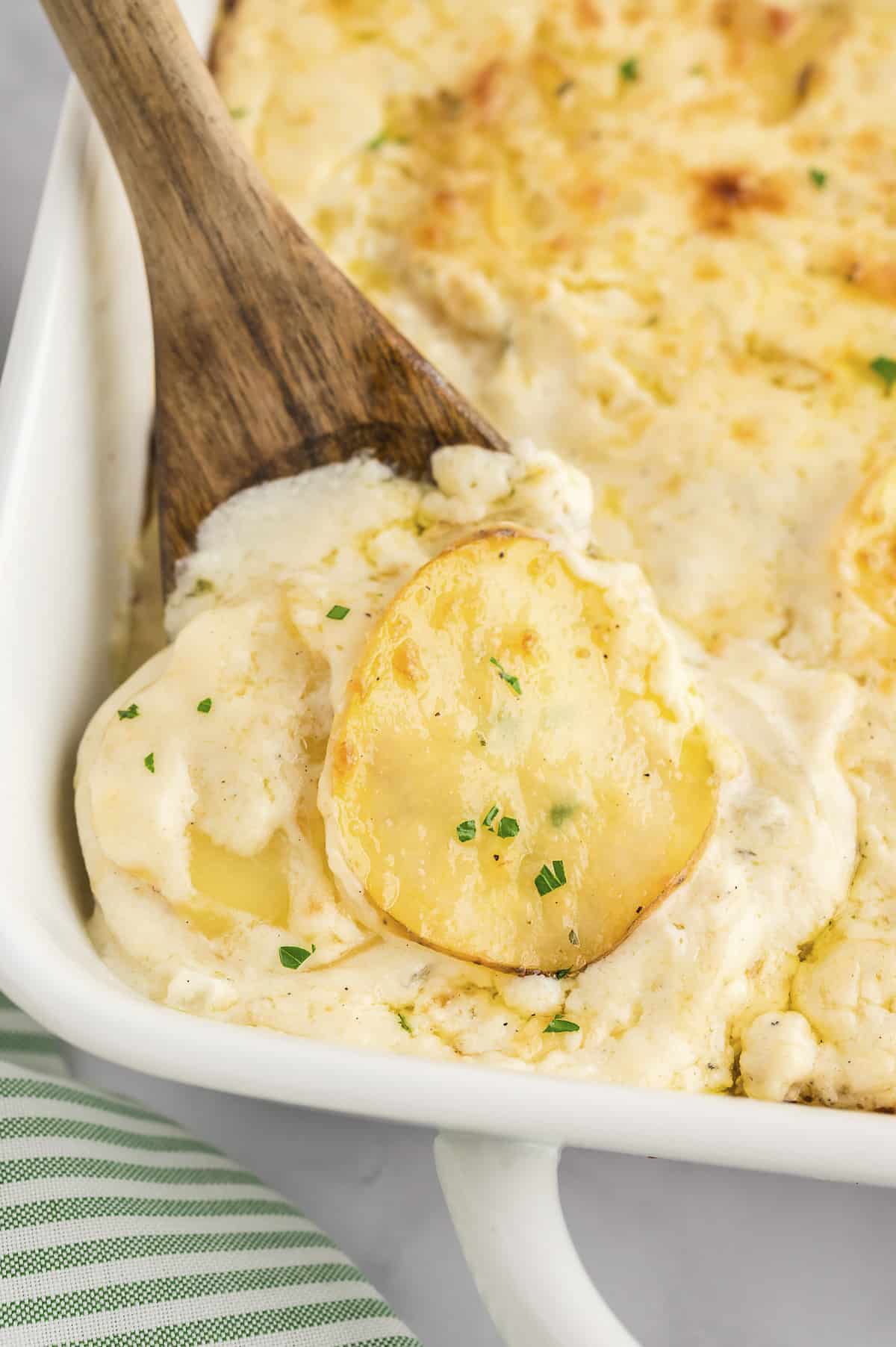 You know that little happy dance you do where your butt just kind of spontaneously starts wiggling when you take a bite of something particularly delicious?
Well. These potatoes start a happy dance every time, which makes them perfect for a holiday dinner. The whole family dances.
Holiday meals really are the best meals, partially because calories obviously don't count on holidays and partially because holiday dinners tend to have a ridiculous number of side dishes to choose from.
You'll find me every year with a plate full of these cheesy scalloped potatoes, a scoop of our Jiffy cornbread casserole, some of our broccoli cheese casserole, and obviously our green bean casserole with bacon.
Pile all that next to some ham or turkey and you've got a delicious holiday dinner.
Cheesy Scalloped Potatoes: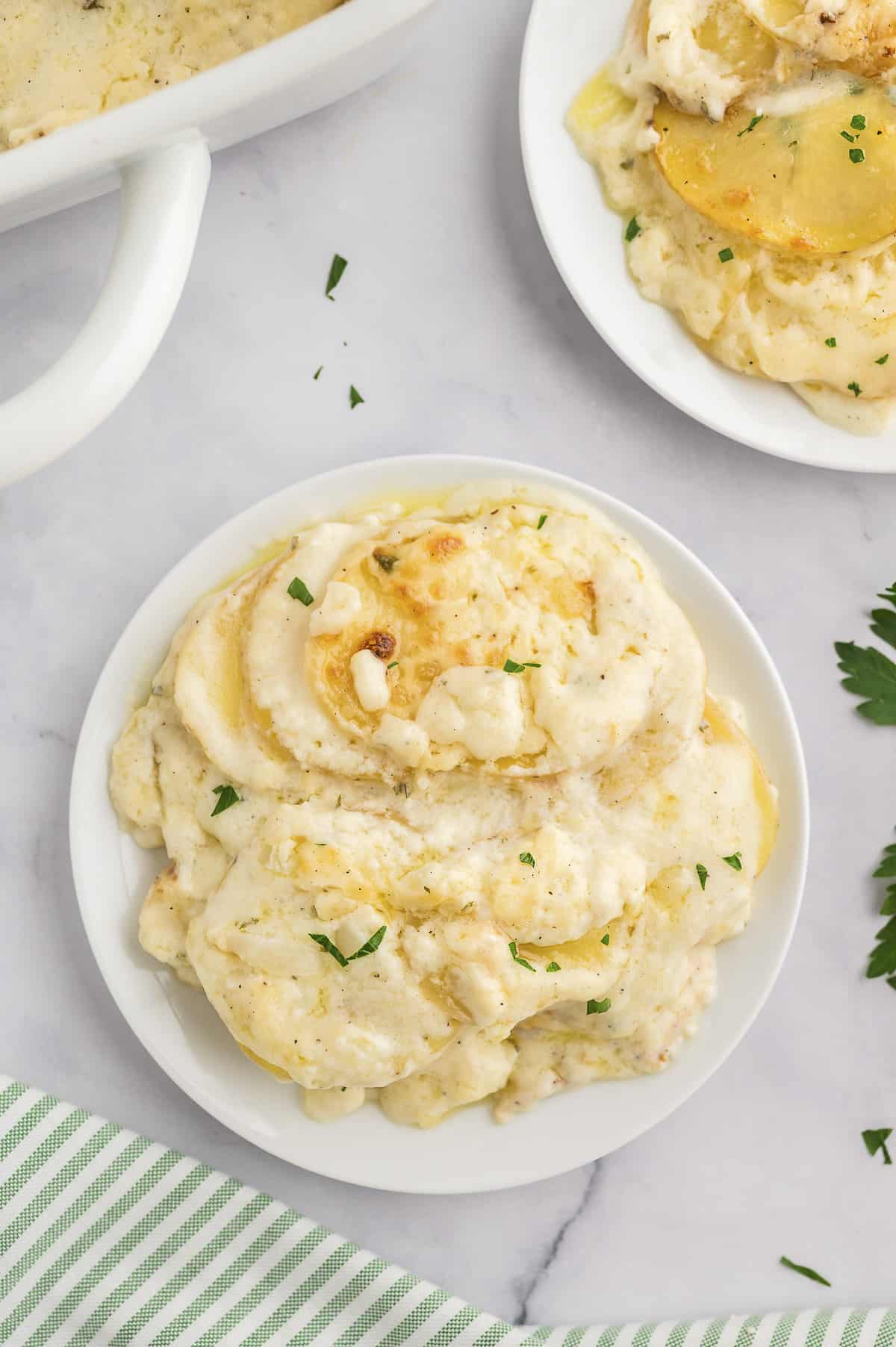 Now, before you get all angry with me…scalloped potatoes don't usually have cheese. But, hey, these are cheesy scalloped potatoes and that's the best kind.
Especially when you use a nice, sharp white cheddar cheese. So much flavor, so creamy and decadent, just seriously the best side dish.
In fact, these are so creamy and cheesy that when you start pouring the sauce over the potatoes, it's going to seem like overkill.
You're going to think you've overdone it.
Let me tell you a secret: You have not overdone it.
These homemade scalloped potatoes are going to be the most delicious thing on your Easter plate, I can almost guarantee it.
Ingredient Notes:
This post contains affiliate links. As an Amazon associate and member of other qualifying programs, I earn from qualifying purchases.
For the Cheese Sauce:
Grated Cheddar – This easy homemade cheese sauce starts with freshly grated sharp white cheddar! You could use any variety of cheddar, but white is my go to in this recipe.
Milk, Butter & Heavy Cream – All that cream and butter is going to make this into a rich and decadent cheese sauce!
Flour – We'll make a roux, which is just a mixture of fat, flour, and liquid that cooks up into a gravy.
Onion – The cheese sauce also gets flavor from onions. These are totally optional and can be left out for picky eaters.
What Readers are Saying!
"EXCELLENT! I only made 1/2 and still a lot! Very creamy! I used food processor to cut potatoes. They were about 1/8 inch thick. I cooked about 10 minutes less. Next time I'll try smoked Gouda for cheese and bacon bits!" – Ginger C.
For the Scalloped Potatoes:
Potatoes – You'll need peeled and thinly sliced potatoes. I'd recommend using a starchy variety of potato like russet potatoes.
Cream of Chicken Soup – You can use the canned stuff or upgrade this recipe with my cream of chicken substitute! It's an easy homemade alternative that's much better than the canned stuff. Our cream of mushroom soup would work well too.
Sour Cream – It'll add even more creamy flavor and texture to the scalloped potatoes with cheese sauce!
Seasoning – I'm keeping it pretty simple and seasoning with some salt, pepper, and dried parsley flakes. The cheese sauce will do most of the work!
WhY THIS IS THE BEST SCALLOPED POTATOes RECIPE:
Cheese: These might just be the cheesiest potatoes you'll ever enjoy!
Flavor: The creamy sharp white cheddar works well with the potatoes.
Comfort: These cheesy potatoes are pure comfort food!
Holidays: You can't go wrong with scalloped potatoes when preparing holiday side dishes that everyone will enjoy.
Sauce for Scalloped Potatoes:
Onions: I add onions to this recipe so I cook them with the butter for a few minutes before adding the flour. I like them nice and soft.
Flour: Add the flour to your cooked onions and give it a stir to coat the onions in the flour and cook it for just a minute or two. Whisk in the milk and cream and keep cooking, whisking the whole time to avoid lumps, until the mixture thickens up a bit.
Roux: Whisk in the milk and cream and keep cooking, whisking the whole time to avoid lumps, until the mixture thickens up a bit. You've just made a roux!
Cheese & Soup: Remove the roux from the heat and stir in the grated white cheddar cheese until it melts and the sauce is nice and smooth. We're not stopping there! We want these potatoes to be extra creamy and delicious. Add in a can cream of chicken soup (or our cream of chicken soup substitute) and some sour cream.
How To Slice Potatoes:
You'll need a whole lot of Idaho potatoes. Wash them and peel them. You've got a few options for slicing:
Food Processor – Use the slicer attachment and slice your potatoes into thin slices, about 1/8 of an inch thick. I've linked to my favorite processor below.
Mandoline – Your second option is to use a mandoline slicer. This one has great reviews! This method takes a little longer, but you'll get even slices in a fairly short amount of time.
Knife – And, last, is a knife. Obviously, this option is going to take the longest, because you're slicing the potatoes THIN and EVEN. But, if you don't have a food processor or mandoline, this is the only way to go.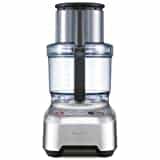 Food Processor
We use our Breville food processor in all kinds of recipes! It makes short work of chopping veggies and many other other tasks. This is our favorite food processor because it is so heavy duty and it will last!
How To Make Scalloped Potatoes:
Potatoes: Spray a 9×13 baking dish with non-stick spray and place half of the potatoes in the dish. It'll be a nice thick layer of potatoes.
Cheese Sauce: Top the scalloped potatoes with half of the cheese sauce. Now, I know that it seems like a LOT of cheese sauce. That's because it is. Just trust me.
Potatoes: Add the rest of the potato slices…
More Cheese: And dump the rest of that glorious cheese sauce over the top.
Bake: When you've finished preparing the homemade scalloped potatoes for baking cover the dish with foil and bake for 30 minutes and then remove the foil and continue baking for another 45 minutes or so. We want those potatoes nice and tender and the cheese sauce good and bubbly.
Let me know if you try this scalloped potatoes recipe! I can't wait to hear what you think!
Can I Make Scalloped Potatoes Ahead?
To make cheesy scalloped potatoes ahead of time you'll do only a partial bake. Follow the instructions to prepare the scalloped potatoes and bake covered with foil for 30 minutes.
Remove it from the oven and let it cool on the counter before refrigerating for up to 3 days. To serve finish baking the cheesy potatoes uncovered for 45-60 minutes or until they're cooked through and tender!
FAQ's:
What are scalloped cheesy potatoes?
Scalloped potatoes are a filling side dish made from thinly sliced potatoes baked in a creamy sauce. The term scalloped comes from the shape of the thin slices of potato.
Isn't this just potatoes au gratin?
It's pretty close! Scalloped potatoes are very similar to au gratin potatoes. The main difference is that potatoes au gratin have more of a crispy breadcrumb or cheese topping.
How to store scalloped potatoes?
First allow the scalloped potatoes to cool completely. You can then store them in an airtight container or covered dish in the fridge for about 3 to 4 days. They can be reheated in the oven or microwave.
How to freeze scalloped potatoes?
After cooling place the scalloped potatoes into a freezer safe container and freeze for up to a few months. You'll need to thaw completely before reheating in the oven.
MORE CHEESY POTATO RECIPES!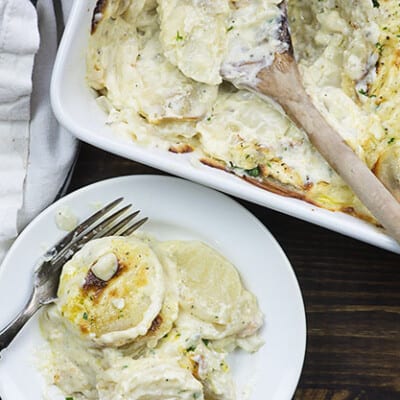 Cheesy Scalloped Potatoes
These cheesy scalloped potatoes are coated in the thickest, creamiest cheese sauce. This is pure comfort food!
Prep15 minutes
Cook1 hour 15 minutes
Total1 hour 30 minutes
Ingredients
1/4 cup butter
1 medium onion finely chopped
1/4 cup all-purpose flour
2 cups milk
1 cup heavy cream
2 cups shredded sharp white cheddar cheese
10.75 ounces condensed cream of chicken soup
8 ounces sour cream
1 teaspoon salt
1 teaspoon dried parsley flakes
1/2 teaspoon pepper
8 cups thinly sliced peeled potatoes
Instructions
Preheat oven to 375 degrees. Spray a 9×13 baking dish with non-stick spray.

Add the butter to a large sauce pan over medium heat and melt. Stir in the onions and cook until beginning to soften, about 5 minutes.

Sprinkle the flour over the onions and cook, stirring constantly, for 1 minute.

Pour in the milk and cream while whisking the mixture constantly. Continue cooking over medium heat, whisking constantly, until mixture begins to thicken, about 3 minutes.

Remove from the heat and stir in the grated cheddar. Stir until cheese has melted and mixture is smooth.

Stir in the cream of chicken soup, sour cream, salt, parsley, and pepper until combined.

Place half of the potatoes in a thick layer in the prepared 9×13. Pour half of the cheese sauce over the top. Repeat the layers.

Cover tightly with foil and bake for 30 minutes.

Remove the foil carefully and continue baking for 45 minutes or until potatoes are soft.

Serve immediately.
Nutrition Information:
Calories: 356kcal (18%)| Carbohydrates: 25g (8%)| Protein: 11g (22%)| Fat: 24g (37%)| Saturated Fat: 14g (88%)| Cholesterol: 73mg (24%)| Sodium: 577mg (25%)| Potassium: 717mg (20%)| Fiber: 3g (13%)| Sugar: 3g (3%)| Vitamin A: 830IU (17%)| Vitamin C: 16.9mg (20%)| Calcium: 264mg (26%)| Iron: 5.1mg (28%)