Crispy outside and so creamy inside that they practically melt in your mouth! These Parmesan Roasted Potatoes are a must make!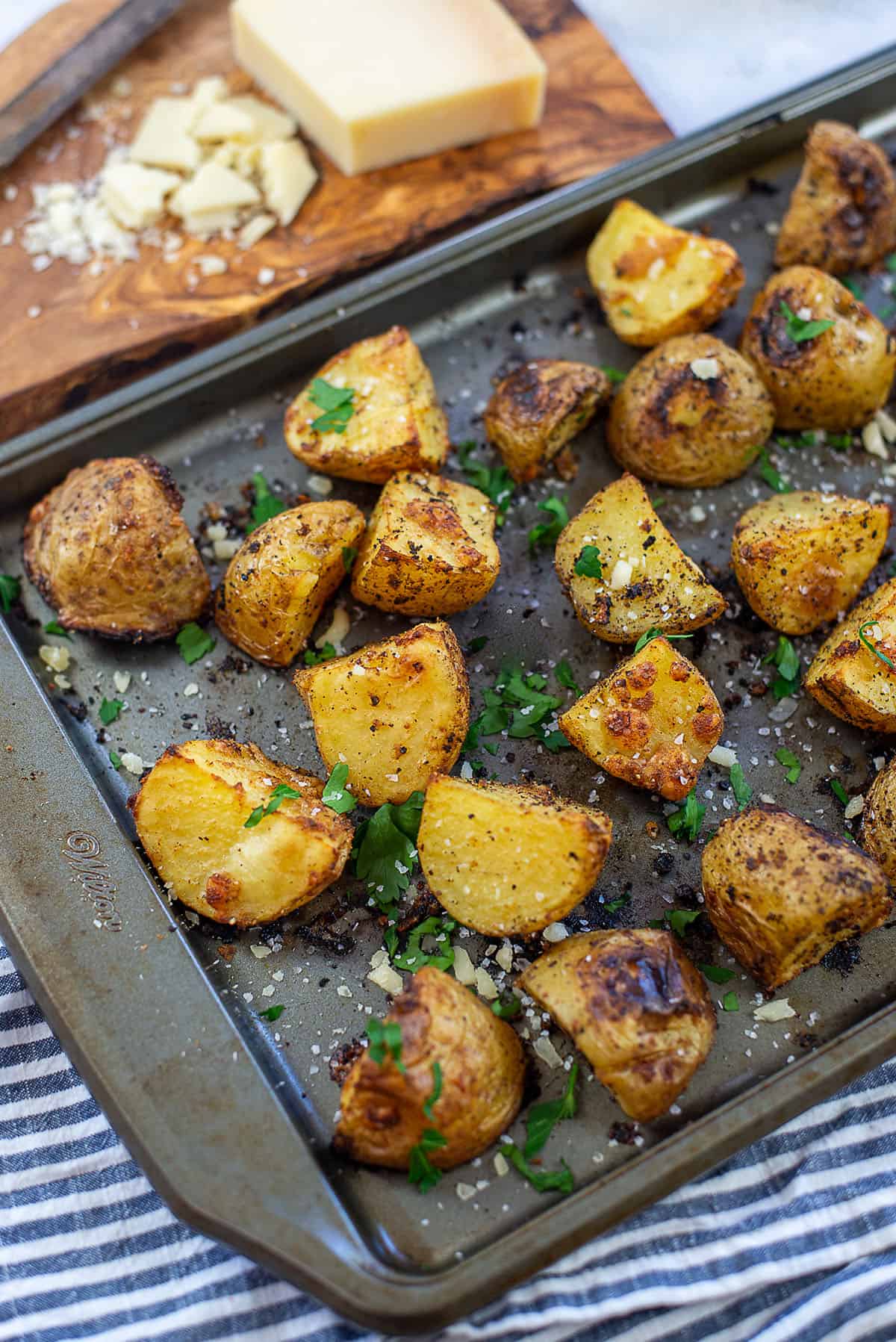 Have you ever ordered those crispy, creamy roasted potatoes from a restaurant and just wept tears of joy over the potato perfection?
Just me. Cool cool cool.
I used to think that there was some sort of magical secret to perfectly roasted potatoes, because I could never get them as tasty as the restaurant ones and I don't know if I just stumbled on the secret one day or if they're actually really easy and I was just somehow messing them up at home, but…
Potato Perfection. I've found it and I'm here to share it with you!
You'll want to serve these alongside our crockpot ribs, stuffed chicken breast, or air fryer chicken legs!
Ingredient Notes:
This post contains affiliate links. As an Amazon associate and member of other qualifying programs, I earn from qualifying purchases.
Potatoes – Yukon gold potatoes are the perfect mixture of waxy and starchy, have a thin skin, and were made for roasting! They'll get crisp on the outside and creamy on the inside. Red potatoes also work nicely for roasting, if that's what you have on hadn.
Parmesan – I love some freshly grated Parmesan cheese! It'll liven just about any dish up, and roasted potatoes are no exception.
Seasonings – Keep it simple with a mix of salt, pepper, garlic powder, onion powder, and paprika. If you want spicy roasted potatoes you could add in red pepper flakes, or if you want a smoky flavor use smoked paprika!
What We Love About This Recipe!
Potatoes are one of those foods that can be prepared in lots of different ways. Roasting them is one of my favorite, and not just because it's easy! They're so good when they get crispy and golden brown, plus the Parmesan and seasonings add a lot of flavor to this simple side dish.
How to Make Roasted Potatoes:
Prepare: First up you'll want to wash the potatoes and then you can start cutting them into quarters. If you have a random large potato, cut it down to match the size of the rest of the pieces – uniform sizes will mean everything cooks at the same rate.
Season: Once you've finished cutting the potatoes you can add them to a mixing bowl along with all of the other ingredients. That means the olive oil, grated Parmesan and seasonings! Toss the potatoes in this mix until they are well coated. And yes – you can absolutely skip the bowl and do this right on the baking sheet, if you prefer!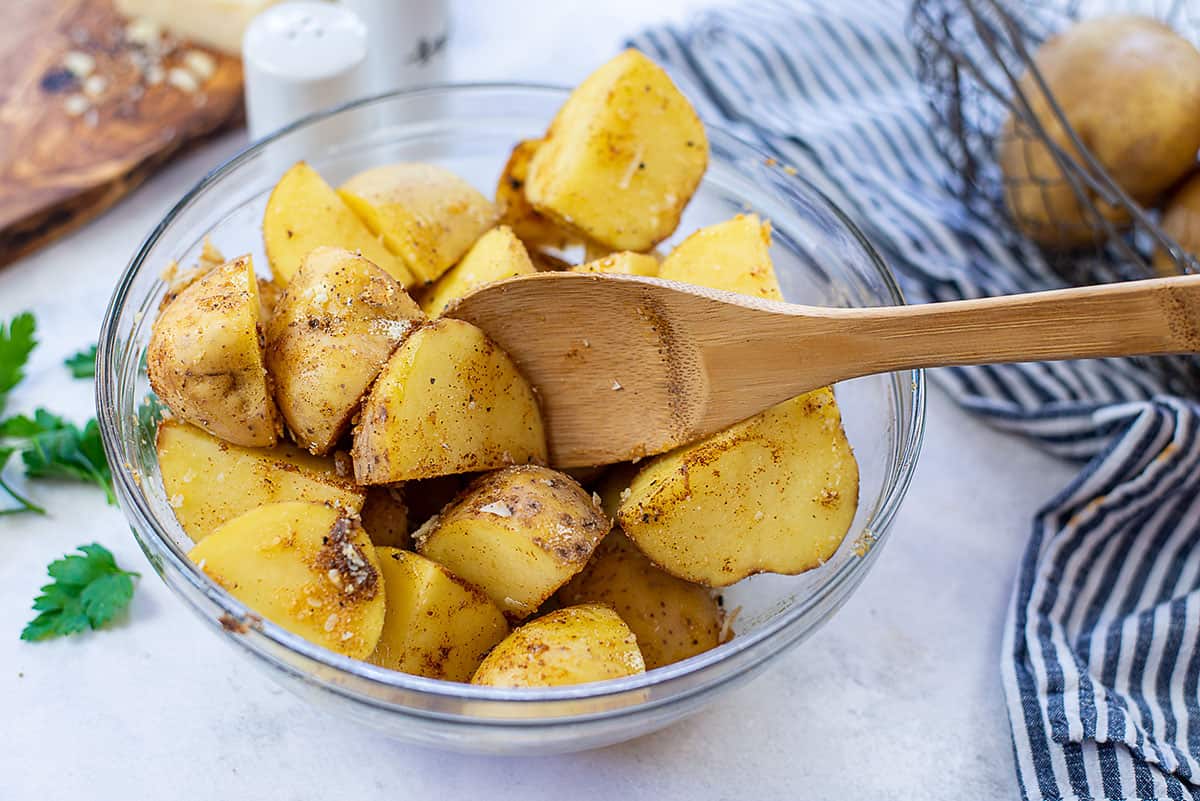 Roast: Once you've mixed the potatoes with the seasoning spread them out in a single layer on a baking sheet without any overlapping. They'll take about 35 to 40 minutes to roast, but you'll want to give it a good stir about halfway through.
You can let the Parmesan roasted potatoes cook until your preferred level of doneness. I like to serve them hot, crispy, and golden brown. They make a wonderful side dish with just about any meal!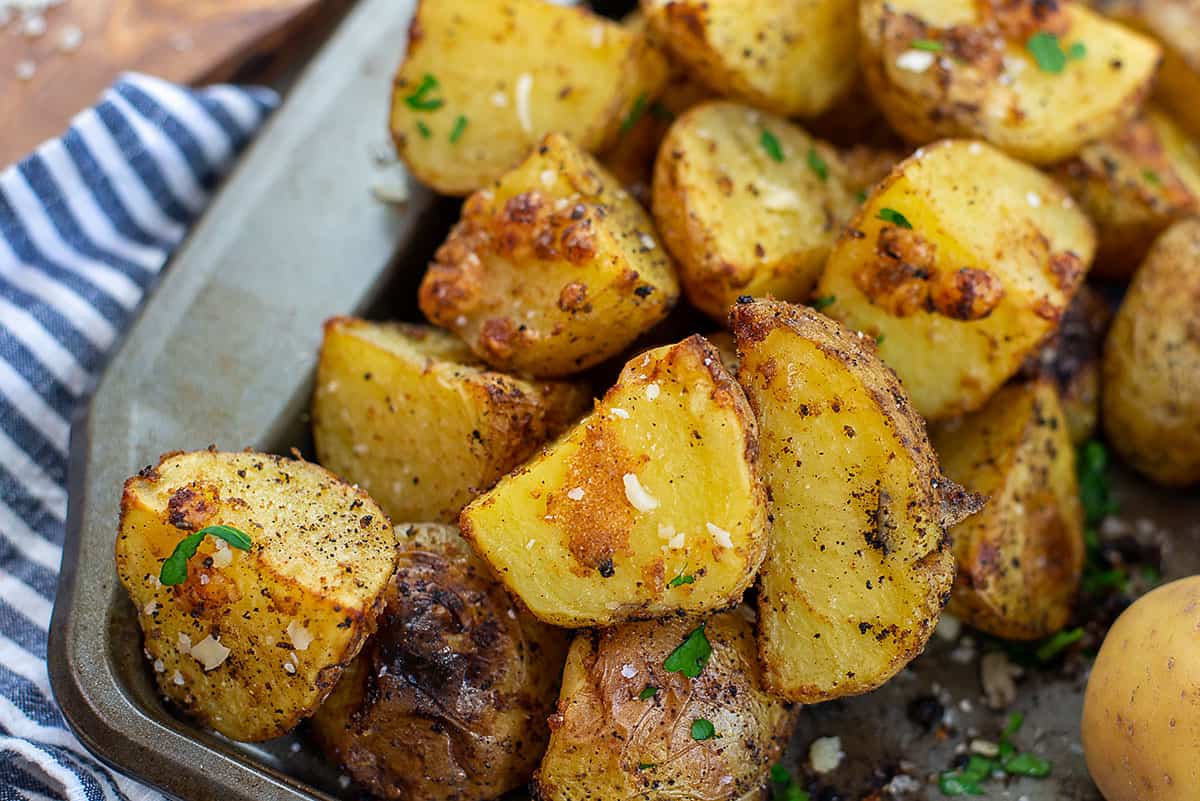 Can I make roasted potatoes in the air fryer?
Absolutely! Air fry at 400 degrees for 20 minutes, shaking the basket every 5 minutes. Or just follow this recipe for Air Fryer Roasted Potatoes!
FAQs:
Do you need to peel the potatoes?
As long as you're using a thin skinned potato, such as Yukon Gold or a red potato, there's no need to peel them!
Can you freeze roasted potatoes?
Sure! They'll freeze as well as any potato. Flash freeze them first on a baking sheet before storing in a freezer safe bag for up to four months.
Can you refrigerate roasted potatoes?
These potatoes should last for at least 3 to 4 days in the refrigerator. You can reheat the Parmesan roasted potatoes in the microwave or the oven!
More Potato Recipes!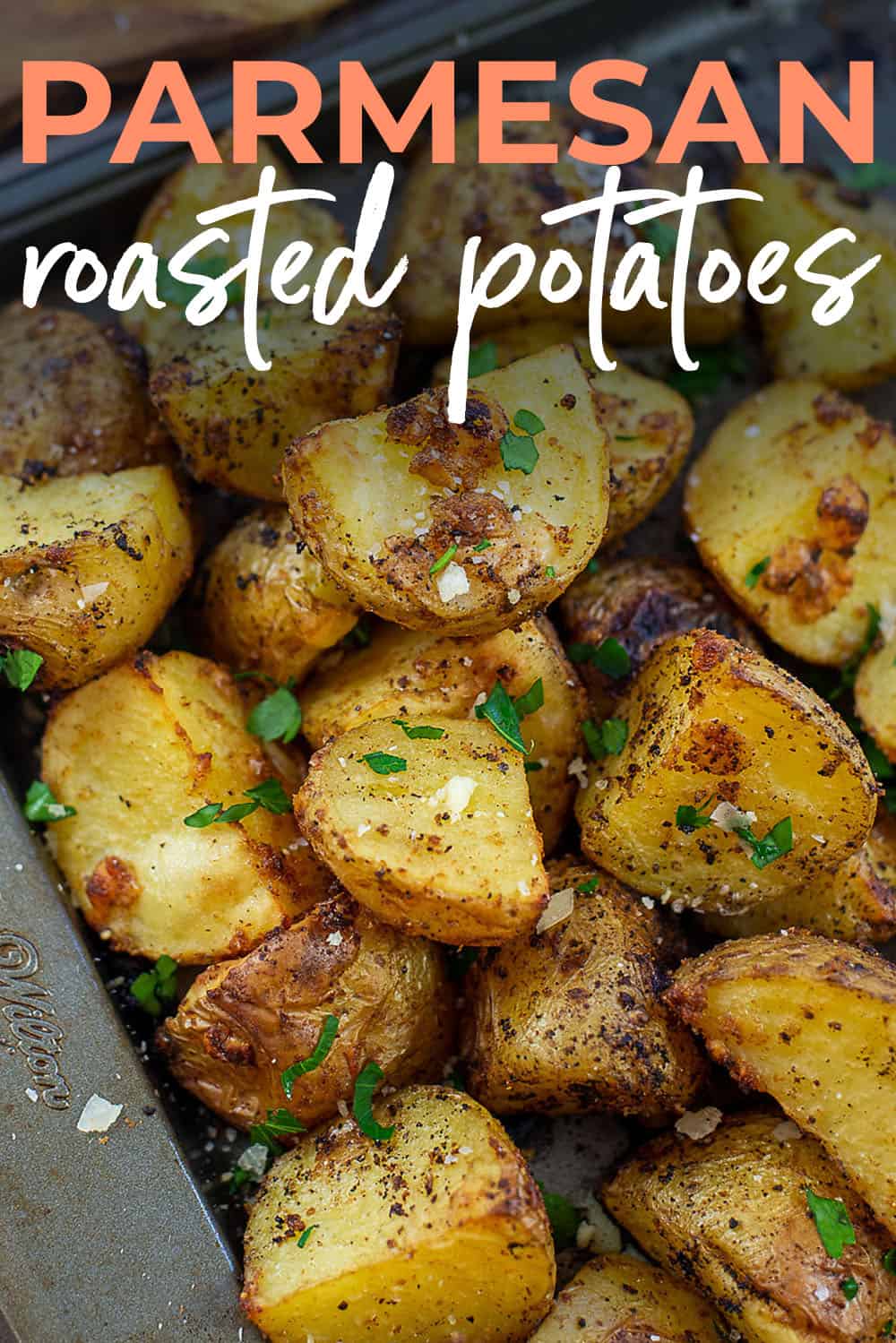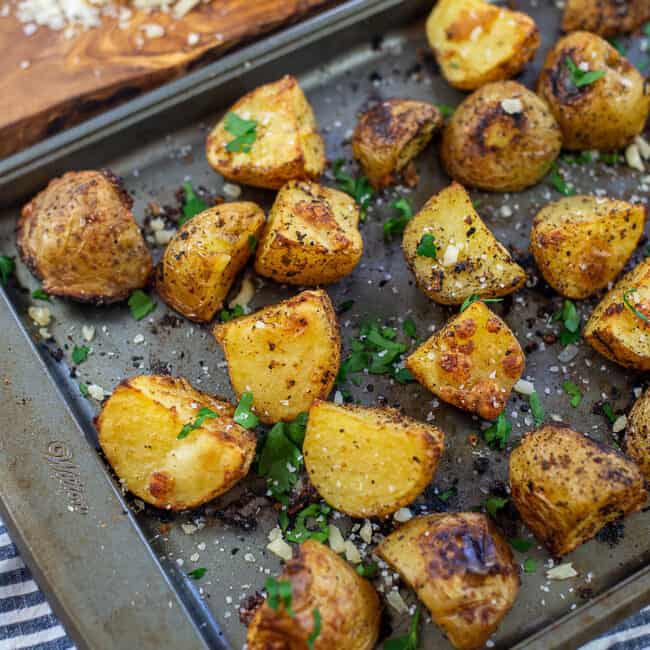 Parmesan Roasted Potatoes
These potatoes get nice and crispy on the outside, while still being perfectly creamy on the inside. These potatoes practically melt in your mouth and will have you coming back for seconds!
Prep10 minutes
Cook40 minutes
Total50 minutes
Ingredients
1 ½ pounds Yukon Gold potatoes see notes
1 tablespoon olive oil
2-3 tablespoons freshly grated Parmesan
2 teaspoons garlic powder
1 teaspoon onion powder
1 teaspoon paprika
1 teaspoon kosher salt
½ teaspoon cracked pepper
Instructions
Preheat the oven to 425 degrees.

Wash and quarter the potatoes and add to a large mixing bowl.

Add all of the remaining ingredients to the bowl and toss well to coat the potatoes.

Spread potatoes in a single layer on a large, rimmed baking sheet.

Bake for 35-40 minutes, stirring halfway through cooking, until potatoes are as golden brown and crispy as you'd like.

Taste and additional salt and pepper, if desired.

Serve hot.
Tips & Notes:
Yukon Gold potatoes are perfect for roasting, thanks to their thin skin and being the right balance of waxy and starchy. Red potatoes also work well for roasting.
Nutrition Information:
Calories: 180kcal (9%)| Carbohydrates: 32g (11%)| Protein: 5g (10%)| Fat: 4g (6%)| Saturated Fat: 1g (6%)| Polyunsaturated Fat: 1g| Monounsaturated Fat: 3g| Cholesterol: 2mg (1%)| Sodium: 633mg (28%)| Potassium: 756mg (22%)| Fiber: 4g (17%)| Sugar: 1g (1%)| Vitamin A: 271IU (5%)| Vitamin C: 34mg (41%)| Calcium: 56mg (6%)| Iron: 2mg (11%)