Crock Pot Ribs are the best, most tender, flavorful ribs you'll make! These are just about the easiest thing in the world and the meat just falls right off the bone!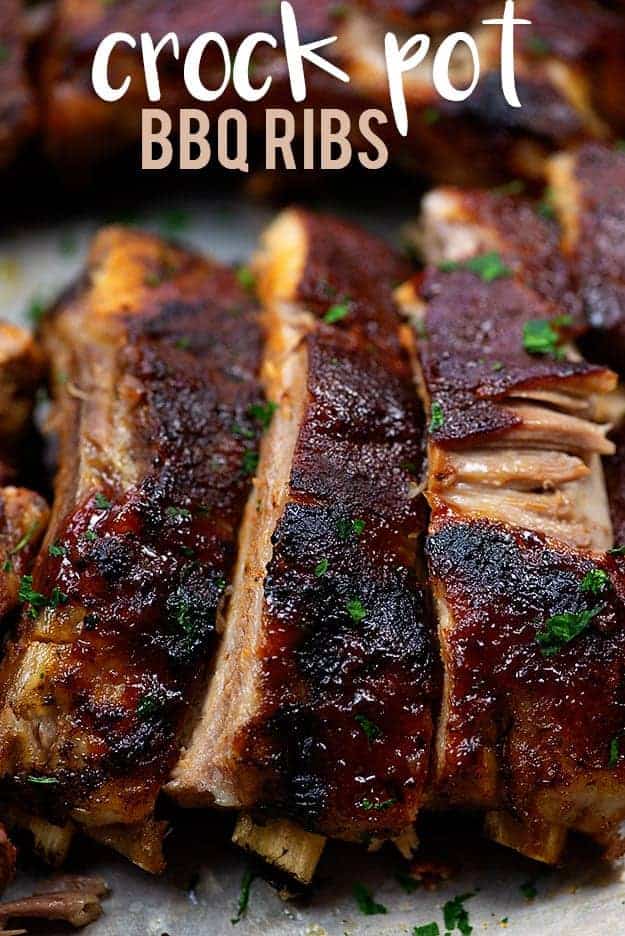 We love tender, saucy ribs in our house, but I don't always love firing up the smoker or the grill.
Enter the crockpot! Yes – I'm being serious. Crockpot Ribs are seriously some of the best ribs we make, always tender, always flavor, and always devoured by whoever we serve them too!
That doesn't mean our smoked baby back ribs aren't major favorites around here too, but these crock pot ribs are definitely easier and we honestly make them more often because of it!
We love pork in this house. My pulled pork is literally the best thing ever. I make it almost every time we have a big family get together, because not only does everyone love it, it's easy.
Our crockpot smothered pork chops and crockpot ranch pork chops are a couple other favorites, if you also have a bunch of pork lovers in your home. 😉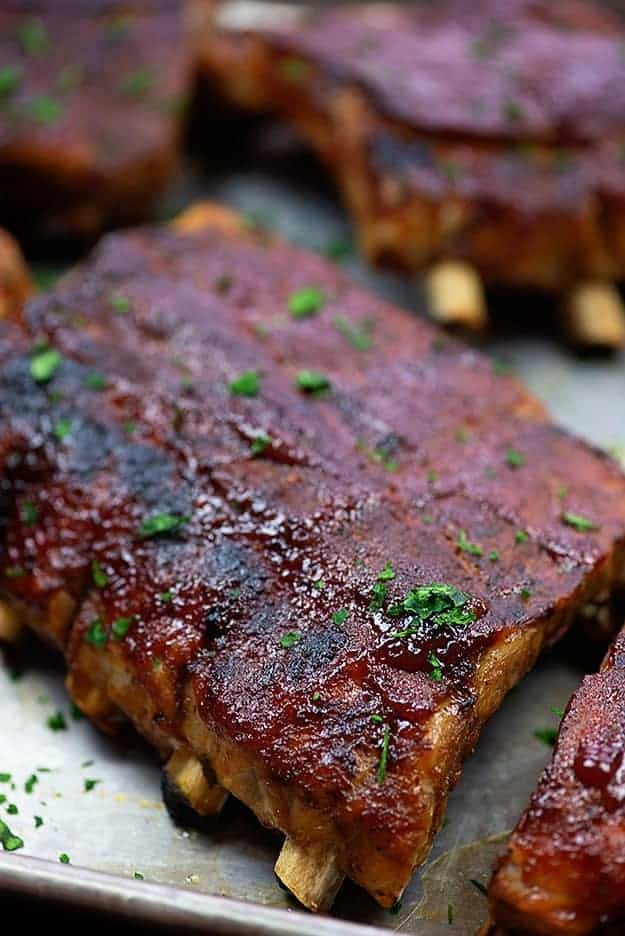 Ingredient Notes:
This post contains affiliate links. As an Amazon associate and member of other qualifying programs, I earn from qualifying purchases.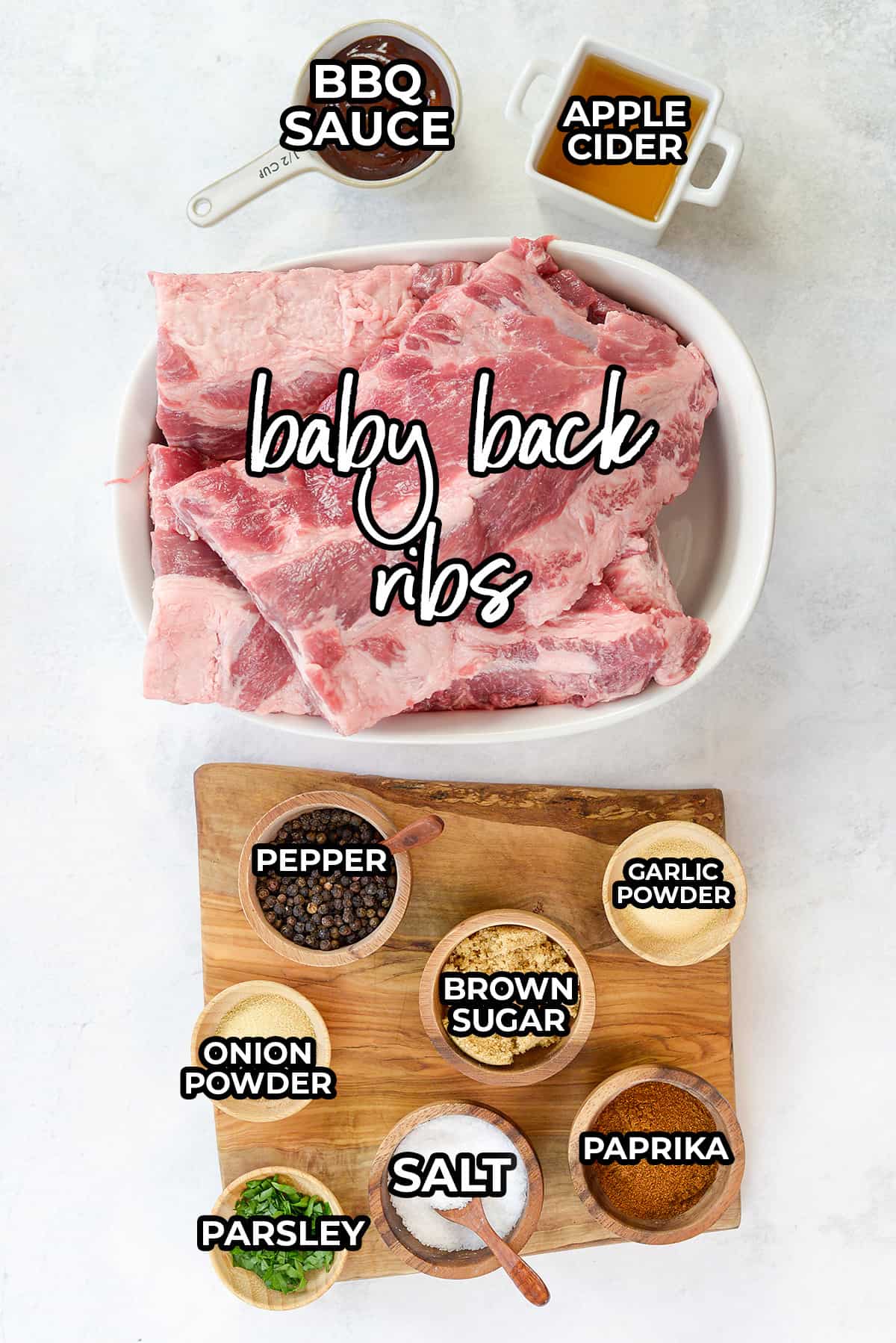 Baby Back Ribs – These ribs are lean with tender, juicy meat! They're smaller than spare ribs or country style and I think they are best for slow cooking.
BBQ Dry Rub – We scaled down my dry rub to make the perfect amount of these ribs.
Barbcue Sauce – You can use any BBQ sauce you'd like on these slow cooker ribs, but I'd highly recommend checking out my tangy Carolina BBQ sauce if you like things tangy, or our Bourbon BBQ sauce if you like things a bit sweeter.
Apple Cider – You'll need some moisture in the crock pot so the ribs get nice and tender and won't dry out. Apple cider does all that and it adds lots of good tangy flavor to the ribs!
What Readers are Saying!
I am not a rib cooker and I will tell you these turned out wonderful. Planning to use this recipe again!! And share like crazy…" – Mary
How to Make Crockpot Ribs: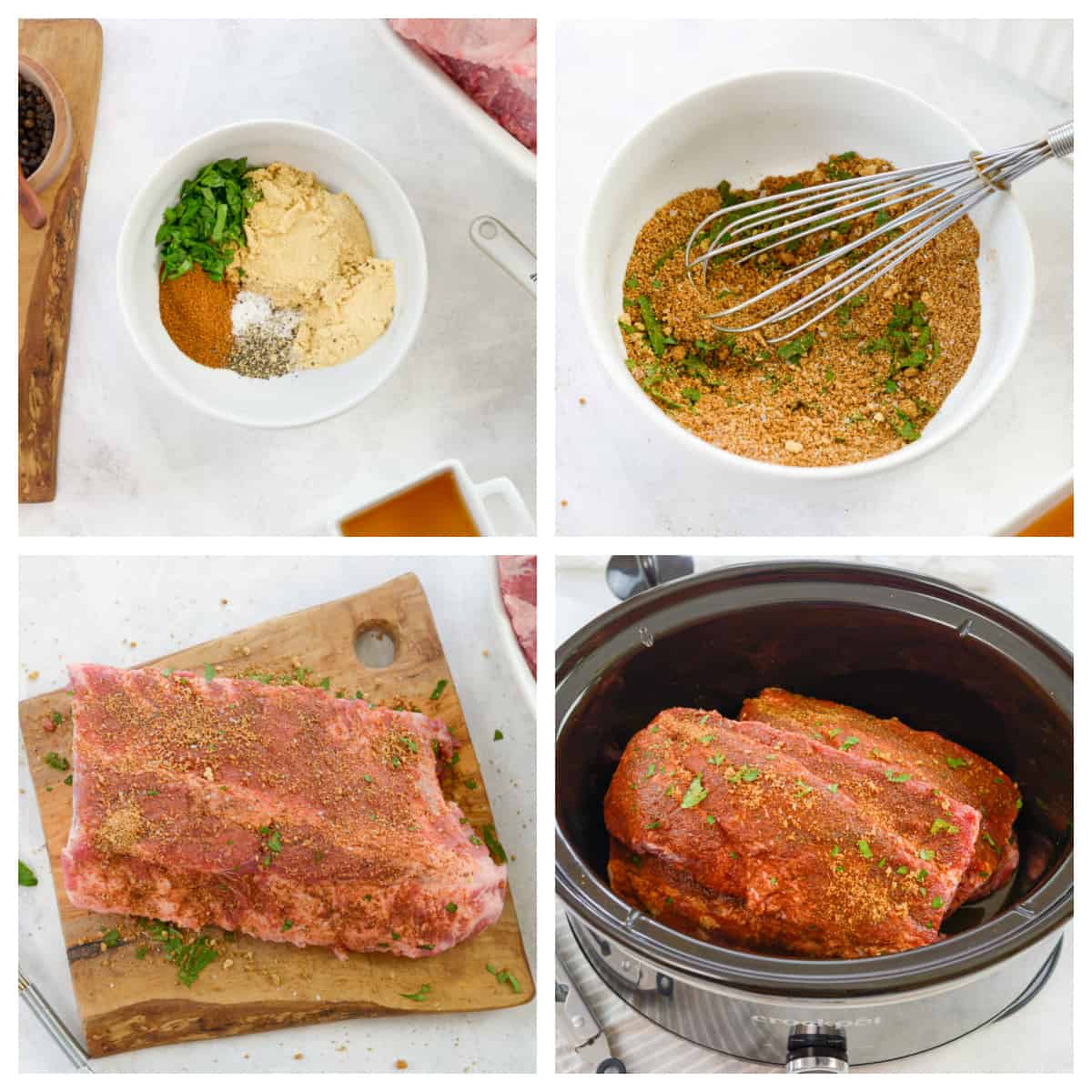 Dry Rub: Combine the seasoning in a small bowl and whisk together to combine.
Season: Sprinkle the rub over your baby back ribs and rub it all in on both sides.
Helpful Tip!
If you like the smoky flavor that you usually get with smoked BBQ ribs, use smoked paprika in the dry rub seasoning!
Slow Cook: Add the apple cider (or apple juice!) to your slow cooker, pop the ribs in, cover, and cook!
Chances are your crock pot won't be large enough to lay all the ribs flat. That's okay! Just stack them flat on top of each other.
Every slow cooker heats differently, but mine takes 4 hours on high and 8 hours on low. If your crockpot cooks hotter, you can reduce the time as needed.
Helpful Tip!
While "falling off the bone" sounds good, I'd recommend not slow cooking ribs to that point. You do want them tender, but they won't be as easy to handle, broil, and sauce if they are falling apart. But if that's how you like your ribs, go for it!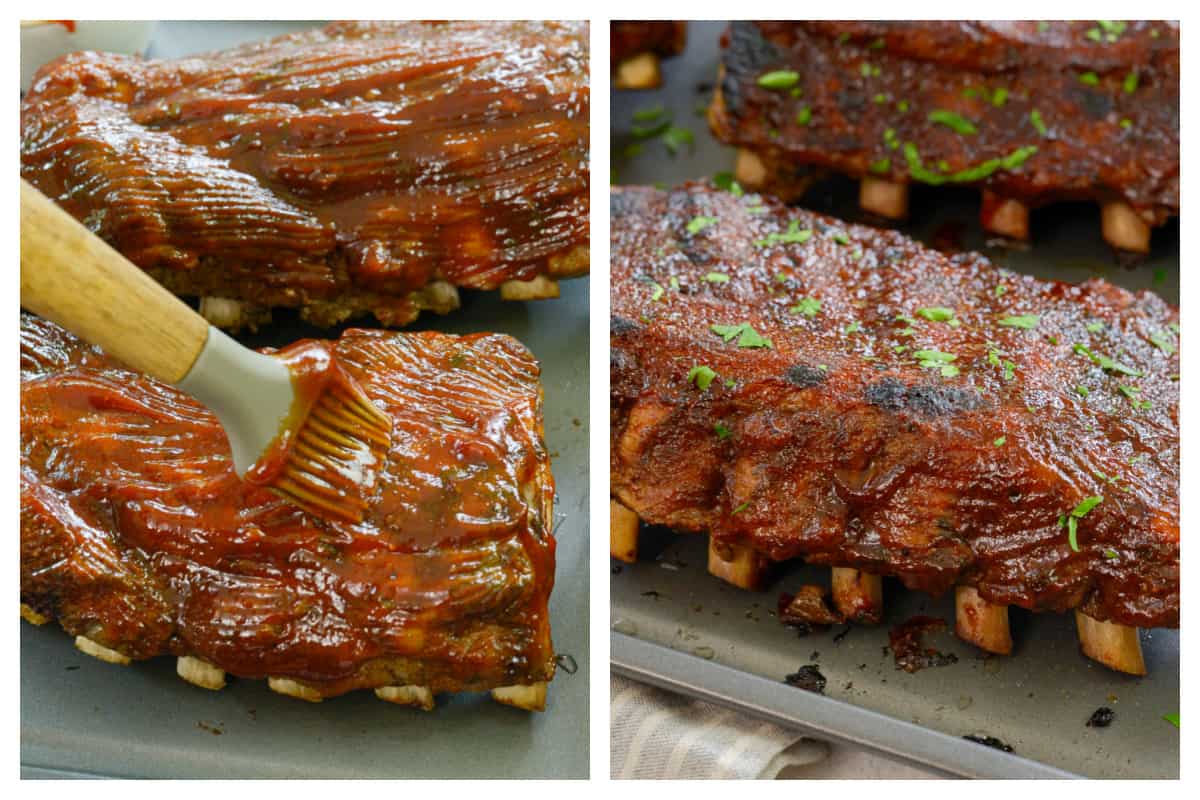 Broil: These slow cooker pork ribs get pulled out and popped on a baking sheet. Slather them in your preferred BBQ sauce and then pop them under the broiler for a couple of minutes.
Once the barbecue sauce starts to caramelize, your ribs are ready! Keep a close eye on them so they don't burn.
These are seriously best slow cooker ribs!!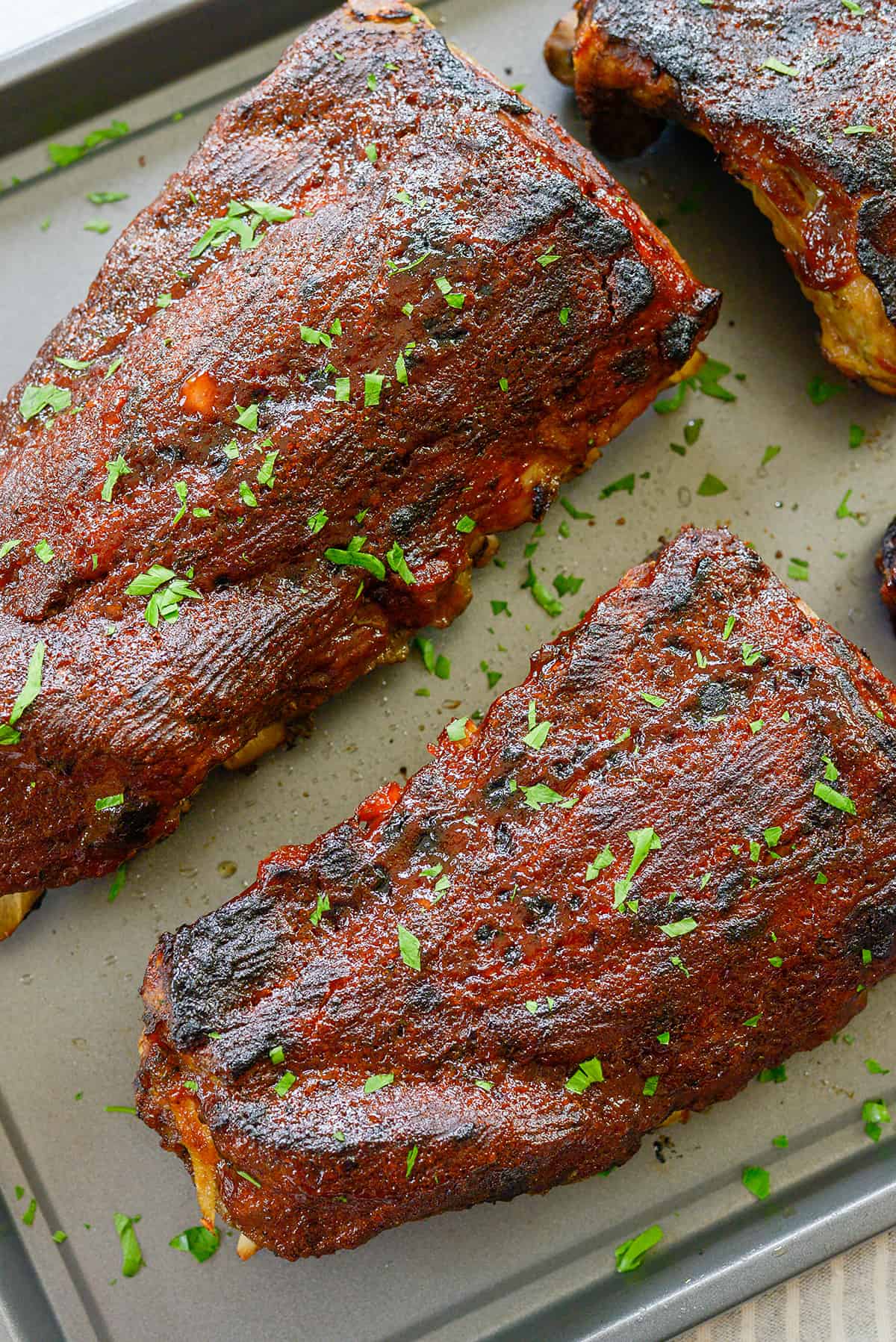 What to Serve With Crock Pot Ribs:
Oh goodness, there are so many tasty possibilities!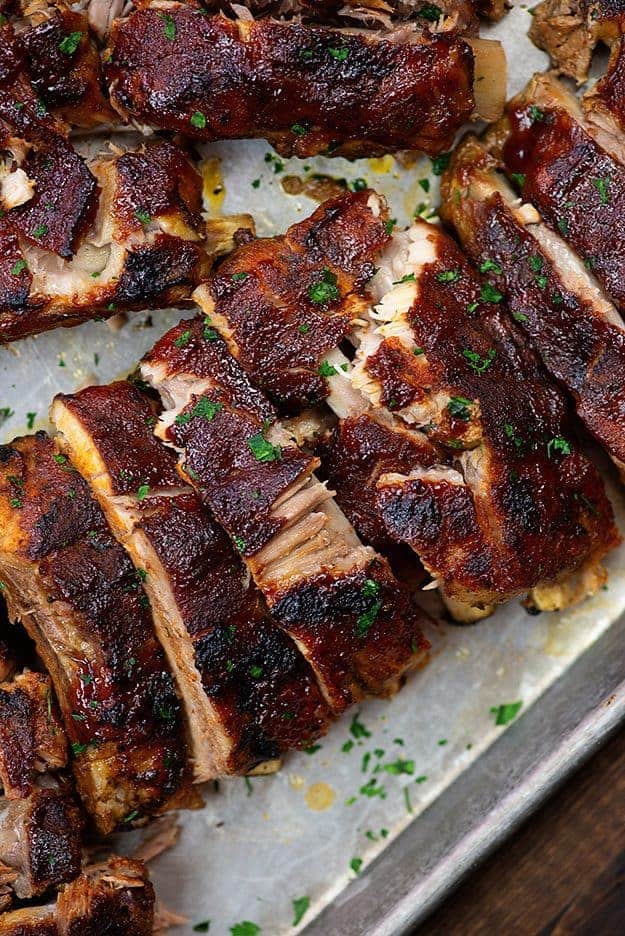 FAQs:
Can I use a different type of pork rib?
Pork ribs come in three main cuts. Baby back ribs are lean and tender, spare ribs have less meat but are very flavorful, and country-style ribs are big and meaty. I like baby back ribs the best for this recipe but you can use other types.
How to store crock pot ribs?
You can keep any leftover ribs in an airtight container in the refrigerator for about 2 to 3 days. Reheat them in the oven.
If you love using the crockpot to make dinner time easy, I have some tasty recipes for you to check out below! And if you want to see all of my slow cooker recipes click here.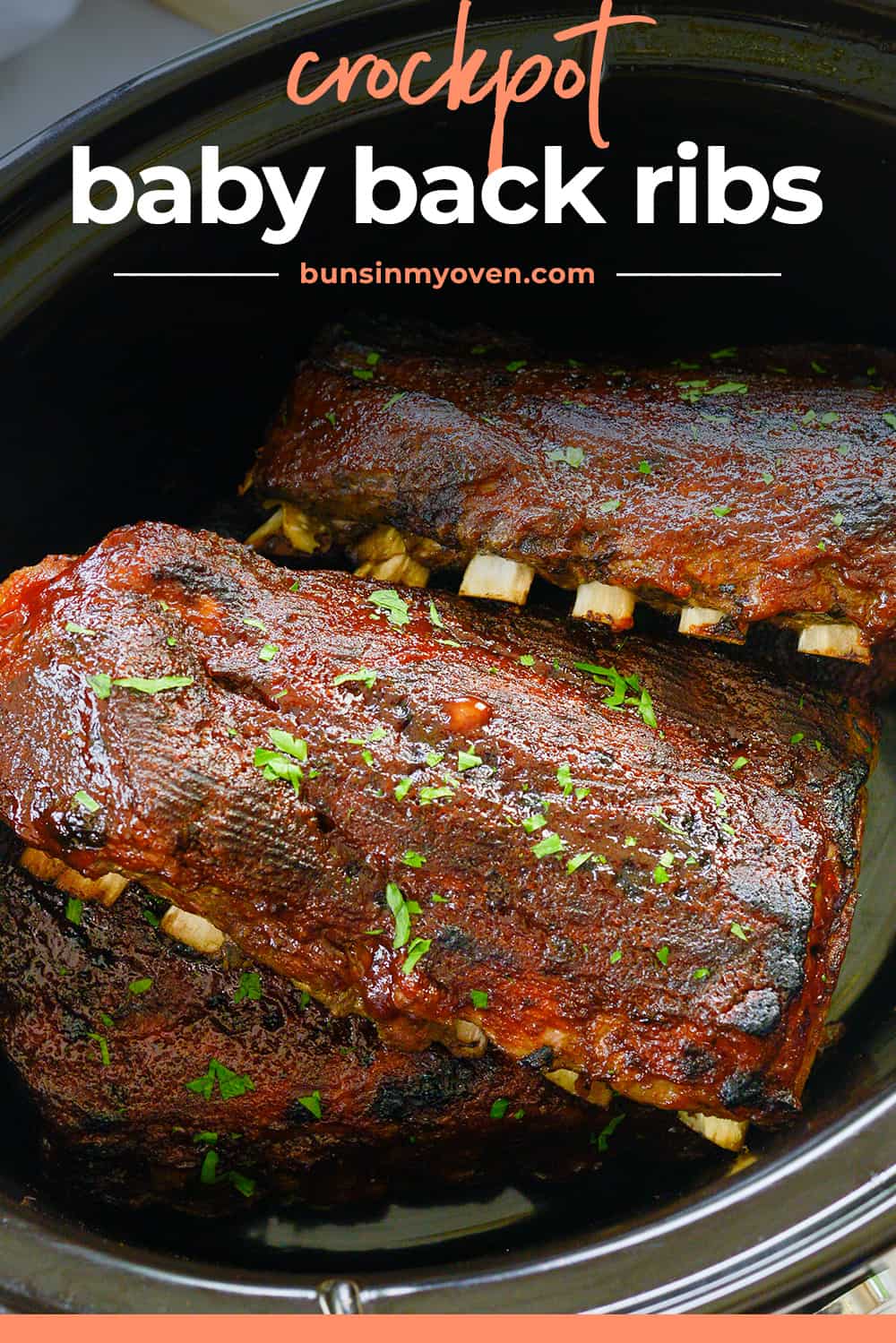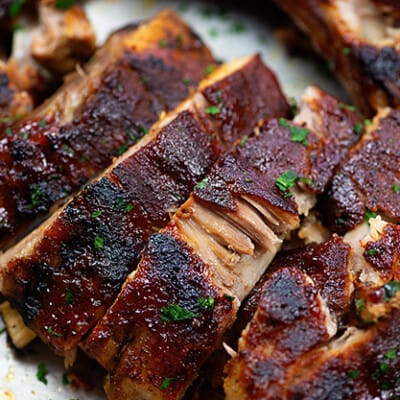 Crock Pot Ribs
These crockpot BBQ ribs are super simple and ready in no time! Toss them in your slow cooker and then baste with sauce before broiling to perfection.
Prep10 minutes
Cook4 hours
Total4 hours 10 minutes
Ingredients
3 racks baby back ribs
2 tablespoons paprika
2 tablespoons brown sugar
1 tablespoon garlic powder
1 tablespoon onion powder
1 tablespoon salt
1 tablespoon ground black pepper
1 teaspoon parsley
1/2 cup apple cider
1/2 cup barbecue sauce
Instructions
Remove the membrane from the back of the ribs and cut each rack of ribs in half so that they fit easily in the slow cooker.

In a small bowl, whisk together the paprika, brown sugar, garlic powder, onion powder, salt, pepper, and parsley.

Sprinkle the dry rub over each side of the ribs and use your hands to press it into the meat.

Add the apple cider to the bottom of a slow cooker and place the ribs in the slow cooker.

Cook, covered, on high for 4 hours or low for 8 hours.

When ribs are very tender, but not quite falling apart, carefully remove them from the slow cooker to a large baking sheet. Brush with barbecue sauce.

Place under the broiler until the sauce has thickened and begun to caramelize, about 5 minutes. Keep a close eye as the sugar in the sauce can burn quickly.

Serve immediately.
Tips & Notes:
This recipe calls for apple cider – this is a drink, like apple juice. Do not use apple cider vinegar.
We love this with our Carolina BBQ sauce, but you can use whatever sauce you like best.
All slow cookers cook differently. The time is a guide – you may need more or less time depending on how hot your slow cooker runs.
Nutrition Information:
Calories: 302kcal (15%)| Carbohydrates: 15g (5%)| Protein: 21g (42%)| Fat: 18g (28%)| Saturated Fat: 6g (38%)| Cholesterol: 74mg (25%)| Sodium: 1153mg (50%)| Potassium: 391mg (11%)| Fiber: 1g (4%)| Sugar: 11g (12%)| Vitamin A: 926IU (19%)| Vitamin C: 1mg (1%)| Calcium: 52mg (5%)| Iron: 1mg (6%)