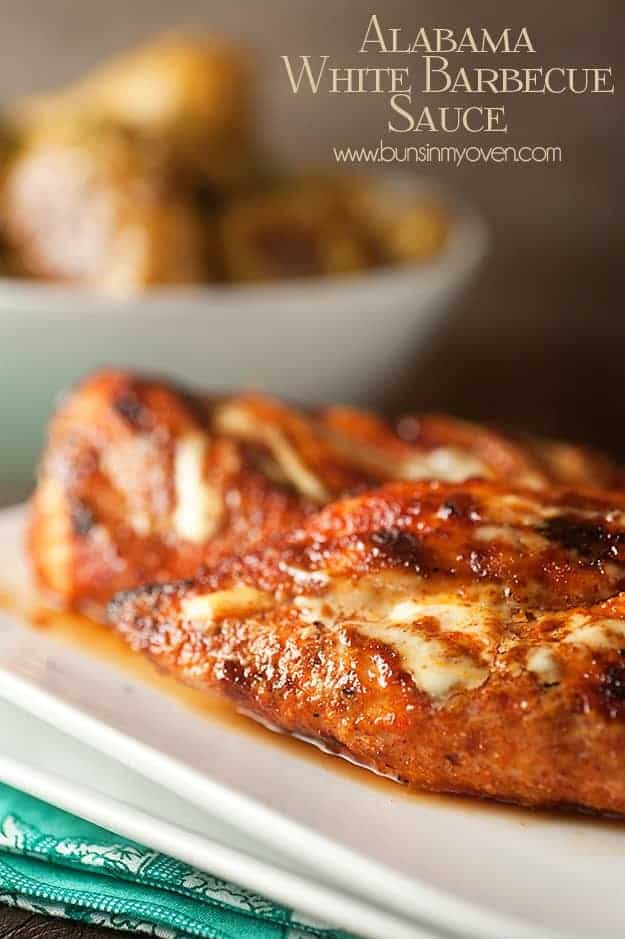 Can we talk about how our kids are all growing up and no matter how much we yell at them about it, they don't seem to knock it off?
Not fair.
This growing up business does have it's perks though.
This weekend my husband and I went to see an adult movie (The Edge of Tomorrow…meh, it could have been better) and sent the kids to another theatre to see an animated film (How To Train Your Dragon 2…they loved it). They were in a dark theatre. All alone. Without adult supervision.

So, naturally, I was super excited when we made the decision to do this. I was going to see a not-animated movie and omg, it was going to be awesome. Freedom! And then we actually parted ways with the kids and I immediately started freaking out.
My babies. They were alone. Out in the world. Where other humans could get them or what if they spilled their popcorn and didn't know how to handle it or what if they had to use the restroom and couldn't find the theatre they were supposed to be in and wandered into something else and were lost forever and and and…There were so many possibilities that basically resulted in Bad Things For Everyone.
I swear I'm not a helicopter parent. I'm not overly cautious, I don't freak out, I'm really quite chill. Until it comes time to leave my kids alone without me and then I feel very helicpoter-y indeed.
Parenting is hard, man.
Lucky for you, this chicken is the opposite of hard! Have you ever had Alabama white sauce? It's Alabama's version of barbecue sauce and it's utterly divine. It's tangy and a little sweet and very creamy. We adore it and tend to use it on everything. It's great on fries, makes a perfect chip dip, is fabulous on all kinds of meat, and even works well on steamed broccoli, but don't tell anyone I said that. We keep mason jars
of this sauce in the fridge at all times!
I rubbed my chicken in a traditional barbecue rub and then basted it in the white sauce as it grilled. So good, so juicy, so flavorful! You can make your own dry rub or be a cheater pants and buy some
.
Give this one a try and let me know what you think!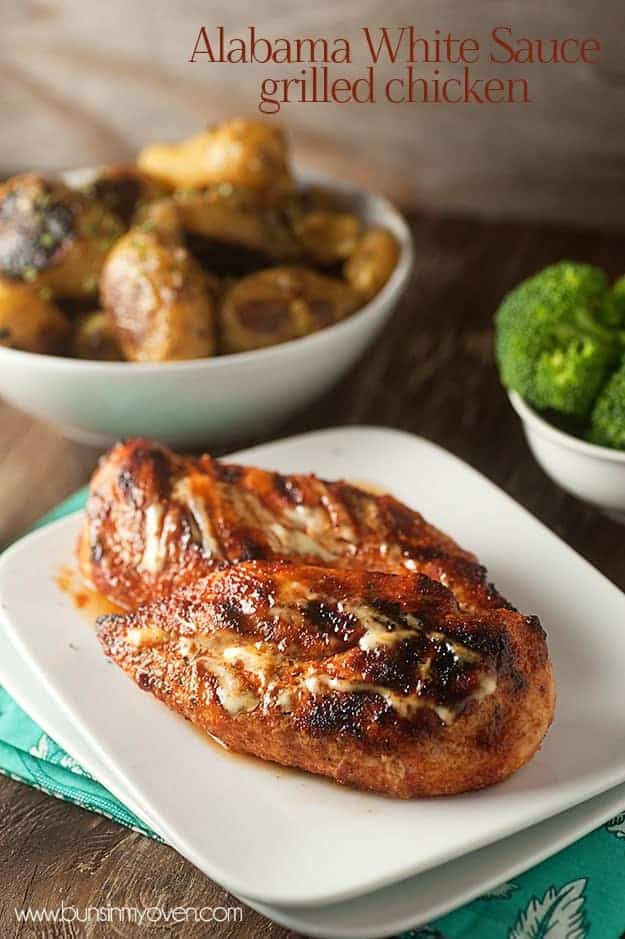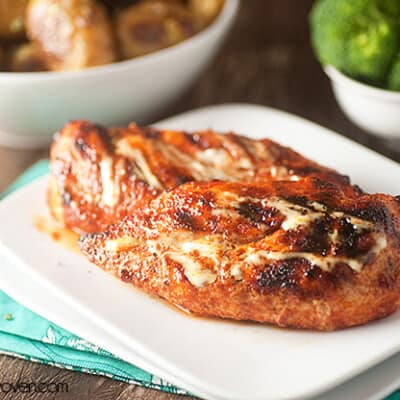 Alabama White Sauce Grilled Chicken
Have you ever had Alabama white sauce? It's Alabama's version of barbecue sauce and it's utterly divine. It's tangy and a little sweet and very creamy.

Prep5 minutes
Cook10 minutes
Total15 minutes
Ingredients
For the white sauce:
1/2 cup mayonnaise
2 tablespoons buttermilk
2 tablespoons vinegar
1 teaspoon prepared yellow mustard
1/2 teaspoon ground pepper
1/4 teaspoon salt
1/4 teaspoon sugar
1/4 teaspoon garlic salt
For the chicken:
1 pound boneless skinless chicken breasts
1/4 cup barbecue dry rub
Instructions
To prepare the white sauce, combine all of the ingredients in a bowl or mason jar. Stir to combine and refrigerate for at least 30 minutes before using.

To make the chicken, preheat the grill to 400 degrees.

Coat the chicken in the barbecue dry rub. Place the chicken on the grill and cook for 3 minutes.

Turn and brush with the white sauce. Cook for 3 more minutes. Turn and brush with the sauce again.

Continue turning and coating every 3 minutes until the chicken is cooked through, about 10 minutes total.

Serve the extra sauce on the side.
Nutrition Information:
Calories: 341kcal (17%)| Carbohydrates: 3g (1%)| Protein: 25g (50%)| Fat: 24g (37%)| Saturated Fat: 4g (25%)| Cholesterol: 85mg (28%)| Sodium: 623mg (27%)| Potassium: 459mg (13%)| Sugar: 1g (1%)| Vitamin A: 165IU (3%)| Vitamin C: 1.9mg (2%)| Calcium: 58mg (6%)| Iron: 2mg (11%)
Need some other tasty chicken recipes?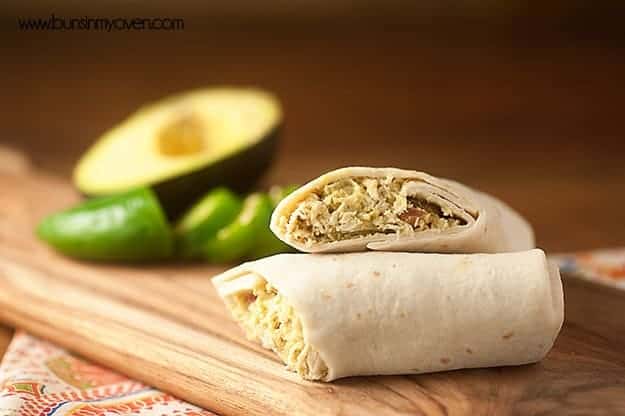 Pineapple Guacamole Chicken Wraps