ALABAMA WHITE SAUCE CHICKEN is a quick, flavorful grilled chicken that has two types of barbecue – a dry rub and a white barbecue sauce! So much flavor packed in these juicy chicken breasts!
Grilled chicken is a must for us, all summer long and you know we don't want boring chicken around here! This sauce for grilled chicken seriously makes for the best summer meal!
Ever heard of Alabama White Sauce before? It's a type of barbecue sauce, but instead of being tomato based, it's mayo based!
And no, friends. It's not ranch dressing. Someone inevitably LOOKS at it and thinks that. But when you TASTE it, you'll see the differences.
Make the white sauce first:
This post contains affiliate links. As a member of Amazon and other affiliate programs I earn from qualifiying purchases.
Alabama White Sauce has a handful of ingredients, but they mix together quickly and easily.
Put the buttermilk, mayo, yellow mustard and vinegar in your bowl and stir them all together. Feeling fancy? Try this with homemade mayonnaise!
Now add your pepper, salt, sugar, and garlic salt and stir again.
Boom, your sauce is done! Now put it in one of your mason jars or cover the bowl and put it in the fridge while you start working on the chicken. Full sauce recipe at the link above or down in the recipe card!
How to cook the chicken
As always preheat your grill. In this case try to get it up to 400 degrees F.
Now but a barbecue dry rub on your chicken. We highly recommend using our barbecue dry rub. It's so simple to throw together.
Just rub the seasoning all over the chicken. You want to coat it good.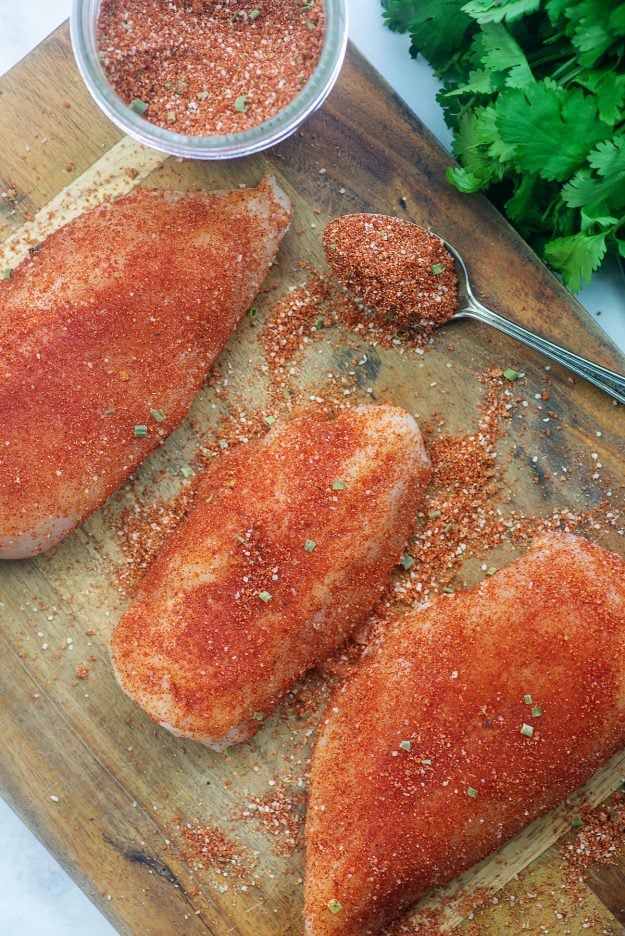 Place your chicken on the grill and cook for 3 minutes, then flip.
Once you've flipped the chicken, you'll brush it with a bit of the white sauce.
Keep cooking, flipping, and basting every 2-3 minutes until the chicken is cooked through.
You can tell the chicken is done when the internal temp is 165 deg F. I find this thermopen super easy to use.
Recipe Hacks
You can mix all your sauce ingredients directly in the jar if you are careful while stirring. No need to mix them in a bowl first.
Use a store bought dry rub if you're in a rush.
If you don't have buttermilk, regular milk will work fine, just add an extra splash of vinegar.
We haven't tried using Miracle Whip in place of mayo, but I think it'd work. Just skip the sugar in the recipe.
Helpful Tip!
Alabama Chicken Tips
Be sure to pour just enough white sauce to baste the chicken into a separate jar or bowl for basting, so as not to contaminate the entire container of white sauce with raw chicken.
Chicken should be cooked to an internal temperature of 165 degrees.
This makes the perfect sauce for grilled chicken, but it's also delicious drizzled over pulled pork or for dipping French fries.
More grilled chicken recipes:
Need some other tasty chicken recipes?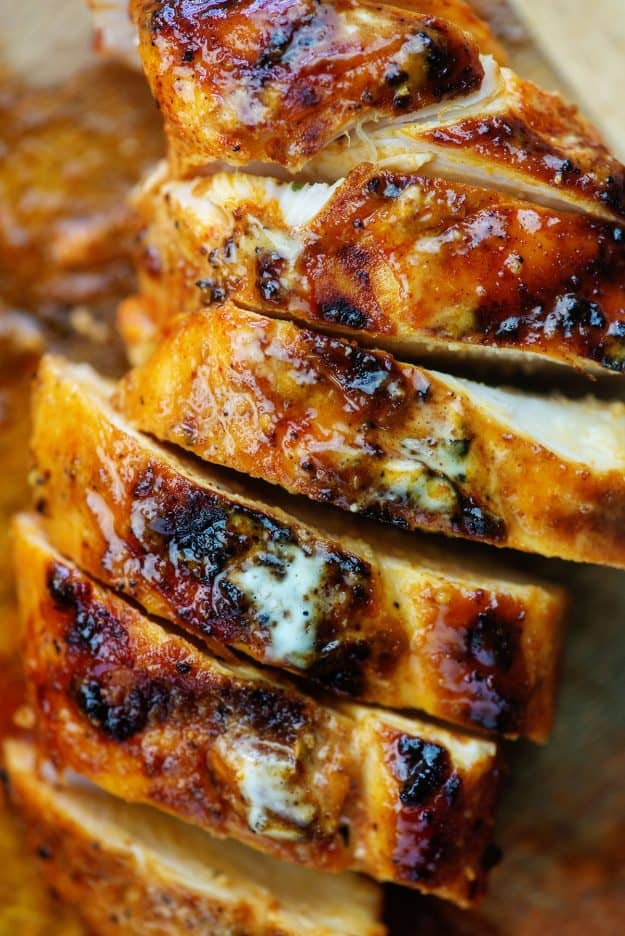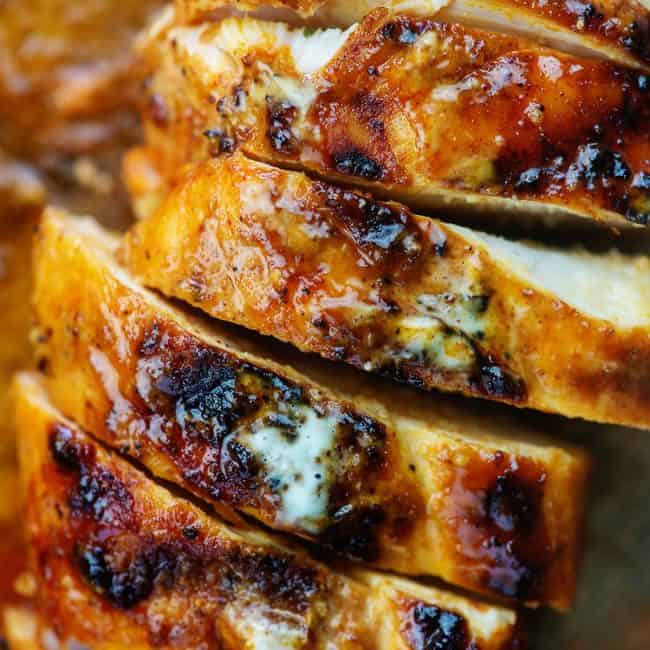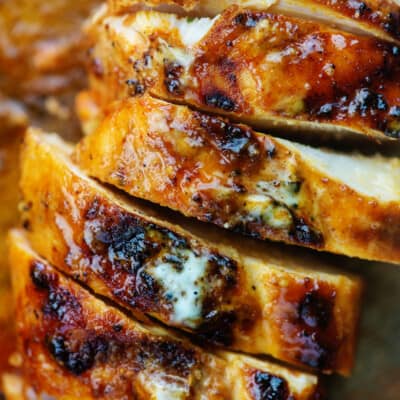 Alabama White Sauce Grilled Chicken
Alabama White Sauce adds loads of flavor to these grilled chicken breasts.
Prep5 minutes
Cook10 minutes
Total15 minutes
Ingredients
For the white sauce:
1/2 cup mayonnaise
2 tablespoons buttermilk
2 tablespoons vinegar
1 teaspoon prepared yellow mustard
1/2 teaspoon ground pepper
1/4 teaspoon salt
1/4 teaspoon sugar
1/4 teaspoon garlic salt
Instructions
To prepare the white sauce, combine all of the ingredients in a bowl or mason jar. Stir to combine and refrigerate for at least 30 minutes before using.

To make the chicken, preheat the grill to 400 degrees.

Coat the chicken in the barbecue dry rub. Place the chicken on the grill and cook for 3 minutes.

Turn and brush with the white sauce. Cook for 3 more minutes. Turn and brush with the sauce again.

Continue turning and coating every 3 minutes until the chicken is cooked through, about 10 minutes total.

Serve the extra sauce on the side.
Tips & Notes:
Be sure to place the sauce you'll be using for basting in a small bowl. Do not dip the basting brush into the full container of sauce or it will become unusable due to the raw chicken.
Nutrition Information:
Calories: 341kcal (17%)| Carbohydrates: 3g (1%)| Protein: 25g (50%)| Fat: 24g (37%)| Saturated Fat: 4g (25%)| Cholesterol: 85mg (28%)| Sodium: 623mg (27%)| Potassium: 459mg (13%)| Sugar: 1g (1%)| Vitamin A: 165IU (3%)| Vitamin C: 1.9mg (2%)| Calcium: 58mg (6%)| Iron: 2mg (11%)
This recipe was originally published in June 2014. It was updated with new photos in May 2020.