These OVEN FRIED CHICKEN TENDERS are nice and crispy due to the Panko bread crumbs and the fact that they are fried right in the oven in a bit of melted butter. These are kid friendly and ready in about 30 minutes.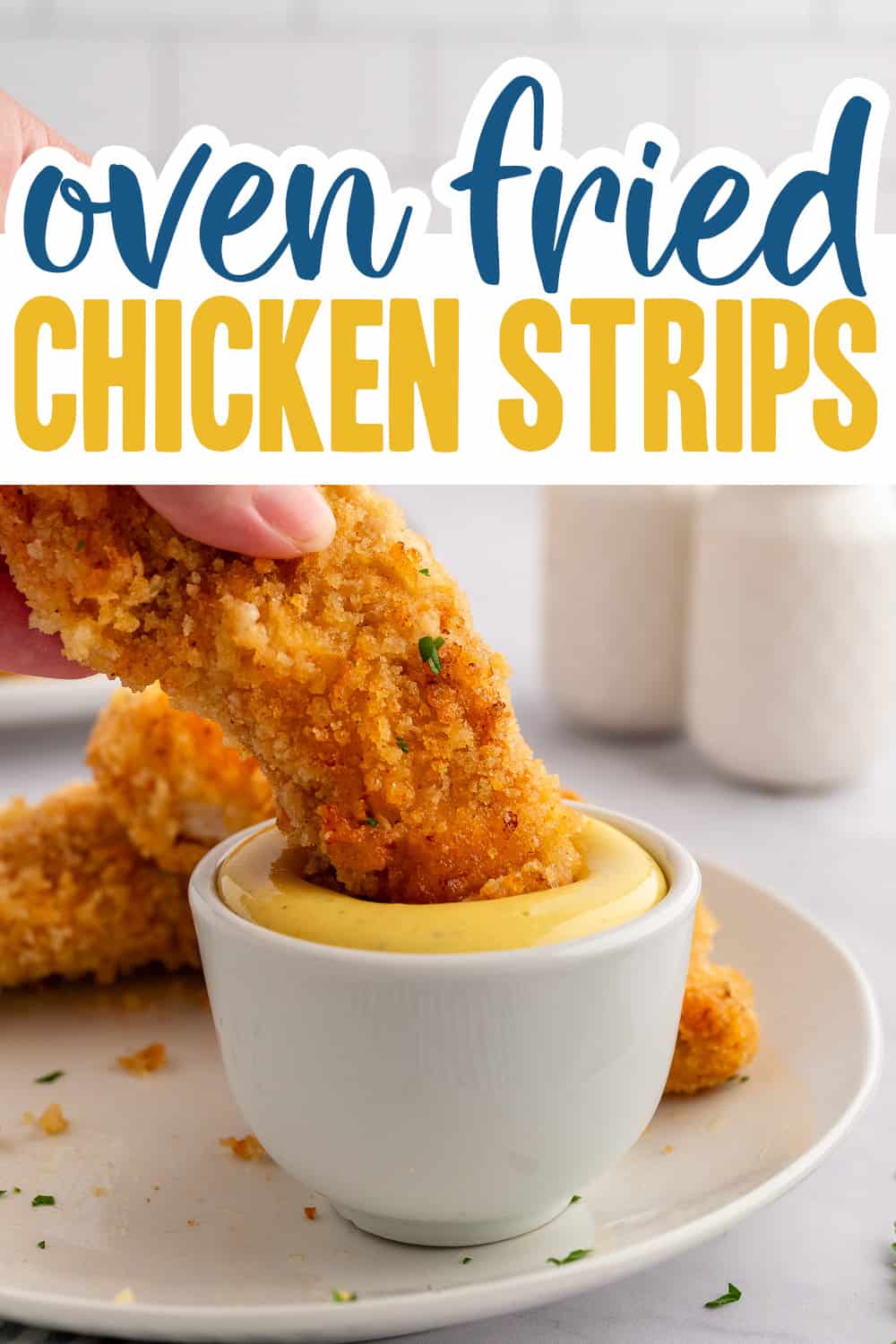 I'm the type of person that goes in spurts with foods.
For example, I never order chicken strips at a restaurant…until I do. And then that's all I order for months at a time until suddenly, nope. I never order chicken strips at a restaurant.
Anyone else do that?
I'm actually currently on a big dipping sauce spurt. I don't care what the sauce is or what the food to dip it in is, but if I spot an array of condiments, I've gotta have it.
Current favorites include my honey mustard recipe, this keto ranch dressing (it is seriously the best ranch ever!), and fry sauce. Oh, and hello bourbon BBQ sauce, tartar sauce, Alabama white sauce, Carolina BBQ sauce.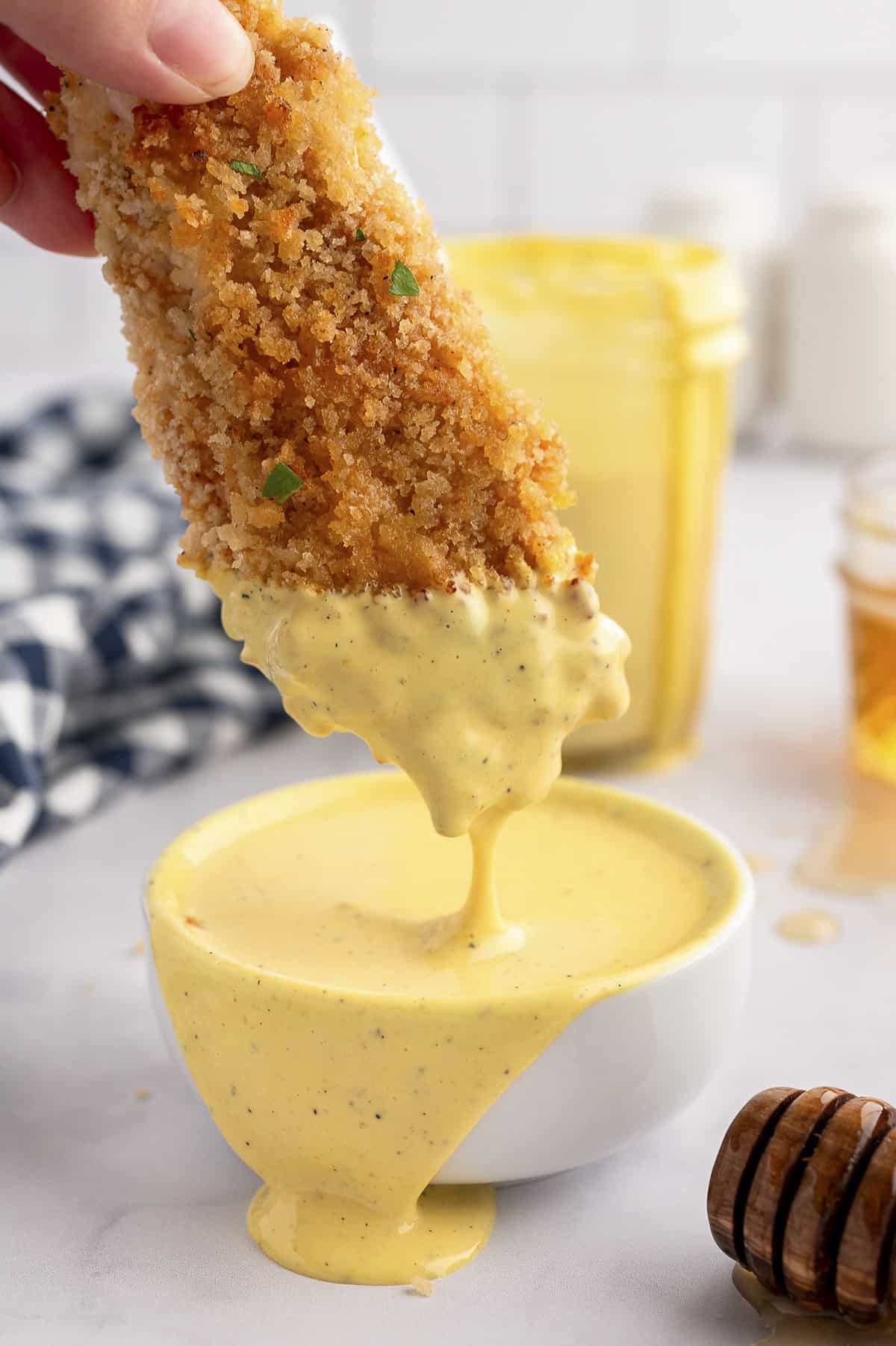 I don't want to give the impression that these oven fried chicken tenders aren't good on their own, because oh man, they really are. The coating gets SO crispy right in the oven with minimal work from you and the chicken is perfectly cooked and juicy, and these are just begging you to make them for your family.
It's just a bonus that chicken strips are made to be dunked in any and all sauces you can get your hands on. 😉
These air fryer chicken tenders are looking pretty good too!
Oven Fried Chicken Tenders Ingredients:
Chicken – You can either use a couple of chicken breasts that you've cut into strips or you can purchase chicken tenderloins. Both work great!
Panko Bread Crumbs – Panko is a perfect crispy fried chicken breading!
Butter – This is pretty important for getting that delicious crispy fried texture and flavor. Don't skimp.
Seasoning – We keep it simple here, but you can get as creative as you like with these baked chicken strips!
How To:
This post contains affiliate links. As an Amazon associate and member of other qualifying programs, I earn from qualifying purchases.
Coating: I call these oven fried, because they taste like deep fried goodness thanks to my secret ingredient, but you honestly just toss them in the oven and walk away. The best!!
First, you'll want to bread your chicken by dipping it first in the flour, then the egg, and finally the Panko.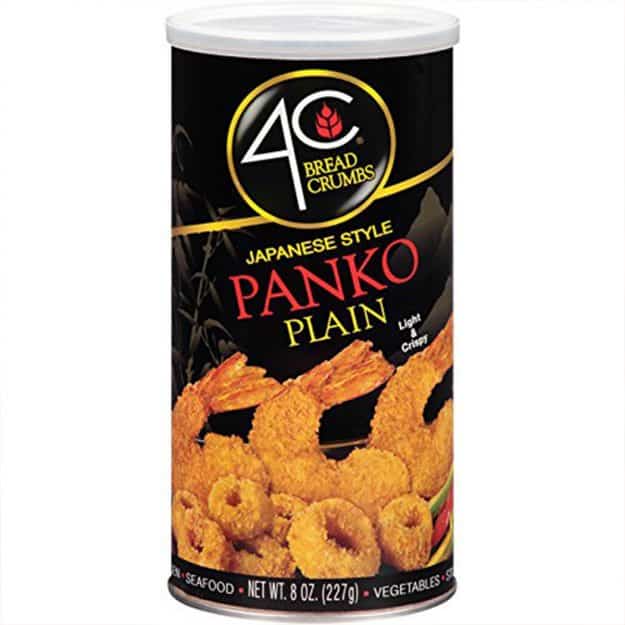 Panko is a Japanese bread crumb that is light, airy, and crispy. It can be found in most any grocery store. We highly recommend using Panko over traditional bread crumbs in any breading recipe where you want a crispy finished product.
The Secret Ingredient: You ready for the key to making these baked chicken strips taste like they were fried?
Butter. <— You knew I had to add butter, right? 😉
Just melt a stick of butter and coat the bottom of a rimmed sheet pan with it. The chicken strips are going to cook up really nicely in all that butter. It's how you make chicken strips in the oven taste like they came from your favorite restaurant.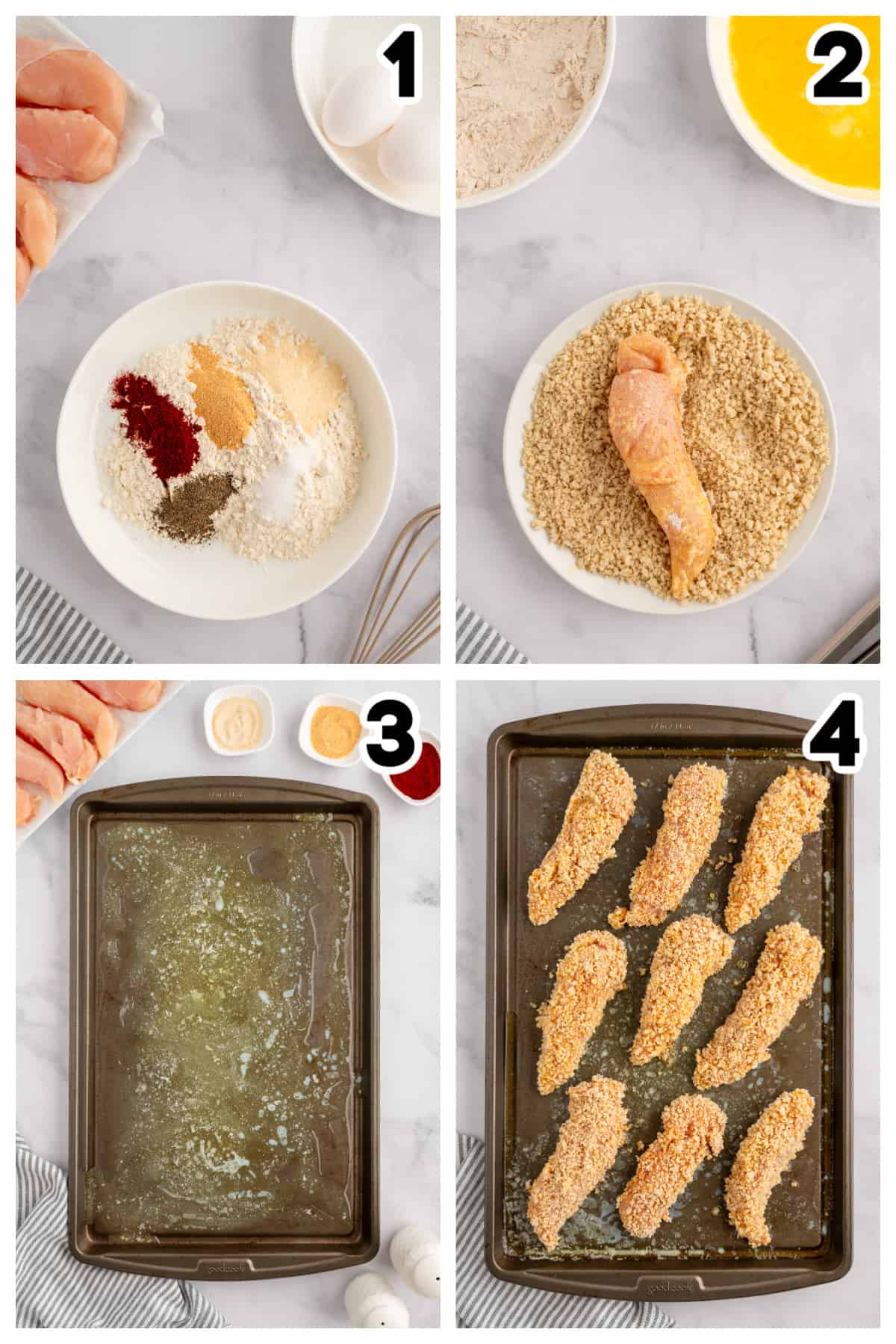 Bake: Pop your chicken right in that liquid gold and pop it all in the oven.
I bake these for 10 minutes, flip, and then bake for another 10 minutes until they appear crispy fried and golden!
Tip: I know this is a baked fried chicken recipe, but you could easily turn this into an actual fried chicken recipe! Or even better, an air fried recipe! Just follow all the steps to coat the chicken in the Panko mix and then cook in a deep fryer or air fryer with your choice of oil.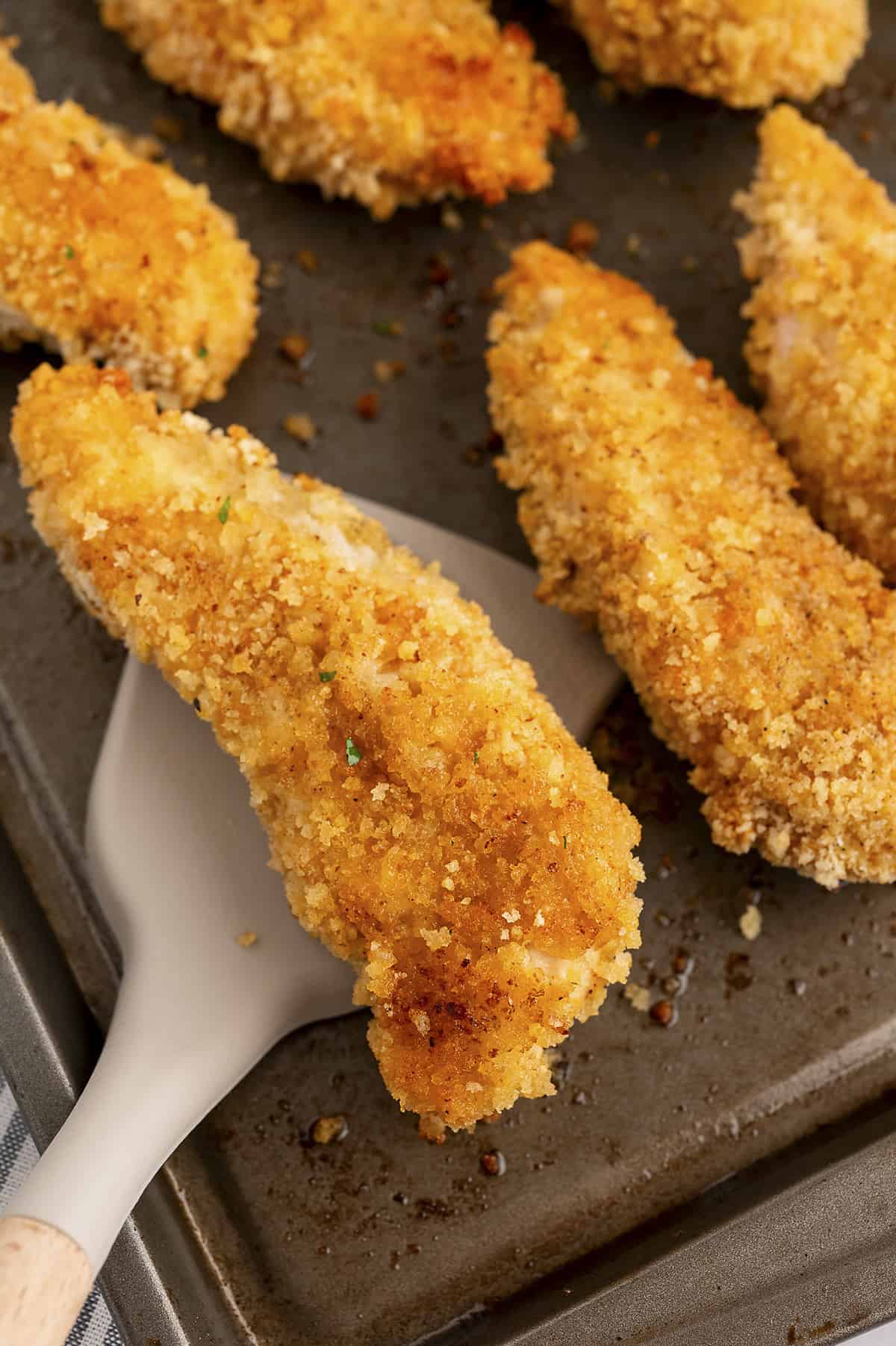 What To Serve With Baked Chicken Strips:
Obviously, you'll want one (or two…or thirty) of the dipping sauces I mentioned up above, but beyond that there are so many options!
My kiddos love when I make chicken strips and this crockpot hashbrown casserole. It's hard to go wrong with cheesy potatoes and I love how easy they are in the crockpot.
Loaded mashed potatoes, ranch roasted potatoes, and baked potato salad are more tater favorites around here.
It's impossible to go wrong with this crock pot macaroni and cheese and broccoli cheese casserole is a nice way to get some veggies in the fam.
Oven Baked Chicken Strips
Crispy, crunchy, and so dang easy to make. These chicken tenders are a family favorite. Click for the recipe for the most perfect honey mustard dressing recipe! It's the best thing to dip those crispy strips in!
Prep10 minutes
Cook20 minutes
Total30 minutes
Ingredients
1.75 pounds boneless, skinless chicken breasts or tenderloins
1 cup flour
1 teaspoon smoked paprika
1 teaspoon garlic powder
1 teaspoon onion powder
1 teaspoon salt divided
1 teaspoon pepper divided
2 large eggs
2 cups panko bread crumbs
8 tablespoons butter
Instructions
Preheat oven to 400 degrees. Melt the butter and pour it on to a large rimmed baking sheet, such as a sheet pan.

If using chicken breasts, slice into strips, each about 1 inch wide.

Add the flour, paprika, garlic powder, onion powder, and half of the salt and pepper to a shallow dish. Add the eggs to a second shallow dish and beat well. Add the panko and remaining salt and pepper to a third shallow dish.

Dip the chicken strips in the flour, then egg, then Panko. Press the strips into the Panko to ensure the chicken is evenly coated.

Add the chicken strips to the pan with the melted butter.

Bake for 10 minutes and then flip each piece of chicken over. Continue baking for 10-15 minutes or until the chicken is cooked through.
Tips & Notes:
The butter is what gives these a fried flavor and texture, so don't skip out on it. Bread crumbs will work in place of panko, but the end result will not be nearly as crispy.
Nutrition Information:
Calories: 660kcal (33%)| Carbohydrates: 46g (15%)| Protein: 50g (100%)| Fat: 30g (46%)| Saturated Fat: 16g (100%)| Cholesterol: 187mg (62%)| Sodium: 1232mg (54%)| Potassium: 826mg (24%)| Fiber: 2g (8%)| Sugar: 2g (2%)| Vitamin A: 759IU (15%)| Vitamin C: 2mg (2%)| Calcium: 76mg (8%)| Iron: 4mg (22%)
This post was originally published in November of 2013. It was updated with new photos in February of 2020.