September 4, 2018
Oven Fried Chicken Strips
These baked chicken strips are nice and crispy due to the Panko bread crumbs and the fact that they are fried right in the oven in a bit of melted butter. My oven fried chicken tenders are a kid-friendly recipe that will be ready in just 30 minutes!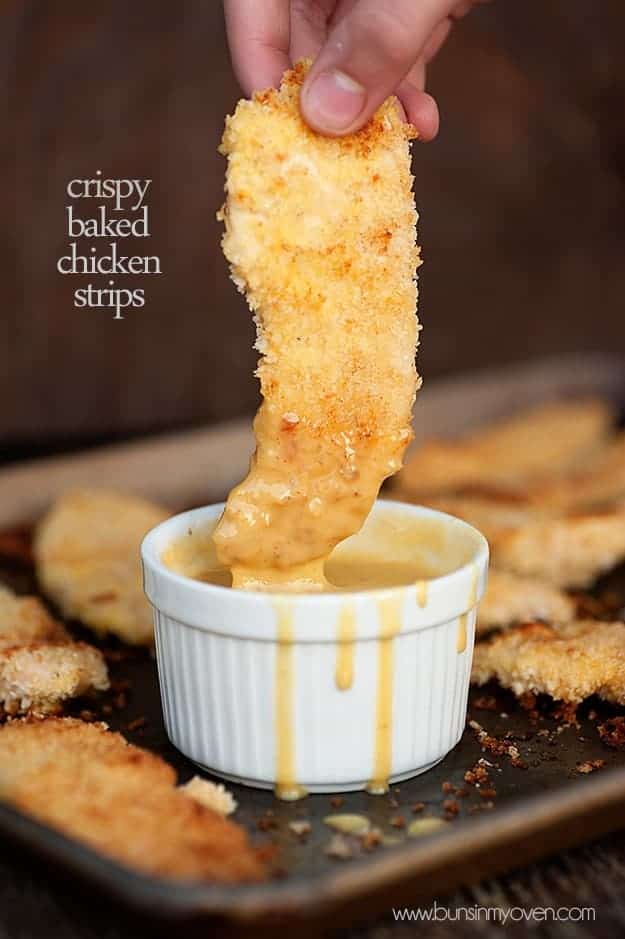 Let's talk about a subject that is near and dear to my heart: sleep.
Why am I feeling such strong emotions about sleep right this minute? Because it's 5am and I've already been awake for 2 hours. My dog woke me at 3am for a water bowl refill and from that point on, I thought about all. the. things. The bad things, the good things, the boring things, and the exciting things. I had thoughts and then my thoughts had thoughts and then there were more thoughts and eventually I had so many thoughts that I just gave up on the idea of sleep ever again. *sob*
Anyway, while I was thinking all of those thoughts instead of doing my usual nightly routine of sleeping, I was also doing a lot of tossing and turning.

I dunno about you, but I sleep with two pillows. One pillow goes under my head and one pillow is treated like a cuddly stuffed animal and spooned all night long. The spooner pillow has some rules. First, it must be under the sheets with me so that my arm doesn't get cold while hugging the pillow. Second, the opening in the pillow case must be pointed down, away from my face, just in case a bug crawls out of my pillow. I'm not sure why I think it would be better to have a bug crawl out of my pillow case and into my cocoon of blankets, but for some reason I prefer that then the idea of a bug crawling out of my pillow case and onto my head.
Also, no. I have no idea why I worry about bugs crawling out of my pillow case. It's probably not the most rational fear, but it's one that I take very seriously, as you can see.
So, anyway, while I was tossing and turning last night my pillow had to keep traveling with me so that it was in optimal spooning position. This is quite a production because I have to pull the pillow out from under the sheet, lift up and over, and then shove it back into the sheets. At one point, while it was in the "up and over" stage I accidentally dropped it and it landed right on my husband's head.
That was the point that I gave up on sleeping altogether and just got up for the day. At 5am. Like a normal adult who doesn't work for the internet and is required to wear real clothes and shoes be in the office at a reasonable time. Being a normal adult and waking up before 8am is really stupid, you guys. You should really rethink things if you're currently not in a position to sleep til 8 or 9 on a daily basis.
Anyway, those 464 words were there to tell you that hey, I'm tired. These oven fried chicken strips are the perfect meal for when you're tired, because they are easy and no one in their right mind is going to complain about crispy, homemade chicken strips. No one. Not even my children, who let's face it, generally make it their mission to complain about every thing possible.
These chicken tenders can either start with a whole chicken breast that you cut into strips yourself, or you can buy chicken tenderloins. Either work just fine!
You'll just coat them in a crispy mixture of Panko and seasoning, place them on a sheet pan of melted butter (because BUTTER!), bake, flip, and bake a little longer. Everyone goes nuts for this chicken recipe!
Be sure to check out my video above for the how to and don't forget to subscribe to my YouTube channel!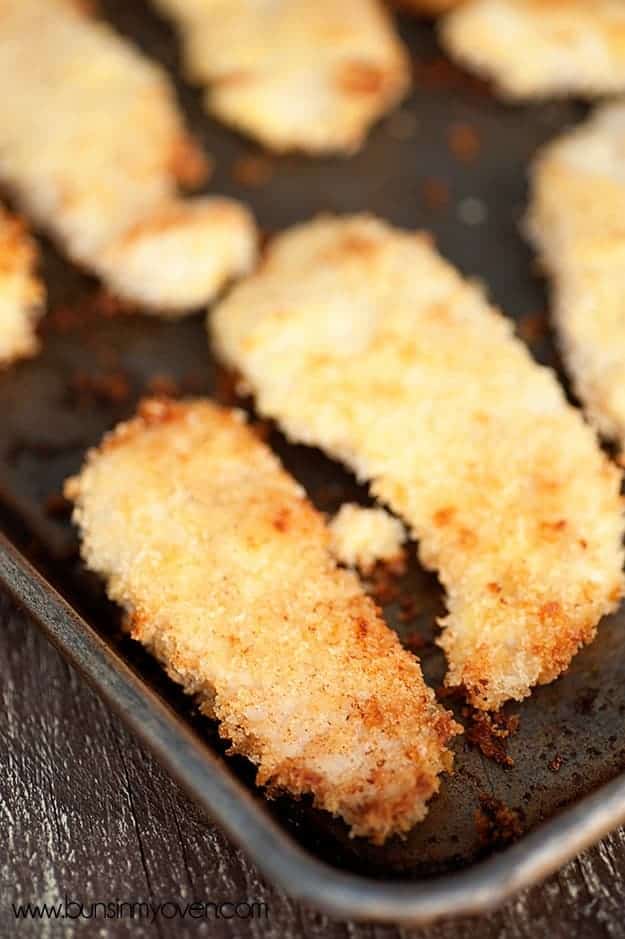 Oven Fried Chicken Strips
Servings: 4 servings
Course: Main Course
Cuisine: American
Keyword: comfort food, kid-friendly recipes, weeknight dinner recipes
Calories: 660 kcal
Ingredients
1.75 pounds boneless, skinless chicken breasts
2 cups panko bread crumbs
1 cup flour
8 tablespoons butter
2 teaspoons salt divided
1 teaspoon pepper divided
Instructions
Preheat oven to 400 degrees. Melt the butter and pour it on to a large rimmed baking sheet, such as a sheet pan.

Slice the chicken breasts into strips, each about 1 inch wide.

Add the Panko and half of the salt and pepper to a shallow dish, such as a pie plate. Add the eggs to a second shallow dish and beat well. Add the flour and remaining salt and pepper to a third shallow dish.

Dip the chicken strips in the flour, then egg, then Panko. Press the strips into the Panko to ensure the chicken is evenly coated.

Add the chicken strips to the pan with the melted butter.

Bake for 10 minutes and then flip each piece of chicken over. Continue baking for 10-15 minutes or until the chicken is cooked through.
Nutrition Facts
Oven Fried Chicken Strips
Amount Per Serving
Calories 660 Calories from Fat 261
% Daily Value*
Fat 29g45%
Saturated Fat 15g94%
Cholesterol 187mg62%
Sodium 1813mg79%
Potassium 826mg24%
Carbohydrates 45g15%
Fiber 2g8%
Sugar 1g1%
Protein 49g98%
Vitamin A 760IU15%
Vitamin C 2.4mg3%
Calcium 76mg8%
Iron 3.7mg21%
* Percent Daily Values are based on a 2000 calorie diet.
Nutrition Disclaimer: All information presented on this site is intended for informational purposes only. I am not a certified nutritionist and any nutritional information shared on bunsinmyoven.com should only be used as a general guideline.
Looking for more weeknight chicken recipes?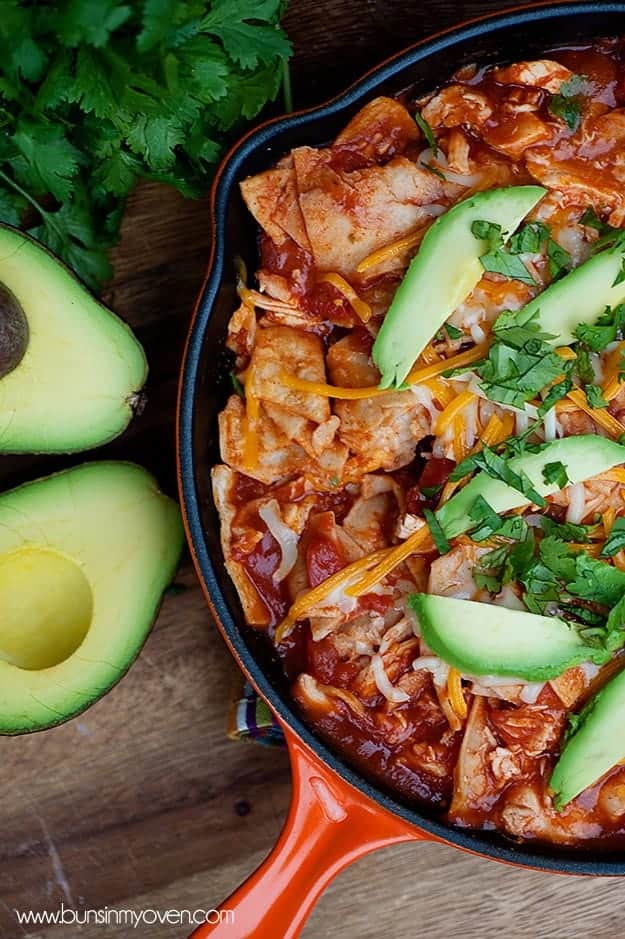 This Chicken Enchilada Skillet is one of the quickest meals I've ever made and it tastes just like a traditional enchilada without all of the work!
I love Mexican flavors and this Chicken Fajita Sandwich fits the bill!
These Chicken and Bacon Pockets are impressive looking, but totally easy to make!
This post contains affiliate links.