Wondering how to bake chicken legs? I've got you covered with this easy baked drumsticks recipe.
My children, man. It's like they live for pushing my buttons.
They both love fried chicken. Just not from restaurants. Only from home.
I mean, I can relate. Fried chicken from home is pretty much always better than fried chicken from a drive through joint. But, have you guys ever fried chicken at home? It's messy and it takes for.ev.er.
I keep the kids happy with my oven fried chicken legs.
It's easy to the max. This is basically just a riff on my oven baked chicken strips recipe that you guys all love like crazy.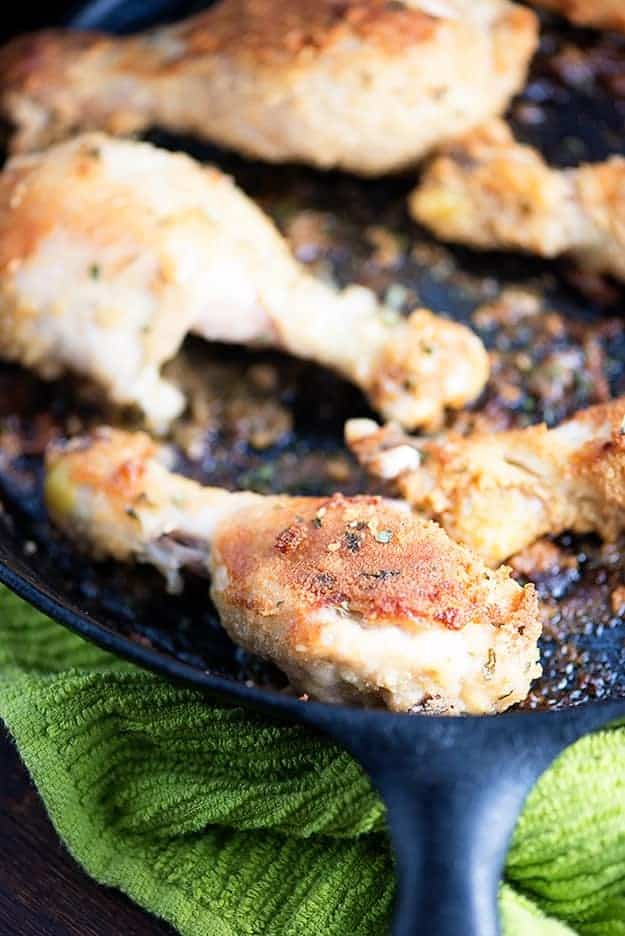 This is super easy to make, though it might feel a little weird to coat your drumsticks in mayonnaise.
I promise, these don't taste like mayo. Not at all!
The mayo keeps things super moist and helps the cracker crumbs stick to the chicken.
There is so much flavor in these oven fried chicken legs. You're going to love this recipe!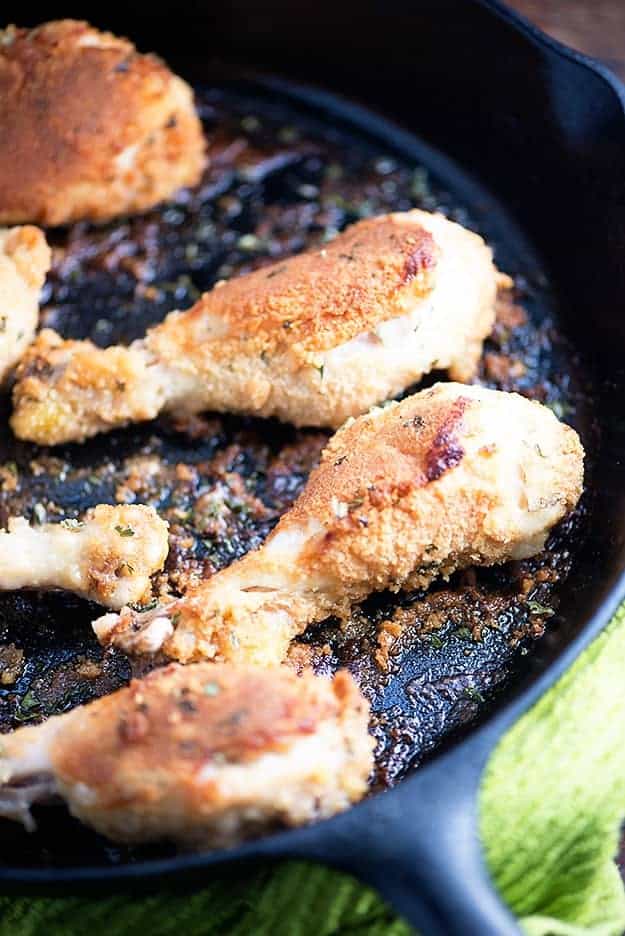 .
Remember my baked ranch chicken? The one with the cheese? Yeah. It's super popular and gets rave reviews…and it's also coated in mayo.
So, you coat your drumsticks in mayo and then toss them in some finely ground butter crackers. I use my food processor to crush the crackers, but a blender would work as well.
From there you just coat your chicken by shaking it all up in a bag and then place it on a hot, buttered cast iron skillet or cookie sheet.
The key to this recipe is the buttery pan. You need some fat to make these taste fried and butter is where it's at!
You can either add a stick of butter to your pan and pop it in your oven while it preheats to melt or you can melt it in the microwave and just pour it in. If you melt it in the oven, just keep an eye on it. You don't want it to burn.
Chicken legs in the oven are done in about 40 minutes, making this recipe perfect for a busy night. Hope your kids enjoy this drumsticks recipe as much as mine do!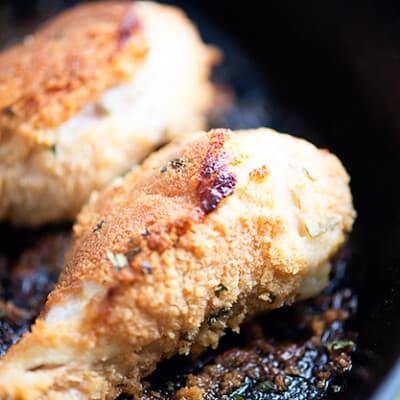 Oven Fried Buttery Chicken Legs
These oven fried chicken legs are so easy to make and they turn out crispy on the outside and juicy on the inside every time!
Prep10 minutes
Cook40 minutes
Total50 minutes
Ingredients
4 tablespoons butter
2 pounds drumsticks
1/3 cup mayonnaise
2 tablespoons milk
1 1/2 cups ground butter crackers
1 teaspoon garlic powder
1/4 teaspoon salt
Instructions
Preheat the oven to 425 degrees. Place the butter in a cast iron skillet or cookie sheet and place in the oven to melt.

Meanwhile, stir together the mayonnaise and milk in a shallow dish.

Add the cracker crumbs, garlic powder, and salt to a large zip bag and shake to combine.

Coat the chicken in the mayonnaise mixture and place in the bag.

Seal the bag and shake to coat the chicken in the cracker crumbs.

Remove the pan from the oven and place the chicken in the melted butter.

Bake for 20 minutes and then flip the chicken over.

Continue baking for 15-20 more minutes or until the chicken reaches 160 degrees.
Nutrition Information:
Calories: 391kcal (20%)| Carbohydrates: 10g (3%)| Protein: 19g (38%)| Fat: 29g (45%)| Saturated Fat: 9g (56%)| Cholesterol: 118mg (39%)| Sodium: 482mg (21%)| Potassium: 256mg (7%)| Sugar: 1g (1%)| Vitamin A: 280IU (6%)| Calcium: 41mg (4%)| Iron: 1.3mg (7%)