August 8, 2018
Chicken and Rice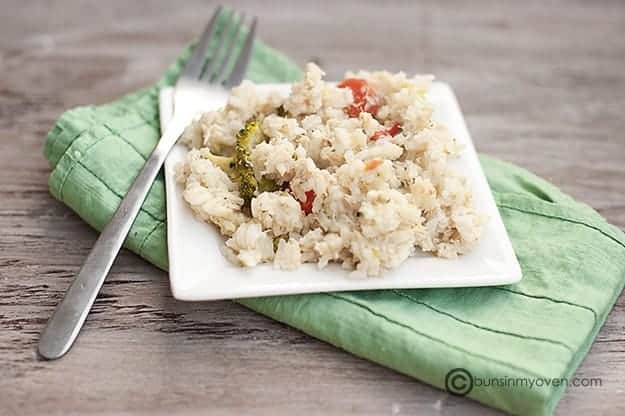 My grandma used to make the most fabulous chicken and noodles. It wasn't a soup, but more of a thick noodley side dish. It was pretty much my favorite food of all time, with homemade noodles and tender chicken in this creamy broth concoction that was just downright delicious.
My grandma has Alzheimer's and can't remember any of her recipes at this point. She was an amazing cook, with all kinds of fabulous Southern recipes that our family loved. I'll always regret that we didn't get them written down before she couldn't remember.
Luckily, she still remembers the more important things, like family.
I've tried recreating those noodles, but I just haven't figured it out yet. In the meantime, I make this Chicken and Rice. It's not the same, not at all, but it's got that same comfort food feel and it just seems like food that a grandma would make you.
It's perfectly delicious in it's own way.
I added carrots and broccoli this time around, mostly because I was too lazy to cook vegetables in another dish. It worked beautifully. If you have a bunch of veggie haters, go ahead and leave them out.
Like most comfort foods, this is even better the next day, which is good because it makes a huge pot full.
Go make your Grandma a big bowl of Chicken and Rice and give her a big hug from me.
Chicken and Rice
Servings: 12
Course: Main Course
Cuisine: American
Keyword: comfort food, family recipes, weeknight dinner recipes
Calories: 370 kcal
This chicken and rice recipe is pure comfort food. It's a family favorite in our house.
Ingredients
4 pounds whole chicken
4 carrots
3 stalks celery
2 heads broccoli
1 teaspoon ground black pepper
1 teaspoon salt
1 teaspoon oregano
1 teaspoon celery salt
3 cups long grain white rice
Instructions
Place chicken in a large stock pot and add enough water to cover the chicken. Add the celery, salt, pepper, oregano, and celery salt in a large stock pot, cover, and bring to a boil over medium heat.

Reduce heat and let simmer for 2 to 3 hours.

Remove chicken from the pan and set aside. Use forks (or your hands if you allow the chicken to cool a bit) to pull off small chunks of meat. Remove all of the meat from the chicken and set aside.

Remove and reserve the broth from the pan (or use another large stock pot).

Add 6 cups of broth, the chicken, and the rice back to the pot and simmer, covered, for 15 minutes.

Stir in the carrots and another cup of broth, cover, and simmer for 5 minutes more.

Continue to add broth, cover, and simmer for 5 minutes, until the rice is almost done.

When the rice is getting close and should only need another 5 minutes, add the broccoli and repeat the broth, cover, simmer routine. (I prefer my broccoli still have a bit of crunch to it, but you can add the broccoli sooner if you like it softer.)

Salt and pepper to taste.
Nutrition Facts
Chicken and Rice
Amount Per Serving
Calories 370 Calories from Fat 99
% Daily Value*
Fat 11g17%
Saturated Fat 3g19%
Cholesterol 54mg18%
Sodium 496mg22%
Potassium 601mg17%
Carbohydrates 46g15%
Fiber 4g17%
Sugar 2g2%
Protein 19g38%
Vitamin A 4175IU84%
Vitamin C 93.1mg113%
Calcium 82mg8%
Iron 1.9mg11%
* Percent Daily Values are based on a 2000 calorie diet.
Nutrition Disclaimer: All information presented on this site is intended for informational purposes only. I am not a certified nutritionist and any nutritional information shared on bunsinmyoven.com should only be used as a general guideline.
slightly adapted from She Wears Many Hats