This copycat Chick-Fil-A sauce recipe calls for just 3 ingredients and tastes like the real deal! Perfect for dunking waffle fries or nuggets!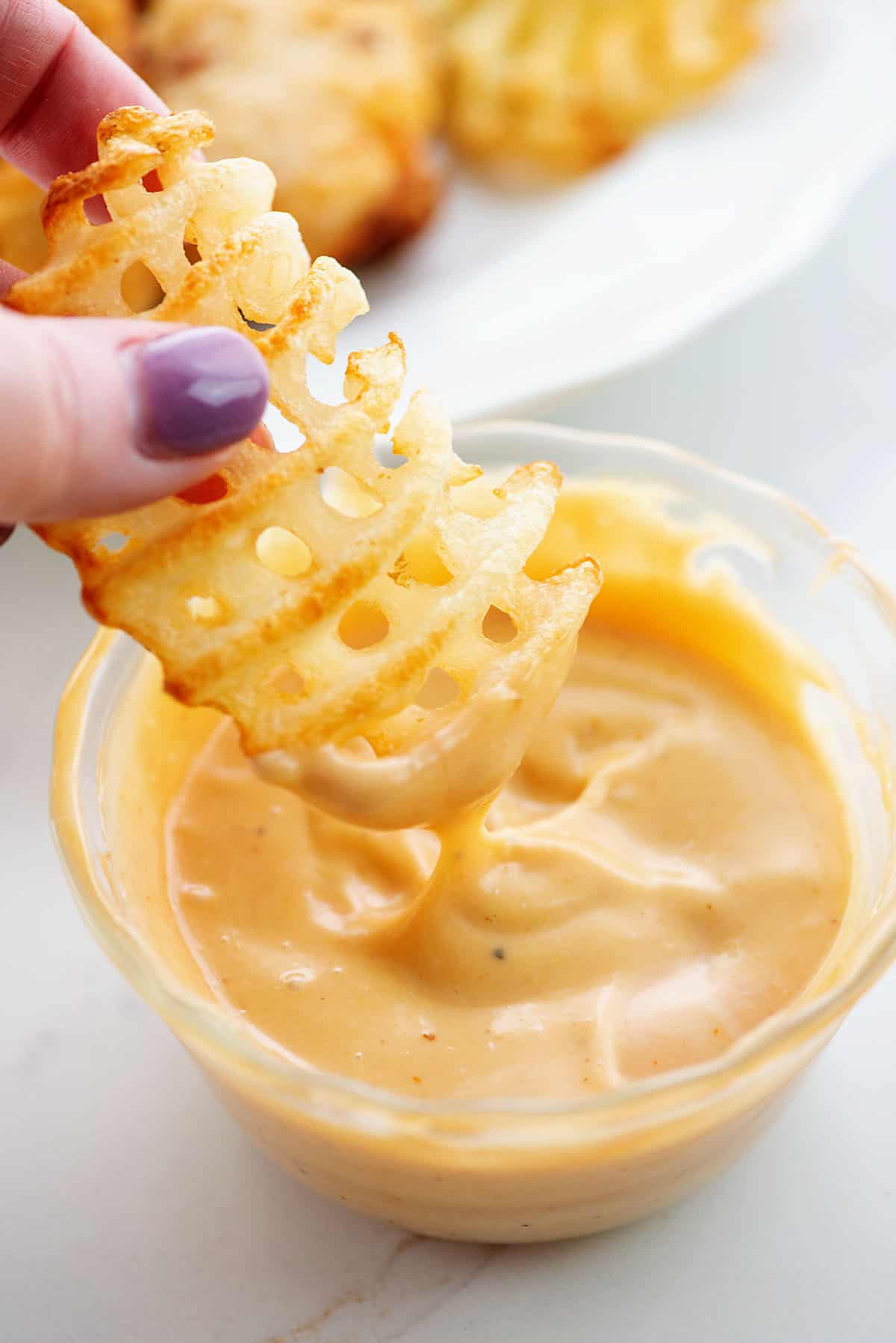 My hometown got their first Chick-Fil-A just a couple of years ago and since then the cars have been lined up down the road. Every day. All times of day. There is always a line.
Now, I love me some Chick Fil A nuggets (so much so that we made copycat Air Fryer Chick Fil A nuggets) and my husband is straight up obsessed with their waffle fries.
Soooo, it just made sense that we recreated that secret sauce too, right?
I know what you're thinking. Why make my own sauce when I can just go to Chick-Fil-A and get some for free? Like you can actually just ask for it, and they'll give it to you. For free!
Maybe you feel weird about going there just to get sauce, or maybe it's just Sunday. Whatever the reason, you can make your own copycat Chick-Fil-A sauce in about as much time as it takes to read this.
This homemade Chik Fil A sauce tastes just like the real deal and it's made with just 3 ingredients!
What's in Chick Fil A Sauce:
We went through the ingredient list on the Chick-Fil-A sauce bottle and it was pretty easy to figure out what was going on…
The main ingredient is soybean oil and there also eggs listed…there's your mayo!
After that we have sugar, BBQ sauce, and mustard, which brings us to our next 2 ingredients – smoky barbecue sauce and honey mustard!
They also add lemon juice to their sauce, but we didn't find we needed it since honey mustard has a fair amount of vinegar in it to give the sauce some zip. Feel free to squeeze in a bit of lemon juice if you think it needs it, though!
Substitions:
If you don't have honey mustard on hand, feel free to use our honey mustard recipe or just swap in 2 tablespoons of honey and 2 teaspoons of prepared yellow mustard. You may want to squeeze in a bit of lemon juice or add a tiny splash of vinegar, but taste your sauce and see what you think.
Recommended Brands:
We like to use Sweet Baby Ray's BBQ sauce, Kraft or Duke's mayonnaise, and Ken's Honey Mustard in this recipe.
A nice hickory smoked BBQ sauce also works well!
What We Love About This Recipe!
We have loads of condiments in our fridge and I love that I don't have to buy a bottle of Chick-Fil-A sauce now…I can just make it using what we always have on hand anyway! This sauce is sweet, creamy, and perfect for dipping nuggets or fries!
How to Make Chick-Fil-A Sauce:
Combine: Stir together the mayo, BBQ, and honey mustard.
Serve: No need to wait, just dig right in!
Store: This will last in a sealed jar or bowl for about a week.
FAQs:
How to store Chick-Fil-A sauce?
This copycat sauce recipe is probably best kept in something that can be well sealed like a mason jar. It should last for at least a week! The nice thing about this recipe is that it's so easy to make you don't really need to prepare a lot of it ahead of time, and the individual ingredients all keep well.
Can you buy Chick-Fil-A sauce at the store?
Many stores are carrying bottles of Chick-Fil-A sauce in the store next to the other condiments! It's tasty, but you can save money and use up the condiments already in your fridge by making our copycat recipe!
Serving Suggestions!
What to serve with Chick-Fil-A sauce:
Air Fryer Chick-Fil-A Nuggets
MORE HOMEMADE SAUCE RECIPES!
Copycat Chick Fil A Sauce
This copycat chick fil a sauce is made with just 3 simple ingredients and comes together in just a minute! Perfect for dipping nuggets and waffle fries!
Prep1 minute
Total1 minute
Ingredients
1/2 cup mayonnaise
2 tablespoon BBQ sauce
2 tablespoon honey mustard
Instructions
Add all ingredients to a small bowl or jar and stir well to combine.

Serve as a dip for waffle fries or chicken nuggets.
Tips & Notes:
This recipe is easily halved or doubled, depending on how many you're serving and how much sauce they like. If you don't keep honey mustard in your kitchen, you may swap in 2 tablespoons of honey and 2 teaspoons of prepared yellow mustard for the honey mustard. Store sauce in the fridge for up to one week.
Nutrition Information:
Serving: 2tablespoons| Calories: 147kcal (7%)| Carbohydrates: 4g (1%)| Protein: 1g (2%)| Fat: 14g (22%)| Saturated Fat: 2g (13%)| Polyunsaturated Fat: 8g| Monounsaturated Fat: 3g| Trans Fat: 1g| Cholesterol: 8mg (3%)| Sodium: 203mg (9%)| Potassium: 17mg| Fiber: 1g (4%)| Sugar: 3g (3%)| Vitamin A: 25IU (1%)| Vitamin C: 1mg (1%)| Calcium: 3mg| Iron: 1mg (6%)