This BBQ chicken flatbread is loaded with our favorite BBQ sauce, seasoned chicken, and cheese with an easy flatbread crust! Topped off with red onion and cilantro and perfect for a quick meal!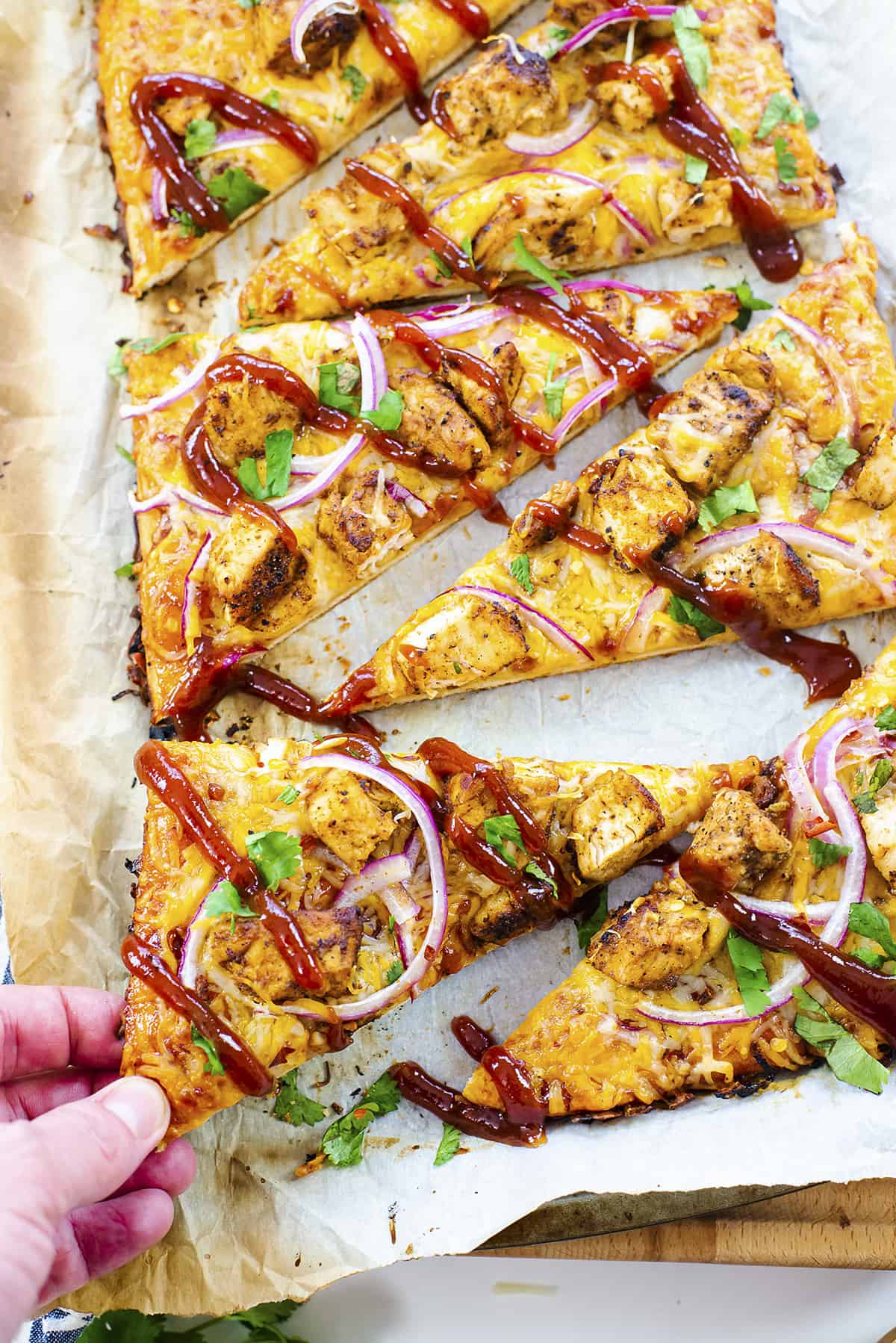 There's pizza…and then there's flatbread! What's the difference? The main difference is just in the dough used.
A traditional pizza crust is made with yeast – that's what helps it rise.
Flatbread is made without yeast, so it doesn't rise. Hence, the name flatbread!
Flatbread makes a great base for pizza for a couple of reasons – if you're in a hurry, this goes quick! If you're making pizza for one, they're usually the perfect size! If you just love flatbread (hello, that's me), these are a fun way to eat them!
We like to make mini versions of our Buffalo Chicken Pizza and Veggie Pizza with flatbread too!
Ingredient Notes:
This post contains affiliate links. As an Amazon associate and member of other qualifying programs, I earn from qualifying purchases.
Chicken – I'm using boneless chicken breast for this flatbread recipe and cooking it quickly on the stove. You could also use leftover chicken from our Instant Pot Whole Chicken, Air Fryer Whole Chicken, or just rotisserie chicken!
Seasoning – You'll season the chicken with some garlic powder, onion powder, chili powder, salt, and pepper.
Flatbread – Any storebougt or homemade flatbread will work. We normally use Stonefire flatbreads which can be easily found in many grocery stores. Naan or pita bread also work well for this flatbread recipe!
Barbecue Sauce – We love this with our homemade bourbon BBQ sauce, but a sweet store bought sauce will work well too!
Colby Jack Cheese – I'm using shredded Colby Jack cheese on this flatbread. Cheddar would also work well.
Toppings – We'll top things off with thin slices of red onion and a sprinkle of cilantro (or parsley, if you hate cilantro). Drizzle it all with a bit of extra BBQ before serving!
What We Love About This Recipe:
The flatbread makes this a quick and easy homemade pizza recipe!
You can easily customize each flatbread to suit your family's tastes. I always leave onion off my husband's flatbread!
These cook up so quick, since the dough is already baked and ready to use.
We started this with freshly cooked chicken, but this is great for using up leftovers too!
How to Make BBQ Chicken Flatbread:
Chicken: Combine the spices and sprinkle them over the chicken to coat. Cook the chicken in an oiled skillet for about 5 minutes per side, or until it's cooked through. Chicken should be 165 degrees internally when it's cooked through.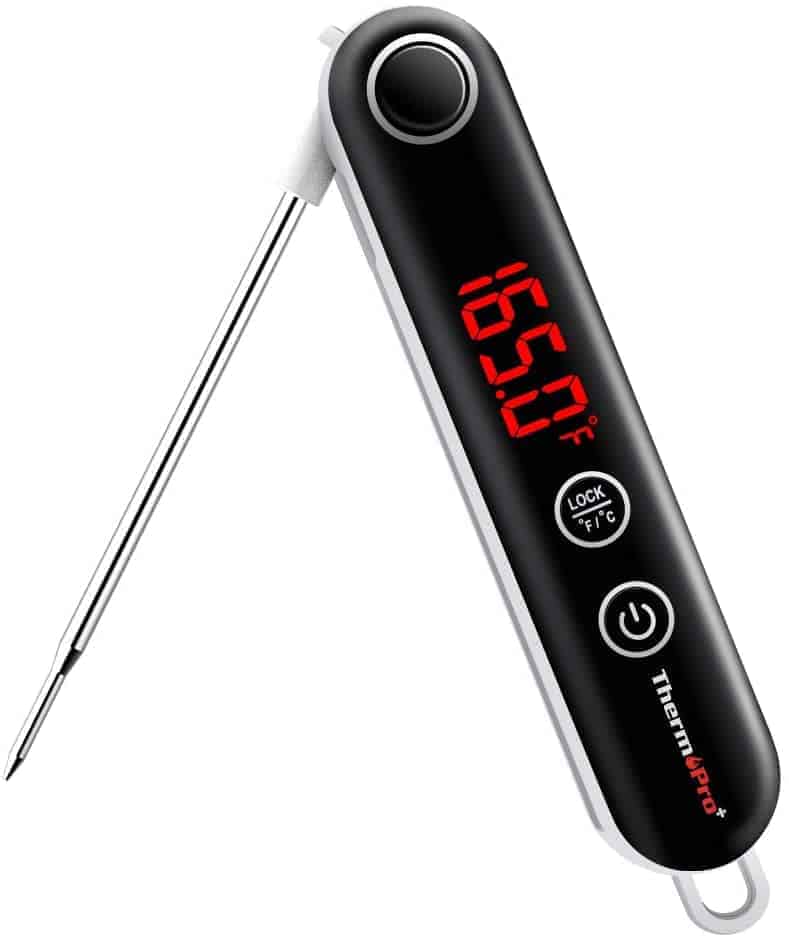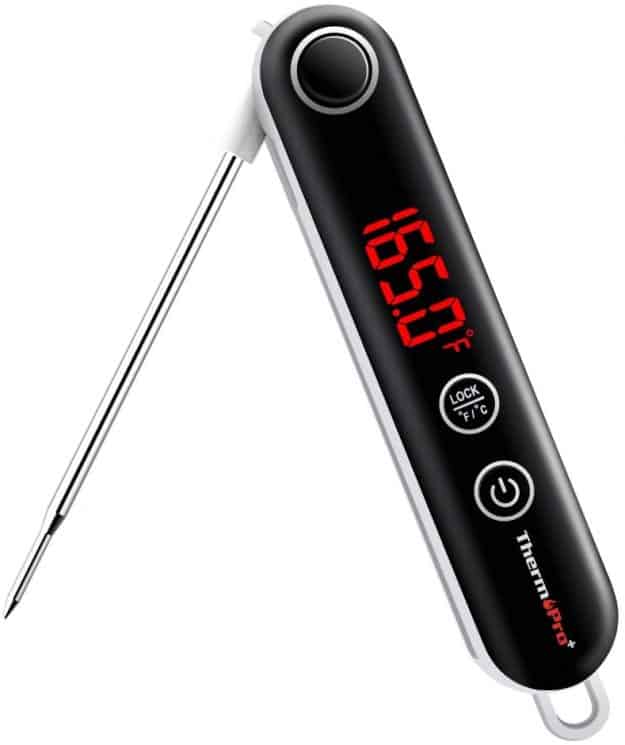 I love using this meat thermometer for making sure the meat is fully cooked! Easy for beginners & absolutely worth the low cost.
Dice: Chop the chicken up into small pieces. This will be going on the flatbread, so we like fairly small chunks of chicken here.
Sauce: Spread the tops of each flatbread with barbecue sauce. We like a nice even layer – add as much as you like!
Top: Sprinkle on some cheese. Arrange the pieces of chicken and the onion slices over the cheese as toppings. If you want to add any other toppings, now is the time!
Helpful Tip!
Spice it up…
To add spice, arrange sliced jalapenos (fresh or pickled, depending on how spicy you like things) over the flatbread before baking!
Bake: You can cook the BBQ chicken flatbread on a baking sheet for 10 to 15 minutes or until the cheese is hot and bubbly.
Top the flatbreads with an extra drizzle of BBQ sauce if desired. We also like to sprinkle on some cilantro before slicing it into wedges and serving.
The Ultimate Way to Reheat Pizza:
Many people pop leftover pizza or flatbread into the microwave and, sure, that works in a pinch. But there is an even better method!
Add your slice of pizza or flatbread to a large skillet over medium heat. Add a couple teaspoons of water to the bottom of the skillet, off to the side away from the pizza, and cover the skillet. Let it cook for a couple of minutes to let the steam melt the cheese and warm things up. Remove the lid and cook for another minute or two to crisp up the crust.
We use this method for reheating pizza and honestly think it tastes better than fresh baked! It's magic!
FAQs:
How to store BBQ chicken flatbread?
If you have leftovers you can keep them in the fridge covered in an airtight container for up to 3 days. Reheat using the microwave or our preferred method mentioned in the blog post!
What is flatbread?
Flatbread is an unleavened bread, made of flour water, oil, and salt, often baked on a hot surface like a griddle or stone. Pita, naan, and roti are all examples of flatbread.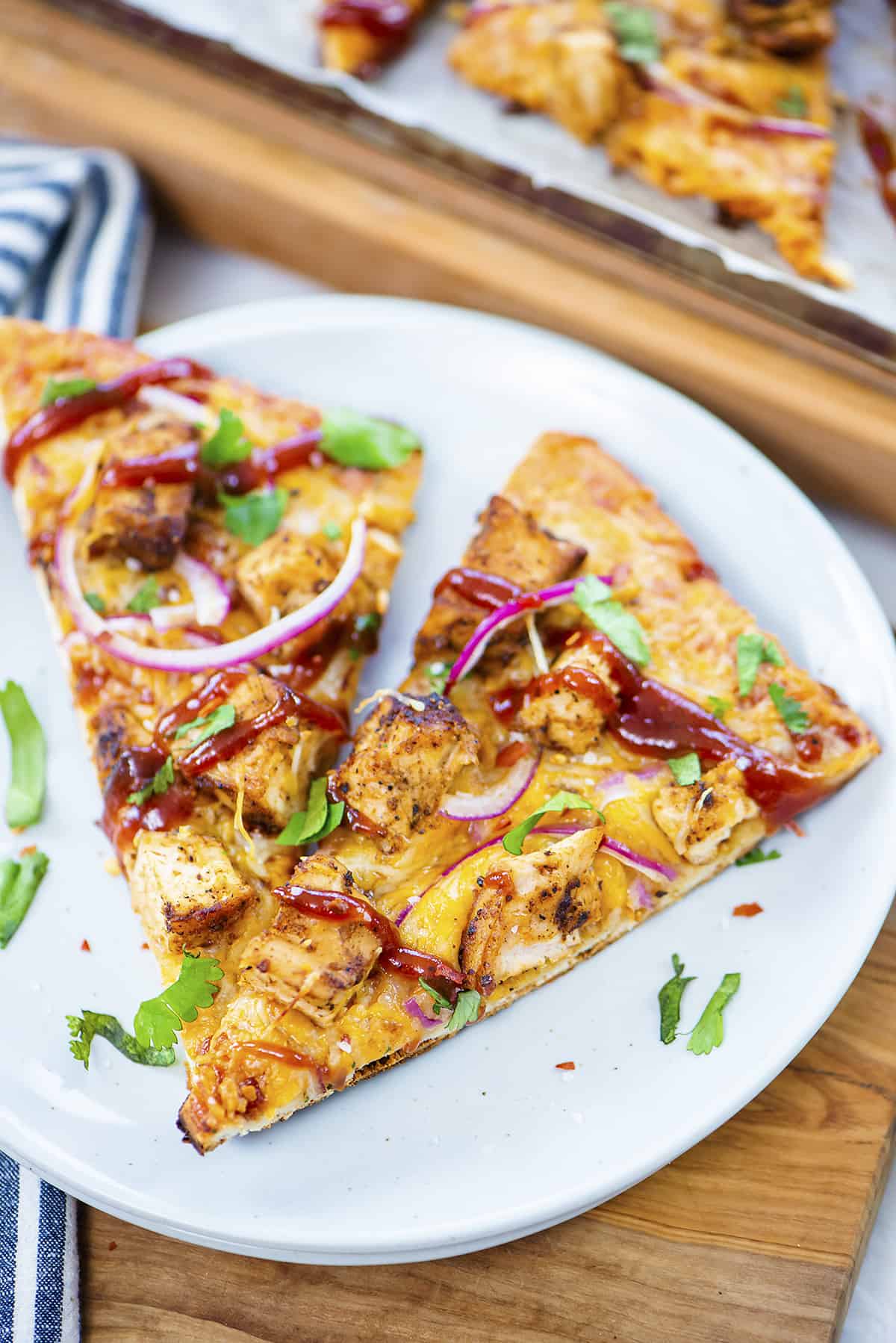 MORE HOMEMADE PIZZA RECIPES!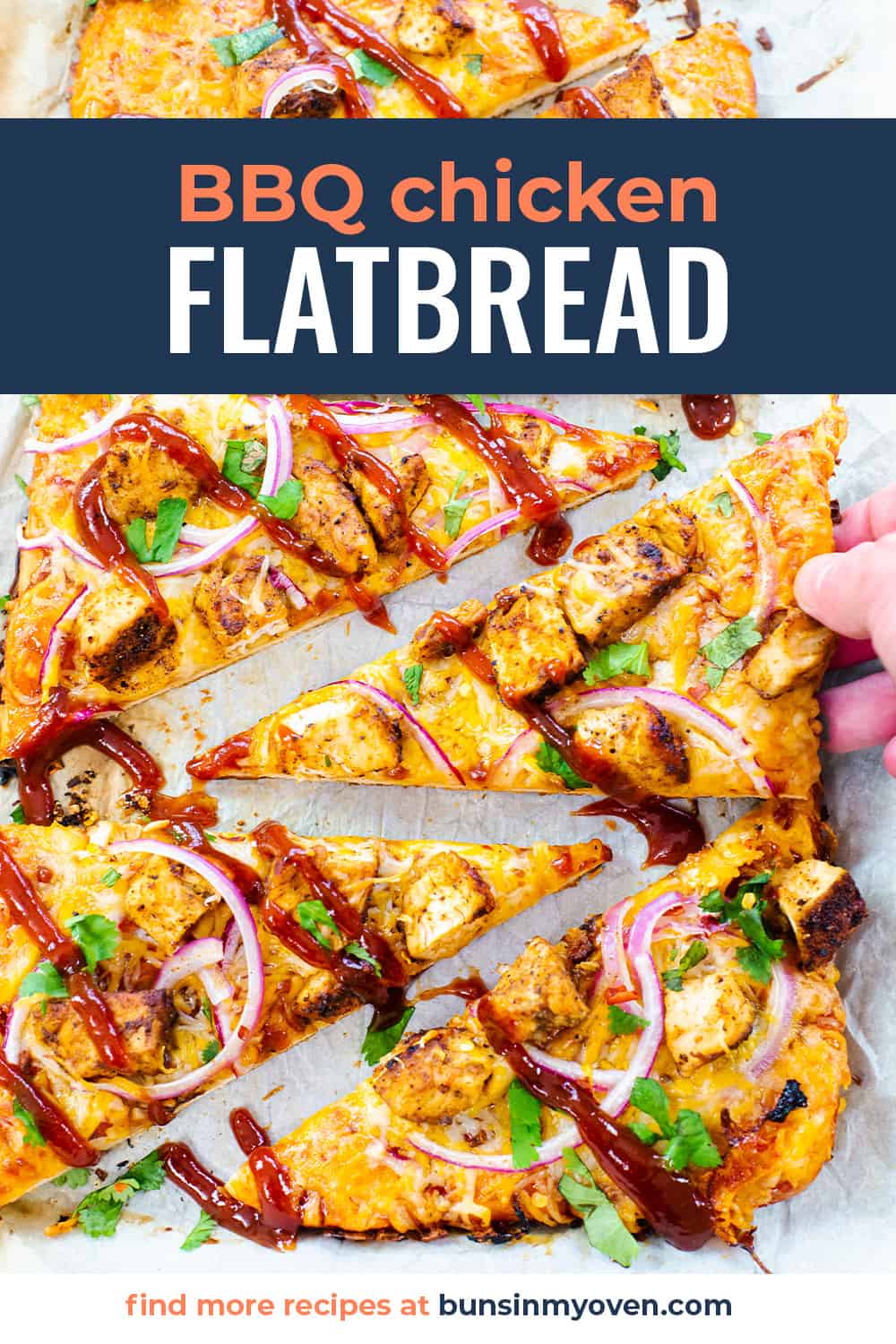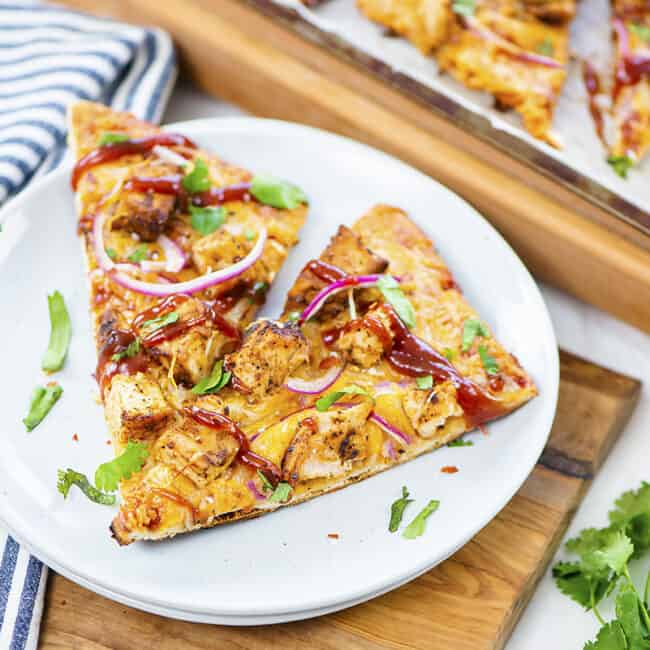 BBQ Chicken Flatbread
This flatbread is so quick to prepare and can easily be made with leftover chicken instead of starting from scratch! The combo of cheese, chicken, and BBQ sauce pairs perfectly on the soft crust!
Prep10 minutes
Cook25 minutes
Total35 minutes
Ingredients
2 small chicken breasts or 1 large
1 teaspoon garlic powder
1 teaspoon onion powder
1 teaspoon chili powder
1 teaspoon salt
1 teaspoon cracked pepper
1 tablespoon olive oil
2 flatbread crusts
1/2 cup barbecue sauce more for topping
2 cups shredded Colby jack cheese
¼ cup thinly sliced red onion
¼ cup chopped cilantro
Instructions
Pound the chicken breasts to an even thickness.

Stir together the garlic powder, onion powder, chili powder, and salt and pepper in a small dish.

Season both sides of the chicken with the seasoning blend.

Heat a large skillet over medium heat and add the oil. Once hot, add the chicken and cook for 5 minutes on each side or until cooked through.

Remove the chicken and dice into small pieces.

While the chicken is cooking, preheat the oven to 400 degrees.

Spread each of the flatbreads with barbecue sauce and top with the cheese.

Arrange the chicken and onion slices over the cheese.

Bake for 10-15 minutes, or until cheese is hot and bubbly.

Drizzle with additional BBQ sauce and sprinkle with cilantro before slicing into wedges and serving.
Tips & Notes:
We use Stonefire flatbreads, easily found in many grocery stores. They're around 12 inches long by 6 inches wide. Naan or pita bread also work well, though you may need more as they'll be smaller. Leftover chicken may be used in place of the freshly cooked. To add spice, arrange sliced jalapenos (fresh or pickled, depending on how spicy you like things) over the flatbread before baking.
Nutrition Information:
Serving: 1flatbread| Calories: 1095kcal (55%)| Carbohydrates: 60g (20%)| Protein: 84g (168%)| Fat: 56g (86%)| Saturated Fat: 29g (181%)| Polyunsaturated Fat: 3g| Monounsaturated Fat: 19g| Trans Fat: 0.03g| Cholesterol: 270mg (90%)| Sodium: 3193mg (139%)| Potassium: 1318mg (38%)| Fiber: 3g (13%)| Sugar: 25g (28%)| Vitamin A: 1977IU (40%)| Vitamin C: 5mg (6%)| Calcium: 993mg (99%)| Iron: 3mg (17%)