Why use a store bought BBQ sauce when you can easily make your own? This BOURBON BBQ SAUCE is easy to make and will add loads of flavor to any meat you are smoking or grilling.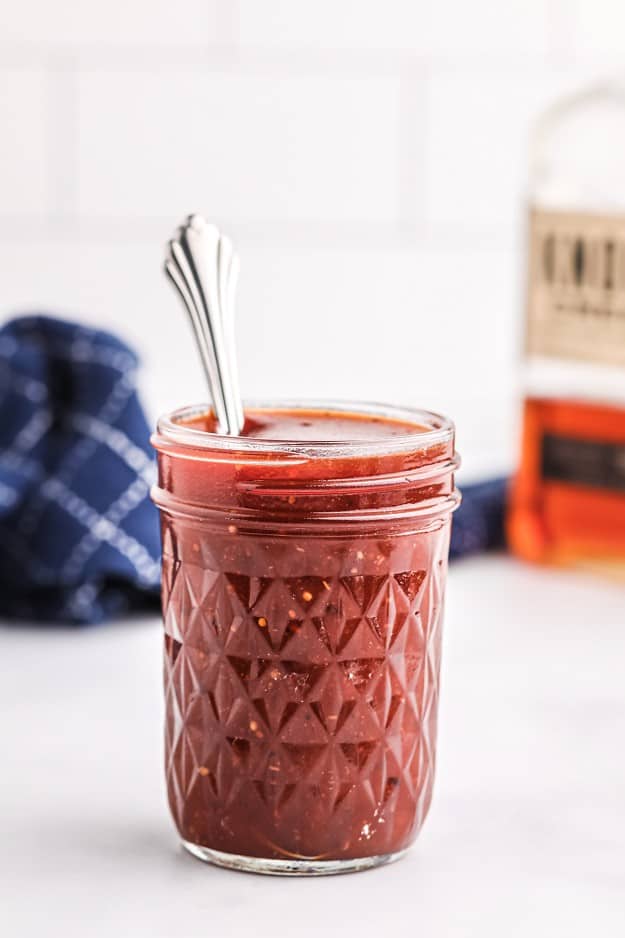 When we are planning dinners or even ordering food from a restaurant, I'm mostly focused on the condiments.
Sure, a burger sounds good, but if that burger has crazy toppings and some kind of fancy sauce? I will always go that route.
You have 23 different varieties of ranch dressing? I want one of each.
Barbecue sauce? Yeah, I'm going to try every single option at every single barbecue joint I go to. It's just how I roll.
So, while we already have a popular recipe for a Carolina BBQ sauce…why stop there? We have plenty of room for more flavors in our lives and this bourbon BBQ sauce does not disappoint.
Not overly sweet, thanks to the bourbon. Not super tangy. Just the right amount of richness with a good balance of sweet and savory. This sauce is a great all around bbq sauce for slathering on our slow cooker ribs or dunking our FAMOUS chicken strips recipe.
We think this bourbon bbq sauce has more of a 'grown up' sophisticated flavor verses the sugary sweet sauces you find in the bottles at the grocery store. Highly recommend giving this one a try!
Ingredients Needed:
Ketchup
Bourbon – We use Jim Beam, since it's reasonably priced. No need to get fancy here.
Apple Juice
Dark Brown Sugar
Apple Cider Vinegar – This helps balance the ingredients, but doesn't make the sauce tangy.
Worcestershire Sauce
Liquid Smoke – We love the touch of smoke in the sauce.
Whole Grain Mustard
Spices – Onion powder, garlic powder, salt, and pepper.
How to Make:
Combine: Let's start with the easy part! Take all of the listed ingredients and add them to a medium saucepan. Simple! Now make sure to stir everything up until it is all well combined. Bring the mix to a boil over medium high heat, stirring occasionally as it heats up.
Simmer: Reduce the heat down to a simmer and allow the sauce to cook for 15 minutes. During this time it should reduce a bit. The sauce will thicken up as it cools, but if you want an even thicker sauce, allow it to simmer and reduce for longer but be careful not to overcook.
Cool: When the sauce has finished cooking, allow it to cool. This sauce will be tasty right away, but if you pop it in the fridge for 24-48 hours it will be even better. All those flavors meld together and deepen and it's just a delicious sauce.
Helpful TipS!
This sauce can be stored in an airtight container (such as a mason jar) for up to two weeks in the refrigerator. If freezing it should be good for about two months.
Swap the dark brown sugar for light brown sugar if that's all you have. Stir in a tablespoon of molasses, if you have it, to compensate.
This sauce is great on just about everything. Beef, pork, poultry, whatever you are BBQing will go great with this sauce!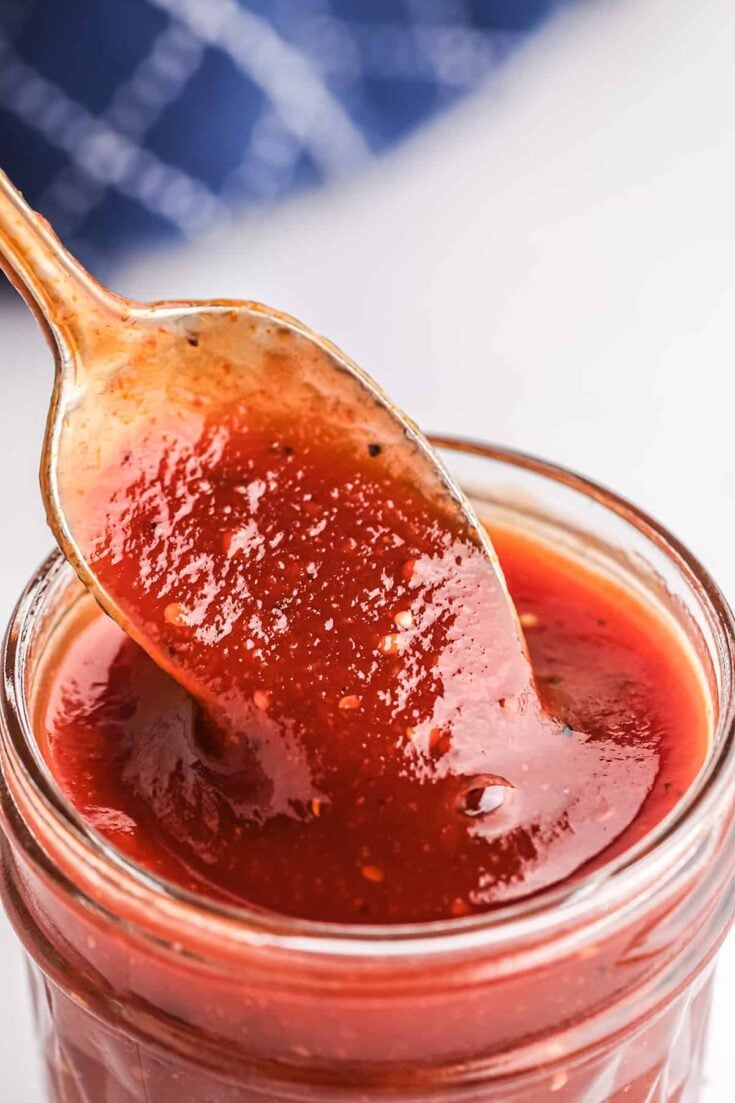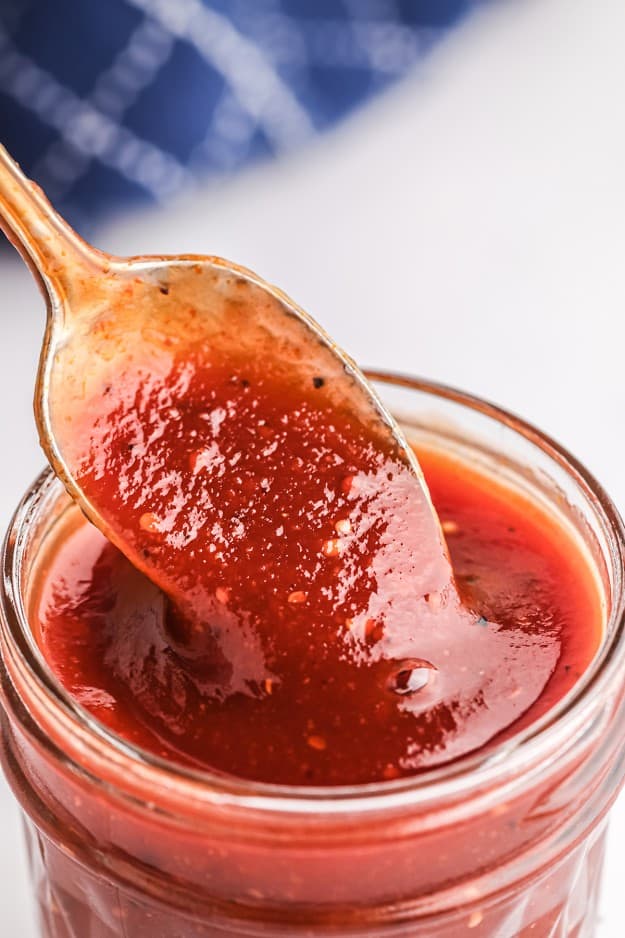 Is this sauce kid friendly?
There is bourbon in this recipe, so you'll want to decide yourself how you feel about serving it to kids. It is definitely not going to get anyone drunk (or even buzzed, haha) since most of the alcohol cooks off while the sauce simmers.
But, it's personal preference as to whether or not you're comfortable feeding this one to the kiddos.
I will tell you that our kids enjoy this sauce and we don't give it a second thought, same with our beer bread. 🙂
Leftover Hack!
Didn't have a chance to finish up all of the sauce? No problem – just add a cup of sauce to a freezer bag along with a pound of chicken breasts. Seal and freeze for up to 3 months. Thaw overnight in the fridge and then dump in the crockpot and cook on low for 6-8 hours. Shred and serve on sandwich rolls.
More favorite sauce recipes!
I wasn't kidding when I said I was a sucker for a good sauce. We have loads of sauces, dressings, and condiment recipes that are just begging to be tried!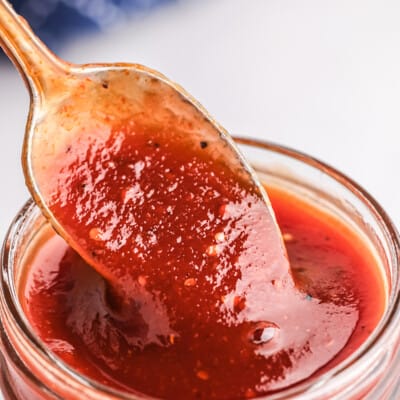 Bourbon BBQ Sauce
This homemade BBQ sauce is richly flavored, simple to make, and not overly sweet or tangy. It's perfect for slathering on ribs, basting grilled chicken, or dunking your fries.
Prep5 minutes
Cook15 minutes
Total20 minutes
Ingredients
1 24 ounce bottle ketchup
1 cup bourbon
2/3 cup apple juice
1/3 cup dark brown sugar
¼ cup apple cider vinegar
2 tablespoons Worcestershire sauce
2 teaspoons liquid smoke
1 tablespoon whole grain mustard
2 teaspoons salt
1 teaspoon garlic powder
1 teaspoon onion powder
1 teaspoon cracked black pepper
Instructions
Combine all of the ingredients in a medium saucepan. Whisk well to combine.

Bring to a boil over medium-high heat. Reduce to a simmer and cook for 15 minutes.

Let cool for 20 minutes before transferring to a mason jar or air tight storage container.

For best flavor, let set for 24-48 hours before using. Otherwise, use immediately.

Store in the refrigerator for up to 2 weeks or the freezer for up to 3 months.
Tips & Notes:
Any bourbon you prefer will work well here, but it's not necessary to get fancy. Cheap bourbon will work fine. We do prefer the flavor after this has had a chance to set for 24-48 hours, but this is definitely not necessary. Use immediately if needed.
Nutrition Information:
Serving: 2tablespoons| Calories: 31kcal (2%)| Carbohydrates: 4g (1%)| Protein: 1g (2%)| Fat: 1g (2%)| Saturated Fat: 1g (6%)| Sodium: 163mg (7%)| Potassium: 22mg (1%)| Fiber: 1g (4%)| Sugar: 3g (3%)| Vitamin A: 2IU| Vitamin C: 1mg (1%)| Calcium: 5mg (1%)| Iron: 1mg (6%)