This HOMEMADE TARTAR SAUCE RECIPE takes about 5 minutes to toss together, is packing way more flavor than anything you'd buy at the store, and is perfect for serving up with your favorite fish!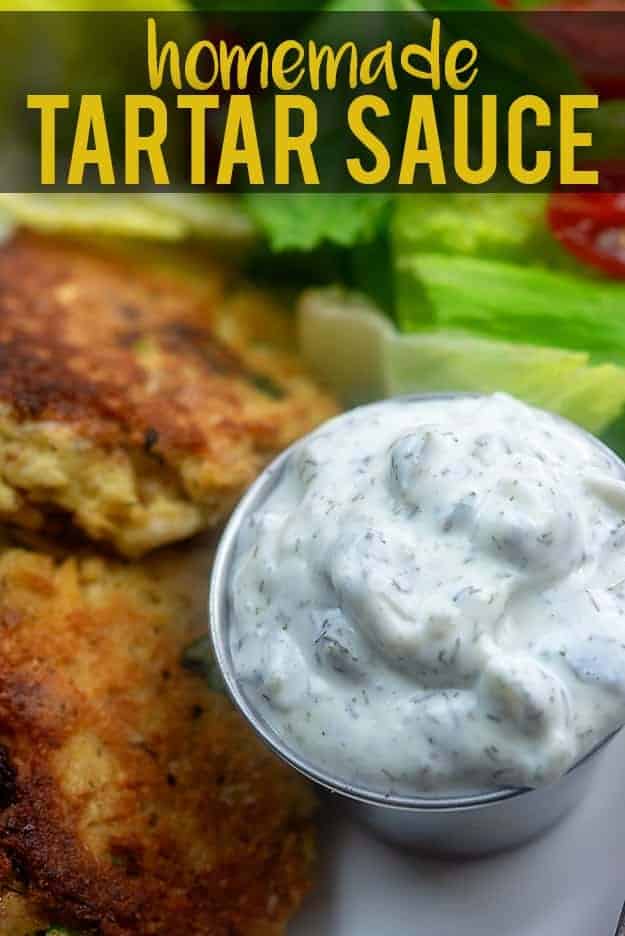 Growing up, I never really ate tartar sauce, mostly because I didn't know what it was and that meant it was probably scary and gross. 😉
The first time I tasted tartar sauce though, I was hooked.
I went through a phase where I ordered fried fish at restaurants, just so I could eat copious amounts of tartar sauce. I'd even dip my fries in the stuff. It's so good, you guys.
What Readers are Saying!
"Just finished making this tartar sauce for the 6th or 7th time. Your recipe beats what is sold in stores and served in restaurants. Thanks, too, for the tip that the left-over portions can be refrigerated for up to 10 days, since we eat fish about every three or four days and none is wasted! ?" – DEE
This recipe for tartar sauce is perfect, because it's so easy to whip up from pantry staples. You'll never have to go without again!
Anyway, we really don't cook a ton of fish in our house, so we don't usually keep tartar sauce on hand.
Tartar sauce ingredients: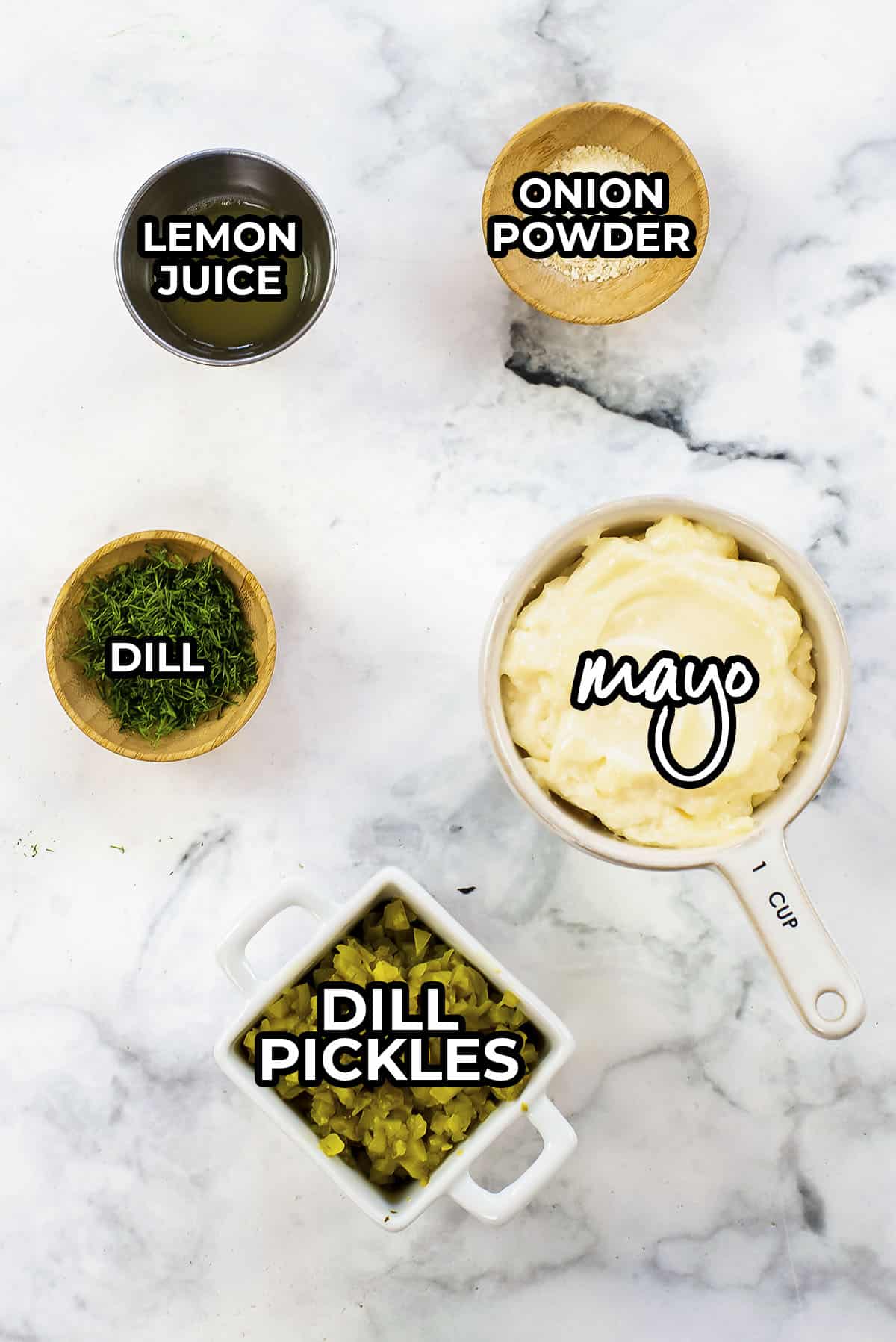 My recipe for tartar sauce is a really simple mixture of mayonnaise, pickles, dill, lemon juice, and onion powder.
You can easily make adjustments to suit your tastes, though.
I use dill pickles, but sweet pickles work well.
Minced onion is a nice replacement for the onion powder.
No lemon juice? Just add a little vinegar or pickle juice instead!
You can also add in other seasonings like garlic, parsley, or seasoned salt.
I think my homemade tartar sauce is pretty perfect as is, but feel free to play with the flavors and make it your own!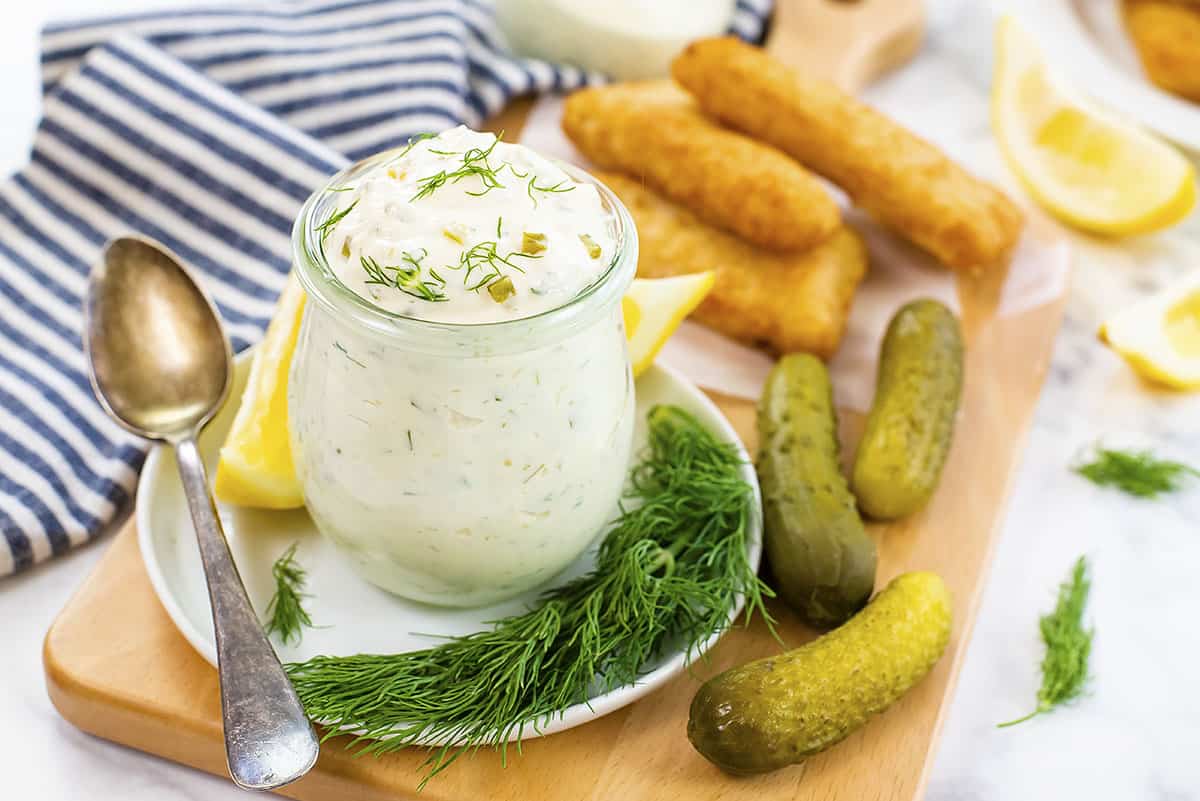 How to make tartar sauce:
You'll need some mayonnaise, pickles, dill, lemon juice, and onion powder for the perfect tartar sauce.
Just mince your pickles and toss them in with the rest of the ingredients and give it all a stir.
This tastes best if you can let it chill in the fridge for an hour or two before serving, but if you're in a rush, go ahead and dig in.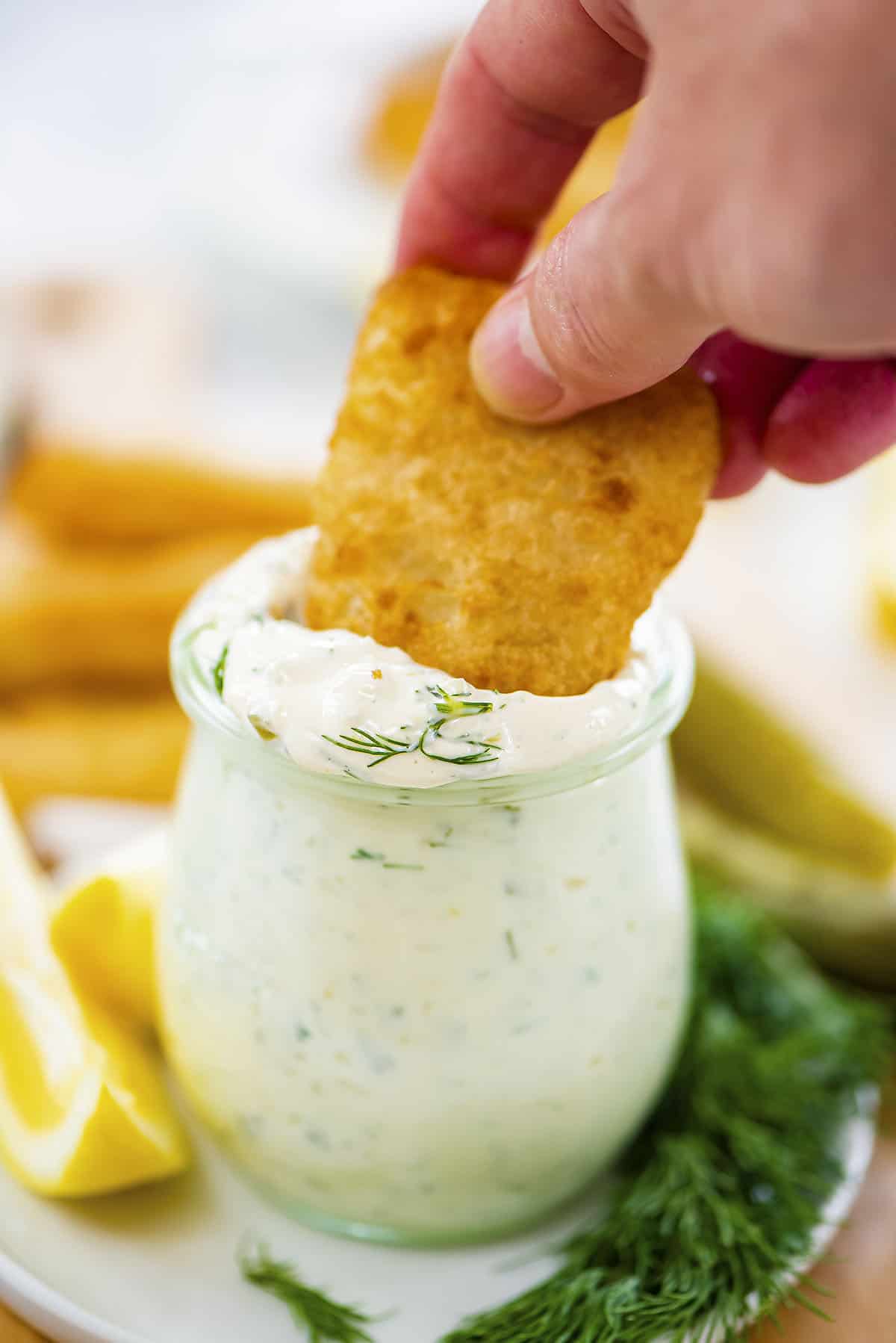 Helpful Tip!
Tartar sauce is low carb!
That's right – tartar sauce is low carb!
If you're following a keto diet, be sure to use mayonnaise that is free of soybean oil to make your tartar sauce. Avocado oil mayo is a good choice.
If you prefer to use sweet pickles, you'll want to get a sugar free version and check the carb count.
Serve this homemade tartar sauce with my low carb salmon patties!
More low carb goodness?
Check out That Low Carb Life to follow me for more low carb recipes! I share new recipes twice a week that are low carb and often keto friendly!
Homemade Tartar Sauce
This homemade tartar sauce takes about 5 minutes to whip up and is so much better than store bought!
Prep5 minutes
Chill Time30 minutes
Total35 minutes
Ingredients
1 cup mayonnaise
1/2 cup minced dill pickles
1 tablespoon minced fresh dill
2 teaspoons lemon juice
1 teaspoon onion powder
Instructions
Add all of the ingredients to a small mixing bowl and stir well to combine.

Cover and refrigerate for 30 minutes or more before serving.

Store, tightly covered and refrigerated, for up to 10 days.
Tips & Notes:
The flavors will develop more as the tartar sauce chills, but you may serve immediately if needed.
Nutrition Information:
Serving: 2tablespoons| Calories: 128kcal (6%)| Carbohydrates: 1g| Protein: 1g (2%)| Fat: 14g (22%)| Saturated Fat: 2g (13%)| Cholesterol: 8mg (3%)| Sodium: 171mg (7%)| Potassium: 9mg| Fiber: 1g (4%)| Sugar: 1g (1%)| Vitamin A: 25IU (1%)| Vitamin C: 0.3mg| Calcium: 4mg| Iron: 0.1mg (1%)