This homemade Greek dressing recipe is zesty, tangy, and bursting with bright fresh flavors that will turn any salad into something special! It also makes a great marinade for chicken!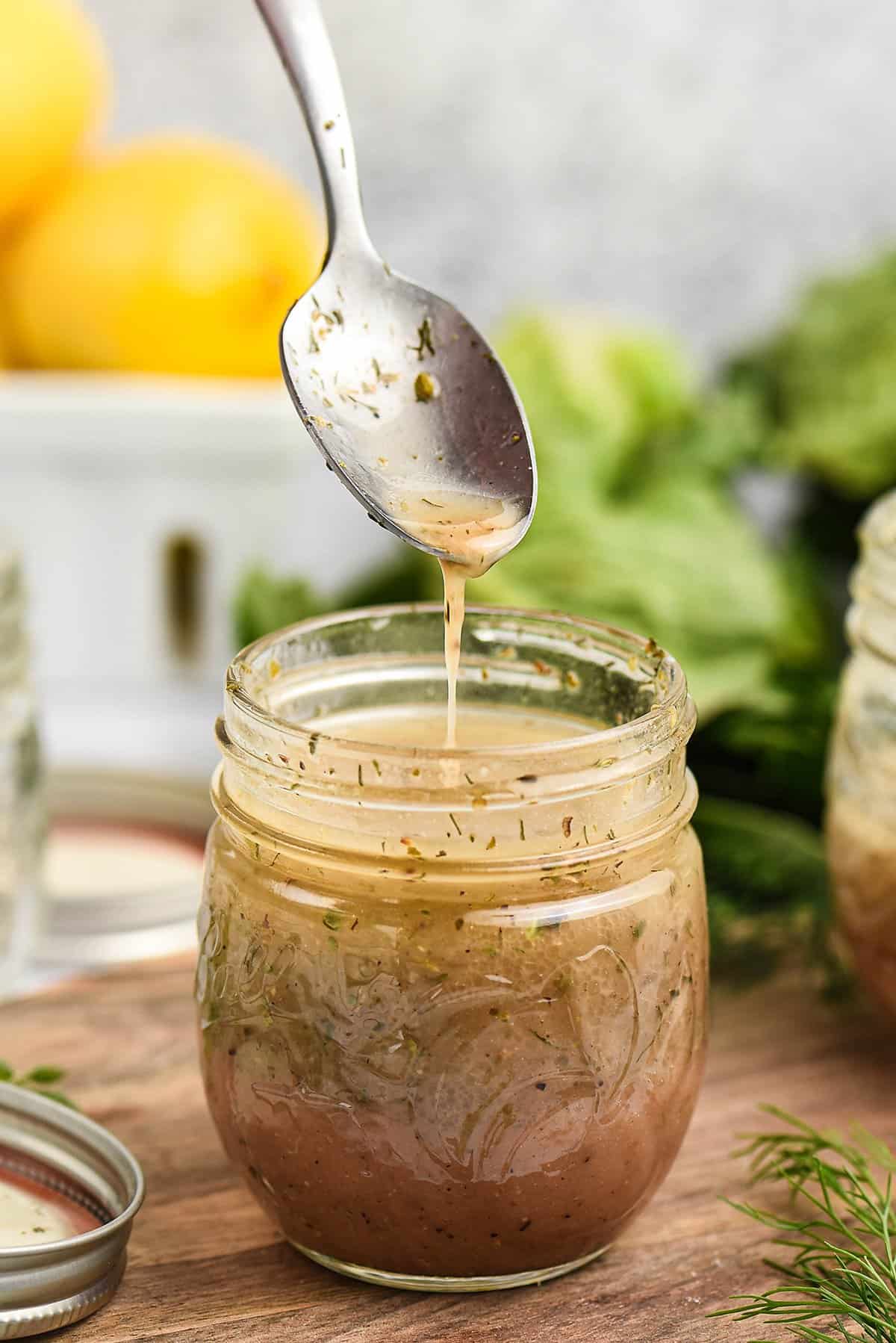 I don't know where Greek food has been my whole life, but I can confirm that I did not grow up with it in my small town in the middle of a cornfield, but I've since made it my mission in life to stop at every Greek restaurant and try every Greek recipe I can find.
Mexican has always been my favorite cuisine, but Greek is seriously right up there and this dressing might just tip the scales.
We made a lot of Greek salad dressing before we settled on this version and let me tell you – I think it's perfect.
This Greek dressing is so bright and zesty, perfect for pouring over a green salad, a pasta salad, or to use as a marinade for chicken!
We're sharing a recipe for Greek Orzo Salad and Greek Chicken Kabobs here in the next couple of weeks (both featuring this dressing), but in the meantime, drizzle this over a green salad tossed with Kalamata olives, feta, and fresh tomatoes. You'll be in heaven.
Love homemade dressings? Be sure to try our honey mustard recipe and keto ranch dressing.
Ingredient Notes:
Wet Ingredients – This tangy, zesty Greek salad dressing starts with some red wine vinegar and freshly juiced lemons! The acidity in both goes well with the olive oil and Dijon mustard that you'll also mix in.
Dry Ingredients – To round out the flavors in the dressing you'll mix in some Kosher salt, cracked black pepper, dill, oregano, and freshly minced garlic!
What We Love About This Recipe!
Bright, fresh, and flavorful, this salad dressing packs a big flavor punch! Perfect on a green salad, pasta salad, or as a marinade for chicken – it's very versatile!
How to Make Greek Dressing:
Mix: There isn't a whole lot to this Greek dressing recipe, it's about as simple as it gets! You'll start by adding all of the ingredients except for the olive oil to a medium sized bowl and whisk it all together until it is well combined.
Oil: When the rest of the ingredients are well combined you can start to very slowly pour the oil into the bowl with the other Greek dressing ingredients while whisking quickly and constantly. This will create an emulsion so that the oil is well distributed throughout the mixture.
Helpful Tip!
Don't pour in all the olive oil at once! Oil doesn't mix well with other liquids so you'll need to slowly stream it in to get a good mix.
Serve: That's it! You can transfer the Greek dressing to a sealable glass jar and use it on your next Greek salad recipe. It goes really well with this Greek pasta salad, and of course it's perfect on a more traditional salad with lettuce.
FAQs:
How to store Greek dressing?
I would recommend using a sealable glass jar like a mason jar, and then keeping it sealed in the refrigerator for up to a week!
Why did my dressing separate?
It's common for oil and vinegar dressings to separate upon storing in the fridge. Just shake or whisk well to bring them back together before serving.
Greek Chicken Marinade:
Use the Greek dressing to marinade your chicken the next time you plan to grill. It adds the perfect pop of flavor and helps keep your chicken tender and moist.
Just place your chicken in a zip top bag or shallow dish and pour the dressing over the top. Marinate for 3-4 hours and then grill.
Greek Salad:
To make a green salad, add chopped romaine to a bowl and top with kalamata olives, crumbled feta, sliced cucumber and red onion, and fresh tomatoes. Grilled chicken is always a welcome topping in our salads too!
Drizzle with dressing and toss just before serving.
More Homemade Sauces & Dressings:
MORE GREEK RECIPES!
Greek Dressing
Bright, zippy, and so easy to make this! This homemade Greek salad dressing is so fresh and flavorful and so much better than the bottled stuff from the store.
Prep4 minutes
Total4 minutes
Ingredients
1/2 cup red wine vinegar
2 lemons juiced
4 cloves garlic minced
1 tablespoon Dijon mustard
1 teaspoon kosher salt
1 teaspoon dried oregano
½ teaspoon dried dill
½ teaspoon cracked black pepper
1 cup virgin olive oil
Instructions
In a medium size bowl, add all ingredients except olive oil. Whisk well to combine.

Very slowly stream oil into bowl while whisking quickly to create an emulsion.

Store in an airtight glass jar in the refrigerator for 1-2 weeks.
Tips & Notes:
The dressing will separate a bit in the fridge. Just shake well to bring it back together before using.
Nutrition Information:
Serving: 2tablespoons| Calories: 127kcal (6%)| Carbohydrates: 2g (1%)| Protein: 1g (2%)| Fat: 14g (22%)| Saturated Fat: 2g (13%)| Polyunsaturated Fat: 1g| Monounsaturated Fat: 10g| Sodium: 157mg (7%)| Potassium: 31mg (1%)| Fiber: 1g (4%)| Sugar: 1g (1%)| Vitamin A: 8IU| Vitamin C: 7mg (8%)| Calcium: 9mg (1%)| Iron: 1mg (6%)