These Greek chicken kabobs are made with marinated chicken, bell pepper, and lemon and then paired with pita, tzatziki, and fresh veggies for serving.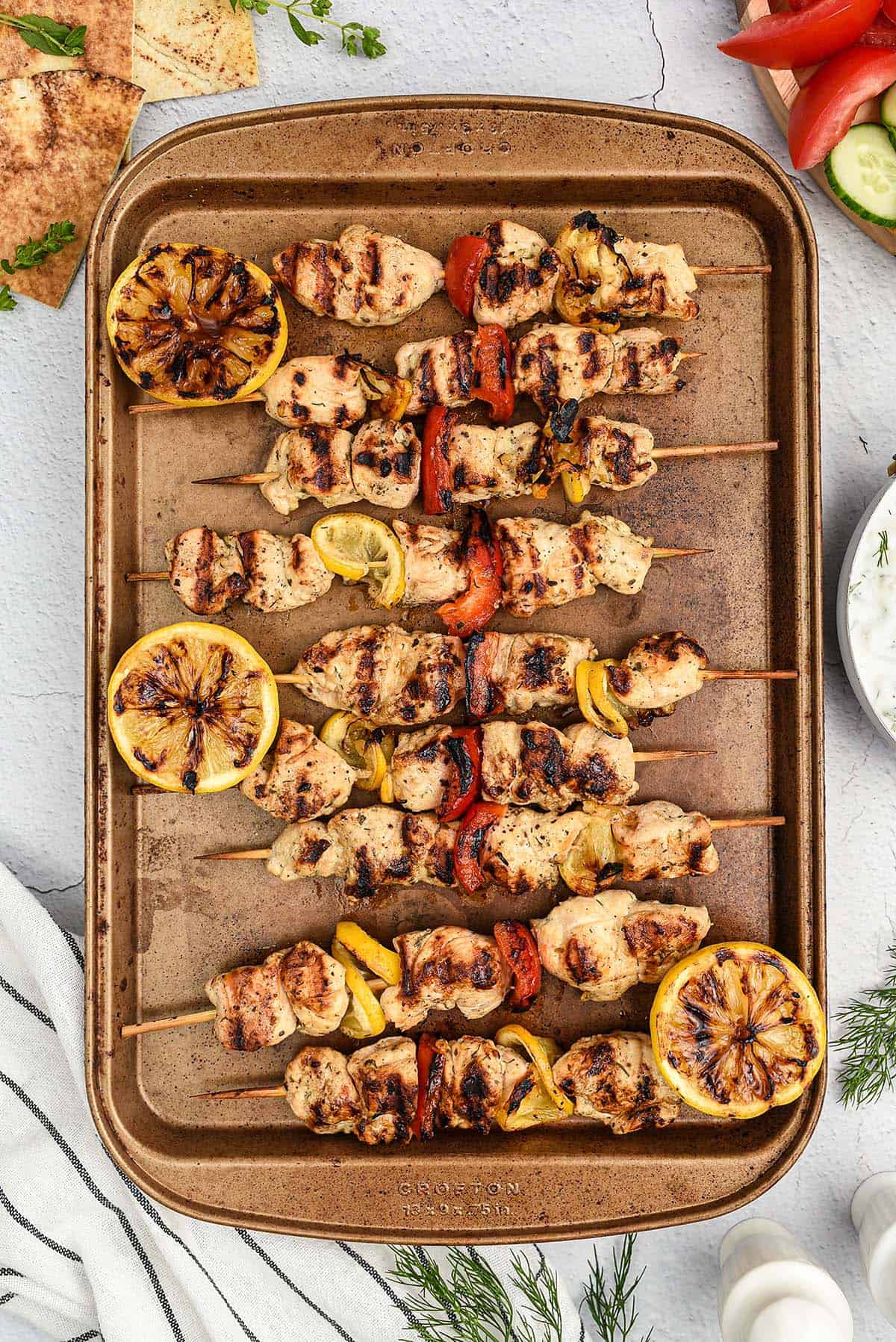 I first discovered the wonders of Greek food just a few years ago, and oh boy, was it a revelation! I'm obsessed with the bright, bold flavors and have been slowly creating my own version of some Greek favorites.
Our Greek Rice is something that we make every week and it's always a big favorite among readers. It's a simple way to cook rice and it adds in a pop of citrus and Greek flavors. You really can't go wrong.
We served these Greek Chicken Kabobs (marinated in our Greek dressing, obvi) with a side of rice, on a platter with pita bread, tzatziki sauce, feta, and fresh veggies – like cucumbers, tomatoes, and red onion, and black olives. (Kalamata olives are also great, but we have a hard time finding them sometimes.)
Turn these into a pita sandwich or pile it all together in a bowl and eat with a fork. Either way, you really can't go wrong with the zesty, bold flavors of these Greek chicken kabobs!
Ingredient Notes:
This post contains affiliate links. As an Amazon associate and member of other qualifying programs, I earn from qualifying purchases.
For the kabobs:
Chicken – You'll want to cut chicken breasts into cubes. Chicken tenderloins or even thighs would also work.
Greek Dressing – The chicken will be marinated in a mixture of Greek dressing with some extra minced garlic, salt, and pepper for ultimate flavor before grilling! Try out my homemade Greek dressing recipe or pick up a bottle from the store.
Bell Pepper – Along with the chicken you'll add some sliced bell pepper to the kabob skewers for grilling. I prefer red bell peppers because they are sweetest, but you can use any color!
Lemon – In addition to the chicken and bell pepper you'll also cut a lemon into thin slices to go on the kabob skewer. The lemon juice will add flavor to the chicken and peppers as it cooks.
For serving:
Tzatziki Sauce – This cool cucumber sauce is pretty much a requirement for any Greek recipe and it goes perfectly with the marinated Greek chicken!
Lemon – Cut a couple lemons in half and grill them up! The grilled flavor is great and lemon is a must have flavor with any Greek inspired platter!
Veggies – Some black olives, thinly sliced cucumber, onion, and thick sliced tomatoes make excellent additions to this Greek platter.
Feta Cheese – Some crumbled feta cheese is another great addition to this Greek platter.
Pita Bread – We cut our pita into triangles and make small bite sandwiches with them. You can also leave them whole and eat them as a full sized pita sandwich.
What We Love About This Recipe:
The Greek dressing is bright and zippy, which adds great flavor to the chicken.
Because the chicken is cut into cubes, it only really needs 30 minutes to marinate. So quick!
We turned this into a whole Greek platter, but you can serve this chicken in a number of ways – over rice, in a pita pocket, or keep it low carb with a Greek Chicken Salad!
Helpful Tools:
Skewers – Wooden or metal skewers will work great here. Don't have any skewers? A grill basket is even easier, to be honest.
Serving Platter – You'll need something to serve the kabobs on with all the other good stuff like pita bread, cheese, and olives. A large serving platter will work best for this, but a sheet pan works just fine!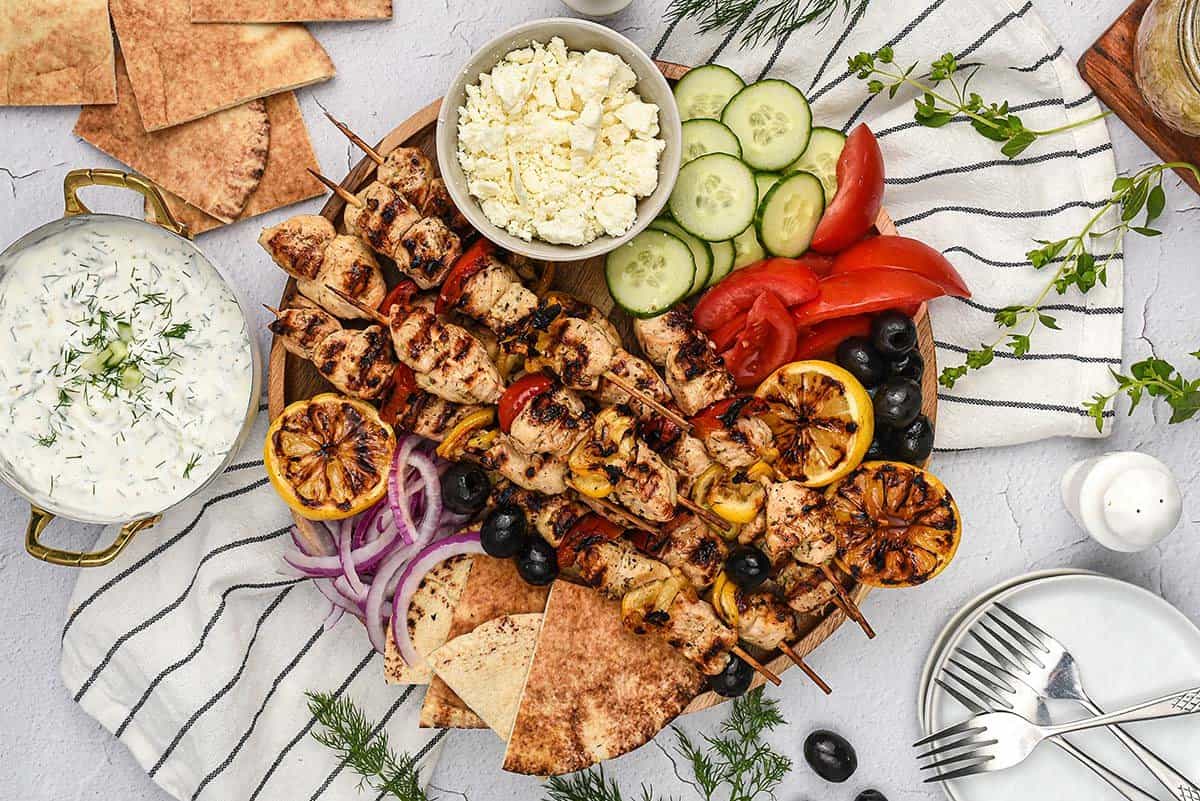 How to Make Greek Chicken Kabobs:
Soak: Soak the skewers in hot water for at least 30 minutes before grilling so that they won't burn.
Marinate: Add the cubed chicken to a gallon sized plastic ziptop bag along with the Greek dressing, garlic, salt, and pepper. Squeeze out the air, seal it tightly, and shake it up to coat the chicken before allowing it to marinate for 30 minutes at room temperature or up to 4 hours in the fridge.
Skewer: When the Greek chicken is finished marinating you can start preparing the kabobs for grilling. Start skewering by alternating chicken followed by a folded slice of lemon and then the bell pepper.
Helpful TipS!
The trick to grilling the perfect shish kabob is in how you prepare it! You'll want evenly sized pieces of chicken, bell pepper, and lemon. You'll also want to leave a little space in between each piece when skewering. Don't overload the skewers or it won't grill evenly!
Grill: Fire up the grill and add the Greek chicken shish kabob skewers! You'll also want to add the sliced lemon halves cut side down and grill until charred. It'll take around 5 minutes per side for the chicken kabobs to cook through.
Platter: When you've finished grilling you can start assembling the platter! Add the olives, cucumber, onions, tomato, feta cheese, Tzatziki sauce, and warmed pita bread to the platter. Leave some space for the kabobs!
Serve: Finally you can add the shish kabob skewers and grilled lemon halves to the platter and serve it up while it's all still good and hot. This Greek dinner platter is sure to be a hit at your next gathering!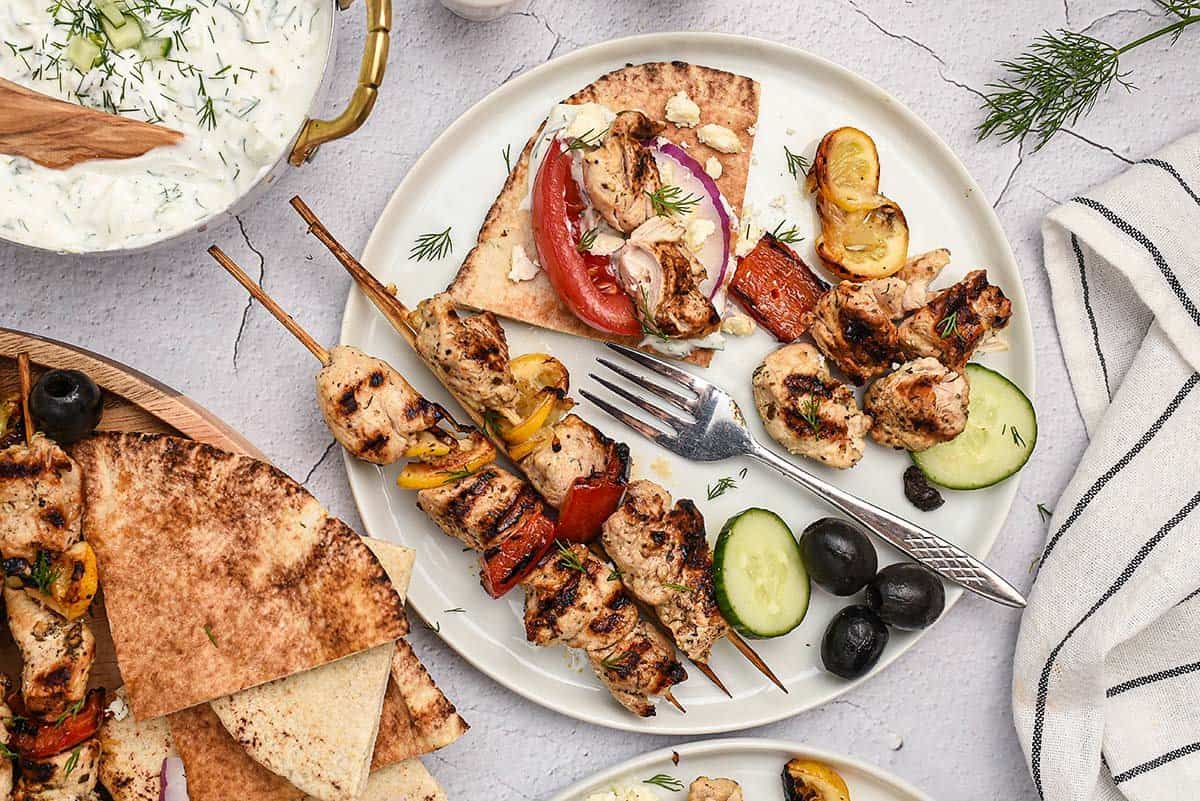 FAQs:
How to store Greek chicken kabobs?
You can keep the kabobs stored in the refrigerator for about 3 to 4 days. I'd recommend removing the chicken, lemon, and pepper from the skewers and just storing it all together in an airtight container for easy reheating.
How long to marinate chicken kabobs for?
You'll just need 30 minutes to marinate your chicken kabobs. Because the chicken is cut into smaller pieces, the flavors of the marinade penetrate faster.
MORE GREEK INSPIRED RECIPES!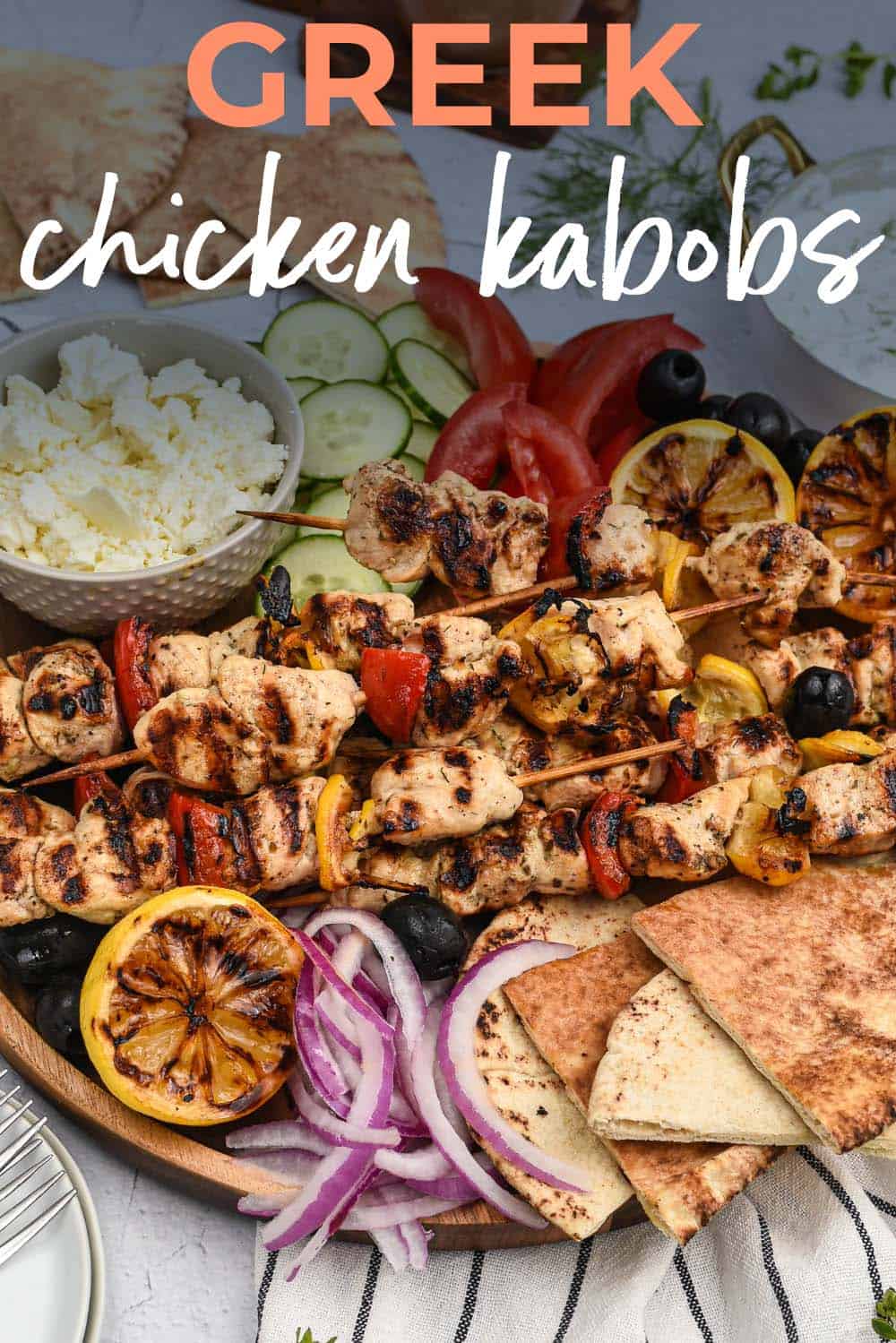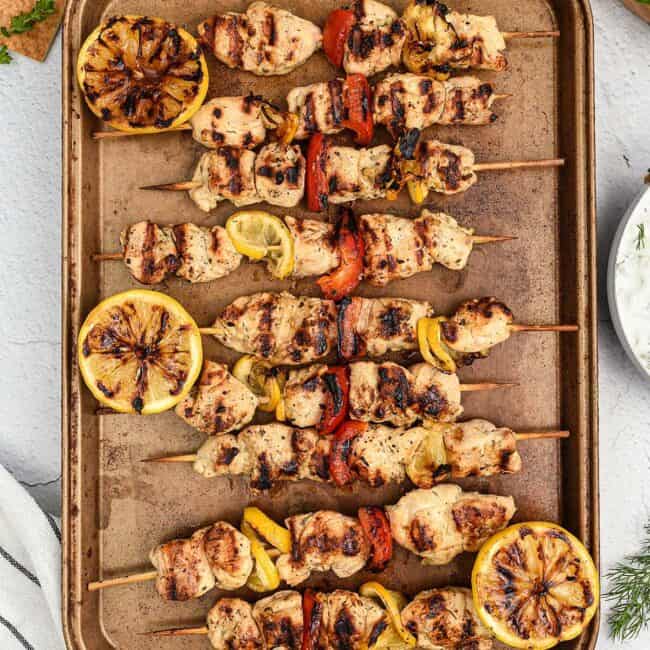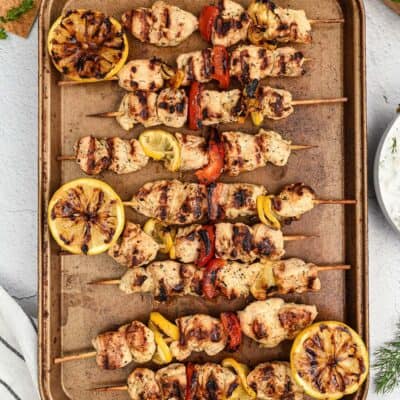 Grilled Chicken Kabobs
This Grilled Chicken Kabob Platter is quick and easy to throw together. Load up slices of pita bread with juicy chunks of marinated grilled chicken, fresh veggies, feta and irresistible tzatziki sauce for the ultimate Greek family dinner!
Prep20 minutes
Cook10 minutes
Marinating Time30 minutes
Total1 hour
Ingredients
For the kabobs
1 ½ pounds boneless, skinless chicken breasts cubed
1 cup Greek dressing
3 garlic cloves finely minced or grated
1 red bell pepper cut into 1" pieces
1 lemon thinly sliced
1 teaspoon kosher salt
½ teaspoon freshly cracked black pepper
For serving
2 lemons halved and grilled
1 cup tzatziki sauce
4 ounces black or kalamata olives
1 cucumber thinly sliced
½ red onion thinly sliced
2 tomatoes cored and sliced thick
4 ounces crumbled feta cheese
4 slices pita bread warmed and cut into triangles
fresh dill for garnish
Instructions
Place the cubed chicken into a 1 gallon ziptop bag. Add the Greek dressing, garlic, salt, and pepper. Squeeze out the air from the bag, seal tightly, and massage the marinade into the chicken. Let marinate for 30 minute at room temperature or for up to 4 hours in the refrigerator.

Soak 8-10 wooden skewers in hot water for 30 minutes while the chicken marinates.

Preheat grill to medium high heat.

Fill skewers by alternating chicken, folded lemon slice, and bell pepper.

Grill chicken skewers for 5 minutes per side or until chicken is cooked through. While grilling chicken, grill the lemon halves, cut side down, until charred.

Assemble the platter by arranging Tzatziki sauce, olives, cucumber, onion, tomato, feta, pita, and any remaining bell pepper chunks; leaving space for the chicken skewers.

Add chicken skewers and grilled lemons to the platter, garnish with fresh dill and serve immediately.
Tips & Notes:
Include any veggies you love, omit the ones you don't. Other ingredients you could include: zucchini, iceberg lettuce, hummus, olive oil, extra Greek dressing. Marinade in a plastic bag to make clean-up a breeze! No skewers, or short on time? Toss the chicken and peppers into a grill basket and grill for 8-10 minutes, stirring occasionally.
Nutrition Information:
Calories: 503kcal (25%)| Carbohydrates: 26g (9%)| Protein: 45g (90%)| Fat: 33g (51%)| Saturated Fat: 8g (50%)| Polyunsaturated Fat: 7g| Monounsaturated Fat: 8g| Trans Fat: 1g| Cholesterol: 134mg (45%)| Sodium: 1652mg (72%)| Potassium: 1161mg (33%)| Fiber: 5g (21%)| Sugar: 12g (13%)| Vitamin A: 2016IU (40%)| Vitamin C: 96mg (116%)| Calcium: 298mg (30%)| Iron: 2mg (11%)