This Homemade Tzatziki Sauce recipe is made with simple ingredients like creamy Greek yogurt, freshly grated cucumber, and freshly chopped herbs! The perfect compliment to Greek chicken, gyros, or as a dip for pita chips or fresh veggies.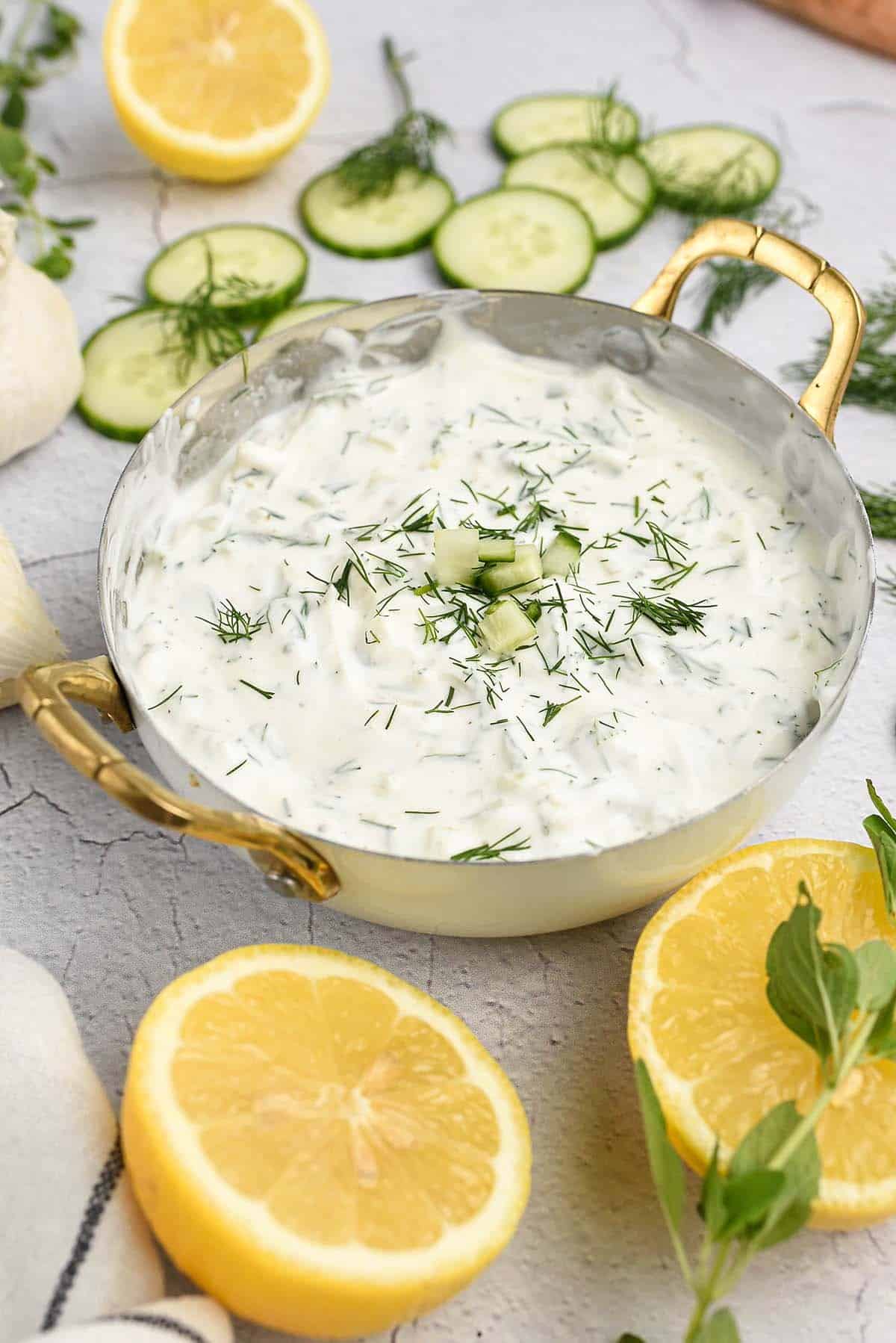 My husband has always been a huge fan of gyros, but personally I'm just there for the tzatziki sauce that they put on the pita.
Whether you're serving this tzatziki sauce for gyros or dolloping it on our Greek turkey meatballs, turning it into a tzatziki dip with fresh veggies or pita bread, or just getting creative and using it in place of ranch or sour cream for other foods (hello, try dipping some chicken wings in this one!), this is a definite staple recipe to have.
This tzatziki recipe is beyond simple to whip up with just a handful of fresh ingredients and it keeps in the fridge nicely for a few days.
I love this so much, I've even been know to dollop it over our Greek rice. It adds a nice creaminess to the rice!
And, while we love our homemade Greek dressing, we've also been known to thin out our Greek tzatziki sauce just a bit and drizzle it over a green salad that's been loaded with kalamata olives, feta, and cherry tomatoes. Check out this Greek chicken salad!
What is Tzatziki Sauce?
Greek Tzatziki sauce is a creamy sauce that's made with Greek yogurt, fresh cucumber, lemon juice, garlic, and dill. It's thick and creamy with a fresh flavor that makes a great dip for veggies or pita bread and is perfect on gyros, chicken souvlaki, and more.
Tzatziki is pretty similar to Greek yogurt sauce, which is also made with cucumber and Greek yogurt, but doesn't usually include the fresh dill and citrus that you find in a traditional tzatziki sauce recipe!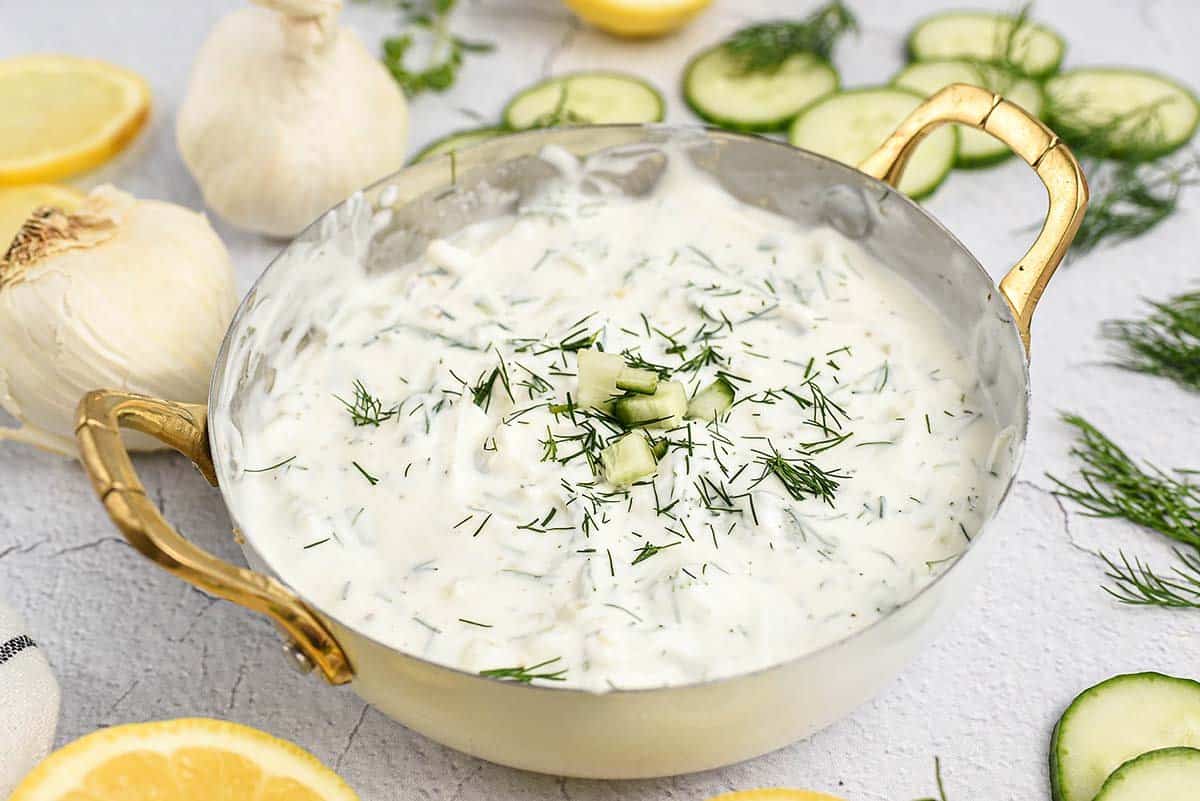 Tzatziki Pronunciation:
You'll find tzatziki pronounced a bit differently in different areas. In America, you'll often hear it pronounced tuh-zee-key, however it's more correct to pronounce it zza-zee-key, as 'tz' in Greek is equivalent to the 'zz' in pizza in English.
Tzatziki Sauce Ingredients:
This post contains affiliate links. As an Amazon associate and member of other qualifying programs, I earn from qualifying purchases.
Greek Yogurt – Plain Greek yogurt is thick and creamy, the perfect start to this dip.
Cucumber – The best variety for of cucumber to use when preparing tzatziki sauce is the English cucumber. It's also known as the hothouse cucumber or seedless cucumber. The thin skin and lack of seeds are perfect for tzatziki.
Fresh Dill – This is a key tzatziki sauce ingredient! Dill pairs perfectly with cucumber and helps enhance the cool, refreshing flavors.
Lemon – You'll want some freshly squeezed lemon juice for the best results. Bottled lemon juice will work too. The citrus will add a bit of zesty flavor to the sauce and it helps to brighten up the colors.
Garlic – Some minced garlic is a simple way to add more flavor to the sauce.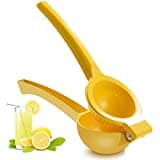 Citrus Juicer
Freshly squeezed lime and lemon juice is useful in lots of recipes, and this tool makes it easy and mess free.
Tzatziki Sauce Substitutions & Variations:
Sour Cream – You can use this as a substitute entirely for the Greek yogurt in a 1:1 ratio or you can use both and mix them up however you like. This is not the most traditional start to the sauce, but it's still tasty.
Vinegar – You can use this in place of the citrus. I'd stick to using a white wine vinegar but other varieties will work too, including red, but it may change the color of the sauce a bit.
Spicy Tzatziki – This sounds a little counterintuitive. Tzatziki is cool and refreshing. But, hey, let's turn up the heat! A little cayenne pepper, red pepper flakes, or finely chopped chili peppers will do the job.
What We Love About HOMEMADE TZATZIKI SAUCE:
Freshness: This sauce is cool and refreshing and when you prepare it yourself with the freshest possible ingredients it's even better!
Healthy: There are good, simple and nutritious ingredients in tzatziki sauce like Greek yogurt and grated cucumber!
Versatility: Tzatziki sauce pairs well with lots of foods! See below for some serving suggestions.
How to Make Tzatziki Sauce:
Prep: Grate the cucumber and squeeze out excess liquid with a tea towel. Chop the dill and mince the garlic.
Mix: Add all of the ingredients to a small bowl and stir to combine. Taste the sauce and add additional salt or lemon juice, if needed.
Serve: Whether you're making a tzatziki dip to serve with pita bread or chips or you want to drizzle the tzatziki sauce over a gyro, it's ready to go. See suggestions below on how to use tzatziki sauce!
Store: Keep leftover sauce in an airtight container in the refrigerator. This homemade tzatziki sauce should last for about 2 to 3 days.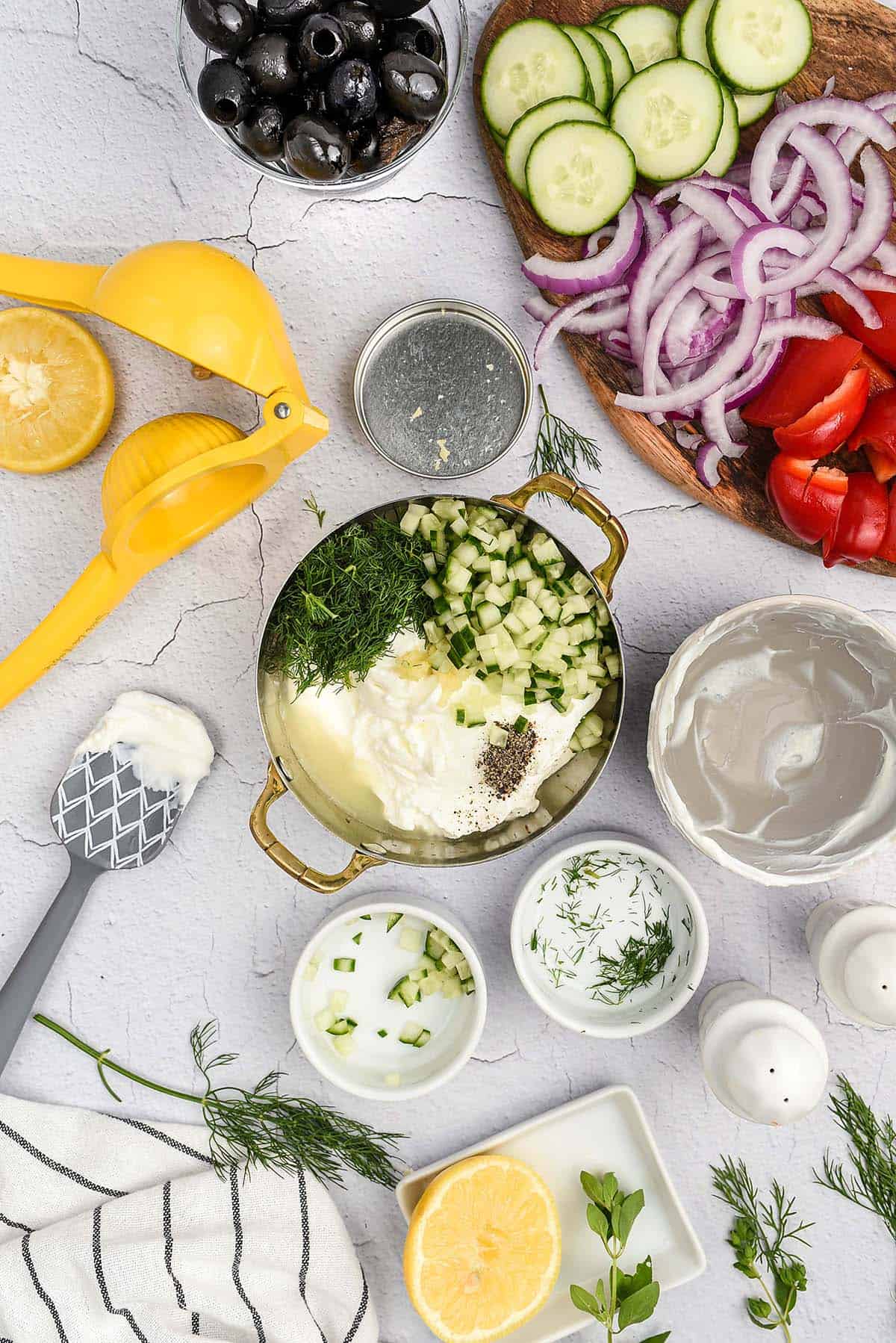 Helpful Tip!
Cucumbers are very watery so don't forget to strain the liquid out of the grated cucumber! If you don't it'll end up turning the tzatziki sauce watery after a day or so.
What to Eat With Tzatziki:
Our recipe for easy tzatziki sauce is so simple and is the perfect complement to many different dishes!
Gyros – Whether you're making traditional gyros with lamb or you're making grilled chicken gyros, tzatziki is a must!
Greek Turkey Burgers – Whip up a simple turkey burger that's mixed with feta and sun-dried tomatoes, grill it up, and serve with tzatziki over the top, along with plenty of fresh lettuce and tomatoes.
Falafel: We stuff pita pockets with our air fryer falafel, tzatziki, and loads of crisp romaine, and juicy tomatoes. The perfect lunch or dinner.
Sandwiches – More flavorful and healthier than mayo! Slather it on and enjoy the bright flavors.
Chicken Wings – Toss wings in Greek seasoning, bake til crispy, and squeeze over fresh lemon juice. Serve with this homemade tzatziki dip!
Greek Fries – Whip up some french fries, squeeze a little lemon juice over the top, sprinkle with Greek seasoning, and top with diced tomatoes, crumbled feta, and minced onion. Finish it off with a drizzle of tzatziki.
Salad Dressing – Move over, ranch. We've got a new, healthier, fresher tasting dressing!
FAQ's:
How to store tzatziki sauce?
You can keep this homemade tzatziki sauce stored in an airtight container in the fridge for about 3 days. It will not freeze well.
Do I need to peel the cucumbers?
If you're using English cucumbers the skin is pretty thin so we don't bother peeling the cucumber. If you're using another variety of cucumber, you may prefer to peel them before grating.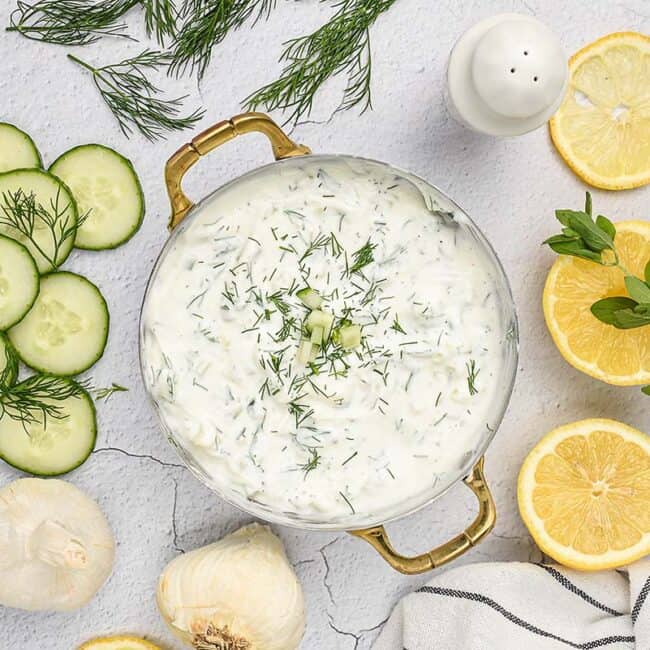 Tzatziki Sauce
This homemade Tzatziki Sauce is fresh and flavorful, thanks to the grated cucumber, lemon juice, and fresh dill. We like to serve this as a dip for fresh veggies or pita bread, or as a sauce on sandwiches.
Prep10 minutes
Total10 minutes
Ingredients
½ English cucumber
¼ cup fresh dill
1 garlic clove
1 1/2 cups plain Greek yogurt
½ lemon juiced
Salt & pepper to taste
Instructions
Using a box grater, grate the cucumber onto a tea towel. Gently squeeze the liquid from the cucumber and place the cucumber into a small mixing bowl.

Chop the dill and mince the garlic and add to the cucumber along with the yogurt and lemon juice.

Stir well to combine the mixture and add salt and pepper to taste.

Serve immediately or store in an air tight container in the fridge for up to 3 days.
Tips & Notes:
We prefer the flavor of full fat Greek yogurt, but nonfat also works in this recipe. Some tzatziki recipes call for fresh mint. We prefer it without, but you may add in about a tablespoon of chopped mint, if desired. If serving as a dip, we often drizzle a bit of olive oil over the top.
Nutrition Information:
Serving: 2tablespoons| Calories: 26kcal (1%)| Carbohydrates: 2g (1%)| Protein: 3g (6%)| Fat: 1g (2%)| Saturated Fat: 1g (6%)| Polyunsaturated Fat: 1g| Monounsaturated Fat: 1g| Cholesterol: 2mg (1%)| Sodium: 13mg (1%)| Potassium: 34mg (1%)| Fiber: 1g (4%)| Sugar: 1g (1%)| Vitamin A: 106IU (2%)| Vitamin C: 4mg (5%)| Calcium: 39mg (4%)| Iron: 1mg (6%)