This North Carolina BBQ Sauce recipe is tangy and full of flavor! We love slathering it on pulled pork or grilled chicken. This vinegar based BBQ sauce is the perfect mixture of sweet and tangy.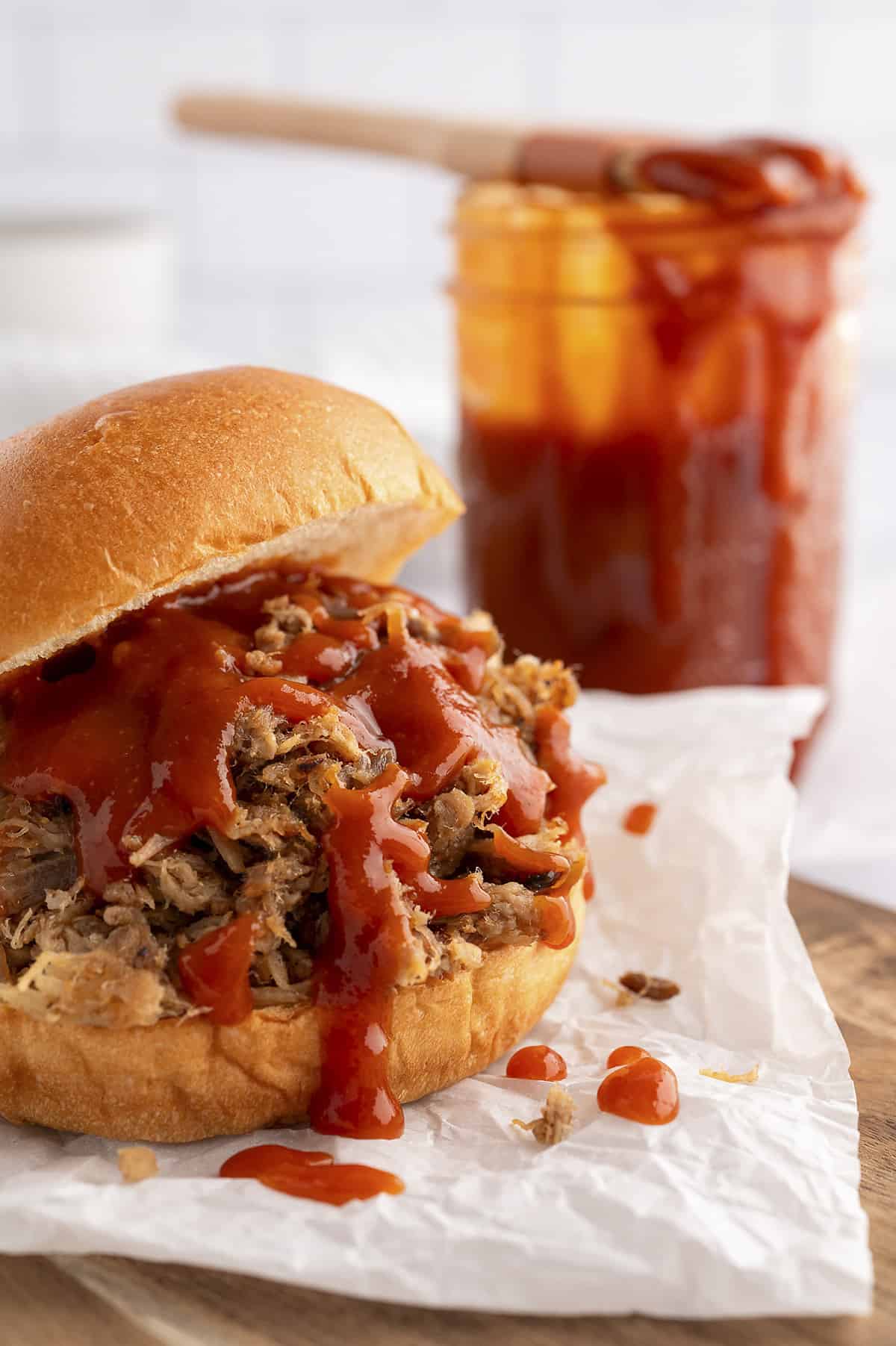 People. I have a problem.
I want to dip all the things in all the things.
By which I mean, I want to dip every single food in every single type of condiment available.
If I make our oven fried chicken tenders, I must also have country gravy, ranch dressing, honey mustard, barbecue sauce, and our copycat Chick-Fil-A sauce.
If I eat french fries, I want a plate with little squirts of ketchup, dollops of mayo, blobs of spicy mustard, cheese sauce, and a good amount of fry sauce.
I have condiment commitment issues, you guys. I should probably go to therapy for this.
Anyway, barbecue sauce is a condiment which means that I love it and .
So, I made up a batch of my favorite Carolina barbecue sauce recipe this week and thought I'd share the recipe.
I snagged it off the back of a bag of Lay's barbecue chips a long time ago (embarrassing? maybe. also true.), doctored it up a bit, and it's been a favorite ever since! I love the tangy flavor from all of the vinegar!
This vinegar based bbq sauce is absolute perfection, my friends.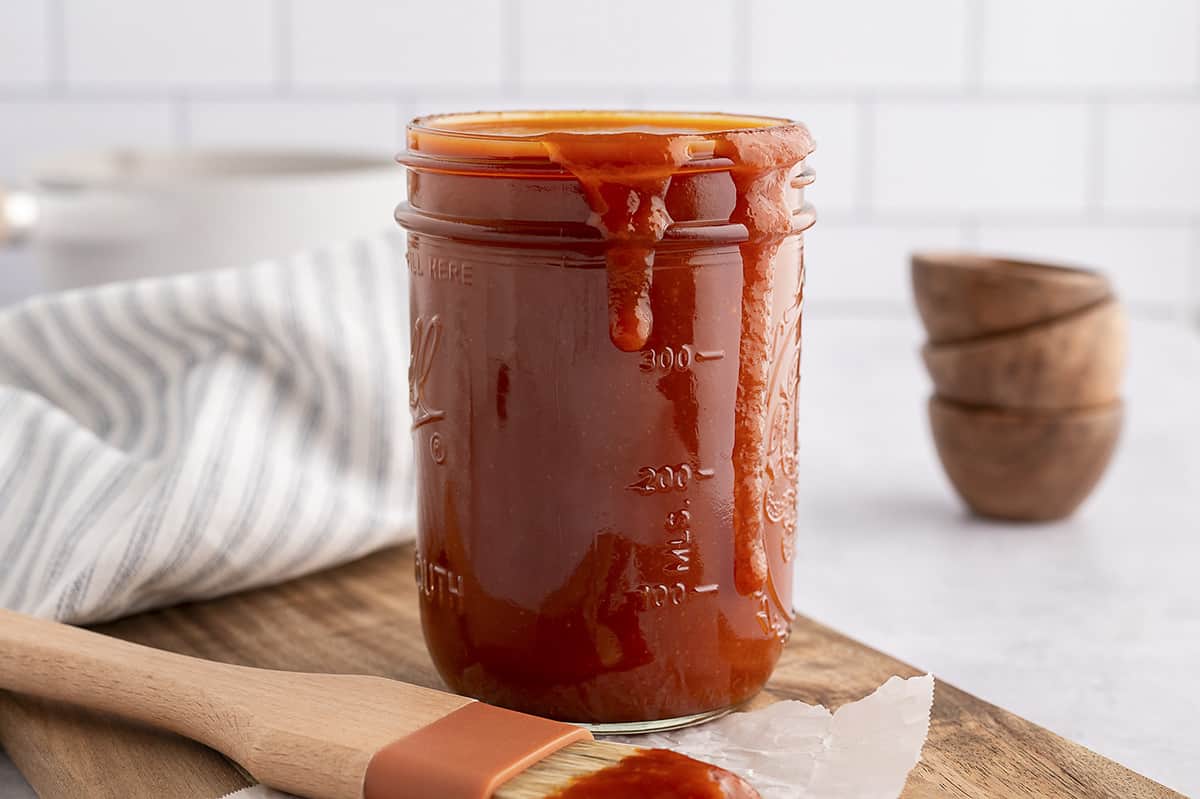 What is Carolina Style BBQ Sauce:
Carolina BBQ sauce is a vinegar based BBQ sauce that often contains no tomato products at all. It's a very thin sauce.
Our version of Carolina BBQ sauce contains both apple cider vinegar and ketchup, making for a sauce that's thicker than just a straight vinegar based sauce. The tanginess of the vinegar shines through nicely and is paired perfeclty with the sweetness of the ketchup and brown sugar. We think this is the best of both worlds – thinner and tangier than something like our Bourbon BBQ sauce or Sweet Baby Ray's, but still with a bit of body that will cling nicely to your pulled pork or grilled chicken.
Ingredient Notes:
This post contains affiliate links. As an Amazon associate and member of other qualifying programs, I earn from qualifying purchases.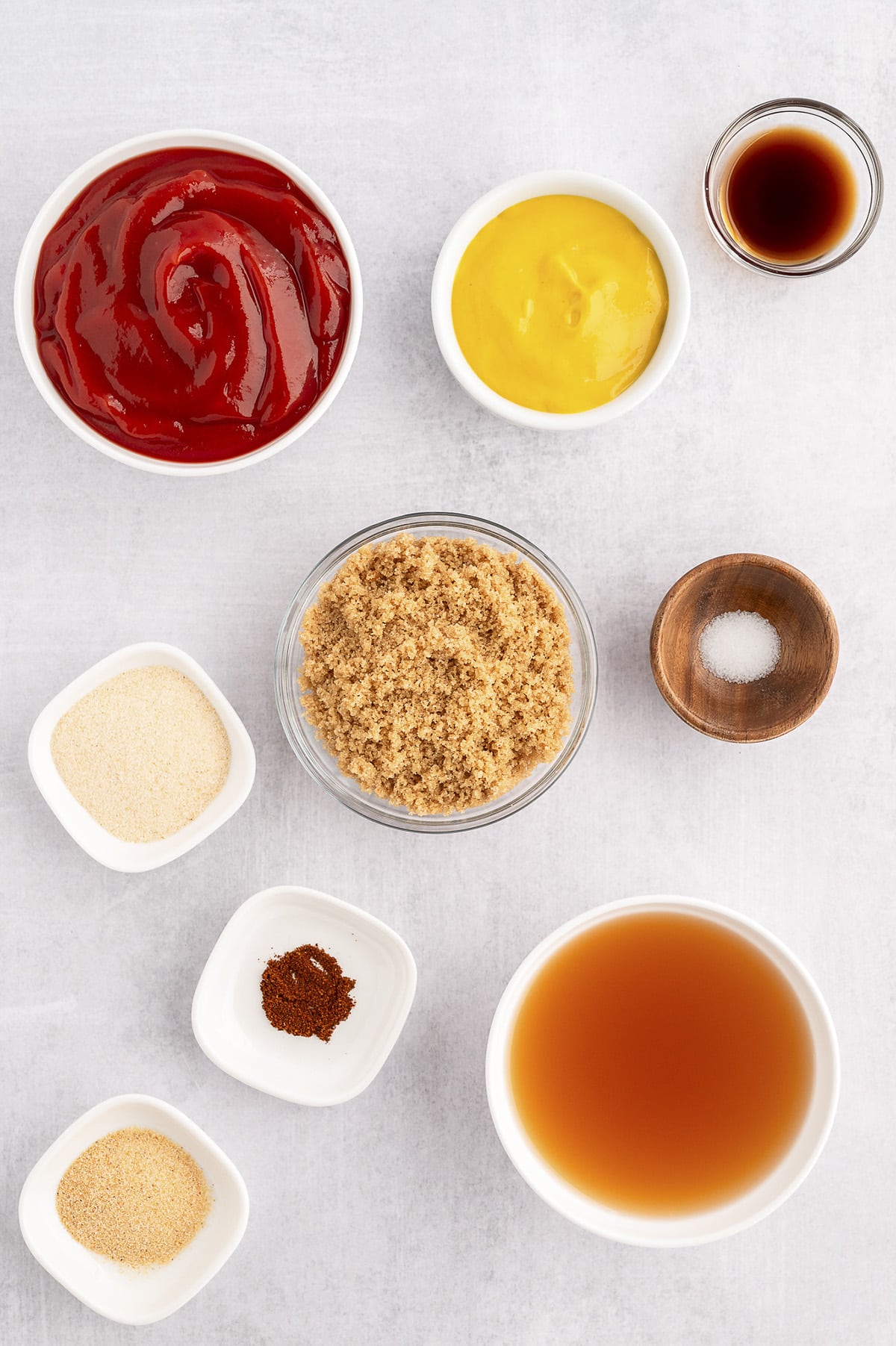 Wet Ingredients: This easy vinegar based BBQ sauce recipe starts with a mix of ingredients you probably already have at home. The wet ingredients include apple cider vinegar, ketchup, yellow mustard, and Worcestershire sauce.
Dry Ingredients: Along with the tangy flavor from the vinegar every good BBQ sauce recipe needs a little bit of sweet and a little bit of heat! That'll come from brown sugar and chili powder. Some onion and garlic powder along with salt will also help balance out the flavors in this tangy North Carolina BBQ sauce recipe!
What Readers are Saying!
"We smoke our own meats and this sauce is amazing! Exactly what I've been looking for! Followed the recipe and I couldn't be happier with it. Thank you!" – April
How to Make Carolina Barbecue Sauce: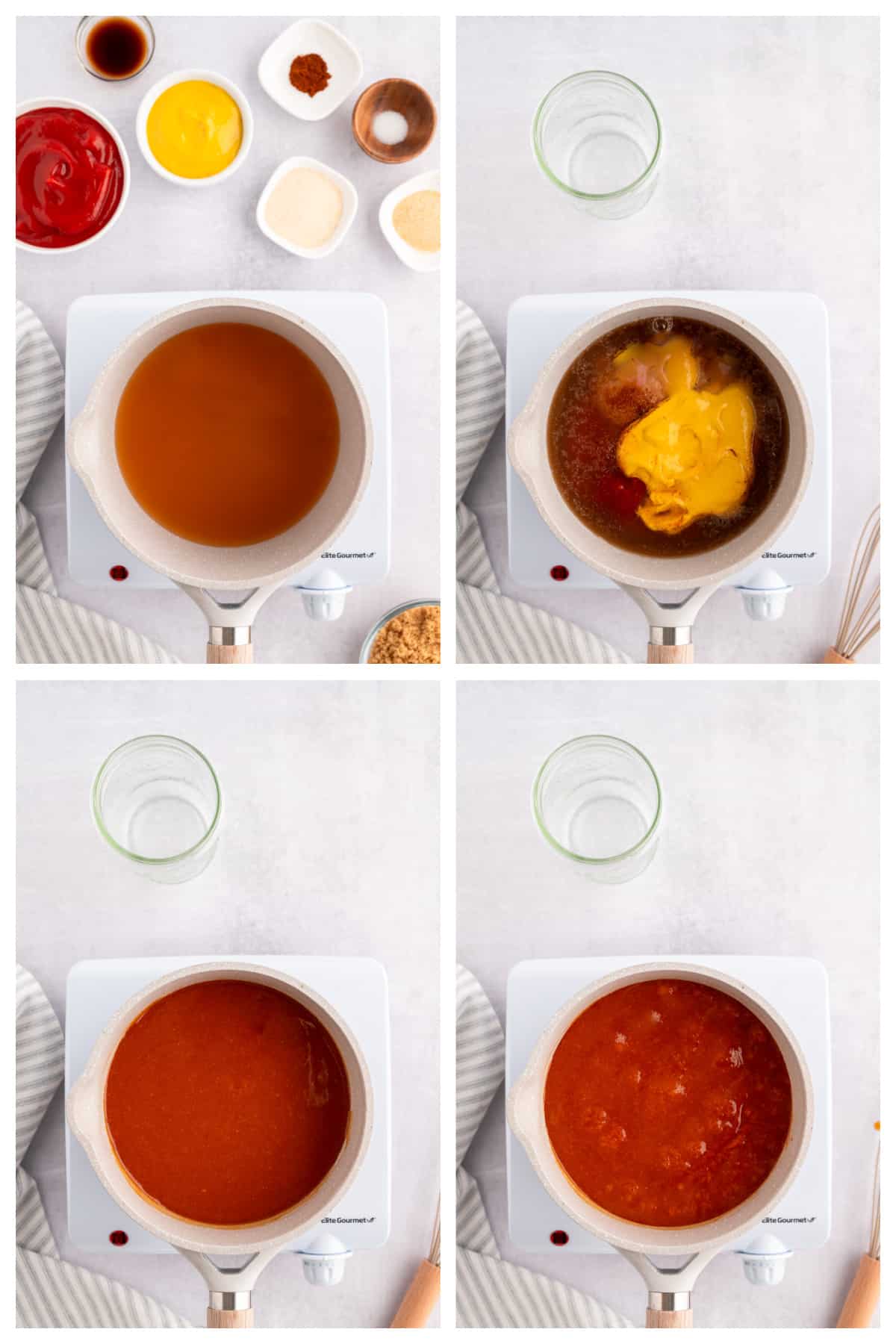 Combine: This is one of those really simple one pot recipes where you can just dump everything in and go. Add all the wet ingredients to a medium saucepan with the dry ingredients and whisk it all together over low heat until it begins to form into the tangy BBQ sauce.
Boil: Bring the sauce to a boil, being careful to stir often so that the bottom doesn't burn.
Thicken (Or Don't): We like to let our sauce boil and reduce down by about a third. This makes for a thicker sauce with a bit more body. You can boil it for as long as you like – the longer you boil it, the thicker it will be. The less you boil it, the thinner it will be!
Store: When the sauce is ready you'll need something to store it in. I recommend mason jars! Let it cool for about 20 minutes before transferring to the jars or another airtight container.
I wouldn't recommend using this sauce right away though. It'll thicken up a bit and take on even more flavor if you let it set it in the refrigerator first for at least a couple of hours or even a day or two!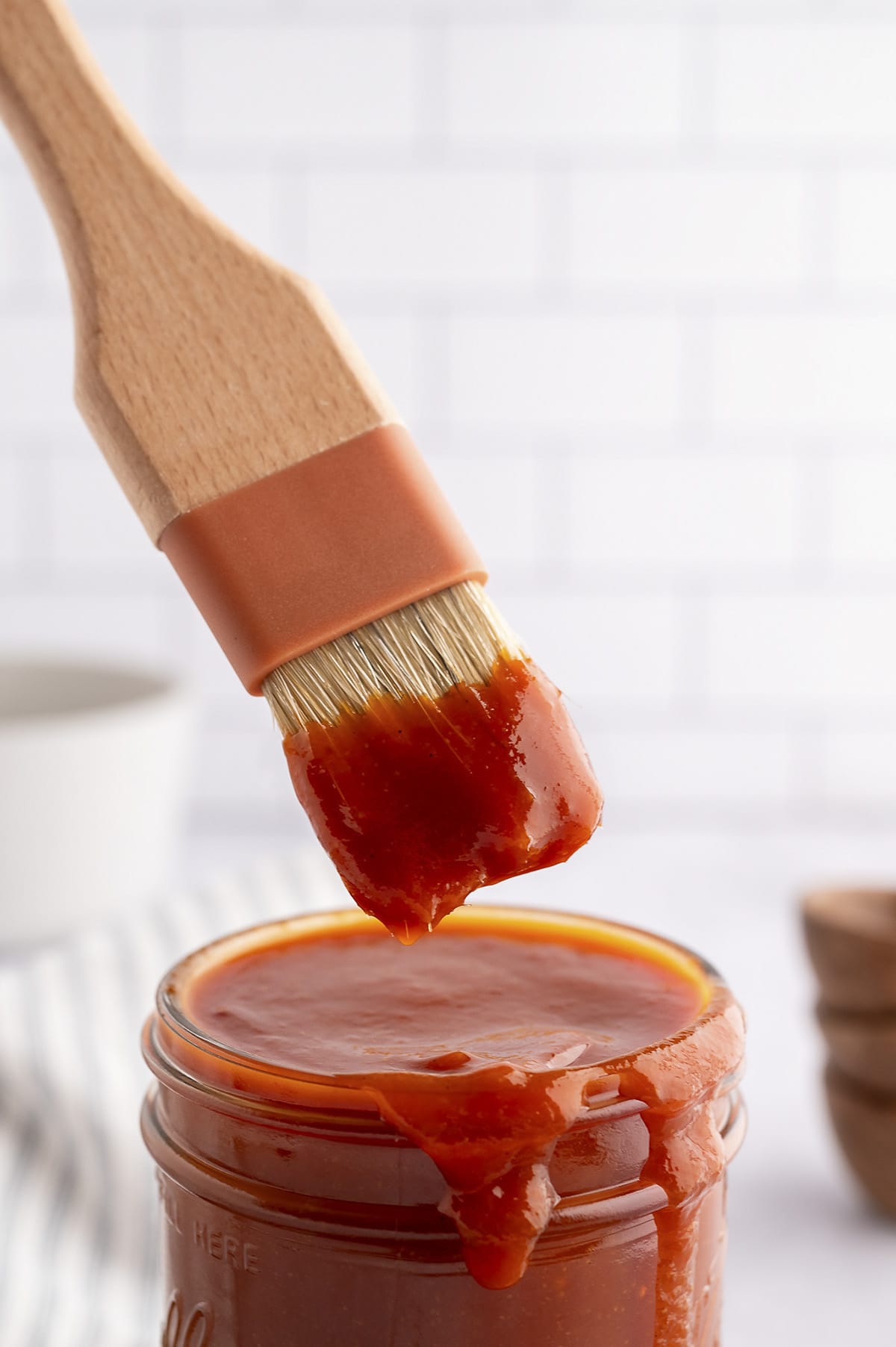 Serving Suggestions:
Pretzel Crusted Chicken – The perfect dip for this juicy, crunchy chicken is our barbecue sauce!
Air Fryer Boneless Pork Chops – Just 10 minutes in the air fryer. Baste these with our tangy barbecue sauce or serve on the side.
Pulled Pork Sandwiches – We drizzle these with sauce and top them with dill pickle slaw. A must!
BBQ Chicken Burgers – Dry burgers? No, sir. We add BBQ sauce and cracker crumbs to the mix and they turn out fab.
FAQs:
What type of vinegar should I use?
We prefer apple cider vinegar in this Carolina BBQ sauce.
How to store BBQ sauce?
This tangy Carolina BBQ sauce is best stored in a mason jar in the refrigerator. It won't last as long as the bottled stuff from the store but it will last for a couple of weeks in the fridge. It can also be frozen in a freezer safe container for up to 3 months. We do not have experience canning this sauce.
MORE BBQ RECIPES!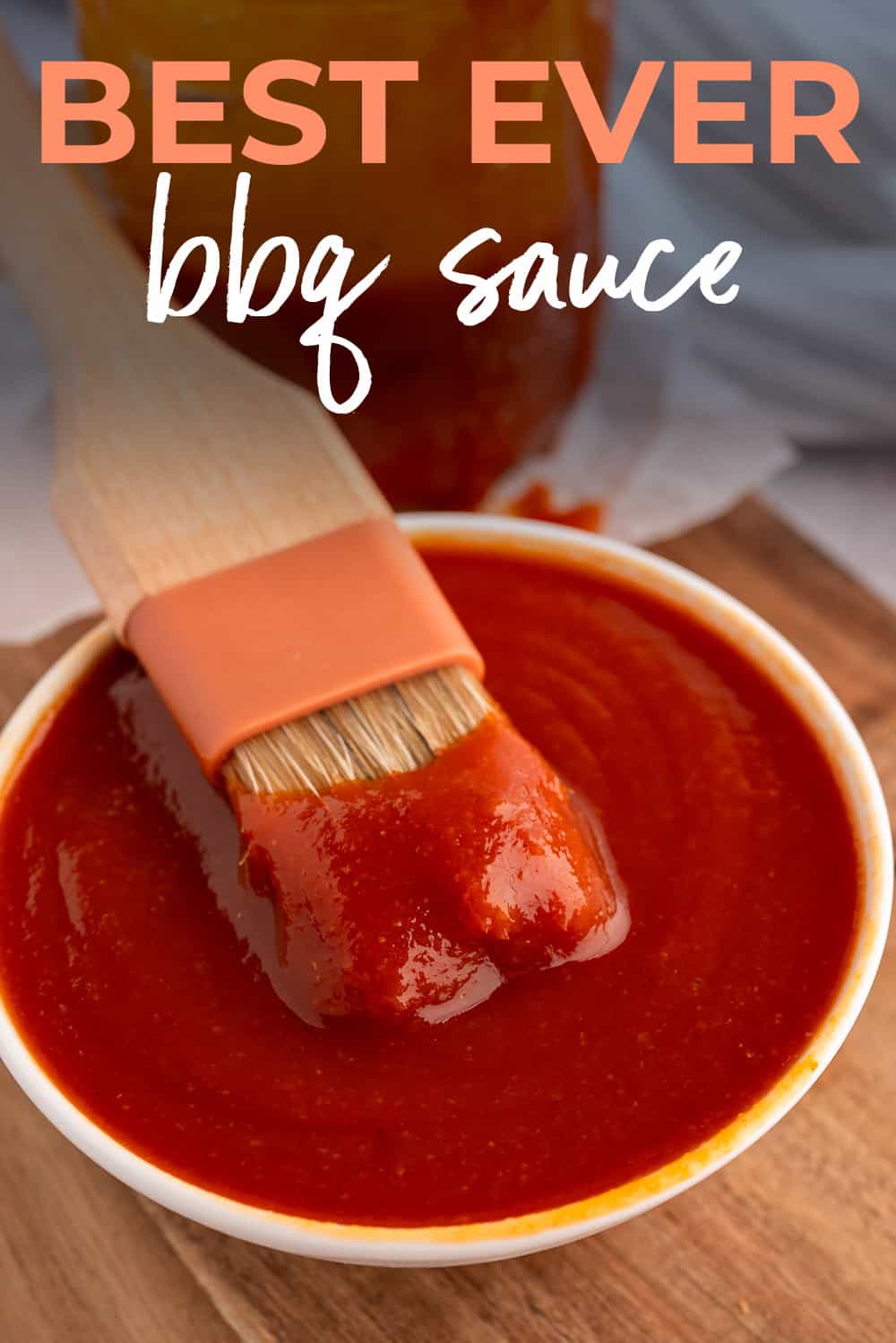 Tangy Carolina Barbecue Sauce
This North Carolina BBQ Sauce recipe is tangy and full of flavor! We love slathering it on pulled pork or grilled chicken. You won't be able to get enough of this barbecue sauce recipe.

Prep2 minutes
Cook3 minutes
Total5 minutes
Ingredients
1 cup apple cider vinegar
1 cup ketchup
1/2 cup brown sugar
1/3 cup yellow mustard
1 tablespoons onion powder
1 teaspoon garlic powder
1/4 teaspoon chili powder
1/4 teaspoon salt
Dash of Worcestershire sauce
Instructions
Dump everything into a medium saucepan set to low heat. Whisk together to combine. Increase heat to high and bring to a boil.

Boil, stirring often, for 5 minutes or until the sauce has reduced to your liking, keeping in mind sauce will thicken slightly as it cools.

Remove from the heat and store in a one pint mason jar in the fridge for up to 2 weeks.
Nutrition Information:
Calories: 51kcal (3%)| Carbohydrates: 11g (4%)| Sodium: 234mg (10%)| Potassium: 81mg (2%)| Sugar: 10g (11%)| Vitamin A: 90IU (2%)| Vitamin C: 0.8mg (1%)| Calcium: 14mg (1%)| Iron: 0.2mg (1%)
This recipe was originally published in May of 2013. It was updated with new photos in October 2023.