My husband and I are complete opposites.
I order chicken strips from a restaurant for the sole purpose of dipping sauces. I want all of the sauces. ALL OF THEM.
My husband? He orders the chicken strips for the protein and, like, meaty flavor.
Sometimes I take a plate full of french fries and just surround it with different dipping options – ketchup, mayonnaise, barbecue sauce, ranch dressing, mayo mixed with sirracha, mayo mixed with ketchup, and the list goes on.
If it's a condiment, I will dip something in it.
Enter this ridiculous barbecue sauce made from mustard. Oh my word, you guys. I want to bathe in this stuff. I have a feeling it's really good for your pores. I've been using it as a facial every night for a week now. Then I lick it off.
Even my husband loves this sauce and has dubbed any chicken it coats his "new favorite chicken."
Let me put this into McDonald's language for you guys: It tastes a bit like the Hot Mustard nugget sauce, but slightly more mellow. Famous Dave's also has a version of yellow barbecue sauce that this is pretty similar to.
I like to cook chicken breasts on low in the slow cooker for 5-6 hours, shred, toss with this sauce, and then serve on buns. It's such a quick and easy dinner and everyone I've served it to has requested the recipe. Even the barbecue haters. (Yes, barbecue haters really do exist. No, I don't understand them either.)
You can also brush this on chicken as you grill it. It'd probably make a pretty fabulous pulled pork, too.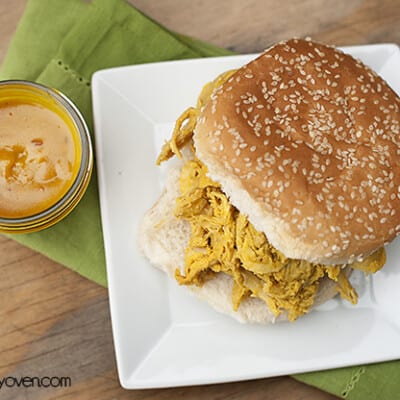 South Carolina Yellow BBQ Sauce
This sauce is full of tangy flavor, but it's not overpowering at all. Toss shredded chicken or pork in this for a quick barbecue sandwich or brush it on chicken while grilling. This makes about 2 cups of sauce.
Prep5 minutes
Cook30 minutes
Ingredients
4 tablespoons butter
1 tablespoon onion powder
1/2 cup yellow mustard
1/2 cup apple cider vinegar
1/2 cup brown sugar
1 tablespoon mustard powder
1 teaspoon salt
1/2 teaspoon cayenne pepper
Instructions
Melt the butter over low heat in a medium saucepan.

Add the remaining ingredients to the pan and cook, whisking occasionally, over low heat for 30 minutes.

Sauce will thicken slightly as it cools.
Tips & Notes:
We use the classic American style yellow mustard in this recipe.
Nutrition Information:
Serving: 2tablespoons| Calories: 124kcal (6%)| Carbohydrates: 15g (5%)| Protein: 1g (2%)| Fat: 7g (11%)| Saturated Fat: 4g (25%)| Trans Fat: 1g| Cholesterol: 15mg (5%)| Sodium: 523mg (23%)| Potassium: 70mg (2%)| Fiber: 1g (4%)| Sugar: 14g (16%)| Vitamin A: 238IU (5%)| Vitamin C: 1mg (1%)| Calcium: 29mg (3%)| Iron: 1mg (6%)
lightly adapted from Simply Recipes