This recipe for Barbecue Chicken Bread is faster and easier than making pizza, but has the same great flavors! It's perfect for a busy weeknight or quick lunch.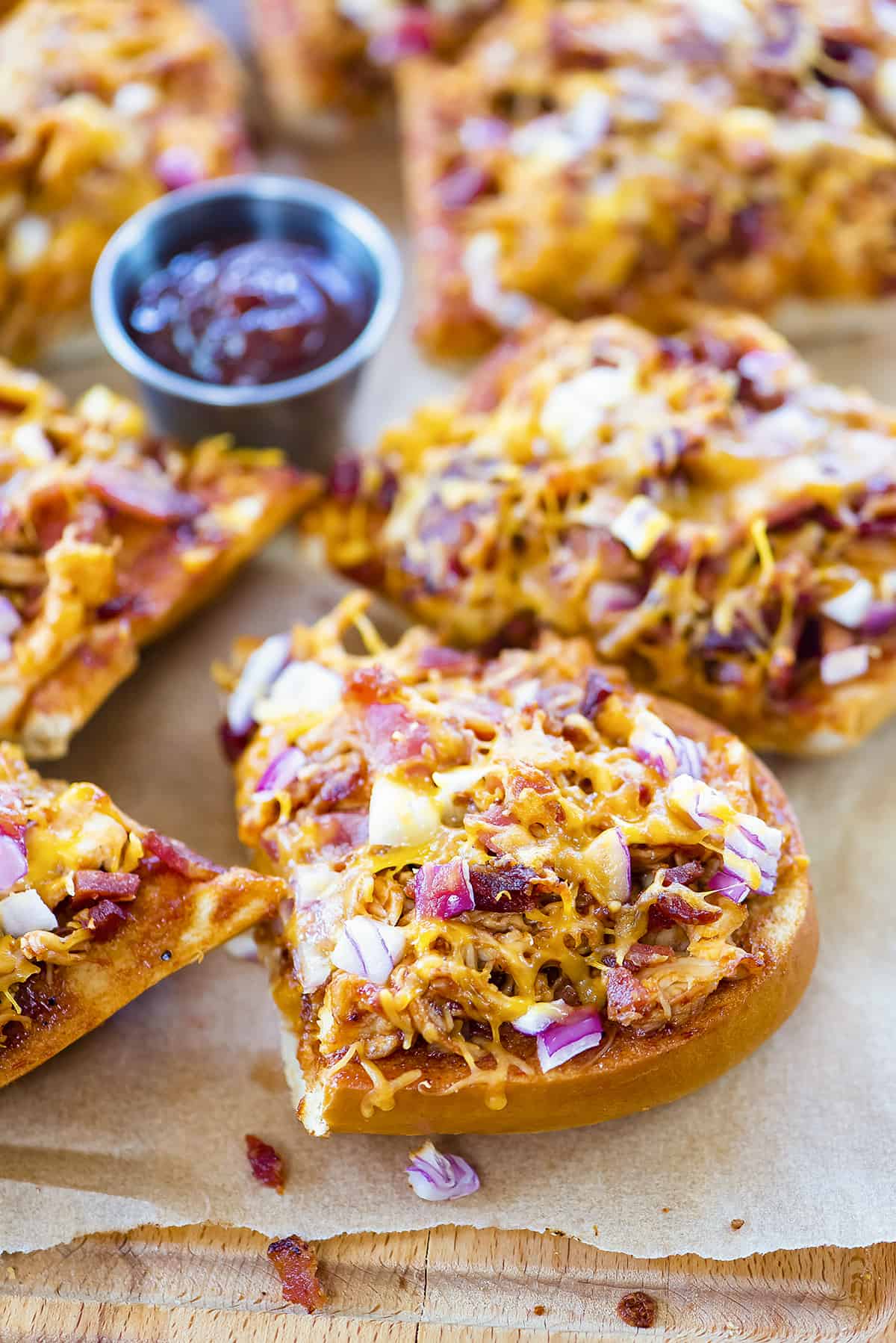 Remember how I'm super in love with quick lunches like pizza bread and English muffin pizza? And okay, I just really love pizza.
I just upped my pizza game, you guys. You know that fabulous Barbecue Chicken Pizza that you can get from the local pizza shop? It's full of chicken, barbecue sauce, bacon, and onions? Yeah. I love it, too.
Of course, the first time I had it was a complete accident.
My husband and I were on our "honeymoon" (a local hotel…we had a new baby and not a whole lotta money) and ordered a late night pizza, because we had been up very late doing very important married things like calling each other Mr. and Mrs. while giggling. (Minds out of the gutter, people.)
The delivery driver brought us a barbecue chicken pizza by mistake and we were totally weirded out. It was love at first bite though.
There's just something so delicious about chicken, sweet barbecue sauce (or try our Carolina BBQ sauce – it's sweet AND tangy), and red onion. They just go together.
Much like our Carnitas Pizza and Buffalo Chicken Pizza, this quickly became a favorite in our house and we don't even use a pizza crust.
We always have a loaf of French bread laying around and it makes the perfect base.
Ingredient Notes:
This post contains affiliate links. As an Amazon associate and member of other qualifying programs, I earn from qualifying purchases.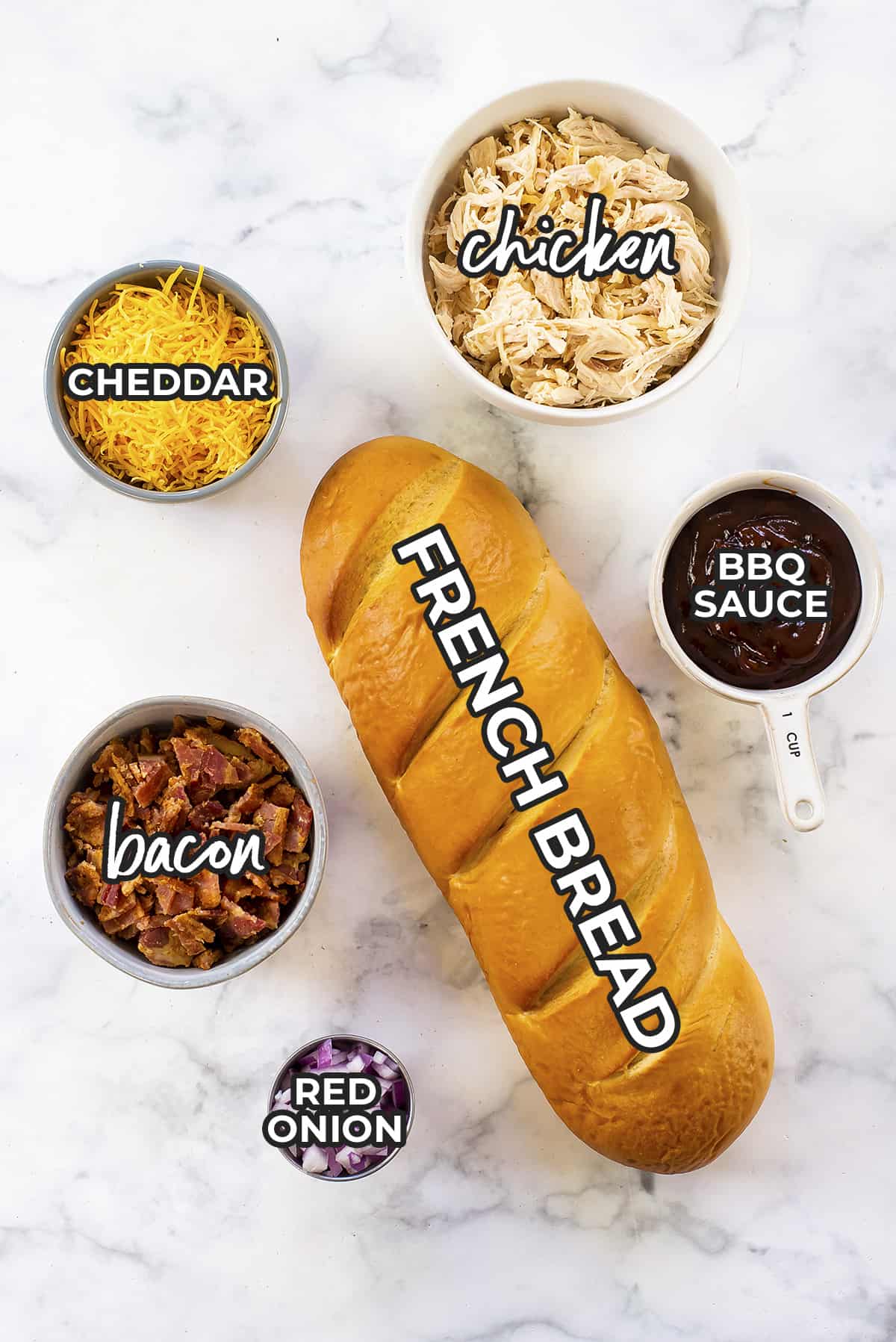 Italian or French Bread – You're looking for a loaf that's a good 12-14 inches long here.
Shredded Chicken – I've always got shredded chicken ready to go for recipes like this. It's easy to prepare ahead of time or you can grab a rotisserie chicken to shred.
Barbecue Sauce –We like homemade best! For a tangy sauce, try our Carolina BBQ Sauce. For a more complex sauce, try our Bourbon BBQ sauce.
Cheddar Cheese – We think cheddar pairs the best with the BBQ sauce, but you can use any variety of cheese you like.
Thick Cut Bacon – Fry up your bacon and dice it up. It adds a nice salty, savory crunch.
Red Onion – The strong flavor of red onion pairs perfectly with the sweet BBQ sauce and savory chicken and bacon!
What Readers are Saying!
"Just found and tried this – OMG. I cheated and used bacon bits (forgot to get bacon) and it was still amazing! 🙂" – Reen
How To Make Barbecue Chicken Bread:
Prep: While your oven preheats you can get started by slicing the loaf of bread in half lengthwise. Simple!
BBQ Sauce: You'll need about a quarter cup of your preferred barbecue sauce to spread over each half of the loaf of bread.
Helpful Tip!
Not all loafs of bread are the same size. You don't want to add too much sauce so keep in mind that you'll also add a half cup of sauce to the chicken before it goes on the bread. Adjust accordingly.
Chicken: Start heating a skillet over medium heat and add in the shredded chicken and 1/2 cup of barbecue sauce. Let it heat up while stirring until the sauce has warmed through and the chicken is fully coated in sauce.
Top: When ready you can spread the barbecue chicken mixture evenly over the top of each half of the bread. Next top it with the cooked and diced bacon, red onion, and shredded cheddar cheese!
Bake: When ready place the halves of bread on a prepared sheet pan and start baking at 350 degrees for 15 minutes or until it has heated through and the cheddar cheese is nice and melty!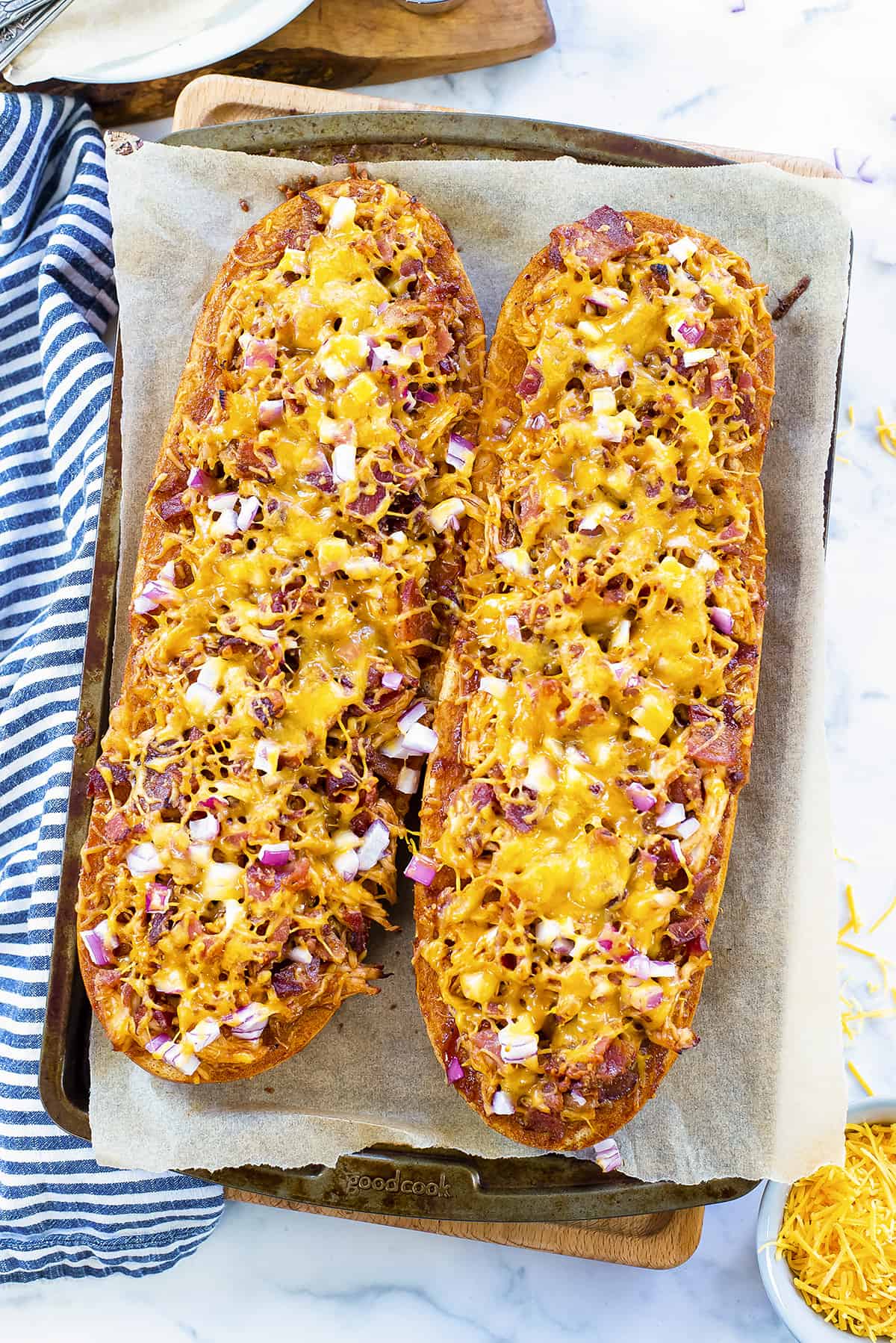 FAQ's:
Is this just BBQ chicken pizza?
Pretty much, but we're using a loaf of bread here instead of a pizza crust. It's also pretty similar to BBQ chicken flatbread but obviously this is not flatbread. So it's just plain barbecue chicken bread!
How to store barbecue chicken bread?
You can keep any leftover bread stored covered in an airtight container or zip lock bag for about 3 days. You can reheat it in the microwave or just serve it cold!
MORE BARBECUE CHICKEN RECIPES!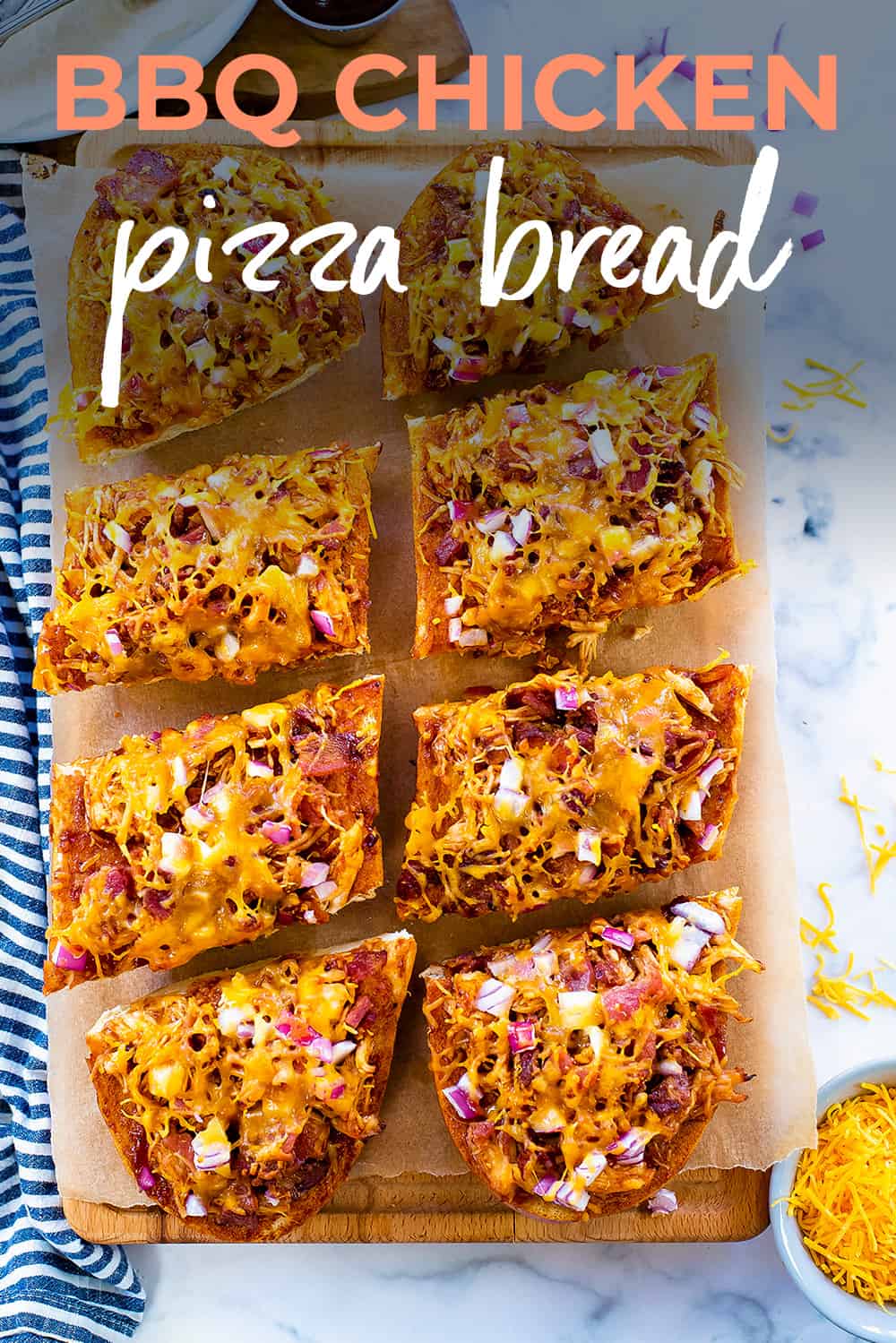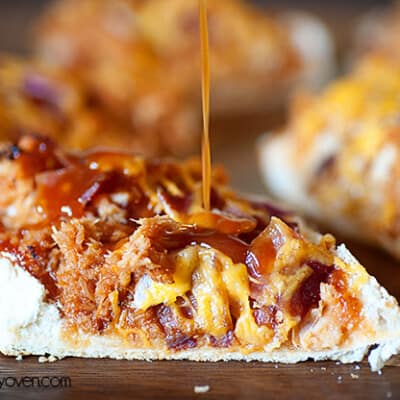 Barbecue Chicken Bread
This Barbecue Chicken Bread makes for a fun and flavorful dinner or lunch. It's easier than a barbecue chicken pizza, but has all the same fun flavors!
Prep5 minutes
Cook20 minutes
Total25 minutes
Ingredients
1 loaf sweet Italian or French bread
1 1/2 cups shredded chicken
1 cup barbecue sauce plus more for drizzling
1/2 cup shredded cheddar cheese
4 slices thick cut bacon cooked and diced
1/4 cup red onion diced
Instructions
Preheat the oven to 350 degrees.

Slice the loaf of bread in half, lengthwise. Spread 1/4 cup of barbecue sauce over each piece of the bread.

In a medium skillet over medium heat, heat together the chicken and remaining 1/2 cup of barbecue sauce until warmed through and the chicken is thoroughly coated in sauce.

Spread the barbecue chicken evenly over the bread. Top with the bacon, onion, and cheddar cheese.

Bake for 15 minutes or until heated through and the cheese has melted.

Cut each slice of bread into fourths. Serve hot, with extra barbecue sauce if desired.
Nutrition Information:
Calories: 700kcal (35%)| Carbohydrates: 87g (29%)| Protein: 32g (64%)| Fat: 24g (37%)| Saturated Fat: 9g (56%)| Cholesterol: 79mg (26%)| Sodium: 1720mg (75%)| Potassium: 516mg (15%)| Fiber: 3g (13%)| Sugar: 26g (29%)| Vitamin A: 330IU (7%)| Vitamin C: 1.2mg (1%)| Calcium: 176mg (18%)| Iron: 4.6mg (26%)