September 6, 2018
Barbecue Chicken Bread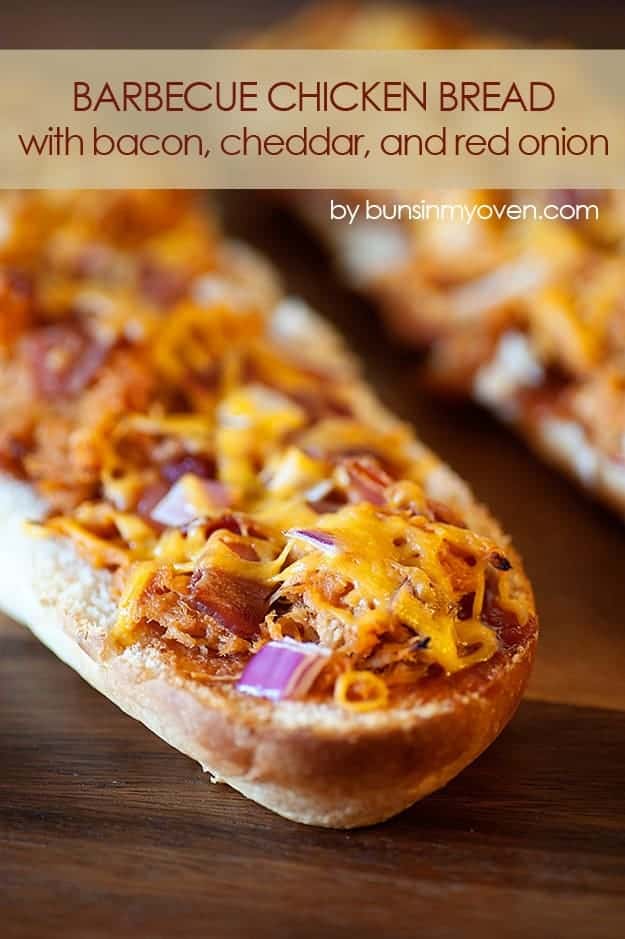 Remember how I'm super in love with quick lunches like pizza bread?
Well, I just upped the game, you guys. You know that fabulous Barbecue Chicken Pizza that you can get from the local pizza shop? It's full of chicken, barbecue sauce, bacon, and onions? Yeah. I love it, too.
Of course, the first time I had it was a complete accident. My husband and I were on our "honeymoon" (a local hotel…we had a new baby and not a whole lotta money) and ordered a late night pizza, because we had been up very late doing very important married things like calling each other Mr. and Mrs. while giggling. (Minds out of the gutter, people.) The delivery driver brought us a barbecue chicken pizza by mistake and we were totally weirded out. He came back with our standard pepperoni pizza, but we both fell in love with the barbecue chicken pizza while we were waiting for our correct order to arrive.
Anyway, I'm all about easy, homemade pizzas (Hello, Carnitas Pizza and Buffalo Chicken Pizza), but I thought it would be fun to do another pizza bread recipe, this time with a barbecue twist!
My daughter hates barbecue sauce, so she thought this was a horrible idea. Then again, she puts Tostitos chips inside her peanut butter and jelly, so what does she know?
The rest of the family? We gobbled this bread right down. It was perfect for a quick lunch, especially if you serve it with a simple salad.
Barbecue Chicken Bread
Servings: 4 servings
Course: Main Course
Cuisine: American
Keyword: easy dinner recipes, kid-friendly recipes, weeknight dinner recipes
Calories: 700 kcal
This Barbecue Chicken Bread makes for a fun and flavorful dinner or lunch. It's easier than a barbecue chicken pizza, but has all the same fun flavors!
Ingredients
1 loaf sweet Italian or French bread
1 1/2 cups shredded chicken
1 cup barbecue sauce plus more for drizzling
1/2 cup shredded cheddar cheese
4 slices thick cut bacon cooked and diced
1/4 cup red onion diced
Instructions
Preheat the oven to 350 degrees.

Slice the loaf of bread in half, lengthwise. Spread 1/4 cup of barbecue sauce over each piece of the bread.

In a medium skillet over medium heat, heat together the chicken and remaining 1/2 cup of barbecue sauce until warmed through and the chicken is thoroughly coated in sauce.

Spread the barbecue chicken evenly over the bread. Top with the bacon, onion, and cheddar cheese.

Bake for 15 minutes or until heated through and the cheese has melted.

Cut each slice of bread into fourths. Serve hot, with extra barbecue sauce if desired.
Nutrition Facts
Barbecue Chicken Bread
Amount Per Serving
Calories 700 Calories from Fat 216
% Daily Value*
Fat 24g37%
Saturated Fat 9g56%
Cholesterol 79mg26%
Sodium 1720mg75%
Potassium 516mg15%
Carbohydrates 87g29%
Fiber 3g13%
Sugar 26g29%
Protein 32g64%
Vitamin A 330IU7%
Vitamin C 1.2mg1%
Calcium 176mg18%
Iron 4.6mg26%
* Percent Daily Values are based on a 2000 calorie diet.
Nutrition Disclaimer: All information presented on this site is intended for informational purposes only. I am not a certified nutritionist and any nutritional information shared on bunsinmyoven.com should only be used as a general guideline.