Chicken burgers are a fun twist from turkey or beef burgers and these have a secret ingredient inside to make them extra tasty! Keep scrolling to find out what it is!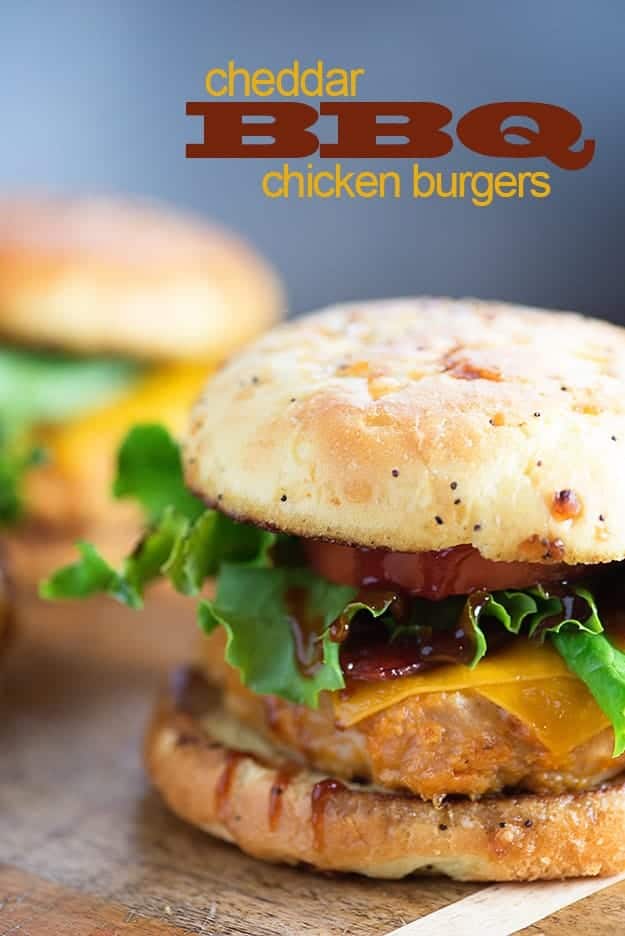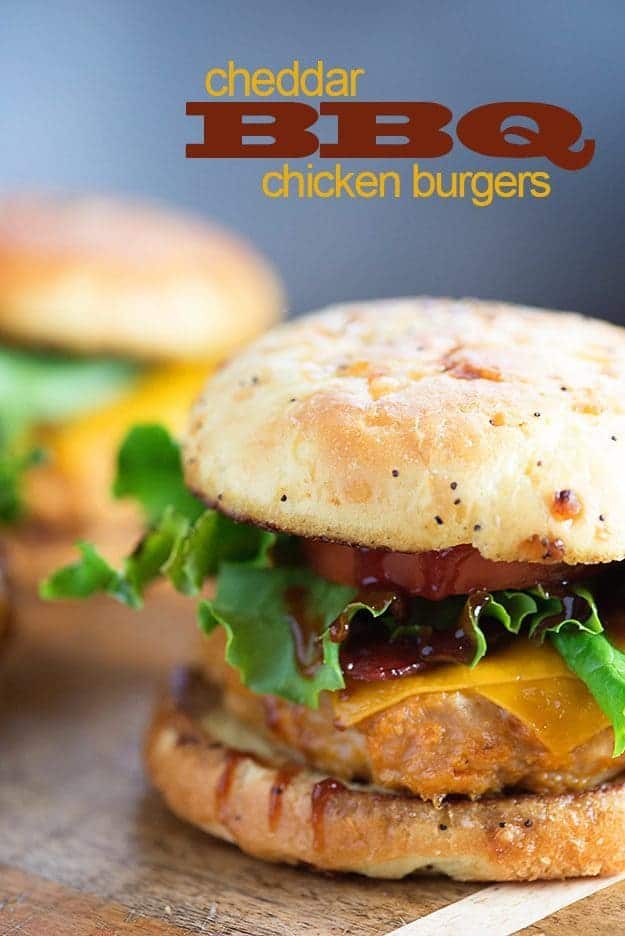 Summertime is more or less here, my friends. I mean, I don't know about you, but I'm ready. I want the sunshine and the butterflies and, yes, even the humidity frizzed out hair. I like summer, ok?
I also like burgers, which means that they are a total summer staple in this house.
I've been on a major chicken kick lately, so I thought a big ol' chicken burger sounded like a winning dinner idea and boy, was I right.
This ground chicken burger is so full of flavor. And did I mention that I made these burgers each 1/3 of a pound? Big boy burgers. Mama was hungry.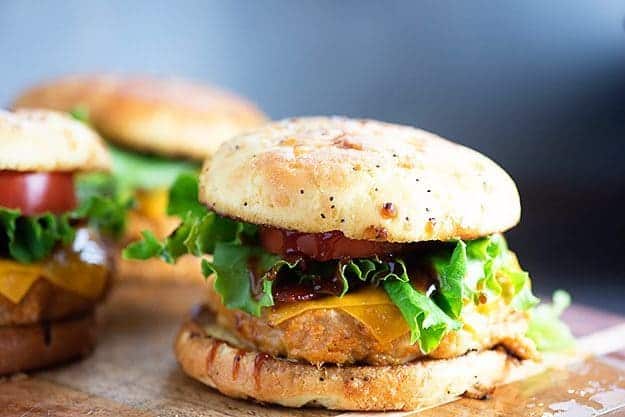 These big ol' burgers are sure to bring a smile to everyone's face this summer.
They're moist and juicy, just the way a burger should be and they just so happen to have a secret ingredient.
Ready for it?
Cheese cracker crumbs. In the burger.
How fun is that?? It adds a ton of flavor to the burgers while helping the chicken all hold together. I also snuck in a big ol' squirt of barbecue sauce, because summer and barbecue just belong together! Can you imagine having these at your next cook out? Total heaven!
These are super quick to prepare, so you can save time in the kitchen and enjoy your summer hanging with the kiddos or relaxing by the pool. Feel free to make these burgers smaller than I have. 1/4 pound burgers are every bit as good! Check out the video to see just how easy these are!
If you love burgers as much as I do, you have to try this pimento cheese burger! Try my best turkey burger recipe too!
So, tell me! How do you want your burger? Extra bacon? Extra cheese? Extra BBQ sauce? All of the above??
BBQ Chicken Burgers
These ground chicken burgers are extra delicious thanks to the cheese cracker crumbs hiding inside!
Prep10 minutes
Cook15 minutes
Total25 minutes
Ingredients
1 pound ground chicken
1 cup cheese cracker crumbs
1/4 cup barbecue sauce
1 egg
1/2 teaspoon garlic powder
1/2 teaspoon onion powder
1/2 teaspoon black pepper
1 tablespoon butter
3 slices cheddar cheese
3 sandwich buns
6 slices bacon
lettuce and tomato for topping
extra barbecue sauce for serving
Instructions
Add ground chicken, cracker crumbs, barbecue sauce, egg, and seasonings to a medium bowl and stir to combine.

Pat into 3 large burgers.

Heat a skillet over medium-low heat and melt the butter.

Place the patties in the skillet and cook 8 minutes and then flip. Continue cooking until cooked through, about 5 more minutes.

Top the burgers with cheddar cheese slices and cook until melted.

Serve on sandwich buns with bacon, lettuce, tomato, and extra barbecue sauce.
Nutrition Information:
Calories: 919kcal (46%)| Carbohydrates: 53g (18%)| Protein: 49g (98%)| Fat: 56g (86%)| Saturated Fat: 21g (131%)| Cholesterol: 259mg (86%)| Sodium: 1344mg (58%)| Fiber: 2g (8%)| Sugar: 11g (12%)