August 24, 2018
The Best Turkey Burgers
I'm about to share all of my secrets for grilling up the best turkey burgers! So juicy and flavorful!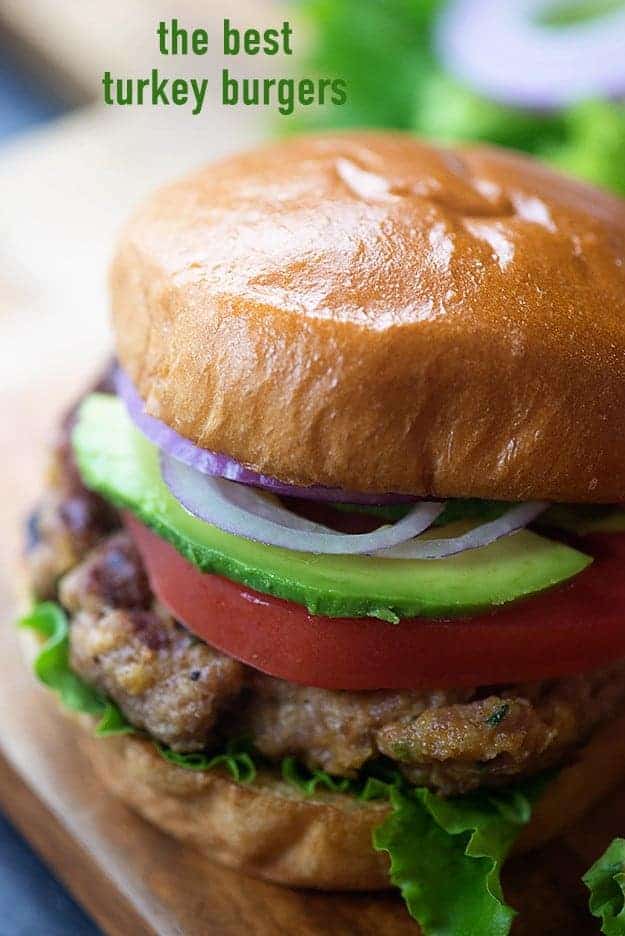 We're on year two of our swimming pool and I have to tell you – I love it just as much as when we had it put in last year.
I was really worried that I'd get bored of going outside to float away my afternoons after the first summer, but who was I kidding? I live for napping in the pool. It's the most relaxing thing I ever do, if we're being honest.
My kids still enjoy it too, thankfully! My daughter especially loves it!
Every time we get in the pool, about 30 minutes in she starts asking us to fire up the grill. She totally associates swimming with grilled burgers and hot dogs and I don't even think it matters if she's hungry or not. She just has to have some grilled meat if she's going to swim. Kids are funny.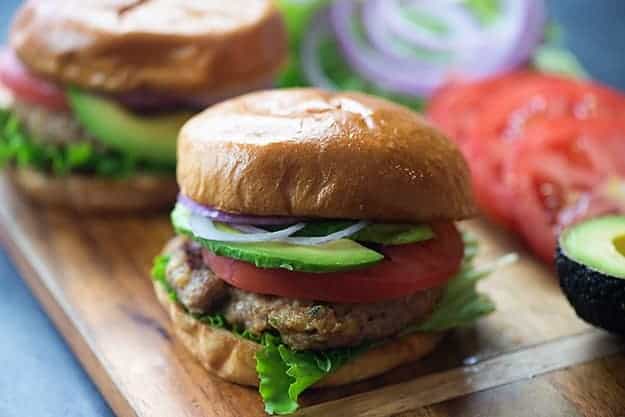 I do love a good burger, though. I don't want to brag, but I seriously make the best turkey burgers. They are so juicy – not at all dry or boring! I love mine topped with lettuce, tomato, red onion, and lots of avocado slices. Slather on a little mayo and you're good to go. Some swiss cheese or provolone melted over the top doesn't hurt things either, but they're just as good without the cheese!
It can be tricky to keep your turkey burgers held together while grilling without totally going overboard and making them all dry and bland. I use butter crackers and an egg as a binder in this recipe and the crackers hold on to the moisture and help hold things together. I keep the seasoning simple with seasoned salt, but you can add in any additional spices you like. I also use 85/15 turkey instead of the more lean variety. The little bit of extra fat helps things stay nice and juicy.
Of course, it doesn't matter how amazing your turkey burger is if you're not smooshing it between a fabulous bun! That's why I teamed up with St. Pierre Bakery to bring you my best turkey burgers! St. Pierre makes these amazing authentic brioche burger buns. They're actually baked in France and we all know French = amazing bread.
Brioche is a really rich dough that is loaded with eggs and butter. I've made brioche au chocolat before and it's divine!
I really love pairing a juicy burger with one of these brioche burger buns! I like to grill my buns first by spreading on a little butter and putting them right on the grill. It really takes the whole sandwich over the top. The buns are even more amazing when they're warm!
Check out the St. Pierre Bakery website to learn more about their authentic French baked breads and check out their mouthwatering Belgian waffles. Serious carb love happening on that website! 🙂
Their store locator appears to be down at the moment, but you can reach out to them on Twitter or Facebook to ask where you might be able to find their products near you!
Be sure to give these buns a try with my pork tenderloin sandwich, loose meat sandwich recipe, or even as a vehicle for my bourbon chicken! 🙂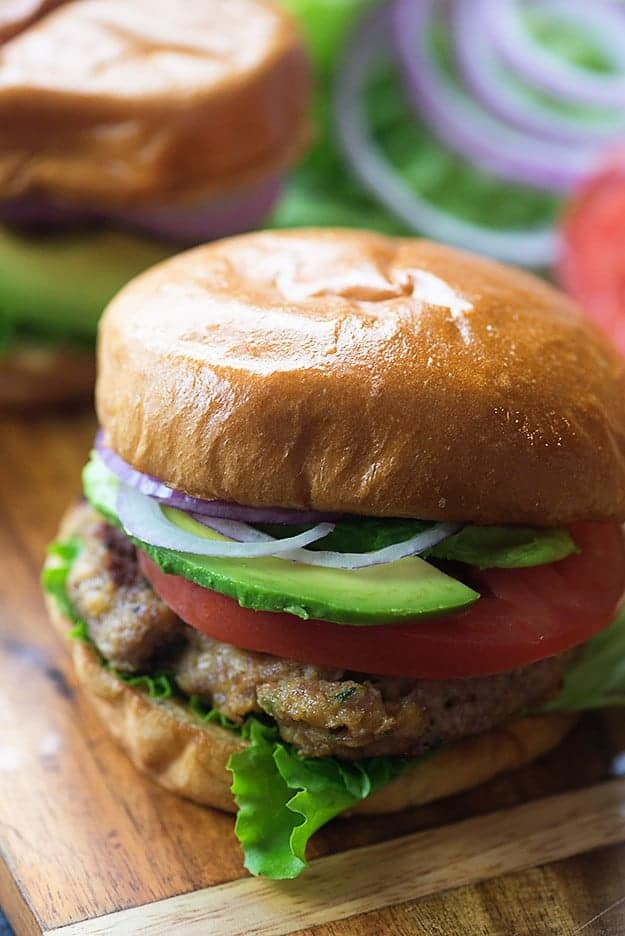 The Best Turkey Burgers
Servings: 4 burgers
Course: Main Course
Cuisine: American
Keyword: grilling recipes, summer recipes, weeknight dinner recipes
Calories: 438 kcal
I'm about to share all of my secrets for grilling up the best turkey burgers! So juicy and flavorful!

Ingredients
1 pound ground turkey 85% lean
1 cup butter cracker crumbs
1 large egg
1 tablespoon chopped chives
2 teaspoons seasoned salt
4 burger buns
4 tablespoons butter softened
Cheese if desired
Tomatoes, red onion, lettuce, avocado, mayo for topping
Instructions
Preheat the grill to 350 degrees over medium heat.

Add the ground turkey, cracker crumbs, egg, chives, and seasoned salt to a mixing bowl and use your hands to combine the mixture. Shape into 4 patties.

Place on the grill and cook for 6 minutes per side.

Remove from the grill and place on a plate and cover tightly with foil while you grill the buns.

Spread the buns with butter and place butter side down on the hot grill. Grill for 2 minutes, or until lightly toasted.

Assemble the burgers and top with your favorite toppings.
Nutrition Facts
The Best Turkey Burgers
Amount Per Serving
Calories 438 Calories from Fat 171
% Daily Value*
Total Fat 19g 29%
Saturated Fat 9g 45%
Cholesterol 138mg 46%
Sodium 1685mg 70%
Potassium 424mg 12%
Total Carbohydrates 31g 10%
Dietary Fiber 1g 4%
Sugars 4g
Protein 33g 66%
Vitamin A 9.6%
Vitamin C 1.2%
Calcium 11.1%
Iron 18%
* Percent Daily Values are based on a 2000 calorie diet.
Nutrition Disclaimer: All information presented on this site is intended for informational purposes only. I am not a certified nutritionist and any nutritional information shared on bunsinmyoven.com should only be used as a general guideline.